Customer engagement in a multi-channel world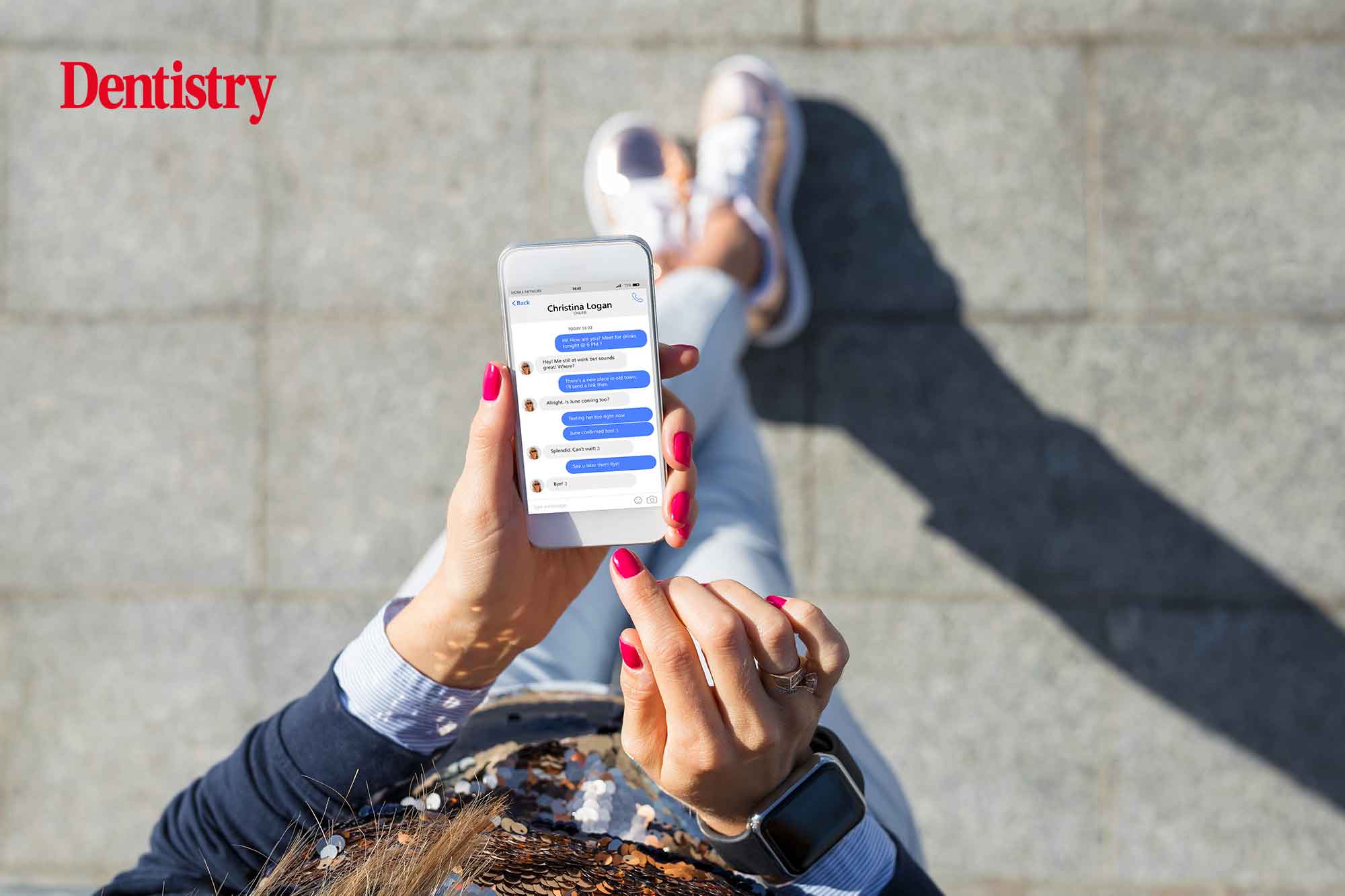 Wes Beard explains how to keep customer engagement 24/7 and build potential leads, even whilst your dental practice is shut.
Today's consumers are using a variety of methods to engage with businesses digitally. Websites are still the preferred medium for many. But the number of users preferring to use social media and messaging apps has increased dramatically in recent years.
As this trend continues, customers are looking to alternative ways to communicate with businesses more effectively, instead of resorting to a website contact form or other more traditional methods such as phone or email.
This article discusses why it is important for your practice to adopt a multi-channel approach in order to capture the millions of customers who spend their lives on social media and messaging apps in addition to websites.
The rapid rise of social media
In a world where the internet is king, it is no wonder why so many consumers start their journey by interacting with businesses online as opposed to other methods.
With this shift to online interactions, social media has quickly become the preferred medium of engagement with consumers. Nowadays, most businesses have some sort of social media presence. They hope to tap into the goldmine of the 4.33 billion social media users worldwide.
Alongside this evolution of the business landscape, consumer attitudes have also now evolved to a stage where we don't just want an instant response; we expect it.
According to Drift, 64% of users surveyed say that 24-hour service is the best feature of a chatbot.
From a business perspective, this is key for both instant satisfaction and long-term loyalty. Khoros found that 86% of people surveyed agreed that good customer service turns one-time clients into long-term brand champions.
Why use Messenger and Whatsapp for customer engagement?
Over 1.3 billion people are actively using Facebook Messenger on a regular basis. Whatsapp has even more, with more than two billion active users.
In the UK alone, over 28 million adults are regularly using Whatsapp.
The reasons for this rapid growth in adoption are obvious. Messaging apps are easy and free to use and allow for a richer, more personal experience.
Messenger and Whatsapp are giants in the messaging app world. Modern businesses that learn to tap into this vast audience are reaping the benefits.
When your customers start moving to messaging platforms, it would be a mistake not to follow them.
The challenge with this, like other forms of communication, is the resource required to handle these efficiently. Especially when many consumers are using them outside business hours.
Consumer attitudes have also now evolved to a stage where we don't just want an instant response; we expect it. Chatbots can solve this problem by instantly responding to consumers and capture enquiry details automatically for the practice to follow up the next day.
Facebook Messenger
In recent months, Facebook has been very clear on its vision for how it sees businesses using its technology in the future.
It sees a shift from businesses 'blasting out' generic content to a large audience (what it calls the 'Town Hall' approach), to more direct and personal interactions between businesses and their customers (what it calls the 'Living Room' approach).
To that end, Facebook's focus on its core messaging apps (Messenger, Whatsapp and Instagram DM) has never been greater.
So how are consumers using Facebook Messenger? According to Facebook, they are doing it across the consumer journey. Not just for one specific purpose: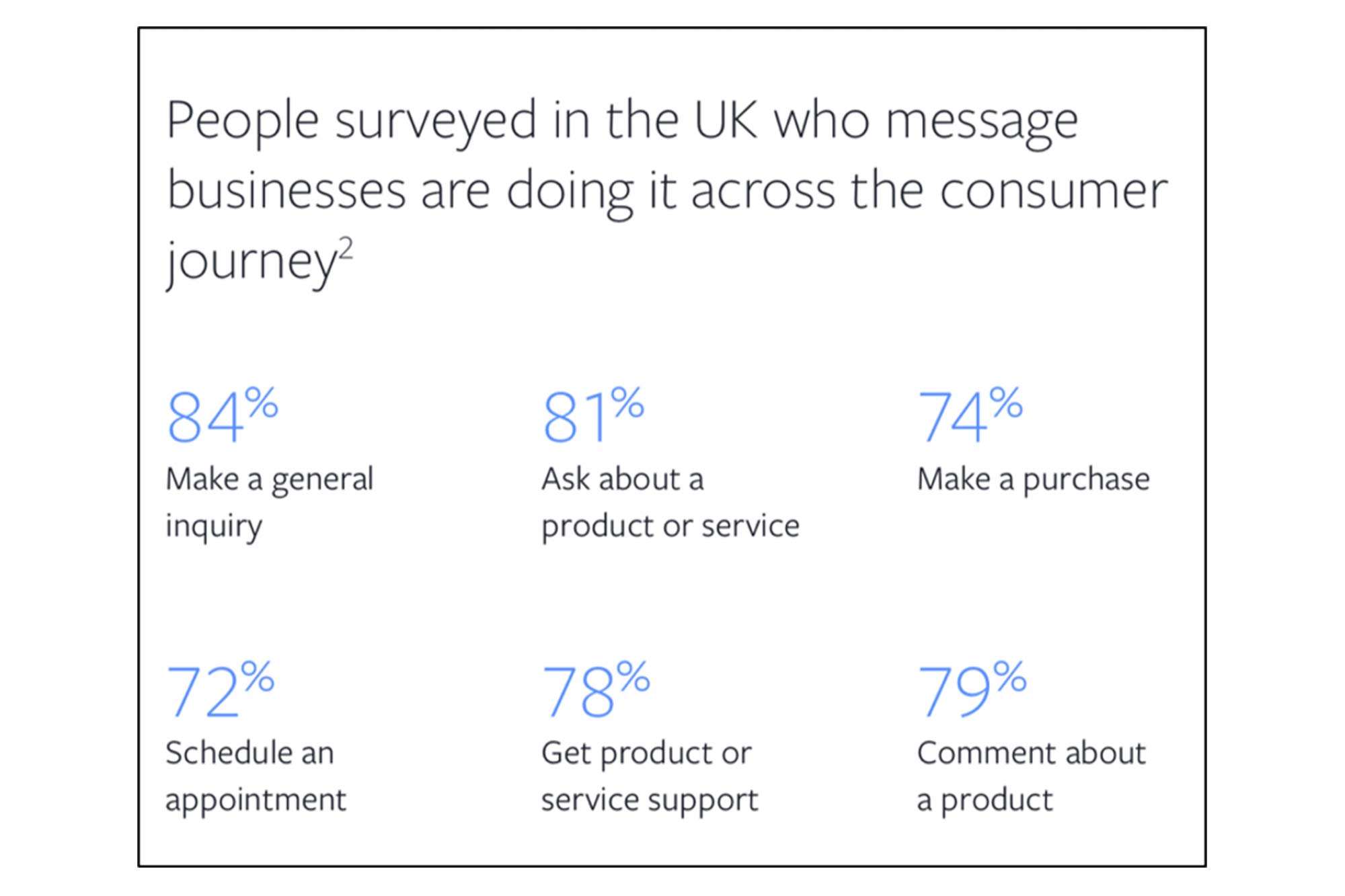 Source: Facebook
Integrating a chatbot into Facebook Messenger can elevate the experience between your customer and your practice significantly.
Our sophisticated technology enables customers to enquire about treatments, book appointments and ask common questions with your Messenger page. And to get an instant response 24/7.
This increases engagement and enhances the customer experience with your practice.
Using rich media such as images within Messenger can also turn your Messenger page into a mini-interactive website. This allows for easy navigation and a great solution for answering customer queries 24/7 and driving lead generation.
This is a far more customised, and personal experience for users than a blank messaging channel where they must wait potentially hours for a reply.
Statistics from Drift show there was a 5.7 times increase in frustration with brands due to them being unresponsive on social media or email. This demonstrates the need for consumers to have quick, informative responses to queries.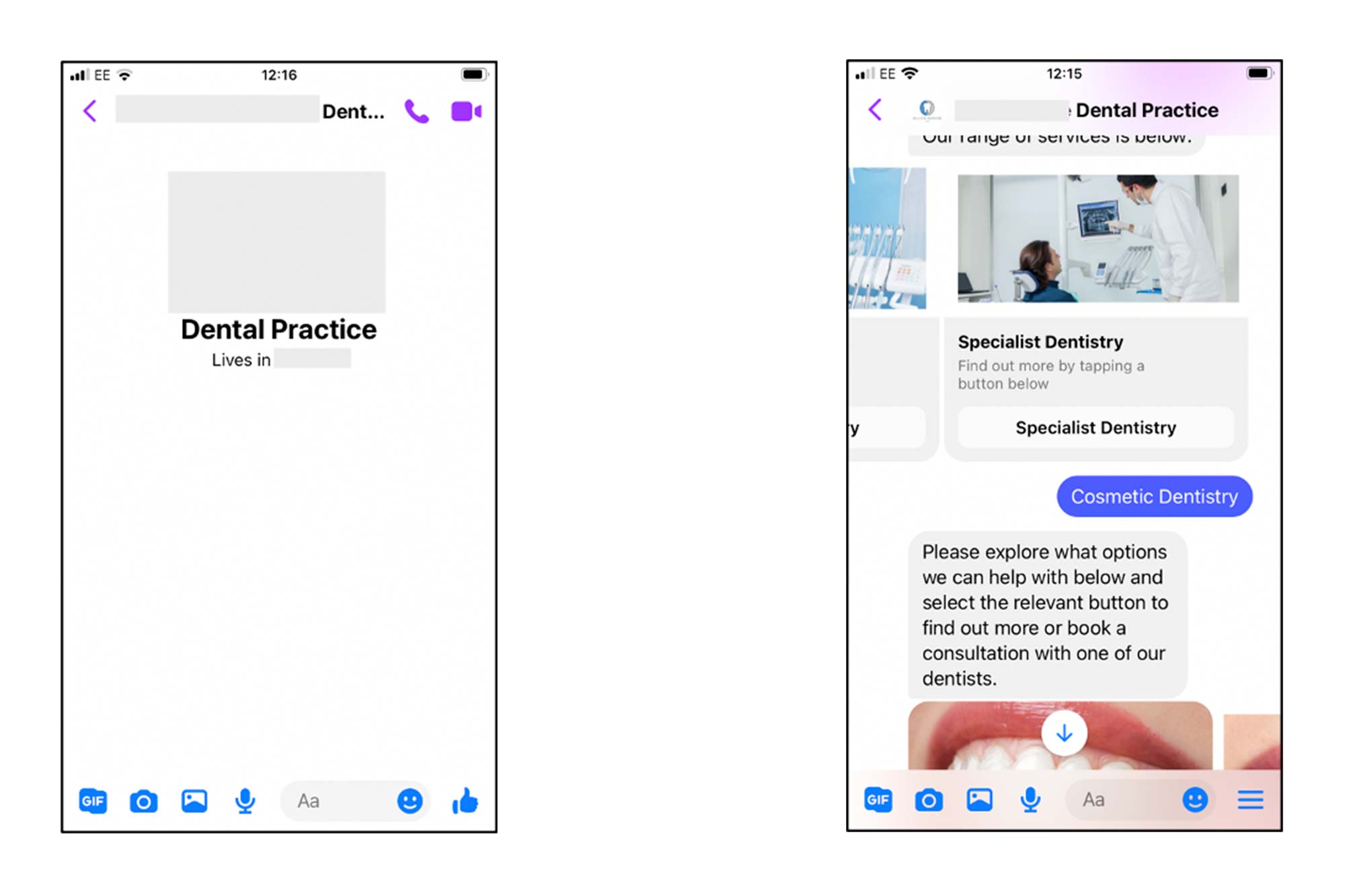 Difference between a standard Messenger page and a Messenger bot with rich features
Alongside the above, our solution provides practices with some advanced customer engagement features. Such as:
Comment-to-Bot: this allows your practice to automatically send a message to customers from your Facebook page who have commented on your Facebook posts. For example, you may have a post promoting a free consultation for Invisalign. The typical call to action is a link or a phone number for the customer to call, which can pose challenges if the practice is closed or busy.  Using Comment-to-Bot, the post might contain a call-to-action such as 'comment "yes" if you are interested'. Anybody who comments this way is automatically sent a personal message to their phone with a prompt to start booking their consultation via the bot (which is again fully automated). 'Boost' posts such as this to reach a wider audience. Because the message hits their phone instantly, open and read rates are typically 90%+, significantly higher than that of email
QR codes -> Messenger: QR codes can be easily generated to point users straight to a particular part of your Messenger bot. Print these on marketing collateral, such as leaflets in the waiting room, or other point of sale.
Whatsapp
As well as Messenger, our solution also allows for Whatsapp integration. This provides you with a dedicated and verified Whatsapp number that your customers can message your business on.
Whatsapp is the biggest messaging app in the world. It has over 65 billion messages sent every day over the platform.
We integrate our web bot solution seamlessly into Whatsapp. This allows customers to complete an automated enquiry sequence with your business.
Display your Whatsapp number across your website, on marketing collateral and even as a button on your Facebook page.
Our system also supports Whatsapp live chat, with the ability for multiple agents able to chat with the customer from their own account, using our dedicated smartphone app/desktop client.
Exchange images and video with the customer to provide a much richer experience, particularly when compared to a basic website live chat function.
Summary
Having a multichannel strategy gives your customers the power of choice. The key is to make it as simple as possible for each person to purchase or get in touch with your business whenever, wherever, and however they want.
Simply put, a multi-channel approach brings your practice to the channels where your target audience spend their time naturally.
With 4.33 billion social media users worldwide, conversational marketing integrated into these platforms is the next breakthrough that will revolutionise customer service techniques.
Those who are already implementing this technology have a head start. But it is not too late for those who haven't.
The customer is already on these platforms – now is the time to meet them there!