Why I made the move to a private dental laboratory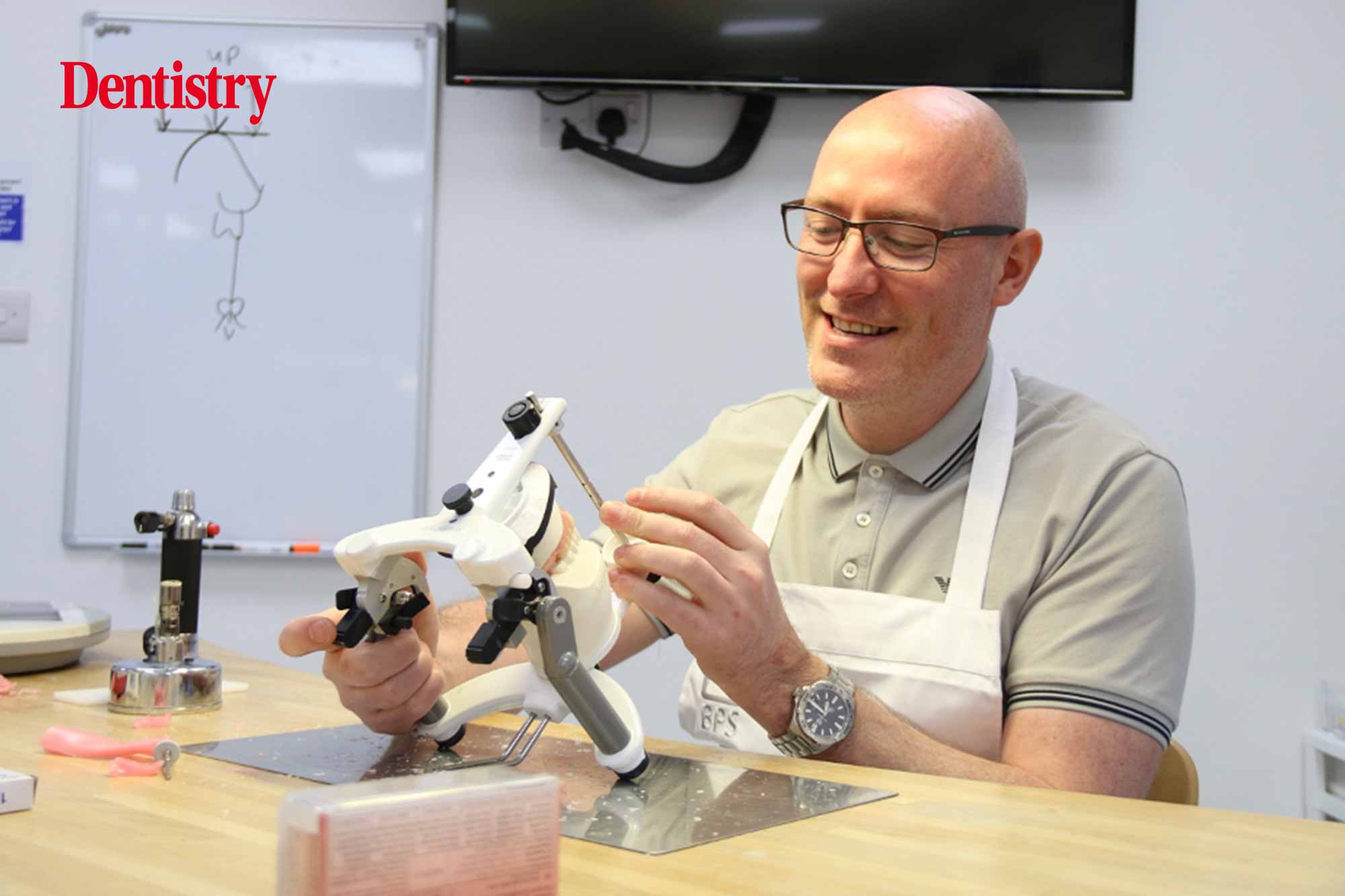 Dean Ward explains his shift from an NHS to private dental laboratory and explains why he is helping other labs with the transition.
My name is Dean Ward and I've been a dental technician for 23 years. I love my work to the point where I would happily do it as a hobby unpaid.
I came up through a system that many technicians are familiar with. An apprenticeship that consisted of four days in the laboratory learning new skills 'hands on' and a day release to university.
This is a great concept as most technicians appreciate the importance of knowledge. But I think we would all agree, nothing replaces the hands on experience we gain at the bench.
During my apprenticeship, I worked in a busy, full service laboratory that serviced almost entirely NHS practices. I excelled at all aspects very quickly and soon found myself climbing the ladder.
Searching for the right lab
Apprenticeship done, I started to look around at other laboratories in the quest for more knowledge. I soon realised many NHS laboratories have to work to more or less the same rules as each other and are quite similar. The focus is often on producing a high volume of units and quick turnaround within a certain budget.
I found that it perhaps wasn't going to allow me the scope to grow and develop in the way I knew I wanted to.
I've no regrets though as I've learned a lot from the people that I have worked with and my skills are now an amalgamation of the tips and tricks they shared with me.
I went from lab to lab searching for what I wanted from this profession. But soon realised I couldn't find whatever it was I was looking for in someone else's laboratory. I needed to find it myself and on my own.
'What have you gotten us into?'
So I bought my own lab, when I say bought, I came to an agreement with my old employer to take over lock, stock and barrel, which would help them retire.
I also purchased his client list and goodwill. This was all I ever wanted, it's all any technician wants isn't it?
I was over the moon and finally in full control. I decided not only the direction my business went, but more importantly had the ability to shape my own career… Happy days.
My first crash back down to earth was sitting with my wife whilst she sorted through the debts I had taken on legally. I will remember these words until my last breath… 'Dean what the "beep" have you gotten us into?'
Reality kicked in. I better get using these skills and start to make this new venture work for me and my family… Innovate Dental Laboratory was born.
Endless demands and price increases
I owe a lot to NHS dentistry. It provides many people with excellent care while providing our profession with thousands of jobs. It played a major part in enabling me to develop my laboratory into what it is today.
I have paid off my business debts, invested in state of the art equipment and all while ensuring I never made an NHS denture that I felt was substandard. I have never let a denture leave my lab that I thought wasn't fit for purpose.
But after a while and many thousands of dentures, I felt like I was going round in circles. We were working incredibly long hours and I started to question whether or not I wanted to continue working as a dental technician anymore.
I lost my love for dentures when it became solely a way to generate income. I was working seven days a week to meet the endless demands of NHS dentistry.
There exists a cut throat mentality, which is ingrained into a great many dental laboratories.
Nothing makes you feel more disposable than losing long-standing clients over a 50p price increase. Of course, I understand the logistics of it, but it still hurts all the same.
I'm sure a lot of dental technicians will nod their heads whilst reading that statement.
Little did I know that a chance meeting with a client was about to change my career pathway forever.
On cloud nine
I walked into an appointment for a denture try in, which was for a private patient. I got chatting to the dentist and my attention was drawn to some clinical photos of private work we carried out together and bang!
'Wow, we made those?' It was genuinely shocking. I had put a little bit of effort into private work over the last few years but it hadn't been an area I had really focused on developing. My love was gone and I only did private dentures the odd time alongside my existing clients' NHS work.
I was so happy to know I was capable of making dentures that look like that.
The dentist explained how happy his patients were and he was. On the drive home, I do not mind telling you, I was on cloud nine!
My juices were flowing, that was my turning point. I knew I wanted to work more in private dentistry. I wanted that feeling on every case I worked on.
From that day I started to take things more seriously. I knew I needed to invest not only in myself, but also in my business. I began to buy better materials, read endless articles and sought out the best dental education on offer.
Then I went on every course I could find. I watched hours of online content and studied the work of dental technicians that I looked up to.
The progress was gradual, but then I started to see results and hear positive feedback.
Every course I went on was helping me enjoy my work more. I found my love and passion for dentistry again.
Some of the trainers I have met have been truly inspirational!
Transitioning to an all private dental laboratory
I started seeing dramatic changes in my business too. I forged new relationships and earned the respect of some amazing dentists.
More and more often, I would be told that cost was not a barrier. They were more focused on the work being of a high standard than they were the actual laboratory fee.
We ended up with a waiting list for NHS work of around 60 dentists that we simply couldn't service.
I felt like I was moving in the right direction in a relatively short space of time. This demand made me feel secure, which in business, is a nice feeling. How far could I take this?
I started to instil a mentality into my lab, I wanted everyone to enjoy work again, I wanted to get the best out of people and most importantly I had a clear vision for my business. I wanted to transition to becoming an all private dental laboratory.
We grew, and grew. The word quickly spread and the hard work continued to gain the right kind of attention and it felt amazing.
The conversations with dentists felt different. We would discuss cases together, valuing each others opinions and ideas and I loved the respect that was shown for each other's knowledge and skills.
It has made me feel as though myself and my laboratory were now an essential part of their team. No more losing clients over 50 pence!
Positive changes
I have witnessed huge changes, my laboratory is respected by dentists and my peers.
Innovate Dental Laboratory has now become a very desirable place to work. People know the values on which we build the business.
I want to develop my team and understand the importance of education, respect and support. People now contact me to come and work for Innovate as they know it will enhance their career. Whereas before I struggled to find anyone with the skills I needed.
I find that something which I am extremely proud of.
The benefits of moving into private dentistry have been overwhelmingly positive for me. I couldn't see it before, but it really has changed my life.
I actually have a life…my business is more secure because my clients know they are getting a very good service and I no longer feel disposable.
And I love my work again. Moral is high, profits are up and I see more of my family than I've ever done before.
Pathway to private
It took five years to completely turn the lab around that I bought into. It's gone from a struggling NHS laboratory into a well respected and profitable private lab.
We have recently completed a full state of the art refurbishment and the future looks very bright.
My hope is to get onto the CDT course. This will be amazing for my own personal progression and hopefully take my technical skills up to the next level.
The team at Ivoclar picked up on my hard work, determination and journey leading me to write this piece.
I am very proud to become a certified trainer for Ivoclar Vivadent and share my knowledge.
Together, we have developed my new course 'Pathway to private'. This is a modular course, teaching people the simple steps and techniques I use to work at a high private level. This works in any lab and will make technicians and laboratories future-proof in this uncertain time.
I know I made the right decision to change direction and want to help you by sharing my experiences.
My passion now is inspiring and training technicians to take their skills and become the best they can and show them the pathway to private dentures.
---
To find out how you can make the move to private dentures, join Dean Ward on his next course with Ivoclar Vivadent www.eventbrite.co.uk.
To try out Ivoclar Vivadent teeth, request your free sample: fascinationprosthetics.ivoclarvivadent.com.