Oral Health Summit – Optimising oral health in the Invisalign journey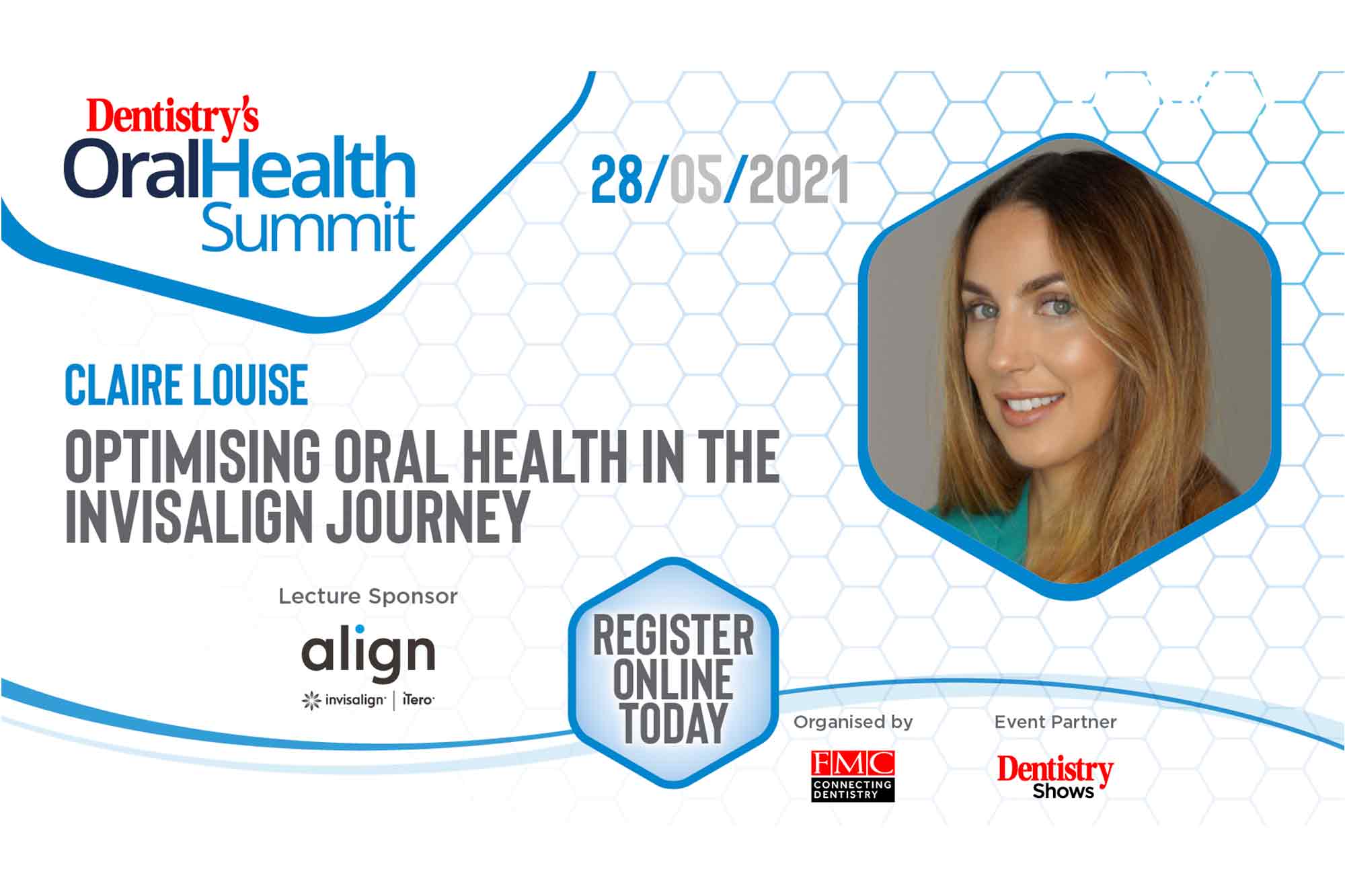 Claire Louise Berry will discuss how to optimise patients' oral health during the Invisalign journey at the first ever Oral Health Summit.
Taking place on Friday 28 May 2021, FMC will welcome world-leading experts to deliver lectures on the best approaches around.
The virtual Oral Health Summit will be hosted in conjunction with charity partner, the Oral Health Foundation and National Smile Month.
Completely free to attend, it will provide delegates with the current learnings and approaches in line with the British Society of Periodontology's latest guidelines.
Delegates can also gain 6+ hours of enhanced CPD throughout the day. Running from 8:30am to 5:30pm, the easy-to-access on-demand lectures mean you can tune it at any point throughout the day.
Essential role
Claire Louise Berry is one of the key speakers deliver a lecture on the day.
Titled 'Optimising oral health in the Invisalign journey', Claire will share her journey both as a patient and an oral health expert.
She details how she and her colleagues have developed a robust prevention programme pre-Invisalign treatment. This ensures that patients' oral health is optimal at the start and throughout their treatments.
'Wearing aligners for 22 hours a day is a breeding ground for bacteria,' she said.
'It is not ethical to charge patients for providing Invisalign if they start off with, or develop gum disease or other issues.
'Even when patients are eligible for treatment, prevention should always come first and we should definitely not agree to a treatment that is going to increase the risk of problems. That's where our role in oral hygiene is essential prior to treatment.'
Alongside the lecture, there will also be an Itero virtual stand where demonstrations will take place.
Claire Louise Berry
Claire Berry is an award-winning dental hygienist, who was garlanded in 2018 and 2019. She qualified as a dental hygienist in 2019 from the Royal College of Surgeons Edinburgh whilst serving in the army.
Since qualifying, Claire has undertaken further training in facial aesthetics and runs training courses for dental professionals.
She is also a KOL and lecturer for Oral B and Boutique Whitening. As well as an ambassador for the British Society of Dental Hygienists and Therapists.
Claire is well known for sharing her tips on encouraging behavioural change in patients and helping her peers motivate patients to achieve optimal oral health.
To sign up visit www.dentistry.co.uk/shows/oral-health-summit.
Other lectures at the Oral Health Summit include: