Oral Health Summit – GBT: the simple solution for clinical and business success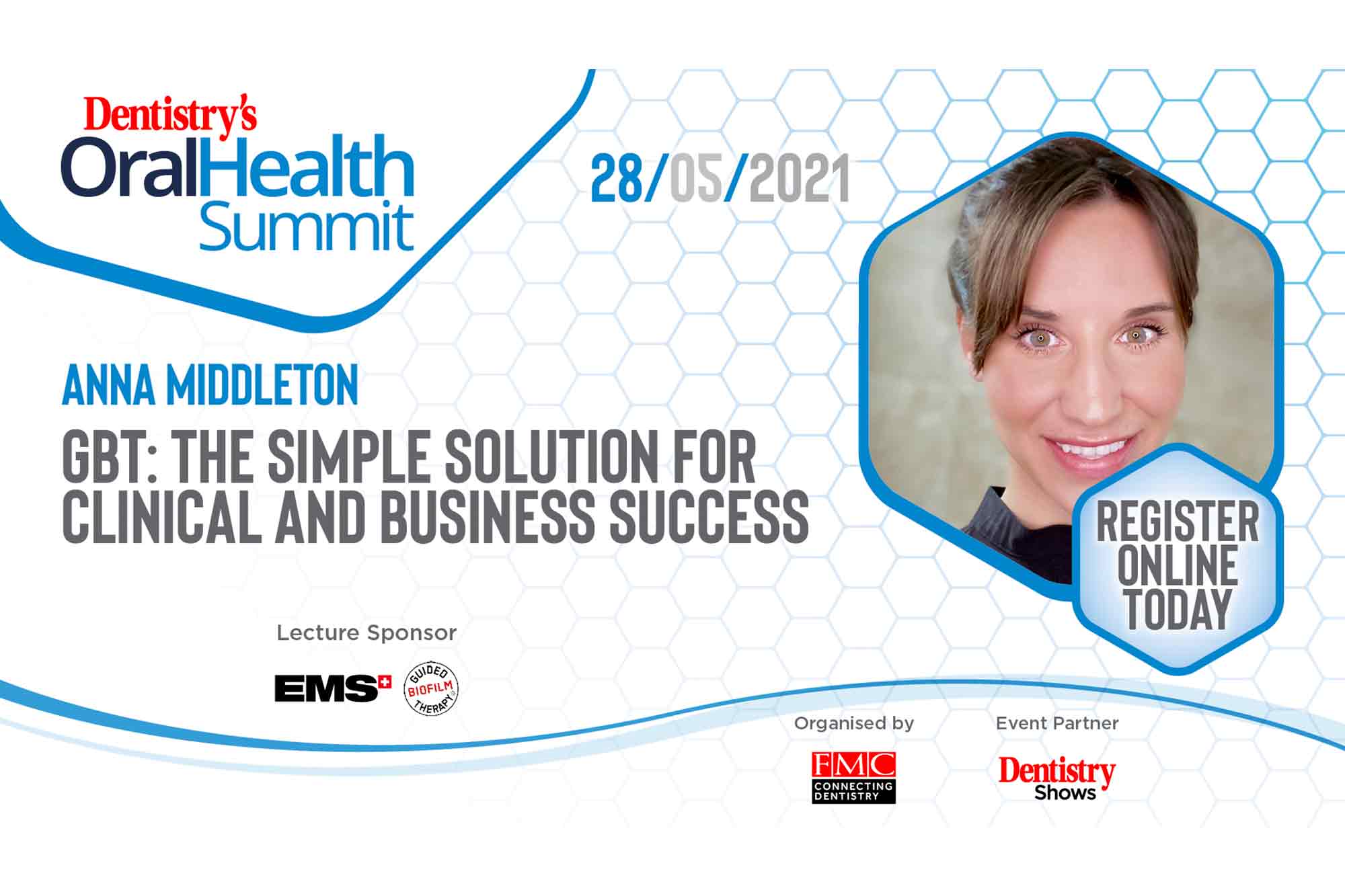 Catch a lecture on GBT with Anna Middleton at our first ever Oral Health Summit at the end of this month. 
Taking place on Friday 28 May 2021, FMC will welcome world-leading experts to deliver lectures on the best approaches around.
The virtual Oral Health Summit will be hosted in conjunction with charity partner, the Oral Health Foundation and National Smile Month.
Completely free to attend, it will provide delegates with the current learnings and approaches in line with the British Society of Periodontology's latest guidelines.
Delegates can also gain 6+ hours of enhanced CPD throughout the day. Running from 8:30am to 5:30pm, the easy-to-access on-demand lectures mean you can tune it at any point throughout the day.
Business benefits
Anna Middleton is among the speakers and will deliver a lecture titled: 'GBT: the simple solution for clinical and business success.'
She will discuss what GBT is and how you can implement it into your practice. 
Learning objectives include:
Understand what GBT is and how it differs from traditional scale and polish techniques
See examples/cases of how GBT has been implemented into practice
Learn the business benefits and how to implement into practice.
Anna Middleton
Anna is a dedicated and passionate award-winning dental hygienist and newly-qualified therapist. She started 'London Hygienist' with the mission to change the delivery of oral health care.
Anna studied at the Eastman Dental Hospital after working as a dental nurse, and graduated in 2015 from the Faculty of Royal College of Surgeons. She recently completed the one-year top up BSc in oral health science at the University of Essex. She is a key opinion leader for Philips. As well as a Guided Biofilm Therapy (GBT) ambassador for EMS Dental and Swiss Dental Academy trainer.
Anna is an ambassador for the British Society of Hygiene and Therapy and newly appointed Early Careers Group representative for the British Society of Periodontology. Anna lectures and writes regularly for both industry and consumer press. You can follow her on social media @londonhygienist.
To sign up for free visit www.dentistry.co.uk/shows/oral-health-summit.
Other lectures on the day include: