Radiation protection in dental practice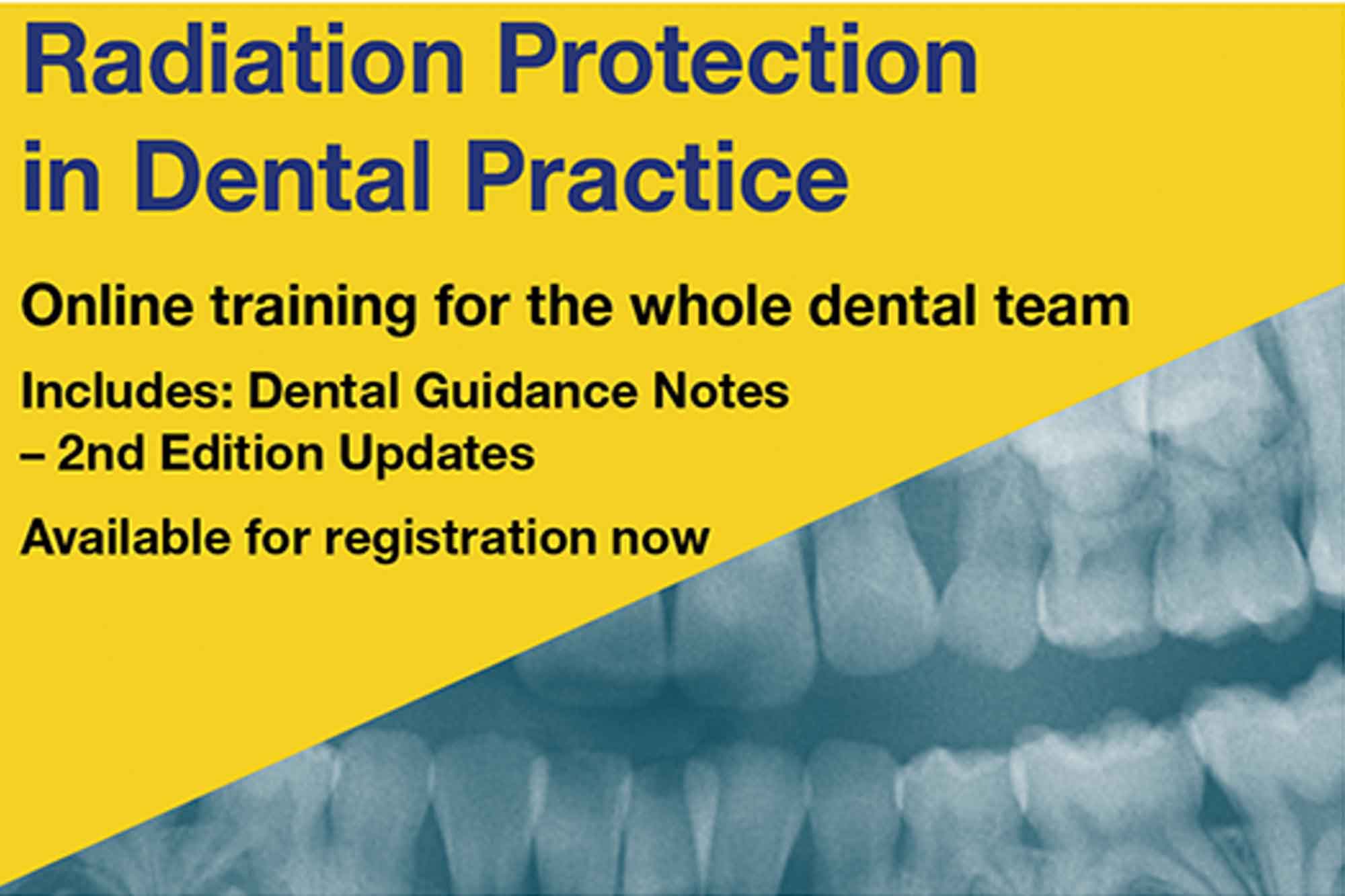 PHE introduces its radiation protection online CPD course, available for 11 weeks, and explains what they include.
Across the UK, more dental radiographs are taken each year than any other type of diagnostic X-ray image.
In the absence of any controls, radiation doses to patients, dental practice staff and others from dental X-ray exposures could be substantial.
The Guidance Notes for Dental Practitioners on the Safe Use of X-Ray Equipment (the Dental GNs), were first published in 2001 to help dental practices put proper controls in place and comply with the legislation.
Since 2001 dental radiography has seen many changes. Dental practices now have access to cone-beam CT and hand-held X-ray equipment. Not to mention the now widespread replacement of film with digital imaging systems.
On top of this, the two key items of UK radiation protection legislation also changed in 2018.
In response to this, Public Health England (PHE) convened a working party to update the dental GNs.
The working party included representatives from all the UK regulatory bodies, experts from professional and advisory bodies, consultant dental radiologists and, just as importantly, general dental practice.
The second edition of the Dental GNs was jointly published by PHE and the Faculty of General Dental Practice (FGDP) in October 2020. It is a freely available interactive and downloadable PDF – www.fgdp.org.uk/publication/guidance-notes-dental-practitioners-safe-use-x-ray-equipment.
In order to meet the GDC recommendation for CPD in radiation protection or radiology, most dental practitioners and operators involved in the practical aspects of radiography will look to attend a suitable training course at least once in every five-year CPD cycle.
However, much of the training currently available has not been updated to reflect the new guidance. With this in mind PHE has developed a new online training course.
PHE's 'Radiation Protection in Dental Practice' online CPD course
This course, which was developed by PHE's Dental X-ray Protection Services (DXPS) immediately following the revision of the Dental GNs:
Includes all updates in the recent publication of the second edition of the Dental GNs
Provides the five hours of verifiable CPD in radiography and radiation protection recommended by the GDC for all dentists and dental care professionals
Is delivered by radiation protection advisers and medical physics experts from PHE's DXPS
Fulfils the training requirement for anyone appointed as radiation protection supervisor for dental radiography
Is suitable for all members of your dental team. From those who have had no previous radiation protection training to those with many years' experience also wishing to refresh and update their knowledge.
Topics covered include:
Potential hazards associated with X-rays
Importance of restricting the exposure of staff and patients as far as is reasonably practicable
Principal requirements of UK legislation (IRMER17 and IRR17) and guidance relating to work with dental X-ray equipment
Putting radiation protection principles into practice.
Course outcomes:
Five hours of verifiable CPD in radiation protection (certificate available)
Suitable training for those appointed as radiation protection supervisors
A thorough understanding of the requirements for radiation protection in dental practice
Skills to ensure that teams carry out dental radiography in a safe manner compliant with the requirements of radiation protection legislation.
The course is available for 11 weeks from each of the following dates: 8 March 2021; 7 June 2021; 6 September 2021.
Delegates can commence and complete the course at any time during the 11 weeks following the start of the course they book.
Feedback from previous delegates: Score 4.9/5.0 (from 18 reviews)
'Great course with in-depth knowledge given in digestible sections' (DT, 27 Jan 2021)
'The step-by-step approach and learn at your pace is perfect' (LR, 15 Feb 2021)
Register now: www.futurelearn.com/courses/radiation-protection-in-dental-practice.
Cost: £72.00 per person
Enquiries: email [email protected] for all enquiries for training, radiation protection adviser and medical physics expert services and for X-ray equipment testing.
Website: phe-protectionservices.org.uk/dxps for further information on PHE's dental X-ray protection services.
Other radiation protection services available from PHE
As the UK's primary authority for radiation protection, PHE provides a wide range of laboratory and technical services, training courses and expert information; and fulfils a significant advisory role to regulators, government, members of the public and others.
Some of PHE's other technical services that might interest dental practices include:
Alternatively, if you have a question about any other radiation safety matter, then you can contact PHE at www.phe-protectionservices.org.uk/contact.