Prosthodontips – treating tooth wear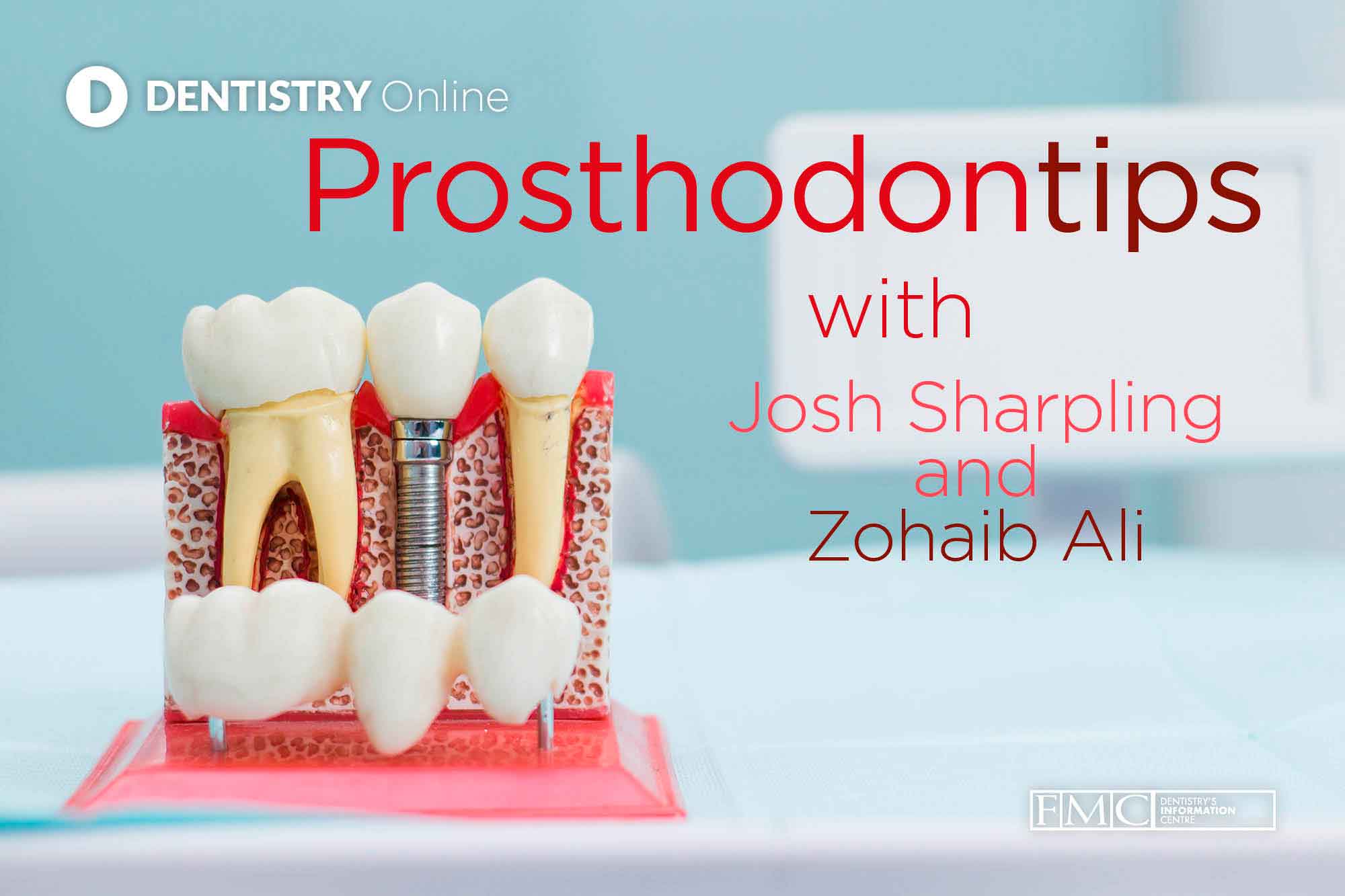 In the previous column we introduced the topic of tooth wear. We discussed aetiology, and what to look for when assessing and diagnosing tooth wear cases.
Over the next two columns we will build on this and dive deeper into restorative interventions.
We can split the restorative treatment of tooth wear into two broad categories
Restorative intervention conforming to the patient's current occlusion
Restorative intervention reorganising the patient's occlusion.
In this column we will discuss treatments that conform to the patient's current occlusion.
Conformative toothwear treatment
Conformative restorative treatment involves placing restorations at the patients current intercuspal position (ICP) and occluso-vertical dimension (OVD). This is more straightforward than reorganising the patient's occlusion, and usually less invasive.
Unless there is a good argument for reorganising, we tend to think that we should use the conformative approach. After all, this is the way we commonly work in day-to-day dental practice.
Common procedures such as posterior composites, a single crown or composite bonding are all conformative restorative treatments.
As with any treatment, it's important to consider the benefits and the drawback of each method.
Potential benefits of conformative treatment of tooth wear:
Treatment is more straightforward than reorganising the occlusion
Tooth wear progression is slowed, for instance by covering exposed dentine (this is important as dentine wears much faster than enamel)
Clinician can alter guidance (giving a patient canine guidance for instance, therefore removing working and non-working side interferences).
Potential drawbacks of conformative treatment of tooth wear:
Less control of the final occlusal scheme
Can require aggressive preparation of teeth when traditional fixed restorations are planned (in comparison to reorganising the occlusion, where we can reduce the preparation by increasing the OVD)
May not be suitable for moderate/severe tooth wear.
When treating tooth wear, teeth have lost tooth structure. Removing more tooth structure to create space for traditional fixed prosthodontic restorations will result in very short preparations.
For this reason, we recommend using adhesive additive techniques where possible when restoring conformatively.
Suitable treatments in conformative treatment of tooth wear:
Covering exposed dentine
Adding canine rises
Adding palatally to upper anterior teeth to control guidance (this will require steepening the patients guidance, and is only possible where there is space).
Covering exposed dentine
Figure 1 shows a patient with severe erosive tooth wear on their molar teeth. They have sensitivity, but do not wish to have a comprehensive rehabilitation.
Filling the pits with composite or GIC and covering the exposed dentine will slow the rate of wear, and likely improve the patient's symptoms.
Adding canine rises
Figure 2 shows a patient with fractures on their lower incisors. This is caused by parafunction, and the incisors coming into contact during lateral excursions (as shown in Figure 3).
The patient did not want to treat the lower incisors, they just wished for them not to get worse.
Canine rises were added palatally to the upper canines using composite, and the guidance in lateral excursions was altered.
Figures 4 and 5 shows the space created for the lower incisors in lateral excursion. The benefit of this restoration is that as the composites are worn away the patient can easily replace them to ensure the lower incisors do not suffer anymore tooth wear.
Adding palatal volume to upper anterior teeth
The patient shown in Figure 6 did not like her short teeth and wanted to protect the teeth against further tooth wear.
In this case bonding only to the incisal edges is possible. However a buccal composite veneer allows greater aesthetic control, and adding palatally allows greater occlusal control.
Figure 7 shows the final result, and Figure 8 shows the digital design, with material added coronally to the contact position in ICP. This steepens the patients guidance, however it means the guidance can be altered. This control ensures protrusion is shared on the central incisors, and guidance is on the canines with no interferences posteriorly.
Planning of force distribution results in a more predictable long term result. Rather than just adding composite to the incisal edges.
In order for this treatment to be possible there must be space to add material in ICP.
Figures 9 and 10 show another case where this technique would work well. In Figure 10 we can see the space palatally on the upper incisors coronal to the ICP.
When not to restore conformatively
When there is no space in ICP, or there is generalised tooth wear that needs restoring, then a conformative approach is not useful. There are then two approaches:
Reorganise the patients occlusion
Orthodontics to move the patients teeth, in order to make space and allow a conformative approach.
Figure 11 shows a patient with generalised tooth wear, an unstable ICP, and a heavily restored dentition. This dentition needs an overhaul and is not suitable for treating conformatively.
Figure 12 shows a patient with severe tooth wear, and no room for restorations in ICP (common on class III or class II div 2 patients).
In this instance we referred the patient for orthodontics, which will create space for palatal restorations in order to improve the aesthetics, and the occlusal stability.
Prosthodontips
Please do get in touch with us at [email protected] if you have any questions about erosive tooth wear, or prosthodontics in general. We are also happy to answer case related questions. Below is a question following the last Prosthodontips article.
What materials do you use to take a definitive impression of an edentulous arch?
A lot of this is down to personal preference.
We use a non-perforated special tray, which is either spaced or non-spaced. In general, we use pink stick or green stick impression compound to border mould, and then either zinc oxide eugenol if using a non-spaced tray, and a medium or light body silicone when using a spaced special tray.
Zinc oxide eugenol is very accurate, but do not use it where there are undercuts present. It is also very brittle, and is therefore difficult to transport.
Silicone is visco-elastic, so can be used in small undercuts, and it remains dimensionally stable, so transportation is much easier.
---
Catch up on previous Prosthodontips
Follow Dentistry.co.uk on Instagram to keep up with all the latest dental news and trends.