Nina Frketin discusses the story behind Nightshift and what attendees can learn from the upcoming online symposium.
Hi, I am Nina and Nightshift is a brain child of mine. After years in the industry, I got tired of not seeing female dental technicians being equally represented and I realised that I wanted to do something about it.
Along the way I recruited three amazing women to help me out: Deepa Mandalia, Emily Pittard and Eleanor Pittard. We share an incredible passion for this industry and we are committed to promoting diversity.
Positive change
The concept behind this online community is to uplift and celebrate female dental technicians, providing them with a platform to showcase their expertise and foster a strong sense of community. I must emphasise that this group is not exclusive to females; we wholeheartedly welcome the support of our male colleagues and encourage everyone to contribute in any way possible.
The group was not born as a complaint but rather as a call to action. It is our collective responsibility to drive positive change and ensure that we leave the industry in a better shape for the next generation of young female technicians.
From the start, our objective has been to spotlight remarkable female technicians and help charities along the way. We are immensely proud of our recent collaboration with Den-tech. Check it out!
All proceedings from the sales of our collaboration are going to help give back a smile.
Cutting edge
Furthermore, I am excited to introduce the Nightshift Online Symposium. It is scheduled over two evenings, on 21 and 22 November 2023, starting at 6:30pm on Zoom. Get ready for a series of captivating webinars tailored for dental tech enthusiasts like you, seeking to enhance their professional skills and earn CPD. The first night will spotlight prosthetics, while the second will be focused on crown and bridge.
On 21 November, Jenelle Tabakovic and Emily Pittard will take the stage. Jenelle will be discussing the world of lingualised occlusion set up, focusing on efficiency and patient mobility. She will share her waxing artistry secrets step by step, and we'll explore the world of coloured waxes.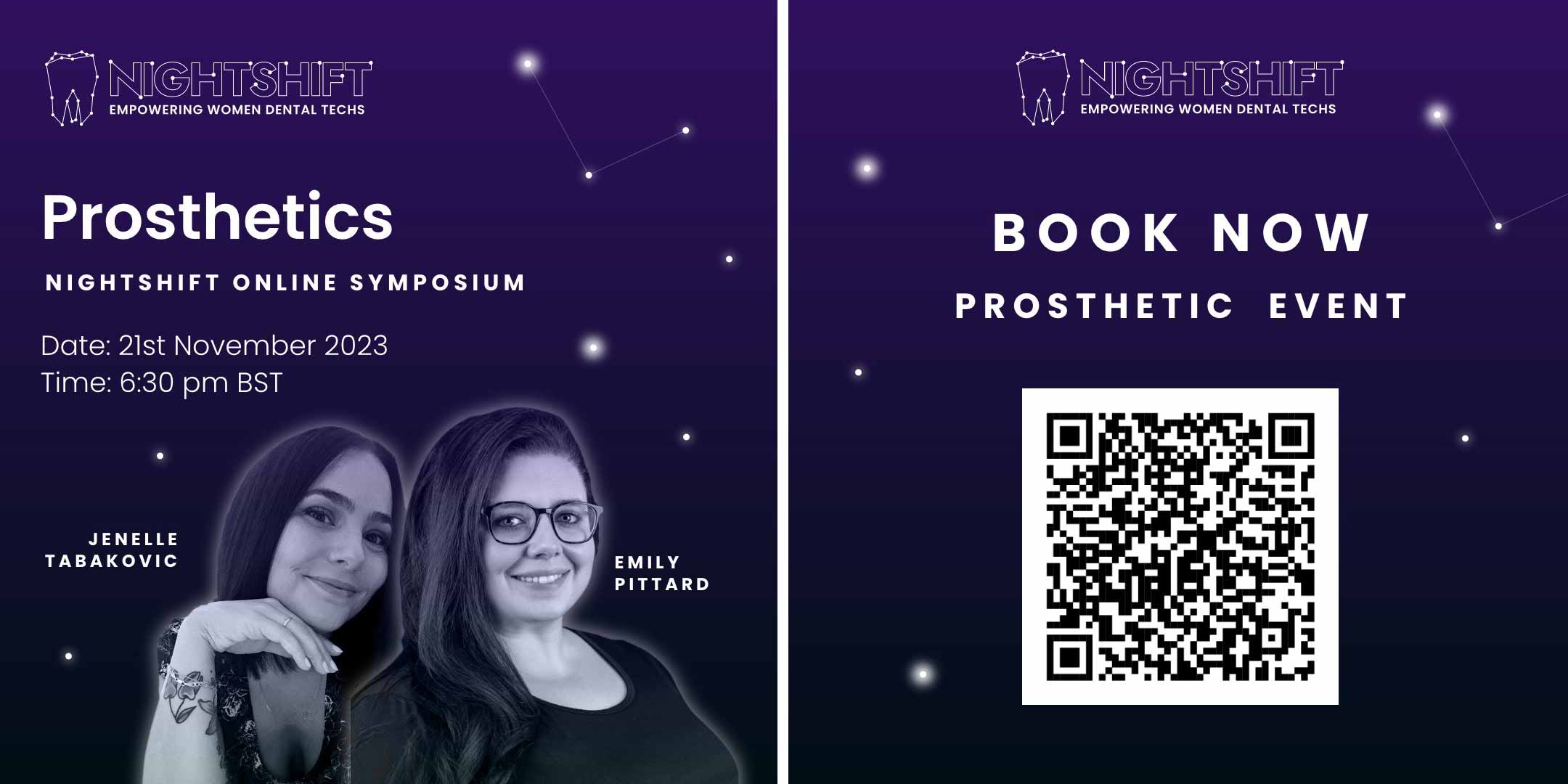 Emily will be delving into 3D implant planning and guided placement in her cutting-edge session. She will discuss smart surgical guide applications, ensuring smooth treatments and great outcomes by mastering precision in implant planning and custom guide creation.
On the 22 November Nightshift is thrilled to host Dora Rodrigues and Lisa Johnson. Dora will be looking at A0X conversions – how you can shift from analog to digital seamlessly and have a blast while you're at it!
She will be exploring awesome design software to find your favourite and will go through the basics of denture design to bridge that analog to digital gap. If that's not enough, you'll also uncover photogrammetry and how to practically use it and sort you out with the essential equipment for digital conversions.
Ahead of the curve
Lisa will be giving out her composite injection secrets – how to turn a try-in into a stunning full-arch all-on-four restoration. Discover her amazing glazing tricks with the Optiglaze colour kit for a natural shine and learn to apply pink composite to full arches using Gradia Plus for that perfect touch.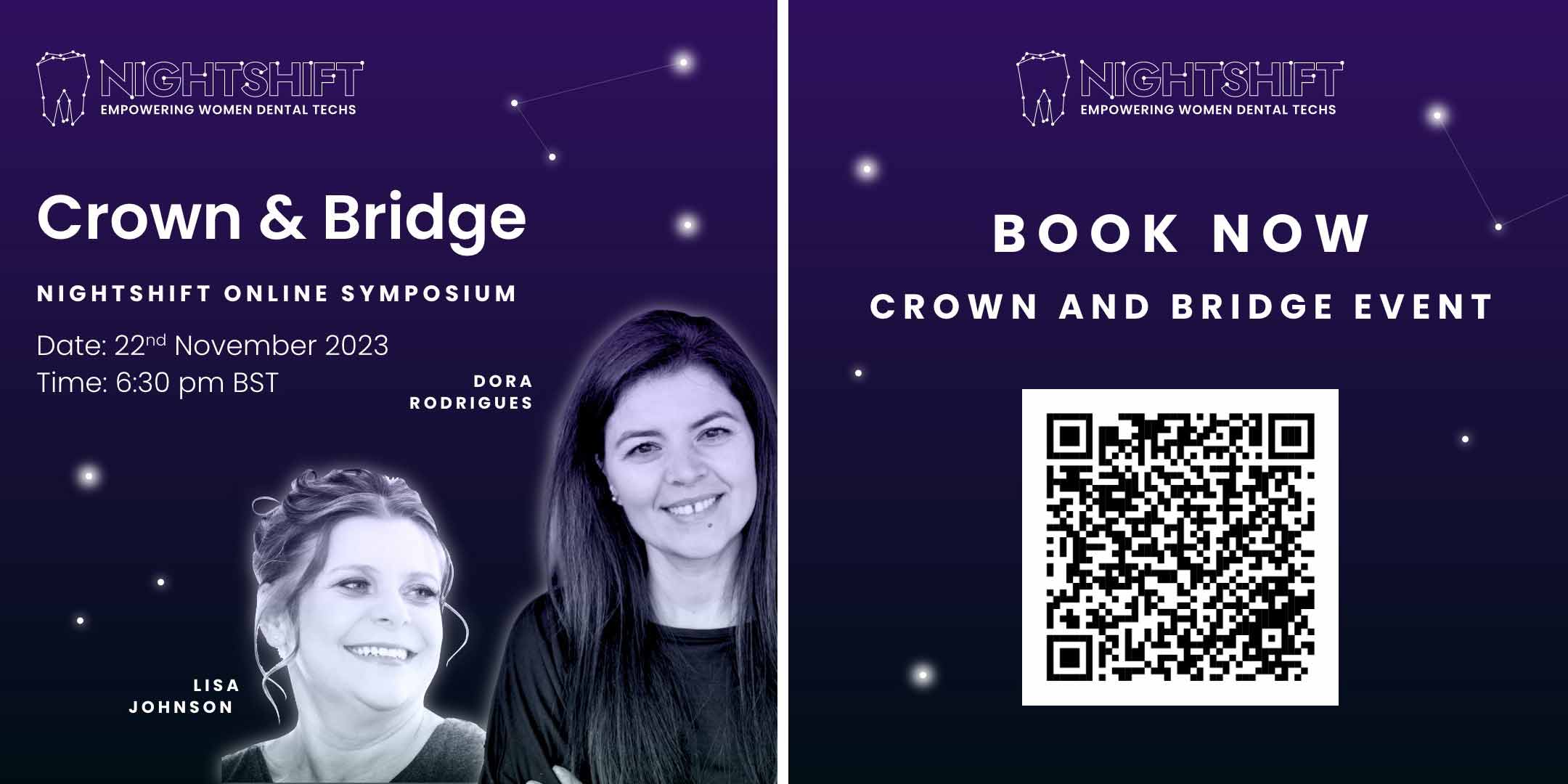 We're talking about diving deep into the latest and greatest in dental tech, materials, and techniques, led by top-notch experts. You will be able to experience lively discussions, hands-on workshops and live demos – all from the cozy confines of your workspace. It's your chance to level up your skills, connect with fellow techies from around the globe, and stay ahead of the curve in the ever-evolving world of dentistry.
Don't let this golden opportunity slip through your fingers. Secure your spot now, and let's embark on a learning journey together. Join the Nightshift online symposium via the links below:
---
You can find Nightshift on Facebook (Nightshift) and Instagram (@Nightshift.tech).