A Dental Student's Guide to…odontogenic cysts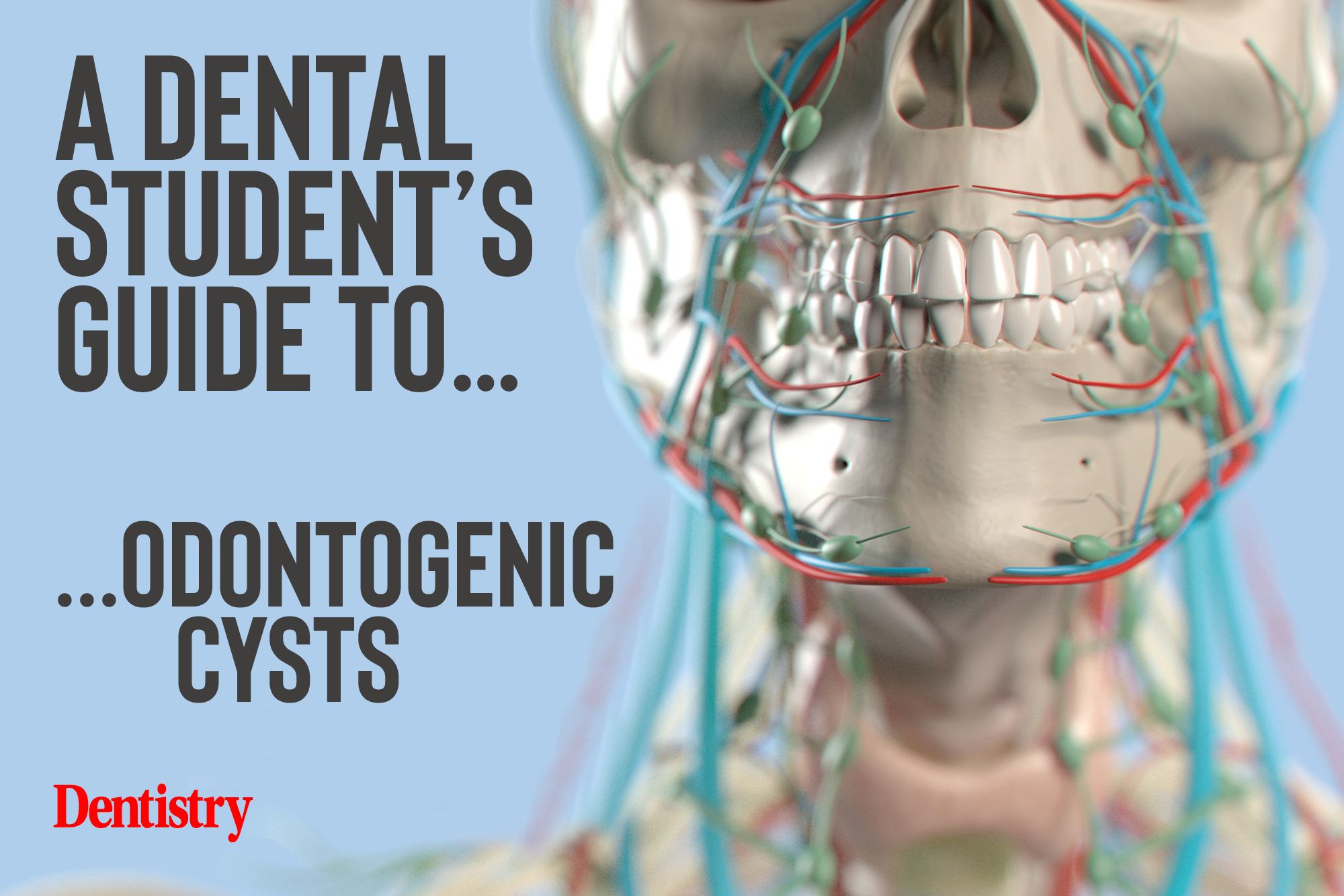 This month Hannah Hook explores different odontogenic cysts, including their diagnoses and treatment options.
Odontogenic cysts are described as an epithelial lined fluid filled cavity, with the epithelial lining arising from the odontogenic epithelium.
They are generally categorised by origin; this is either developmental or inflammatory. They may be identified as an incidental finding on radiographs during a routine examination of a patient. It is important to be aware of the differential diagnoses, treatment options and when to refer.
Inflammatory origin
Radicular/Periapical cyst
Occurrence: Most common odontogenic cyst. 52% of cystic jaw lesions
Origin: Inflammatory – epithelial rests of Malassez
Where: Develops at the root apex of non-vital tooth
Why: Bacteria from a carious lesion travels down the root canal to the periapical region. The inflammatory response leads to the destruction of bone and the formation of granulation tissue. Eventually, this results in cyst formation
Appearance: There may be a small swelling present intraorally. The patient may report pain if the lesion has become infected
Radiographically: Unilocular radiolucent lesion with a well-defined border at the root of a tooth
Treatment: Root canal treatment and a review radiographically in one year to see if the lesion resolves. In addition, apicectomy and removal of cyst, extraction of the tooth and removal of the cyst.
Residual cyst
Origin: Inflammatory – epithelial rests of Malassez
Occurrence: 8%
Where: At an area where previously a tooth has been extracted
Why: Remaining tissue following inadequate removal of a periapical cyst
Appearance: Possibly visible intraorally as it's an area of bony expansion. It may become symptomatic if it gets infected
Radiographically: Unilocular radiolucent lesion in a tooth bearing area but not associated with a tooth
Treatment: Surgical enucleation of the cyst. May require referral to Oral and Maxillofacial Surgery (OMFS) for this procedure depending on confidence and skill level.
Paradental cyst
Occurrence: 3-5%
Origin: Inflammatory – odontogenic epithelium
Where: At the crown or root of a partially erupted tooth. It can occur on the buccal, distal or (rarely) mesial aspects of the tooth. It only occurs in the mandible and most commonly occurs in partially erupted mandibular third molars
Why: A response to chronic inflammation. In the majority of cases there is a history of recurrent episodes of pericoronitis
Appearance: Not visible intraorally
Radiographically: Unilocular radiolucent lesion attached to the cementoenamel junction (CEJ) and the coronal of a third of the roots. Lesions may vary between 1-2cm in size
Treatment: Removal of the tooth and enucleation of the cyst. In addition, it may require referral to OMFS for this procedure
Developmental origin
Dentigerous
Occurrence: Second most common odontogenic cyst at 20%
Origin: Developmental – reduced enamel epithelium
Where: Unerupted teeth, occurring in the mandible 70% of the time. It most commonly affects mandibular third molars, then maxillary canines
Why: The accumulation of fluid between the crown of the tooth and the reduced enamel epithelium pf the dental follicle. Resulting in dilation of the tooth follicle and prevention of the tooth from erupting
Appearance: Can result in delayed eruption of a tooth or, if it's large enough, may cause bony expansion
Radiographically: Unilocular radiolucent lesion around the crown of the tooth starting at the CEJ
Treatment: For mandibular third molars treatment it's likely removal of the tooth and enucleation of the cyst is needed. But depending on treatment planning, maxillary canines may be planned for extraction and cyst enucleation, or exposure and bonding to bring the canine into the arch.
Eruption cyst
Occurrence: 1-10%
Origin: Developmental – reduced enamel epithelium
Where: On the mucosa overlying an erupting tooth, appearing shortly before the tooth is visible in the oral cavity. They most commonly occur in children aged from 6-9 years and in the molar or incisor regions
Why: Accumulation of fluid or blood between the crown of the tooth and the reduced enamel epithelium of the dental follicle
Appearance: Well circumscribed fluctuant swelling overlying an erupting tooth. In a cystic lesion containing blood there will likely be a blueish hue to the swelling. A lesion filled with fluid will be the same colour as the mucosa. Usually less than 1.5cm in size
Radiographically: It may be hard to identify as the lesion is in the oral cavity rather than within the bone
Treatment: The majority resolve on their own without requiring any intervention. If the eruption is impeded or the lesion become painful or infected, surgical exposure and drainage of the cyst may be required.
Odontogenic keratocyst
Occurrence: 10% of odontogenic cysts
Origin: Developmental – dental lamina
Where: Twice as common in the mandible as in the maxilla. Large lesions are most likely to occur at the angle of the mandible or in the ramus. Benign but locally invasive and aggressive with a high recurrence rate
Why: Multiple keratocysts are present in people with Gorlin-Goltz syndrome
Appearance: Often asymptomatic and identified on routine radiographs
Radiographically: If small, lesions are usually a unilocular radiolucency with a sclerotic margin. If lesions are larger they are often multilocular radiolucencies with scalloped margins
Treatment: Referral to OMFS for assessment and treatment planning. Treatment options include enucleation, marsupialisation, chemical cauterisation and surgical resection. Each technique has their individual pros and cons.
Key points
Odontogenic cysts can broadly be categorised into those of inflammatory origin and those of developmental origin
The most common type of odontogenic cyst is a radicular/periapical cyst
The second most common is a dentigerous cyst
Some cysts may require surgical intervention and referral to the oral and maxillofacial surgery department.
References
Ackermann G, Cohen MA and Altini M (1987) The paradental cyst: a clinicopathologic study of 50 cases. Oral Surg Oral Med Oral Pathol 64(3):308-12
Anjana G, Varma B and Ushus P (2011) Management of a Dentigerous Cyst: A Two-Year Review. Int J Clin Pediatr Dent (2):147-51. Epub 2010 Apr 15
Borghesi A, Nardi C, Giannitto C, Tironi A, Maroldi R, Di Bartolomeo F and Preda L (2018) Odontogenic keratocyst: imaging features of a benign lesion with an aggressive behaviour. Imaging Insights 9(5):883-897
Dhawan P, Kochhar GK, Chachra S and Advani S (2012) Eruption cysts: A series of two cases. Dent Res J (Isfahan) 9(5):647-50
Wang LL and Olmo H (2021) Odontogenic Cysts. Treasure Island
---
Catch up with Hannah's previous dental student guides
Follow Dentistry.co.uk on Instagram to keep up with all the latest dental news and trends.