The benefit of being the most newly qualified in the room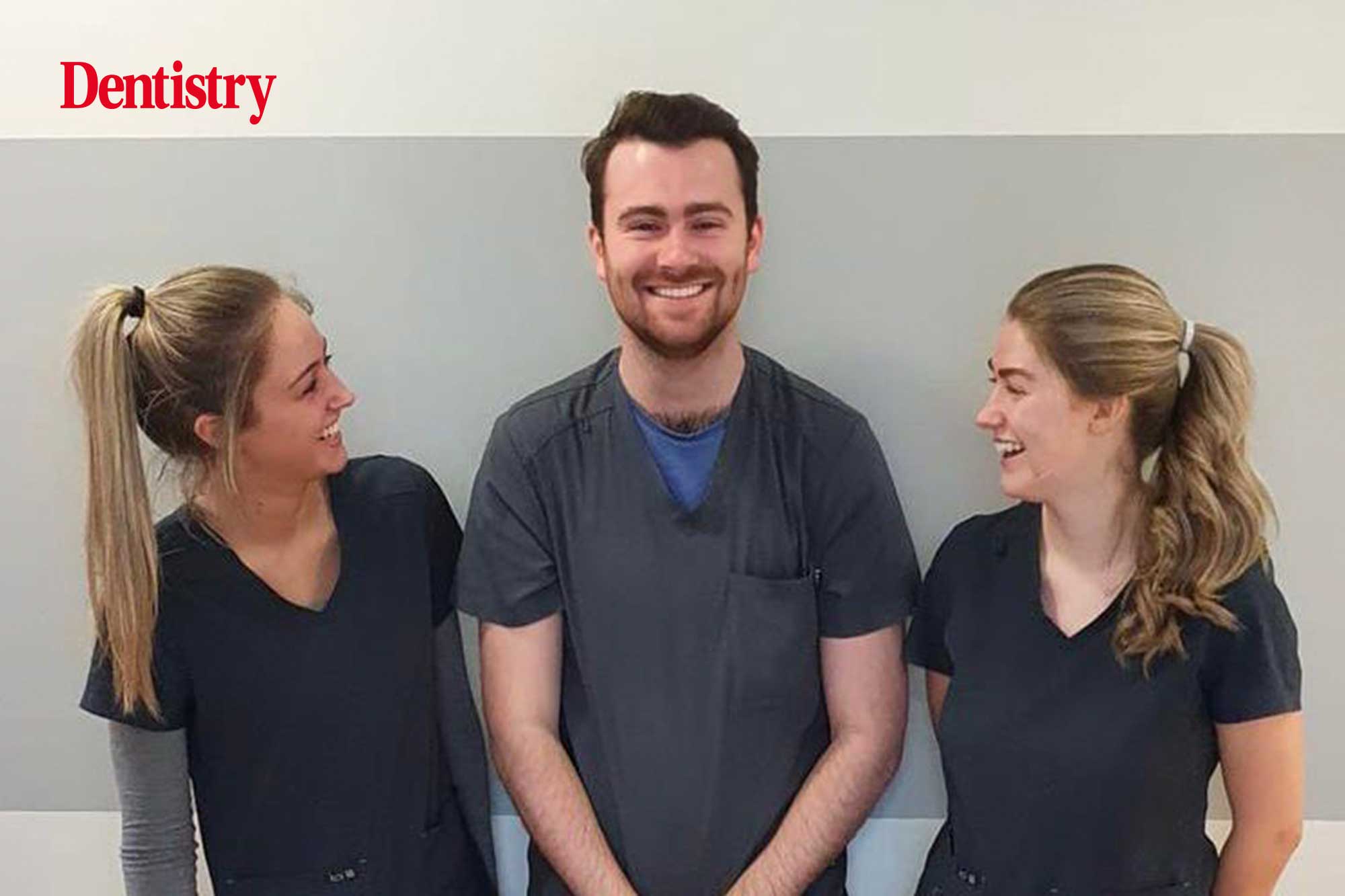 For newly qualified dentists, it can be hard to know what comes next: to launch into post-graduate training is one route, perhaps with further courses and training, while many want to simply take a break from studies and focus on the daily routine of treating patients. Neither route is wrong – and yet for many, the hardest part can be deciding which path is right for them and discovering how to embark on it (whether that be how to seek out courses, how to factor training into busy routines, or how to find the support needed to study alongside work). We met with Douglas McLeod, who joined Netherfield Dental Practice on graduating in 2018, to find out about his own approach to post-graduate development.
It's no wonder that Douglas considers himself 'part of the family' at Netherfield Dental Practice.
As his local dentists in Prestwick, just outside of Glasgow, Douglas was a patient of principal Dr Nat Chamberlain from the age of three.
Fast forward to his teenage years and weighing up whether to study medicine or dentistry: a week of work experience at Netherfield cemented his ambitions for the latter, opening his eyes to how much he enjoyed the social side of the job – the patients and teamwork – in the process.
Next came graduating with honours from Glasgow University. Followed by a return to Netherfield in 2018. Here he was paired with none other than Dr Chamberlain as his vocational trainer.
'If I was staying local, it had to be Netherfield!', he explains.
Further training
While, on paper, it's certainly a neat full-circle story. But, since graduating, Douglas is forging his own path embarking on further training.
With the Covid-19 pandemic hitting just six months after completing VT and starting as an associate, he took the initiative to seek out opportunities for development – realising the 'practise' sides of practising would be on hold for a while.
'I remember travelling to London for the "Invisalign Go" course and emailed to check it was going ahead. The person I spoke to said "of course" and seemed surprised by the question. A week later we were in lockdown, and Netherfield was closed for three months,' he describes.
While the closure of practices was unnerving for all, for newly qualified dentists it posed the unique challenge of halting the daily vocational work that's so essential to development.
Douglas attended online courses and webinars. But he found he missed in-person training and the opportunities it offered for meeting other attendees and learning from their experiences.
In fact, he cites one of his favourite parts of attending courses is the chance to travel somewhere new and to meet new people, who may have different training, backgrounds or approaches to their work.
As lockdown continued, he started researching the courses he'd like to attend as soon as restrictions eased. He launched back into training as soon as he was able.
His studies now to date include courses on aesthetic dentistry, minor oral surgery, composite bonding and Invisalign. He also completed a post-graduate certificate with Tipton Training, spending a year attending monthly training days in Manchester.
Boosting confidence
For some graduates, the drive to continue studies may be low on the agenda. Douglas admits he's often been the most newly-qualified participant in the room.
Yet he views this only as an advantage. 'I think some graduates think they should wait until they have a certain level of experience to start exploring courses,' he says.
'I was often the most recently qualified person at training events. But I did not feel that put me at a disadvantage. It was actually often a benefit – as a lot was still fresh from university.'
He's also seen how growing his skillset has benefits beyond his own development. 'With the NHS backlog, I saw how upskilling could help the practice and our patients. It meant less referrals out – for things like difficult extractions or oral surgery.
'They have really boosted my confidence in areas that were once quite intimidating.'
Netherfied has been both supportive and accommodating of Douglas's studies. But one of the most important elements for him is that the practice in no way dictates the path he should take. He seeks out courses that spark his interest and receives nothing but encouragement from his colleagues.
Upskilling within the team is a benefit to all. Douglas describes how he and his colleagues seek out the knowledge of others if there's someone with a specific area of interest.
'I'm very lucky to be part of such an encouraging team. Everyone pulls together and helps each other out. Our nurses are incredible, I'd be lost without my nurses Milly and Melissa!'
Dentex Annual Conference
As Netherfield is part of the Dentex group, Douglas also has access to its directory of courses and events. It's something he's keen to tap into for future development.
One of the main benefits he believes with this system is that it's totally down to the individual to pursue their interests. The information is there and readily accessible if you need it. But all without any pressure to follow a specific path: 'Dentex encourages you to do better and supports the progression of your career. But without telling you what they think you should do,' he describes.
Through the directory, members of the community can also take advantage of discounts and a calendar of upcoming courses.
Next on Douglas's list of ambitions includes attending the Dentex Annual Conference – taking place in September. He sees this as a great way to meet others within the group.
'You can sometimes feel quite isolated being in surgery all day,' he says. 'But being part of Dentex helps you feel connected to a whole network. Plus it brings lots of opportunities for networking and development.'
---
For more information on Dentex visit www.dentexhealth.co.uk.