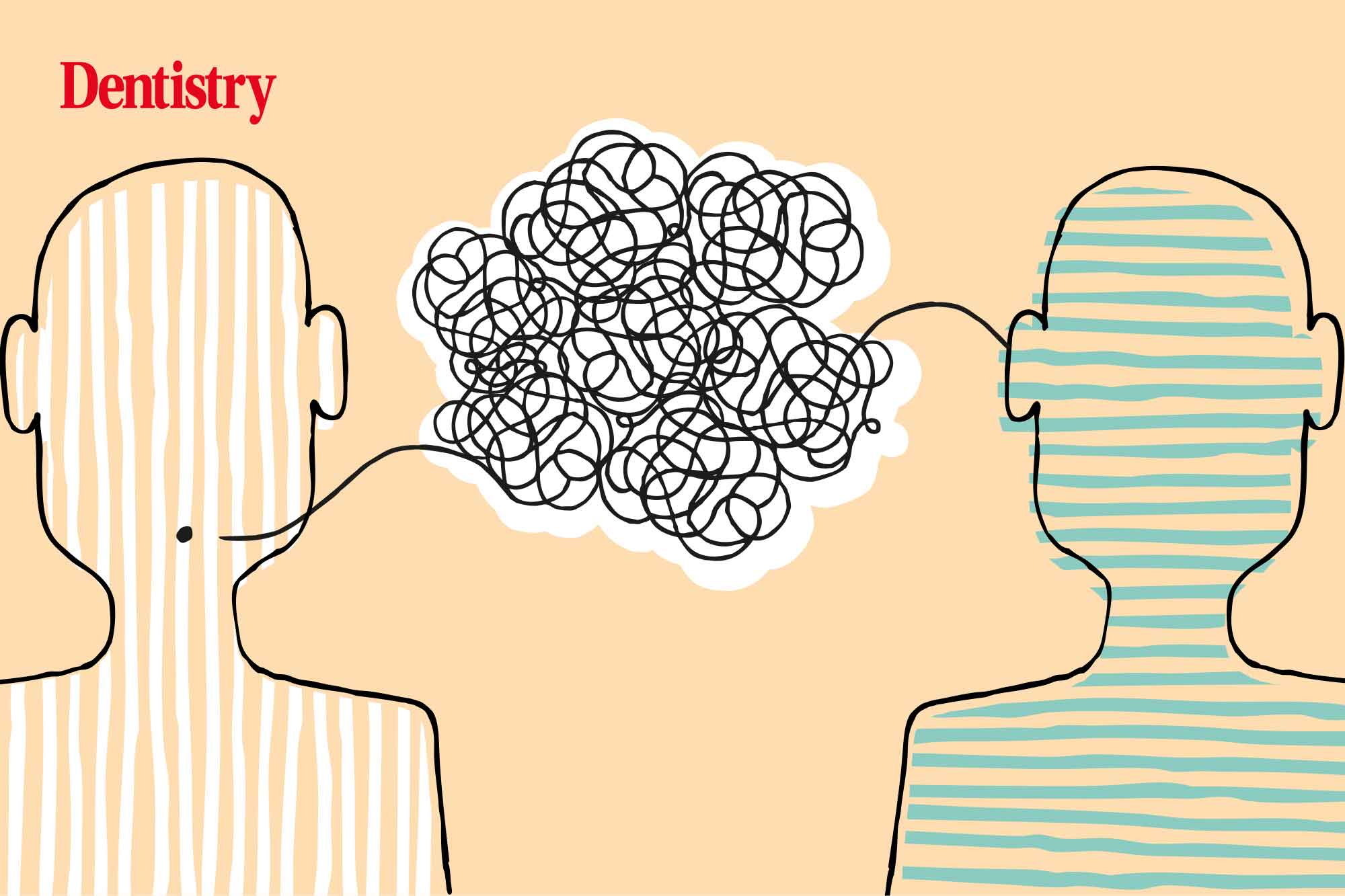 Emily Howden discusses the importance of effective communication between patients and clinicians, and how potential obstacles can be overcome
Effective communication has become more important than ever before, especially since the increase of remote consultations and online communication during the pandemic.
As such, it is an essential part of dentistry, and it can increase patient satisfaction and help reduce the risk of complaints.
However, there are numerous obstacles to effective communication between patients and clinicians.
Some barriers are physical, such as a hearing impairment. Some are due to a lack of understanding. For example, having a limited command of the language used – while others are emotional. Most dental professionals will face a situation where a patient is unable to process the information provided due to a heightened state of anxiety.
Failure to communicate effectively can lead to misunderstandings. This might mean that a patient's expectations of their treatment are not met.
If a dental professional does not fully appreciate what a patient is seeking, then they may fail to provide the appropriate advice, treatment, follow-up, or referral. 
In turn, this could make the patient more likely to make a complaint or a claim.
Dentistry's top stories
GDC guidance
Dental professionals have a regulatory obligation to communicate effectively with patients, as set out in principle two of the GDC's Standards for the Dental Team, which states that communicating effectively with patients involves actively listening to the patient, giving them time to consider their options and considering their needs and wishes
Additionally standard 2.3.3 explains that: 'You should recognise patients' communication difficulties and try to meet the patients' particular communication needs by, for example:
Not using professional jargon and acronyms
Using an interpreter for patients whose first language is not English
Suggesting that patients bring someone with them who can use sign language
Providing an induction loop to help patients who wear hearing aids.'

 
Overcoming obstacles to communication
Patients with sight impairment
Ensure you greet the person as soon as they enter the room and let them know who you are and what your role is. Speak directly to them and make sure they know you're listening by responding verbally, although avoid interrupting them.
Explain what you are going to do before doing it: 'I am just going to guide you towards the chair.'
When providing patients with written information, consider providing it in a large print format if appropriate.
Carefully read any written information provided to fully inform the patient.
Patients with a hearing impairment
Speak slowly and clearly, and listen carefully. 
When you are not examining or treating the patient, if Covid-19 restrictions allow, remove your mask so the person can see your lips.
Be careful to reduce any background noise. This can be difficult in a dental practice but remember that although many tasks become 'background' noise to anyone working in the surgery, they can be very intrusive for patients, especially those who have a hearing impairment.
You must give patients a written treatment plan before their treatment starts. But it may also be worth providing information leaflets about the treatment you have discussed. As well as, post-operative instructions after certain dental treatments.
Sometimes people can be embarrassed to discuss hearing impairments, and in some circumstances a clinician might assume that a patient has heard advice when they have not. It is important to check that a patient has fully understood what's been discussed.
Patients who are unable to speak or understand English
The use of professional interpreters from a translation service may be required when treating patients for whom English isn't their first language. When using an interpreter, speak to the patient rather than to the interpreter.
Be aware of the potential problems that can arise from using a family member as an interpreter. There is no guarantee that they are able to interpret correctly.
Speak slowly and clearly, avoiding jargon. If a patient does not appear to understand, try rephrasing a question, and consider using pictures to help communication.
Patients with a learning disability
Try to keep questions simple, and only ask one at a time. Give the patient enough time to respond and remove distractions from the surgery, such as background music.
Ask the patient to bring in a family member or carer who knows them well. They may be able to advise on how to communicate with the patient.
Provide the patient with a written treatment plan. If the patient consents, you can share this with a carer or someone with legal responsibility.
Patients with severe anxiety
Severely anxious patients may often find it difficult to concentrate on what you are saying. Offer reassurance or a further explanation as needed.
Consider trying to see the patient for a discussion in a non-clinical environment, which the patient may find more comfortable.
Obviously, you would need to carry out any clinical examination in an appropriate environment.
Patients don't always remember what their dental professional has said. In particular, when they are anxious, so it may be helpful to provide further written information.
---
Follow Dentistry.co.uk on Instagram to keep up with all the latest dental news and trends.