Align Technology's cycling team exceeds target raising over £30,000 for Operation Smile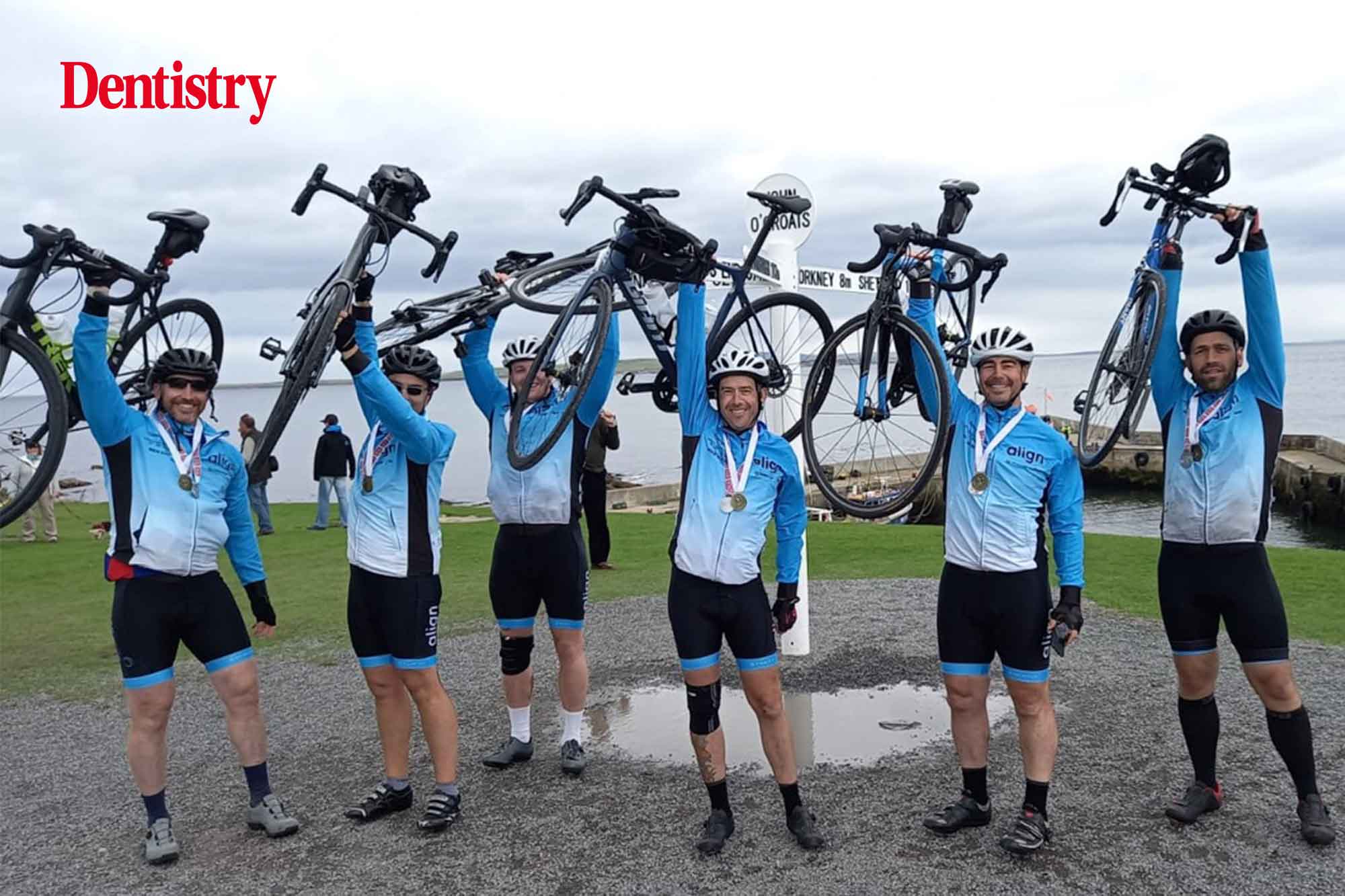 Align Technology announced that its UK and Ireland cycling team exceeded its charity fundraising target of £25,000, raising over £30,000 for Operation Smile.
The funds will help change the lives of 240 children from underprivileged countries who were born with a cleft lip and cleft palate
The marathon fundraiser was achieved by a small convoy of motivated Align team members cycling from Land's End to John O'Groats. A road trip of 928 miles over 10 days from 11-20 September.
The team of cyclists made daily pit stops at Invisalign practices en route. As well as dropping in on the British Orthodontic Society Congress in Manchester. Dr Sandeep Kumar and specialist orthodontists Dr Chris Buchanan and Dr Peter McCullum also joined them for parts of the ride.
Expedition statistics
Total miles covered: 928
Hours cycled: 71 hrs 38mins
Calories burnt: 48,398
Feet climbed: 52,849
Equivalent of 1.8 Everests climbed
Top riding speed achieved: 51.9 mph.
According to team lead Dan Parsons, Align Technology marketing director UKI: 'The Invisalign practices we visited en-route every day were unbelievably welcoming, fuelled us with food and drinks, and one of the clinics also held a raffle and raised additional funds to add to the event total.
'Their support and enthusiasm for what we were trying to achieve provided a welcome boost every day and definitely spurred us on. We cannot thank them enough for their sustenance and TLC.'
Daily ride and clinic visit schedule
11 September Set off from Lands End to Bodmin – 65 miles – Lander Dentistry, Truro
12 September Bodmin to Whiddon Down – 57 miles – Better Smiles, Tavistock
13 September Whiddon Down to Wookey Hole – 76 miles – Confident, Taunton
14 September Wookey Hole to Ludlow – 100 miles – Whitetree Dental, Bristol and The Dentist, Tupsley
15 September Ludlow to Chorley – 114 miles – Monksmoore Dental, Shrewsbury and Dr Nikhil Oberai Clinic, Northwich
16 September Chorley to Carlisle – 100 miles – Brock Street Dental, and SmileVille, Lancaster
17 September Carlisle to Cumbernauld – 109 miles – Lockerbie Dental, Lockerbie
18 September Cumbernauld to Fort William – 113 miles – weekend, no practice visit
19 September Fort William to Dornoch – 107 miles – weekend, no practice visit
20 September Dornoch to John O'Groats – 80 miles – end of the cycle challenge.
David Henry, senior partnerships manager for Operation Smile commented: 'Congratulations to the whole Align cycling team for this amazing achievement. The money you raised will have a life changing impact around the world. And we can't thank you enough for undertaking this epic ride to help Operation Smile further our work.'
---
To make a donation, please follow the link: aligntech.enthuse.com/pf/align-cycling-team.
Since 2013, Align Technology has supported Operation Smile worldwide and donated over $2.5 million to date, as part of Align's purpose to transform smiles and change lives.