'We would walk nine hours to villages' – a dental hygienist's mission to transform dental care in Nepal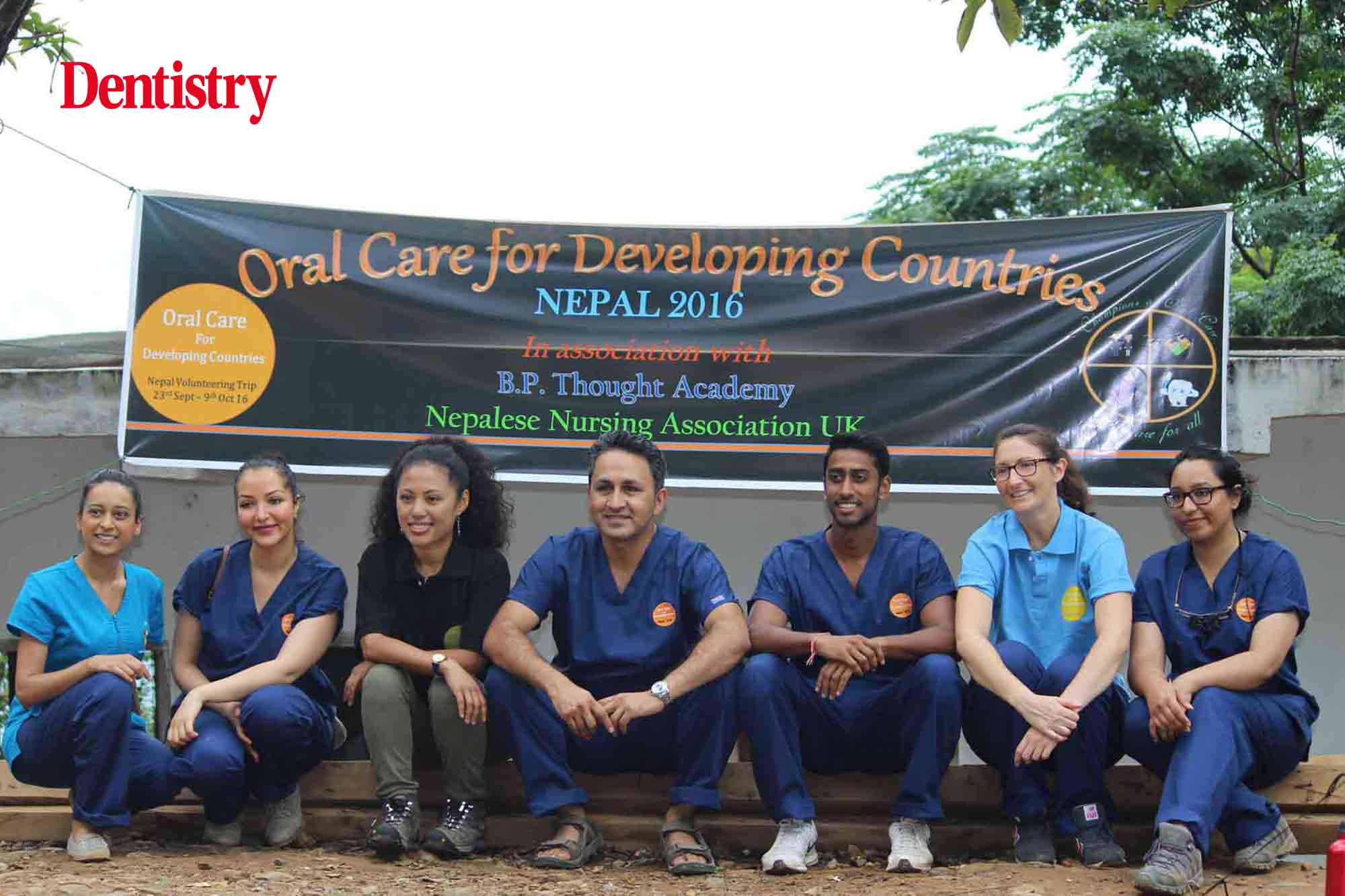 Deepak Simkhada discusses his dental camps in Nepal where his team trekked nine hours to deliver life-changing  care. 
How did the idea for the camps come about?
I grew up in Nepal, where access to dental treatments in clinics and dental education were both fairly uncommon. After migrating to the UK for my studies, I experienced proper dental treatment for the very first time. I vividly remember it being a holistic experience and it was nice knowing that I was being looked after well.
This experience gave rise to a feeling inside of me, and a birth of a vison; a vision to go return to my homeland and offer my community what they had been deprived of for so long, in any form that I could and to the best of my abilities.
It all started with a small idea. An idea to go backpacking across rural areas in Nepal and spread awareness among the locals there. Most dental diseases are preventable up to a certain extent with the correct education and preventative measures. I wanted to share the knowledge that I had gained in dental school by creating an awareness programme revolving around education on toothbrushing, healthy eating habits of sugar etc.
How did the team come together?
Initially, I shared my idea with a friend of mine, Dr. Kirun Raj, who initially trained as a Dental Therapist before graduating as a dentist here in the UK. She offered to come along on the journey and was one of the first people to believe in my vision.
When I realised that others might have wanted to join me in this noble cause, I started talking to my colleagues and friends, and spreading news about the plan. And guess what? We had a team of seven enthusiastic dental professionals ready to join us in no time!
After building a team from the UK, we were on the search for interpreters. Although, who would be better than a local dental student?
I contacted a dental school in Nepal and shared our plans. We gained the support of senior undergraduates to come along and assist us. The proposal was this multi-disciplinary international collaboration would learn from one another while providing healthcare support to the local communities.
We also corroborated with dentists in Nepal who were conducting similar outreach programmes to further guide and support our charitable activities. Together, we became a stronger team of 18 determined professionals ready to make a difference through oral health camps in Nepal.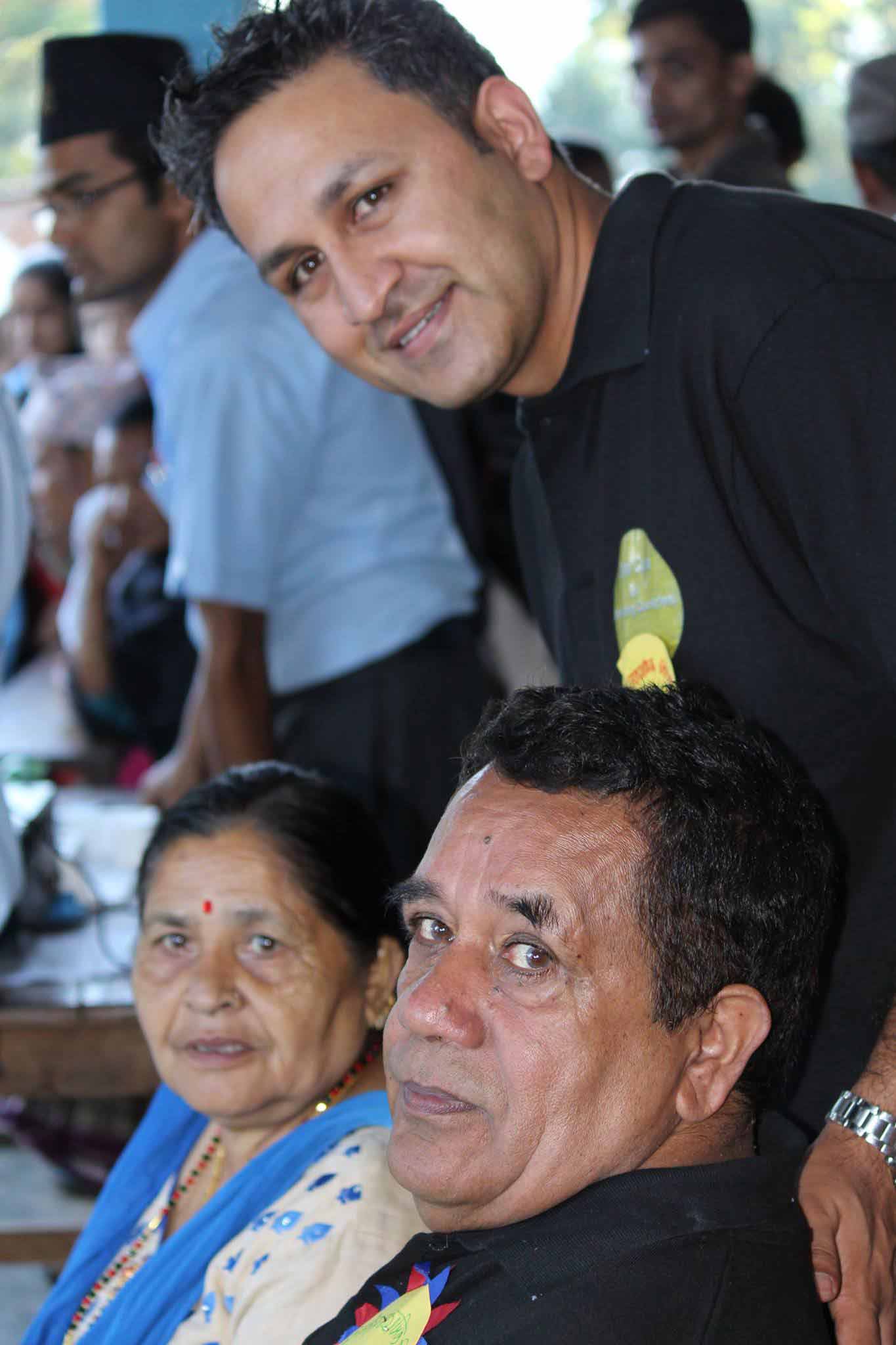 How did you organise it?
After numerous discussions, we decided on a venue in Dhading district of Nepal (around 6 hours away from the capital city, Kathmandu). We came into contact with a local school there, who were kind enough to allow us to use their premises to set up a camp as well as providing lodging to the team.
The school gave us three rooms to be used as treatment rooms, as well as one library room where we could all rest and sleep. I must admit that the least enjoyable aspect was the endless paperwork and logistical preparations. However, that was a very small price to pay for the greater good as the entire team worked hard and well together in successfully running the camp.
What kind of care were you providing?
We had decided on providing almost every aspect of dental care that was possible within a day. The team was divided into 5 sub-teams which were: 1. Assessment and examination 2. Restorative 3. Perio 4. Oral Surgery and 5. Decontamination and sterilisation. Every team member took turn to work in various teams and was always supported by a team leader as well as a local dentist who could speak the local language fluently.
How did you overcome the challenges?
The challenges started the moment we tried to put our plan into action. Understanding how to execute the plan and then actually doing it required a tremendous amount of effort. Furthermore, other unpredictable circumstances and difficulties arose now and again. For example, the last three hours of our journey to the venue had to be completed on foot.
The setting was not ideal to work in, given that we did not have dental chairs and appropriate lights, and electricity was intermittent at times so we had to make do. Everybody who took part certainly worked diligently and were both excellent leaders and team members. They all took initiative and went the extra mile!
But once we got going, the buzz kept us motivated. We were supposed to finish at 5pm but we never did. As it started to get darker, one person would hold the loupes light while another provided the treatment. And so, we went along. The most difficult thing was turning back patients. While we never finished by the time we were supposed to, it was impossible to see the masses that attended. We would sometimes have to call them back the next day.
All in all the pressure was immense, but looking back now all I feel is pride and gratitude.

How often do the camps run?
They became a yearly occurrence after that first camp. We conducted one in 2016, 2017 and then another one in 2019. After that, we have not been able to run another camp as the pandemic posed serious challenges and social limitations. However, the team is all ready to run another camp as soon as the situation in Nepal settles.
What was a regular day at the camp like?
A typical day would start with us waking up at around 7 am. We would take a shower either inside a tent, natural spring or a nearby river to freshen up. Then breakfast was served in the camp hut and we would proceed to start seeing patients from 9 am. The team would take lunch break, staggered in turns, at 1-2 pm.
Although the clinics were meant to end at 5pm, we would always overrun due to the sheer volume of attendees and complexity of work required, so tended to finish by 7pm. Then after a shower, we would relax and recharge ourselves for the same gruelling, but worthwhile, schedule next day by some form of entertainment around dinner. This could be a campfire, drinks and dancing to boost our morale.
How did you organise the equipment and tools?
There have been several companies that have been very helpful. One of these is NSK. They donated a lot to the cause, including ultrasonic machines, hand pieces and electric micromotors. Other companies like Swallow Dental and PDT had donated hand instruments. IsFY (Anaqa) donated most of the surgical instruments we needed. A good friend, Maggie Jackson, donated a secondhand autoclave and lots of instruments too!
The wider dental community in the UK came together to pitch in as well. We raised funds plus help from friends, family, and practices where I used to work in went along way to secure what we needed. The help from other companies like Dentsply and Henry Schein was very significant as well. A lot of materials like burs, GI cement, and the majority of disposable equipment had to be bought in Nepal itself.
How did the three camps conducted differ with each other?
The first time that we conducted a camp in 2016, we had 18 team members. But I soon realised that we needed a bigger team when we had to send patients back each day in spite of clinics overrunning two hours daily. These patients always came back the next morning, which confirmed the need for dental services and hence the need for more team members. So we increased the team members from 18 to 40 for the 2017 and 2019 camps.
For the one in 2019, we had hundreds of applications which allowed us to select team member with the right determination and attitude to thrive in harsh conditions in order to provide a high-quality service to the population while prioritising patient safety. We had dental professionals (specialists, dentists, hygienists, therapists, nurses) from many countries like Germany and India in addition to Nepal and UK. Specialists like periodontists and oral surgeons joined us too. There was a dedicated decon nurse as well.
The last camp also differed in terms of how it operated. Previously we had conducted the two camps by basing ourselves at one school at a time. In 2019, though we conducted camp from one school, but then selected another five schools as our hub where students of 14 different neighbouring schools were invited and were able to provide oral health education and toothbrushes to about 2200 students in total.
We also focused on training the teachers on toothbrushing and prevention of oral diseases as this would lead to more sustainable and long-term delivery of education to the students even long after we leave.
The only thing that did not change was the team's determination. Also, I would like to give a special mention to one of our therapists, Julie Simpkins, who has been our restorative unit supervisor for the last couple of times. She came to all three camps. Every time we open the application to participate, she is always the first one to sign up. She is a 'constant' as well.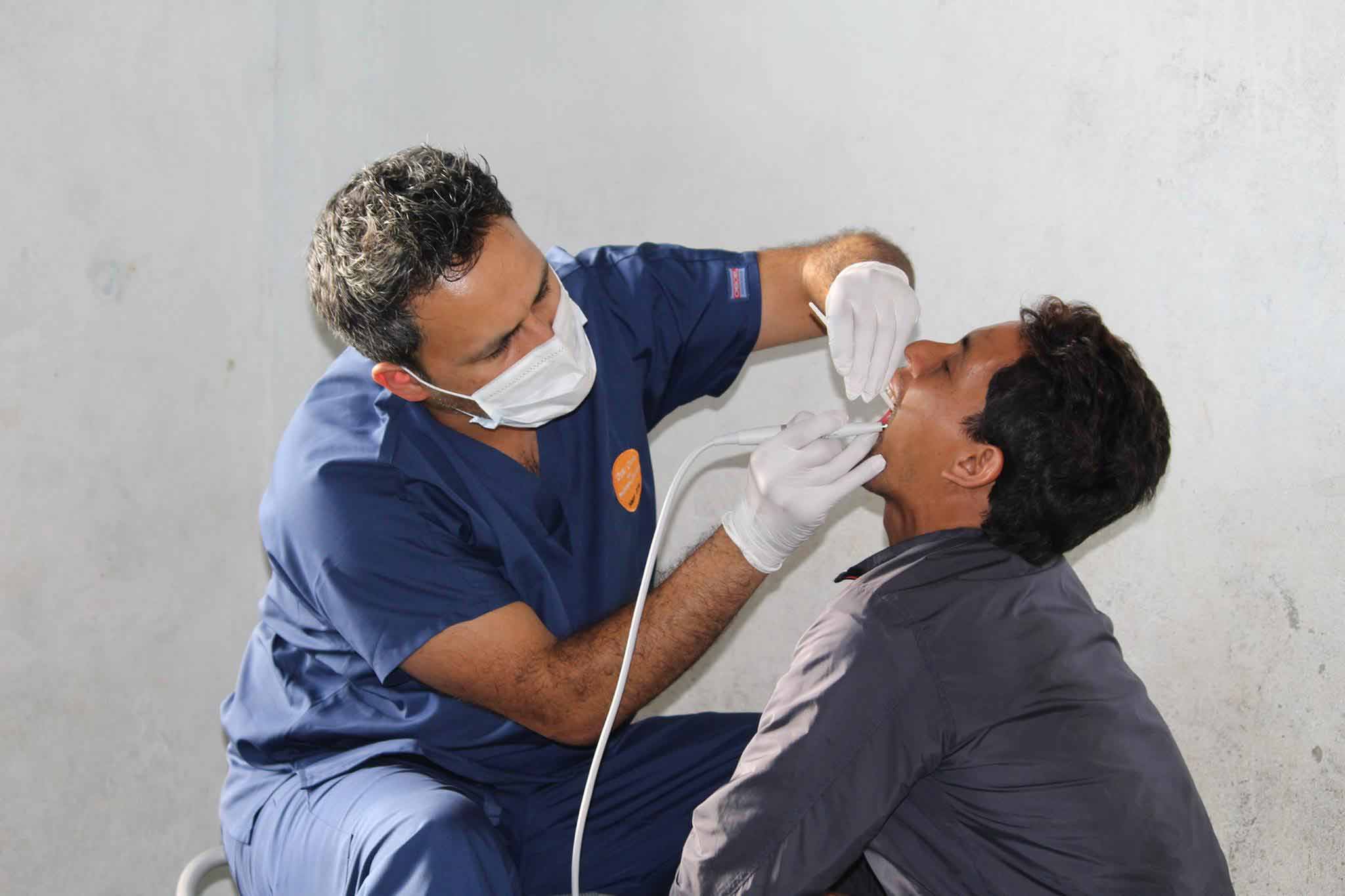 Why was the camp in 2019 special?
This camp was special to me personally. We had conducted the camp in Gorkha, in a village (Thakukot) where my mother was born. This was a place I would go to visit as a child; we would walk eight or nine hours at a time to reach the village from a town called Gorkha Bazaar.
I have fond memories of the village and I still recognised some familiar faces. For me to be able to give back to a place that I have a strong connection with, made it all the way more special.
Do you go back to the same village each time?
We go to different districts and villages each time in order to cater for as many people as possible and especially to those most vulnerable without the appropriate support. We went to three different remote districts: Dhading, Nuwakot and Gorkha. However, we are considering returning to one of the previous sites just to be able to observe the impact of our work, review our treatments and patient-related outcome measures. We could then also note any drawbacks in order to come back even stronger in the future.
After all the hard work for six or seven days, what kind of activities did you do post-camp for relaxation?
Usually, after the camp, the team would go for a self-funded trekking experience. We enjoyed the serene landscapes and the culture of the people in the country for around five days. Trekking and spending quality time together always helped to further strengthen our bond. Furthermore, the local community was more than welcoming and accommodating of our needs. There was a palpable sense of social partnership and philanthropy.
What are your plans for the future?
The plan is to definitely continue running the camps once the situation allows us to. We are also thinking of conducting camps in other parts of the world. At the moment, and in light of the current social circumstances due to the pandemic, the logistics of identifying a venue in a new country and the process of organising a programme seems very difficult.
Nevertheless, we are open to guidance from anyone who might be willing to help us achieve our goal and reproduce our success. We are also considering supporting other similar projects running locally as well as educating and training local dental professionals. All in all, we are still working on this dream of ours to help as many as we can and make a difference for communities deprived of oral healthcare.
---
Follow Dentistry.co.uk on Instagram to keep up with all the latest dental news and trends.