A dental student's guide to…resin cements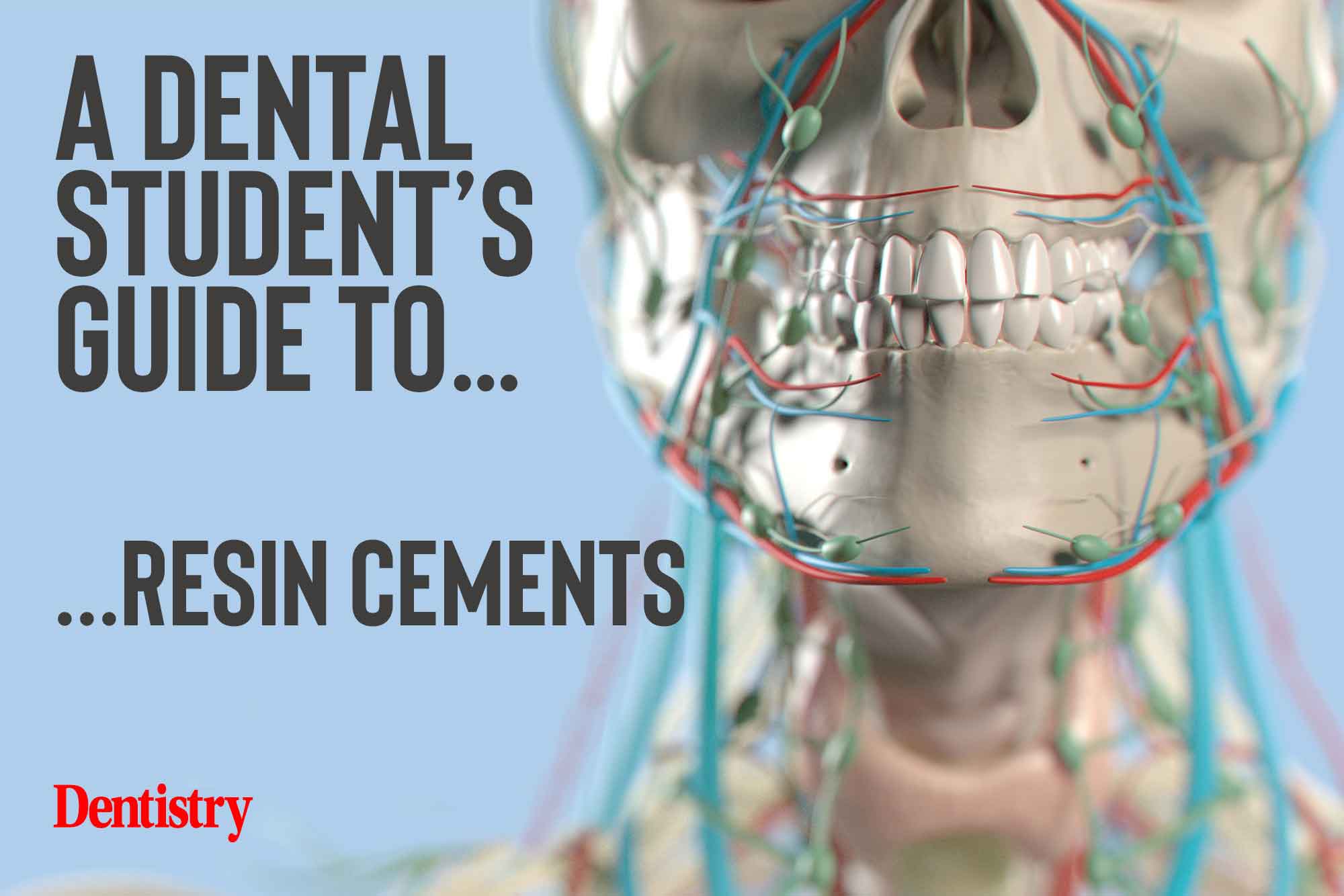 Following on from last months 'A dental student's guide to…luting cements', this article will focus on their adhesive counterpart, resin cements.
Introduced in the mid-1980s, resin cements are a much more recent addition to the dental market (Ramaraju et al, 2014). 
These cements are largely composed of a resin matrix and filler or fine inorganic particles (20-80%) (Ladha and Verma, 2010). They are available as various systems, such as a paste/paste, powder/liquid or capsule. They can be classified according to their polymerisation mechanisms or their adhesive scheme (Ladha and Verma, 2010).
Polymerisation mechanisms:
Light-cured
Chemical-cured
Dual-cured.
Adhesive mechanisms:
Total-etch
Self-etching
Self-adhesive.
Conventional cements, such as the luting cements described in last month's article, are referred to as 'passive' materials. Retention of the restoration is achieved through the mechanical interlocking of the rough restoration surface and the cement (Makkar and Malhotra, 2013).
In contrast to this, resin cements are thought of as 'active' materials. This is due to the micro mechanical bonding, creating an adhesion to dentine and other dental materials (Makkar and Malhotra, 2013).
They work by bonding to a variety of substrates, including dentine, enamel, porcelain, ceramics, gold, metal alloys and indirect resin composites (Stamatacos and Simon, 2013).
The popularity of resin cements rapidly increased due to several characteristics making them clinically superior luting cements. However, whilst they have numerous advantages, they also possess some disadvantages as well. I've listed these generally for all three types of cement below. 
Advantages (Ladha and Verma, 2010; Stamatacos and Simon, 2013):
High bond strengths to tooth structure and lab materials
High compressive and tensile strengths (20-50MPa)
Low solubility
Micro-mechanical bonding to prepared enamel, dentine, alloys and ceramic surfaces

 

Wide range of translucencies.
Disadvantages (Ladha and Verma, 2010; Stamatacos and Simon, 2013):
Technique sensitive – all steps should be carefully followed

 

Difficult to to remove hardened excess cement

 

High film thickness
Polymerisation shrinkage can cause marginal leakage

 

Low modulus of elasticity
Use of eugenol-based temporary cements can inhibit the complete polymerisation of the resin cement
Post operative sensitivity due to leaching of unreacted monomer.
Total-etch
Of the three types of resin cements, total-etch yields the greatest bond strength. It displays increased retention and superior mechanical properties.
However, of the three cements it also has the highest amount of post-operative sensitivity. The application process is also very technique sensitive, with the outcome of the cementation largely based on operator skill, restoration design and intra-oral conditions (Makkar and Malhotra, 2013).
Self-etch
Self-etch cements rely on a two-strep process, which requires application of a phosphoric acid etchant and an adhesive.
Self-etching cements yield a bond strength similar to that of self-adhesive. However, this is not as strong as that yielded by total-etch (Makkar and Malhotra, 2013).
Self-adhesive
Self-adhesive cements are the most recent addition. They can bond to an untreated tooth surface, which is not etched, primed, bonded or air-abraded. This system was developed as a result of clinicians wanting a simplified version of the cementation process (Makkar and Malhotra, 2013). Self adhesive cements yield a bond strength similar to that of self-etch cements.
They largely contain MDP (10-Methacryloyloxydecyl dihydrogen phosphate), an adhesive monomer that enables chemical bonding to tooth and suitably prepared metal restorations (Ladha and Verma, 2010).
These cements don't require acid-etching. The affinity of the monomers for the metal oxides facilitates the resin bond (Ladha and Verma, 2010).
However, the affinity of these cements for precious metals is low due to the lack of oxide layer. Therefore surface modification is required to achieve chemical bonding (tin-plating, heat treating, metal priming) (Ladha and Verma, 2010).
The first commercial resin cement containing MDP was Panavia, which has developed a lot since its introduction. It is now a dual cure, self-adhesive, self-etching and fluoride releasing cement (Ladha and Verma, 2010).
Summary
Dental materials are continuously undergoing improvements
Whilst resin cements are much more recent than their 'passive' luting cements counterparts, they still have disadvantages to be aware of

 

Understanding the different types of resin cements available and how they work will allow appropriate material selection on a case by case basis.
---
Catch up with previous Student's guide
Follow Dentistry.co.uk on Instagram to keep up with all the latest dental news and trends.
References
Ladha K and Verma M (2010) Conventional and contemporary luting cements: An overview. J Indian Prosthodont Soc 10: 79-88
Makkar S and Malhotra N (2013) Self-adhesive resin cements: A new perspective in luting technology. Dental Update 40: 758-68
Ramaraju DV S, Krishna Alla R, Ramaraju Alluri V and MAKV R (2014) A Review of Conventional and Contemporary Luting Agents Used in Dentistry. Am J Mater Sci Eng 2: 28-35
Stamatacos C and Simon, J (2013) Cementation of Indirect Restorations: An Overview of Resin Cements. Compend Contin Educ Dent 34(1): 42-4