Flying Smiles – the dental hygienist offering treatment in gardens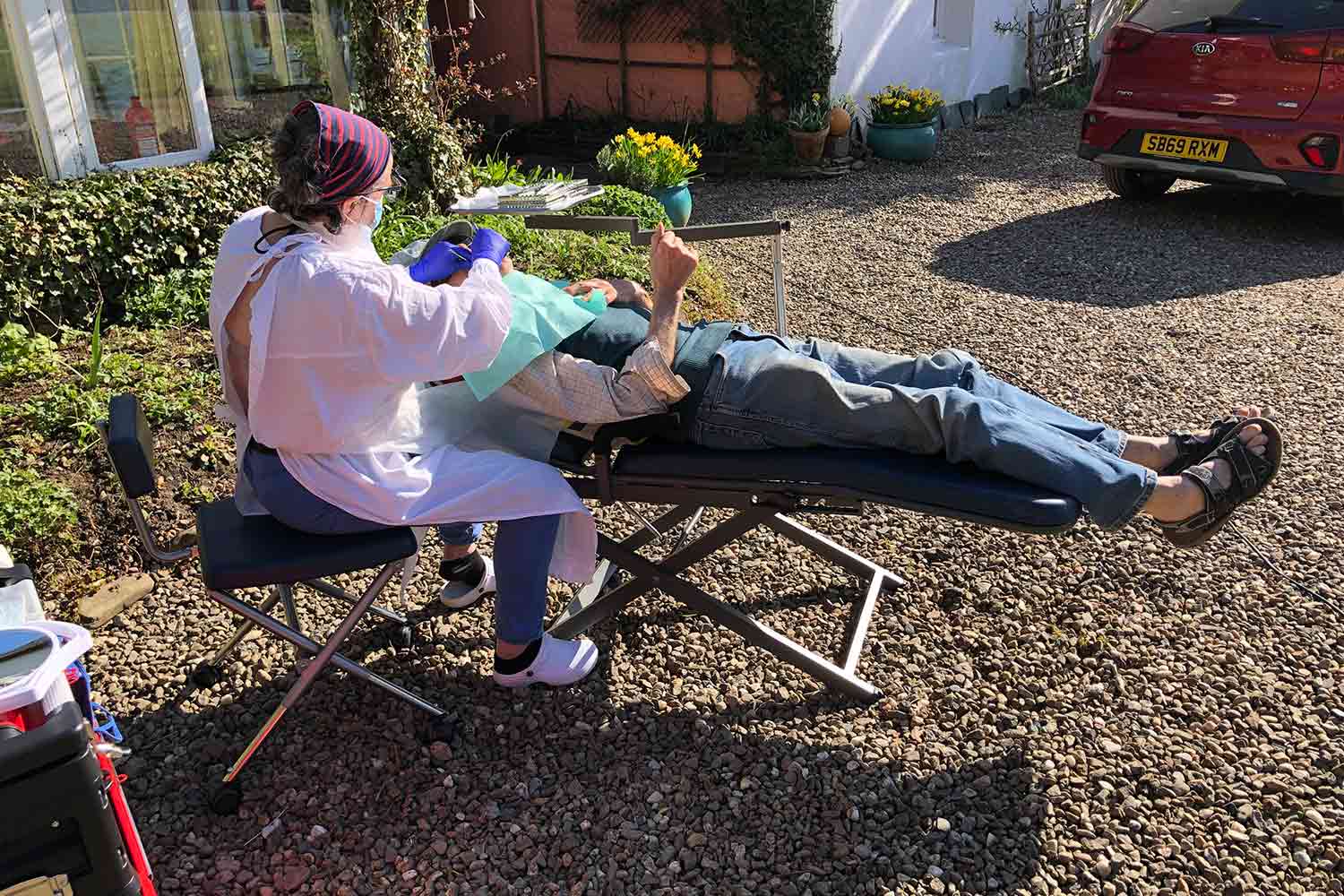 Fiona Perry – the founder of Flying Smiles – talks to Dentistry about her new way of working and why many patients prefer her more personal approach.
How did Flying Smiles come about?
I've been a hygienist for over 30 years and I was working in a rural practice in Aberfeldy in Perthshire, Scotland, and a lot of my patients were getting older.
We used to joke and laugh about how they were going to clean around this implant or through this bridge when they maybe became homebound or were being looked after by carers. That's really where the idea started.
Through the BSDHT we had a workshop day with Dementia Scotland and there's a great video The Appointment – it just shows someone with dementia attending the dentist and how scary it is.
That planted another seed. I then went traveling for six months with my family, so left my job and it was like: 'What am I going to do when I come back?' That's really where the idea blossomed.
I just wanted to work within the community and look at prevention. Obviously since COVID this has become so important. So many more people are maybe homebound or shielding than before.
When did you start treating people in their homes?
I was doing an open day in our local village on the 14 of March.
But obviously we locked down after that, so I just kept going with my marketing.
When you run a private practice anywhere in the UK, you have to be registered with the local authority in Scotland. It's called Healthcare Improvement Scotland and they registered me in August of 2020.
So that's when I started 'flying'.
I can imagine there are a lot of complications or challenges that you have to overcome. How's it been going?
It's been going great and and, if anything, COVID has helped. Obviously dentists were working through their backlog and so there's a lot of patients out there who are still waiting.
Dental hygienists are often in broom cupboards or cupboards under the stairs. So ventilation in those rooms has been a challenge. Therefore a lot of hygienists, especially in Scotland, are still furloughed or not working.
So if anything, it's helped my business.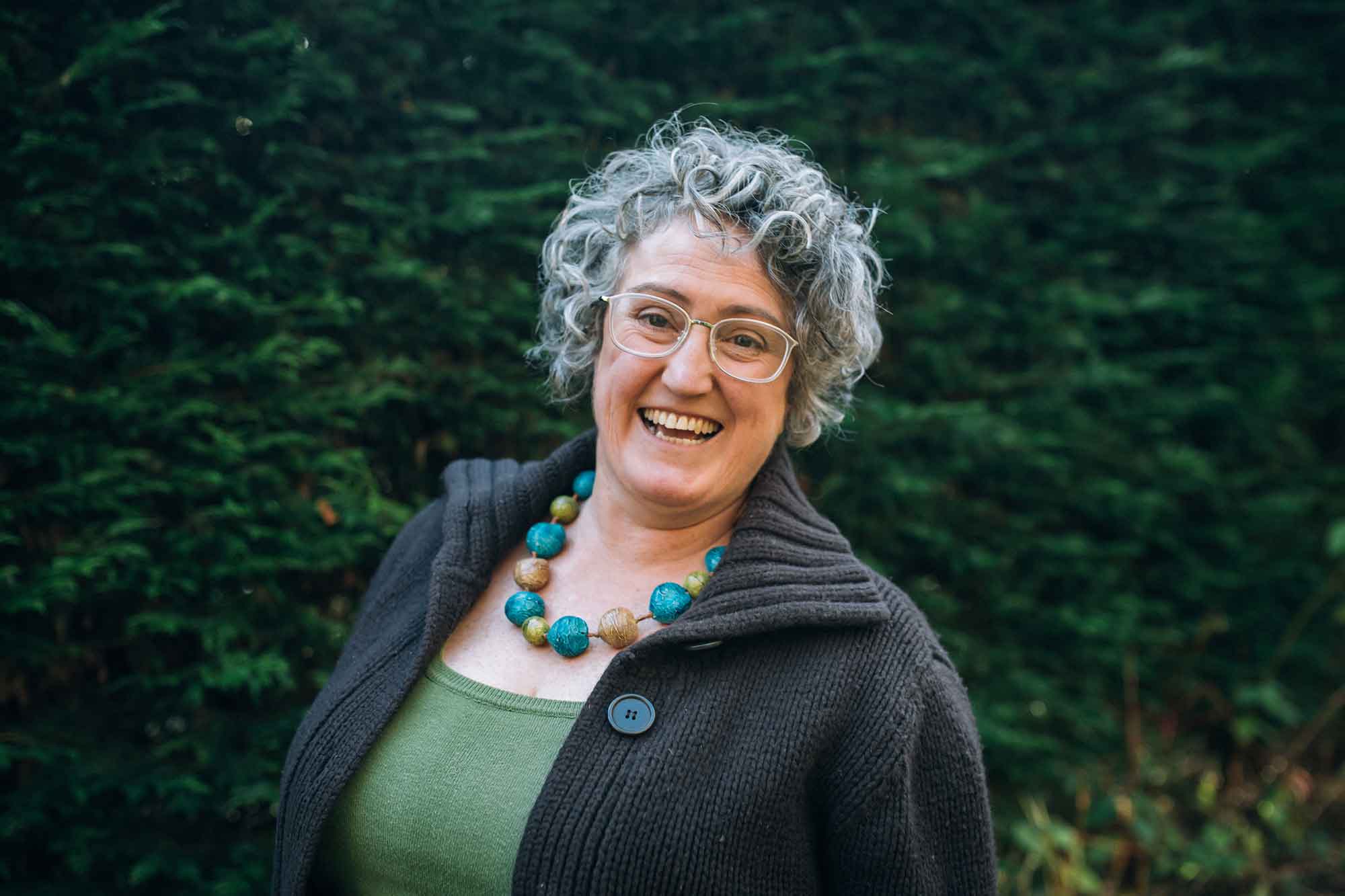 How has it been received by the community?
I think people are more open to having something done in their house since COVID
There's now an expectation that anything can happen in your house because of shielding and everything.
Like any business, people have to find out about you to make that decision. I've been a dental hygienist for 30 odd years. So I've attended work, cleaned people's teeth then gone home. So suddenly I've got the whole business side of it.
I spoke to the local carers and started seeing homebound people in the village. I've also gone to all of the care homes in the local area.
Really I'm there to support primary care. I'm hoping to work alongside them and take some of the pressure off.
Is it logistically more difficult to carry out treatment?
No, not at all. If anything, from a dental hygienist point of view, it's great because you can say go and grab your toothbrush.
I used to always have this struggle with reception saying please remind them to bring their brush in and then for the patient to actually remember.
So from that point of view it's great. Obviously I'm not on a conveyor belt. I'm not seeing someone every half an hour, so I book people in for about an hour and a half.
This gives me time to talk to patients, get to know them and do an individual health plan.
I started off with great big boxes with all the stuff in. But soon realised that actually by the time you've taken everything out and put everything away you don't have time to carry out any treatment. Now I have two trolleys that ride like tool boxes on wheels like you might have in a garage. You can easily wipe them down and I'll have everything in the drawers, so that makes it easier.
I literally just wheel my stuff in. My husband comes as my chaperone and sets up my care and I have a folding dental chair.
I've started to treat people standing up. I'm actually talking with Victoria Wilson who is a dental hygienist and yoga teacher and we are going to do a paper on why do we sit. Because actually it is better to stand.
Obviously, with my following, NSK have been very generous and giving me one of their Viva, Ace domiciliary kits. I'm borrowing that for the moment, but I think it's something I can't do without.
I'd like to see what the EMS one is like, but the NSK is great. Having a three-in-one air, piezo and the professional polishing cup is a joy!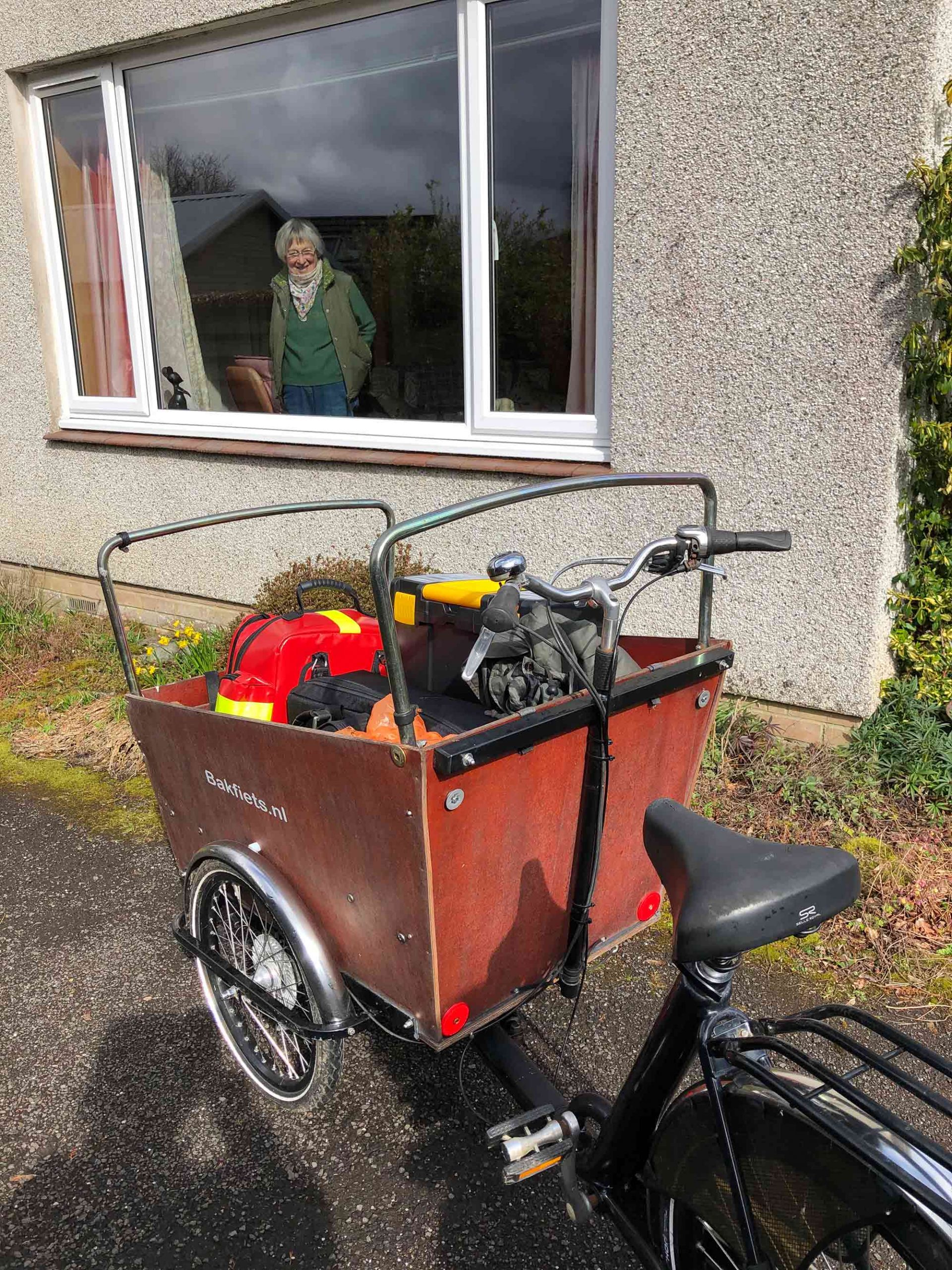 How do patients prepare?
I send all the information on what they need to do on email. Via Dentally Software, they can give me consent, dental, social history and medical history and it is safely stored in their notes.
I ask them to just not have too much stuff in the room and also remind them of good ventilation. But of course during these summer months I've been able to work outside.
Working outside has been great for phobic patients – they just cloud watch, listen to the birds and at the end of it, they're like, oh, is that over? It's been great from that point of view and obviously ventilation wise. The air exchange is amazing!
Ultimately because they're in their own house, I'm leaving their own droplets in their own house and I walk away. So no fallow time!
I've seen you transport your equipment on a cargo bike! How did that idea come about?
We are in a climate emergency and I want to do my bit. One of the great things about setting up your own business is you can choose what products you have in your business and what you have in your dental shop. So I I follow a very sustainable and eco-friendly policy.
I am part of a Strathearn Climate Change Group in our community and via that group I heard there were two cargo bikes owned by Comrie Development Trust sitting in a lockup. I offered to get them serviced on the condition that I could borrow them and they were delighted with that. So there's myself and my husband with all our equipment flying around the area.
Of course, we don't take them miles away. It just shows local people that you can use them to go on short trips rather than their cars. Which we all should do more of. I have a notice on them saying if community members want to borrow them, to get in contact.
What's the plan for the future? Will you continue even after restrictions ease?
There is a massive need. I'm seeing people that haven't seen the dentist for years.
Around 40% of the population here don't see the dentist. If invited in via direct access I can review their mouths and then advise them.
There is definitely a lot of people who are either in residential care or homebound. And so the need is huge. It's something that we need to look at as a profession.
I saw a lady who had her implants done when she was in her 60s. She's now 98. Do we think about that guarantee for those implants? What if someone stops coming to your surgery?
This lady had an implant retained denture and she hadn't been able to click it in for a number of years, so she just balanced it there. I talked to the local lab and she got it fixed.
I've learned so much as a hygienist in such a short period of time. I've had enquiries from down in Essex and up to Aberdeen, so there's a need. It'd be nice to see the future of Flying Smiles.
---
To find out more about the compact, lightweight and portable NSK VIVA Ace domiciliary unit for more advanced home visits call NSK on 0800 634 1909 or visit VIVA ace
VIVA Ace is now on special offer with a 30% discount* on the RRP using discount code VIVA30.
---
Follow Dentistry.co.uk on Instagram to keep up with all the latest dental news and trends.