Celebrating Pride Month – three LGBTQ+ stories from the dental profession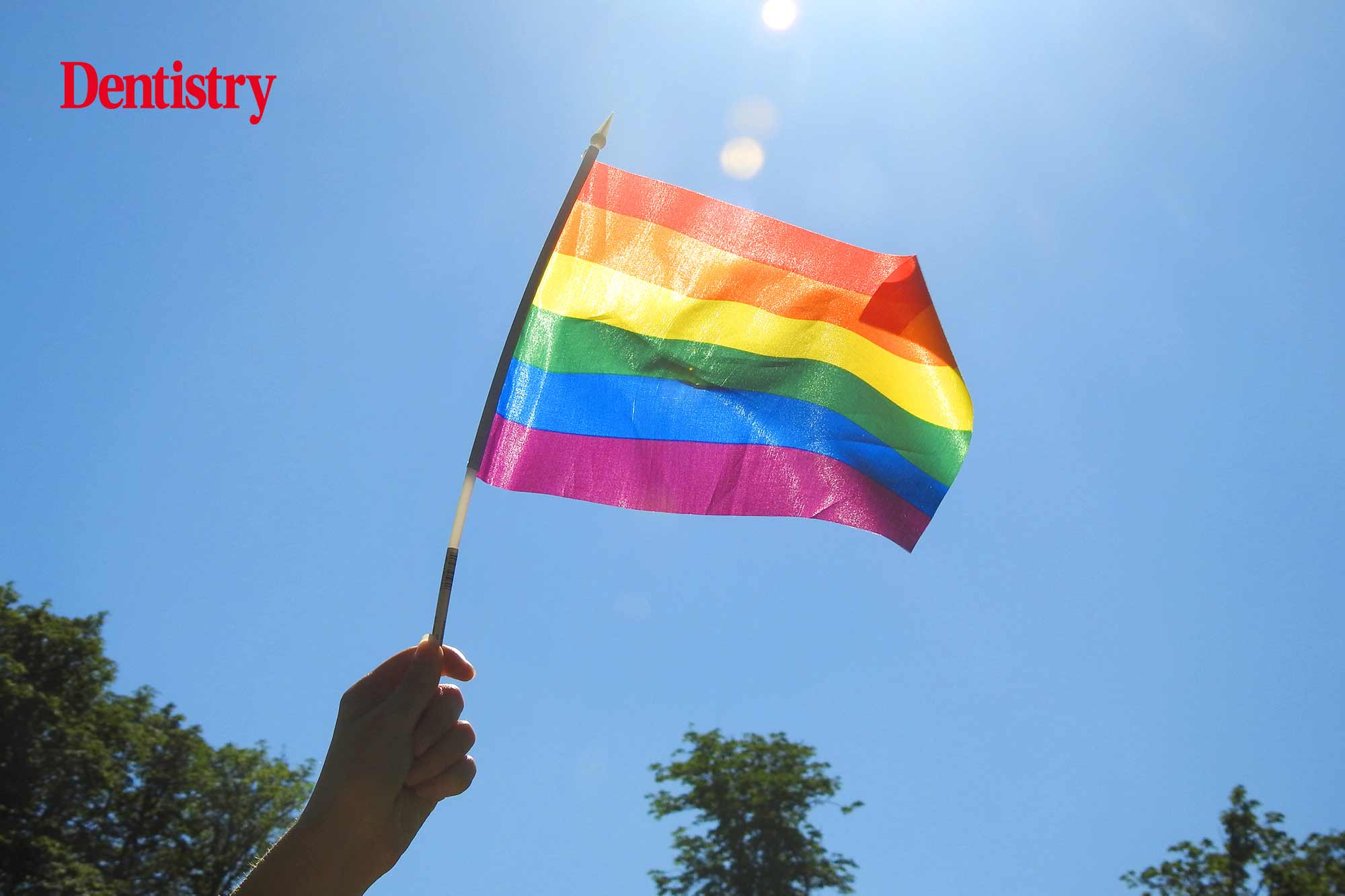 This week marks the beginning of Pride Month, which is dedicated to celebrating the LGBTQ+ communities all around the world. We hear from three people within the dentistry about what this month means to them.
Mydentist have shared the personal stories of some of our senior clinicians and operational team about the importance of being proud of who they are. The colleagues who share their stories hope in their confidence to speak out they will inspire or help others.
Susy Madrugo – clinical director (Wales and south west)
When I was younger, I didn't have a burning desire to tell the world that I was gay. But I really wanted to tell them that I had fallen in love, was dating and happy. All my family, friends, colleagues at my practice and even patients wanted to see me happy, settled, to find a boyfriend, get married and have kids.
I did not feel what my friends described as butterflies in the stomach when meeting a boy. Boys did not make me nervous at all, they made me feel comfortable. I hid the feelings I had for some of my female friends, so deeply so that no one could find them, not even me.
I was ashamed of them and I tried to find reasons to justify these feelings. Society had taught me that a girl loves a boy and a boy loves a girl so I couldn't possibly love other girls.
I graduated and moved to England; my feelings still had not managed to find their way out. One of our receptionists was chatting to an agency nurse. I overheard her talking about her partner, who was a girl and they had just broken up.
Years of turmoil
As she went back to her surgery, the receptionist said to me: 'Aww, love her, she has no one to go on holiday with now.' And I replied, hushing: 'I think she is gay.' And my receptionist carried on, speaking loudly 'oh she is!' as if we were talking about what we were going to have for dinner.
I went home and I could not think about anything else other than the fact that for years I had felt that I was gay but could not accept it to myself, let alone others. Yet that nurse seemed so comfortable talking about it – even to someone she had just met!
I woke up and I came out to my flatmate, who was also a dentist. I told him that I had had a dream: I had a red mini, an ear piercing on top of my left ear, I had a girlfriend, and I was happy. It was the happiest I can remember ever being. I will never forget what he told me: 'I can't get you a girlfriend today. We can go to a car showroom but even easier, let's find a piercing shop and get that box ticked.'
And we did. And this piercing is still here to mark the day I came out to myself and others, after years of turmoil inside of me.
I told my receptionist who said: 'Oooh exciting, you are going to get yourself a girlfriend now!' The support I had from my colleagues and friends was unbelievable. I did buy a red mini not long after and met my now wife Emily, with whom I have a beautiful daughter. And my receptionist and practice team have been at my wedding, baby shower and birthday parties.
'I used to think that I could hide being gay'
I used to think that being gay was a choice. It isn't. I used to think that I could hide being gay. I couldn't. And I thought that you could pick who you fall in love with. You can't. I believed being gay was wrong. It isn't.
It is who you are, the way you were born and you cannot change who you are, at the core. I did not only come out as gay, I came out as myself, as who I actually am. I am a more confident, extroverted, secure, and positive person than I was before.
Coming out to your friends and family is difficult Sometimes coming out in your workplace when you have a reputation to maintain is even harder. I am a firm believer that when you can express yourself, the real and best of you comes out and everyone wins. I have found a safe place in the UK and at Mydentist to be the true me!
Mark Bloor – clinical support manager
'Did you see It's a Sin?'
'Yes, why?'
'Was it really that bad then?'
'There was some …artistic licence for dramatic effect – but yes it was'
'So what was it like being a dentist in the 80s and beyond and gay?'
Well, here goes.
I trained as a Dentist in the early 1980s just as the AIDS pandemic was becoming recognised. At that time, particularly in the western world, it was considered a disease of homosexuals. Whilst I was at university and very closeted as anti-gay feelings were on the ascendency, in no uncertain measure due to the emerging pandemic, the views within dentistry regarding treating patients with the condition raged.
So, after qualifying and working in the hospital I returned to the area I had been brought up in and became an associate. I still figured it was better to keep my sexuality to myself. Although I did get involved with a number of AIDS benefits. These raised many thousands of pounds for the early AIDS charities. They were attended by many people, gay and straight.
'Only affected gay men'
In 1986 I bought my first practice with a fellow I was at university with and we set about increasing the capacity of the practice and patient numbers. Although I tried to be 'normal' it was clearly apparent to those girls that I did go out with the 'spark wasn't there'. But I had plenty to keep me occupied expanding the practice and opening a squat practice.
Maybe this was a diversion to keep me busy, maybe being busy was a good excuse.
As things settled down professionally in the later part of the 80s the increasing numbers of AIDs patients were finding it incredibly difficult to receive any form of routine care. Suggestions that they should be treated at the end of a session (before universal precautions) was widespread.
But the reality is nearly all patients who admitted to their GDPs they had an HIV diagnosis found they could not access continuing routine care. I found myself increasingly seeing these patients after hours. Had I seen them during regular surgery hours it would have likely been professional, or rather financial suicide.
The public perception was driven by scaremongering in some. There was an attempt by others, notably Sir Norman Fowler to explain the disease. But the 'don't die of ignorance campaign' voiced by the late John Hurt put the fear of god into many.
But at least it was an attempt by the government to do something about the problem. Many at the time either didn't or didn't want to understand the issue. And in any event it only affected gay men so…so what?
Section 28
This disdain and fear was to become even more acute when a Florida dentist called David Acer hit the news. Patients already convinced they could catch HIV at the dentist now had the proof. A patient called Kelly Bergalis had been a patient of Acer who had removed two wisdom teeth in December 1987, Acer having been confirmed as HIV+ in the autumn of the same year.
In March 1989 Bergalis was showing signs of HIV infection and by January 1990 had a full-blown AIDS diagnosis. The CDC confirmed that the infection had indeed come from Acer. Patients were now absolutely convinced going to the dentist would result in an HIV infection. So again I opined it was better to remain tight lipped and dodge the inevitable questions about wife and children. If Cliff Richard could be a confirmed bachelor, why not me?
To add to my concerns in 1988 the Conservative government introduced the now infamous, Section 28. It effectively outlawed the 'promotion of homosexuality'. The problem was it was poorly drafted and wide in its application. It did very little to encourage me to 'come out'. This legislation remained in place until 2000 in Scotland and 2003 in England and Wales.
Positive patients were finding accessing routine dental care nigh on impossible. There was always an excuse by their GDPs to refer them on. So I became involved with seeing patients from an AIDS charity (always, of course, outside of surgery hours) for routine care. I also offered hypnotherapy sessions.
Game changer
The charity was offered a building from the Roman Catholic church to accommodate the aspirations of the charity to provide an inclusive caring environment. I became the 'official' un-official dentist. I saw increasing numbers of patients, including a guy who officially did not have an HIV diagnosis; his diagnosis was HTLV3 (the precursor of the virus being named HIV).
The good news is he is still around working for body positive. I can remember every time he had a chest infection, cold or flu he was always afraid it would be the end of the line. It really was that bad early on with life expectancy a matter of years from diagnosis.
Of course, the game changer were the antivirals. But even initially they were fraught with difficulties and complications to the point that some found the side effects difficult or were so concerned by the possible complications they avoided taking them.
Early on patients had to travel to London from the south coast to receive care. A good friend of mine who had developed Kaposi Sarcoma eventually succumbed to the disease, though the drugs afforded him an additional 20 years of life. But I can still remember the day he told me he was positive. I just cried, for at that time it was a death sentence.
Love without exception
In the midst of all this I started seeing a nurse who was associated with the charity. That was more than 27 years ago and we've been together ever since.
A few years after we got together in the late 90s we moved to the New Forest. Whilst we were certainly not 'out and proud' you would have had to be blind to see we were not a couple. In all the time we have been in the New Forest without exception the locals have been accepting of us and very warm to us. Indeed, we invited a number of our close friends to our civil partnership in 2005.
I believe it was the Civil Partnership Act and the associated measure that lead to a much more enlightened outlook. Many of our friends became patients, showing significant trust in me as a gay dentist well before the GDC and NHS did.
Indeed, it was mandated around that time that all new qualified dentists would have mandatory HIV tests before being enrolled on the register. The DoH view remained that any HIV positive dentist would effectively, as Kevin Lewis from Dental Protection put it, have to clear their desks and stop practising. This view remained in place until 16th January 2014, when HIV positive dentists were allowed to practise under certain conditions.
Not to be feared
Thankfully HIV infected individuals in this country, with modern medication and care is such that, in essence, they may expect a normal life expectancy a stark contrast to the case when I qualified some 37 years ago.
I am proud that I never turned my back on HIV positive patients and treated them throughout my career. There is no doubt being so closeted and, in my mind, having to be so careful about inadvertently disclosing you were gay added significantly to what is already a stressful profession.
Do I blame anyone, well I certainly wouldn't blame patients for being scared particularly early in the pandemic. However I believe it to be a fact that no professional in their right mind would purposefully expose patients to risk of infection.
I am, however, glad that much, but certainly not all, of the stigma of being gay has now evaporated. But make no mistake it is still there in some quarters. As with all intolerance people need to be 'enlightened' and shown we are not to be feared.
Rob Devlin – head of resourcing
I grew up in a working-class rugby town and knew from an early age I was different. By the time I was finishing college, I realised that I was attracted to men. But in 1996 there was no internet or resources available to help understand what you could do about it.
LGBTQ+ media representation when I was growing up was largely negative. Like most people of my generation it created a sense of dread and shame at the thought of coming out.
After starting my music degree, I joined an LGBTQ+ university society. I remember the absolute terror I had walking to that meeting. Will anyone see me going in and work out I'm gay? What if I don't relate to any of the people in the group? What if someone in the group tells my friends I'm gay?
My music took me into the world of dance music production, which in the late 90s in Manchester was an unbelievable place to be. I remember one recording session where I was working with a producer who asked me if I wanted to go out for a drink after the session.
Diverse and connected community
We ended up going to Canal Street, which was considered the gay capital of the north. I couldn't believe that the producer was gay, and I couldn't believe I'd found myself in a gay club dancing until the early hours surrounded by hundreds of out and proud LGBTQ+ people.
This was the moment I realised I'd found the community I belonged in and made the decision to come out to my parents the next time I went home. I was terrified at the thought of this and fully expected my parents and siblings would disown me, which was quite often the story I heard from gay friends who had done the same.
When I did come out, my parents and family could not have been more accepting. I have gone on through my adult life to create an amazing LGBTQ+ family as well as my biological family.
I've always had anxiety over being taken less seriously because of my sexuality. This anxiety has fuelled my drive to be the best version of myself and always do the utmost in my work. Now I'm in the privileged position of being a leader, I hope my work and story will support Mydentist in becoming a more inclusive place to work. One where everyone can be their full self and we become an even more diverse and connected community.
---
Follow Dentistry.co.uk on Instagram to keep up with all the latest dental news and trends.