Biomin F – your perfect clinical partner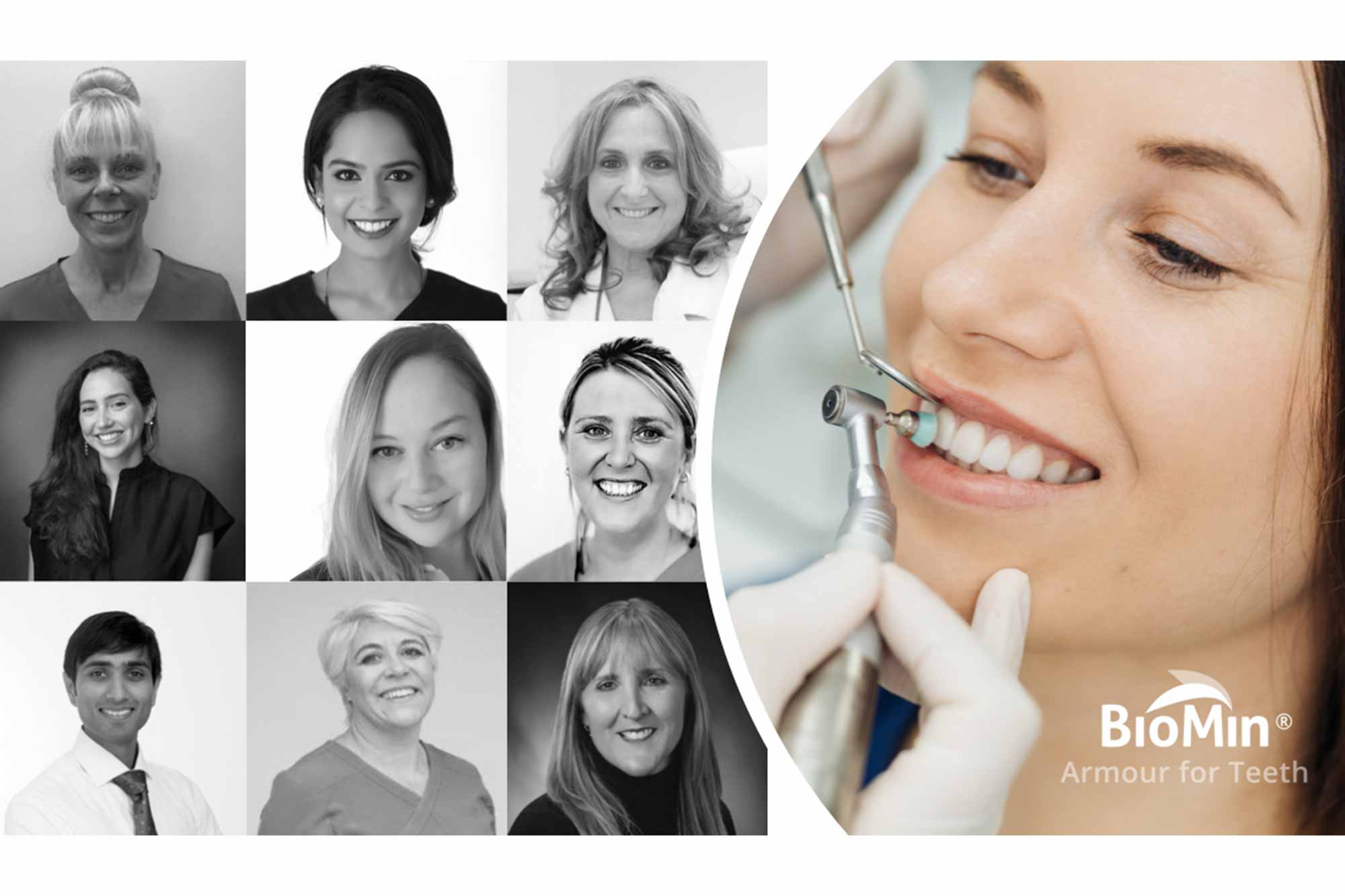 Biomin F is a great toothpaste for use at home, but it is invaluable for use within the practice too. Dental clinicians give their verdict.
Dentists, dental hygienists and therapists are finding that Biomin F is their perfect partner in the practice. It's an ideal toothpaste for patients with a wide range of problems. As well as for those with good oral health.
Thanks to its unique blend of calcium, fluoride and phosphate ions, and its controlled release formulation, Biomin F both prevents and eases the symptoms of dentine hypersensitivity, and remineralises lost and damaged tooth enamel.
This makes it a great toothpaste to recommend to patients ahead of and during treatment programmes. And for patients with a variety of health needs.
For healthy patients who just want to take good care of their teeth, Biomin F is a great everyday toothpaste.
But it's not just for use at home. Dental hygienists and therapists in particular have found Biomin F and Biomin C (without fluoride) invaluable to prevent sensitivity arising when carrying out clinical procedures, and to remineralise and strengthen teeth during and after treatment.
Here's what some dentists and hygienists have to say about it.
Scaling and whitening sensitivity
Sam Davidson
A dental hygienist who works in practices across Kent and the south east of England, Sam has been recommending Biomin F to patients with sensitivity who have no success with the major sensitivity brands. She uses it for patients who experience sensitivity following scaling.
Her own trial among patients has confirmed that they find that Biomin has helped their sensitivity problems. And they are coming back to buy more.
One of her biggest successes has been an elderly patient with extreme sensitivity due to recession. Their condition improved to the point where Sam was able to carry out scaling; something which was previously impossible.
She now routinely recommends Biomin to patients with recession and ahead of carrying out treatments such as whitening.
'I am passionate about the product,' she said.
Theresa McCarter
A hygienist and continuing education speaker from California, Theresa is amazed at the results after patients switched to Biomin F.
One of her most problematic patients, a man in his 60s, dental phobic and with poor home care, had tried many sensitivity treatments without success.
After using Biomin F for four months, his sensitivity improved significantly.
'I was astonished – I was able to scale his teeth without him jumping out of the chair. He couldn't believe it didn't hurt.'
She also observed that the general state of his hygiene was better than usual. She assumed because the sensitivity was improved he wasn't suffering the usual pain when brushing. It was an 'unbelievable improvement,' she said.
Donna Paton
Before and after carrying out scaling and whitening, the team at Mullingar Dental Centre, Ireland, routinely recommend and give out a sample of Biomin F to prevent or reduce any sensitivity that might arise.
'It works,' says hygienist Donna Paton. 'Scientifically we think the Biomin effect is very convincing,' she added.
'I routinely apply Biomin F before and after scaling and use of the Airflow. We give patients a sample to take home and use before and after whitening treatments.'
Their experience is backed up by a trial.
During the trial, participants were asked to brush their teeth with the paste allocated to them for two minutes immediately after the scaling and root planing treatment, and then no more than twice a day for a two-month trial period.
They were recalled at 15, 30 and 60 days to measure their subjective and thermal sensitivity.
The Biomin group showed a higher degree of effectiveness in reducing dentine hypersensitivity.
Perio treatments
Reena Wadia
Top London dentists are using Biomin successfully in their practices too.
Harley Street periodontist Reena Wadia and her team apply Biomin F at the end of each appointment.
'The management of sensitivity is a joint effort and all the team know their role,' she says. 'Our protocol is also to apply Biomin mid treatment and at follow-up.'
Amit Patel
Birmingham periodontist Amit Patel gets patients on to Biomin F before they come in.
'Ahead of the treatment, I warn my patients they are likely to experience sensitivity. I get them all to apply a small amount of what I describe as "desensitising toothpaste" to a small interdental brush every night interproximally.
'They should just apply it and leave it overnight,' he said.
Linda Greenwall
Hampstead dentist Linda Greenwall's practice has Biomin F written into its protocols.
'We recommend Biomin F in the practice for a wide variety of patients: the elderly, those with sensitivity issues, poor oral hygiene and complex medical histories.
'Those with dental erosion benefit particularly. We use it within our practice protocols for managing sensitivity during whitening procedures,' said Linda.
Orthodontics
Ariane Sampson
London orthodontist Ariane Sampson recommends Biomin F to her patients for use during their treatment.
'By promoting a toothpaste like Biomin F, which is really good for reducing the risk of white spot lesions, we finish up with a nicer looking result,' she said.
'Using a toothpaste that's remineralising, like Biomin, is really useful. It makes sure that we provide the best possible results in the healthiest possible way.'
Louisa Clarke
Hygienist Louisa Clarke's practice were early adopters of Biomin F.
'As soon as we bond the orthodontic brackets, we ask the patients to use Biomin. While other patients were recommended to start using it ahead of treatment to avoid sensitivity, and to continue during and after the treatment was complete,' she said.
'Patients with sensitivity report that their symptoms reduce or disappear. And although those on orthodontic or other treatment may not directly notice the benefits, other than liking the mild minty taste, I can see white spot lesions remineralising, and incipient caries, especially interproximally, halted.'
A great all-rounder
Faye Donald
A hygienist and GBT trainer from Yorkshire, Faye Donald believes that Biomin is useful for any patient.
'I use Biomin post scaling where pellicle has been removed and the tooth surface is exposed, she explained.
'I am also a Swiss Dental Academy trainer in guided biofilm therapy. So I use Biomin F to protect the tooth once the pellicle is removed.
'I simply use a gloved finger to apply Biomin F to the tooth surface.'
She went on: 'I think it is a good fit for patients who need it for a medicinal purpose or who have particular issues:
They need a toothpaste that provides what they may not get in non-mainstream toothpastes
People who are against animal testing
Specific groups, eg athletes who drink a lot of sports drinks and have erosion
For patients post oral or head/neck cancers, who have have xerostomia/dry mouth problems. Because of the loss of saliva, they need the 12-hour protection that Biomin F offers
Patients with xerostomia for other reasons, eg drug induced, from anti-anxiety or antidepressant therapy
Pregnant women – especially those suffering with vomiting, acid reflux and those who need to snack between meals
And of course patients suffering with dentine hypersensitivity.
It's no fluke
Hilary Browne
Dubai dental hygienist Hilary Browne works in a luxury clinic. They specialise in prevention and aesthetic treatments.
A holistic practitioner who prefers to avoid fluoride, she uses Biomin C herself. She recommends it to her patients.
Hilary recently learned about the practise of applying Biomin ahead of carrying out scaling. She decided to put it to the test with some highly sensitive patients.
'I tried it out on a patient who I know to suffer from acute sensitivity during scaling, due to recession and abrasion.
'I applied Biomin ahead of starting the procedure and she said she never felt a thing.
'In a busy clinic later on I forgot to apply it for another patient – and he jumped with pain.
'I reached quickly for the Biomin C and continued the treatment, on the same tooth and with the same intensity. The patient said he felt nothing. He could hardly believe I had carried out the treatment in that sensitive area,' she said.
A third had dramatic recession restored with composite fillings, but was still extremely sensitive to air being blown on her teeth. Hilary applied Biomin C topically and went straight on with the cleaning procedure.
'The effect was instantaneous. She said it was the best clean, with no discomfort, that she has ever had,' said Hilary.
'That's not just chance, and I'll carry on using Biomin in the clinic. I'm a believer!'
Donna Paton
Donna Paton of Mullingar Dental Centre, Ireland, also agrees.
'No other product does what Biomin does. It has all the elements you would want in a toothpaste and it is our duty as hygienists to get the team on board and recommend it to patients to improve their oral health.'
Biomin F is your ideal practice partner to support any patient. And for the rest there's also Biomin C!
---
For more information about Biomin simply visit www.trycare.co.uk/biomin-toothpaste.