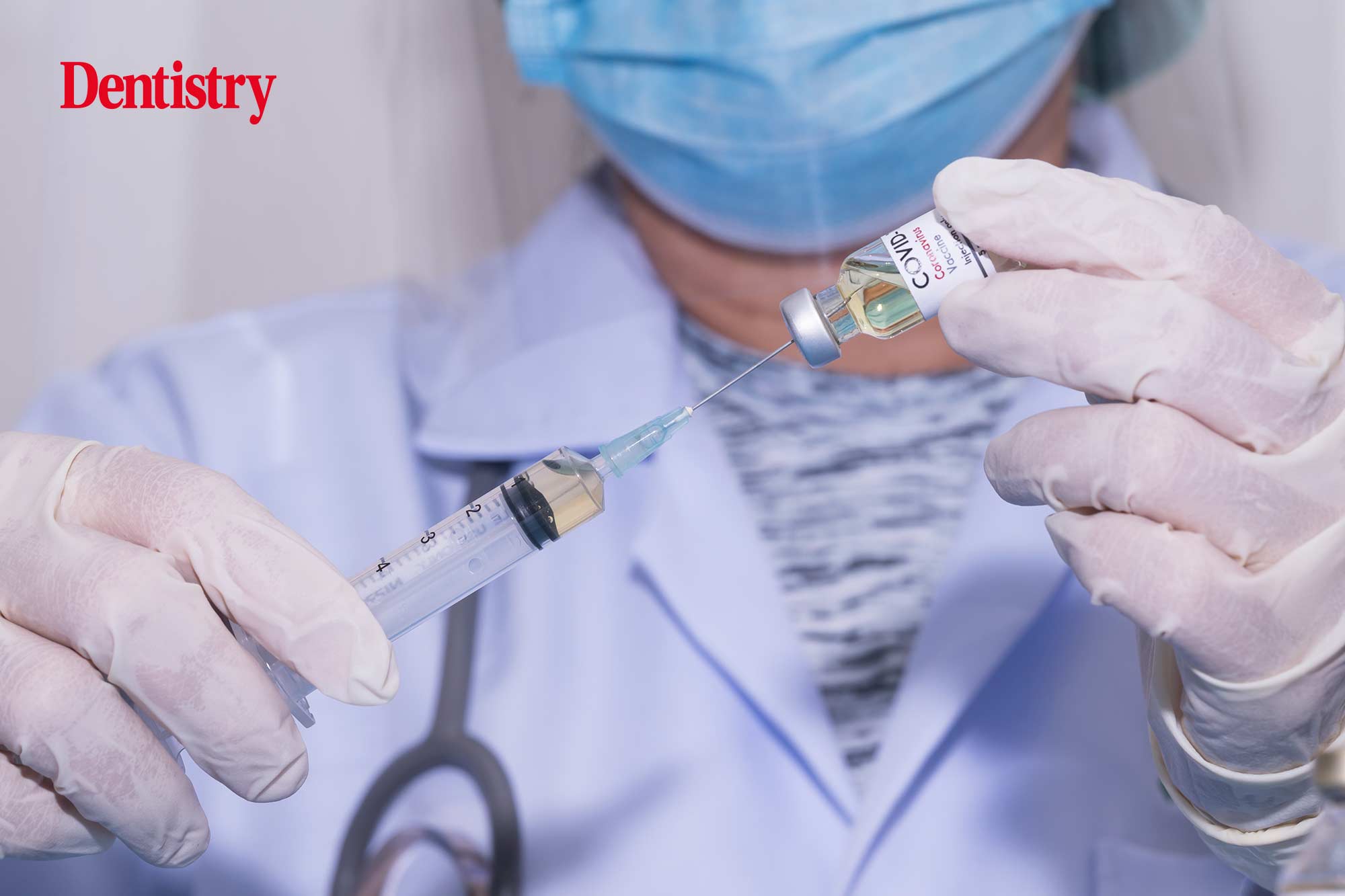 One agrees and the other opposes – we hear from two dental professionals about how they view the Covid-19 vaccine mandate for healthcare staff.
In November the government announced that all healthcare staff who have direct patient contact will have to be vaccinated against Covid-19 by spring.
As a result, dental staff have until February to get their first vaccine shot.
We spoke to two dental professionals about why they agree or disagree with the mandate.
For
We hear from Dr Emma Laing, an orthodontist based in London.
'I encourage my colleagues to receive the vaccine, in short to protect themselves and others. It will become mandatory to any service regulated by the CQC. I see it as not only doing our bit towards a worldwide health crisis but also in our profession. We are at a high exposure to members of the public and our treatments that invariably create an aerosol, so it is best to receive as much protection against pathogens as possible.
'The unvaccinated are far more likely to pass on the virus to patients and colleagues. The GDC expect us to work in the patients' best interests and I feel this is contributory to this.
'We have to be vaccinated against Hepatitis B as clinicians. I see the Covid vaccine as an addition to this. I understood the reticence when I received my first Covid vaccine in January 2021 when few people worldwide had received vaccines. Now many millions have done so and have received them safely.
Unbiased consideration
'For most the side effects last short-term and given that mutating viruses become so infectious, it is reassuring that any subsequent infection we may pick up is likely to give us a milder illness when vaccinated.
'To fierce anti-vaxxers I appreciate this will be emotive for you. My recommendation to patients and staff who ask my opinion is always to get a blood test to check your antibody levels. If this shows you have hardly any antibodies I feel the decision to have a vaccination is clearer. Medical consultant colleagues who I work with and work in ITU have told me people admitted who are really sick regret not having been vaccinated.
'I hope the period between now and when the mandate comes in allows those against the vaccine some time to review the available evidence base. As dental clinicians, this is the way in which we make clinical decisions. This leads to an unbiased consideration of the data and will reflect that the correct route is to receive the vaccination.'
Against
We hear from a regional manager of a dental group, who has asked to remain anonymous.
'As a concerned member of the dental team I truly believe that this should be a choice for each individual employee. I would have a different opinion if the vaccines stopped the spread. But it's clear to see that this is not the case.
'It's just so wrong to force people to choose this vaccination when they are fit and healthy individuals or lose their entire income and career. I have almost two decades of working within dentistry. It would be devastating for me to lose the job that I love. My passion is dentistry – not just the patients and the care we give, but my teams too.
'When you think about how we work and all the guidance we follow, we would not willingly force a patient into a procedure without their informed consent. By forcing people to have this vaccine it is not allowing that person to have informed consent.
On its knees
'So I ask, why is it okay to stand by this for our patients but not our teams? The guidance has just changed meaning a household contact who is jabbed can attend work and see family and friends. Yet an unvaccinated person would have to isolate. It is nonsensical.
'At the moment there have been no repercussions except us being told their is no job if we don't get jabbed. That alone is frightening. I could be given my notice in January because of my notice period is so long. It's a worry everyday.
'It doesn't impact my work as I just get on and still strive to be the best and do the best for my teams. The good thing is I know I am not alone within my organisation. We are all trying to fight this. We have to make a stand and we have to be true and logical in our stance.
'The long and short of it is the sector is on its knees. It is following years of under pay and under appreciation. This is going to restrict access for even more patients. The sector has lost almost 9,000 nurses in the last two years. We have adverts out for clinicians that we can not fill – some have been out there for over a year.
Job or jab
'If we carry on with this and make people choose job or jab then in real terms for our company it would mean a four surgery practice would close. That's just so unrealistic and totally devastating to the community. The people I know in organisation who are making a stand are dentists, therapists, dental nurses, receptionists, head office staff – it's totally unjustifiable. We have managed the whole pandemic as we are. I am not aware of any transmissions from staff to patients or visa versa.
'I can not even imagine the wider impact it will have. This includes access for vulnerable adults and children trying to access community services. These are already stretched – it's going to be catastrophic and totally detrimental to our people. It's a very sad thought.
'We use universal precautions in our cleaning and our PPE. Why is that not enough now when it has been around for the last two years and more? At the end of the day if I choose not to get jabbed I am only putting myself at risk and that's my choice. If I was vaccinated I can still pass on and still get sick. It makes no difference to anyone else.'
---
Follow Dentistry.co.uk on Instagram to keep up with all the latest dental news and trends.