Perspectives on digital dentistry: impact on you, your team and your patients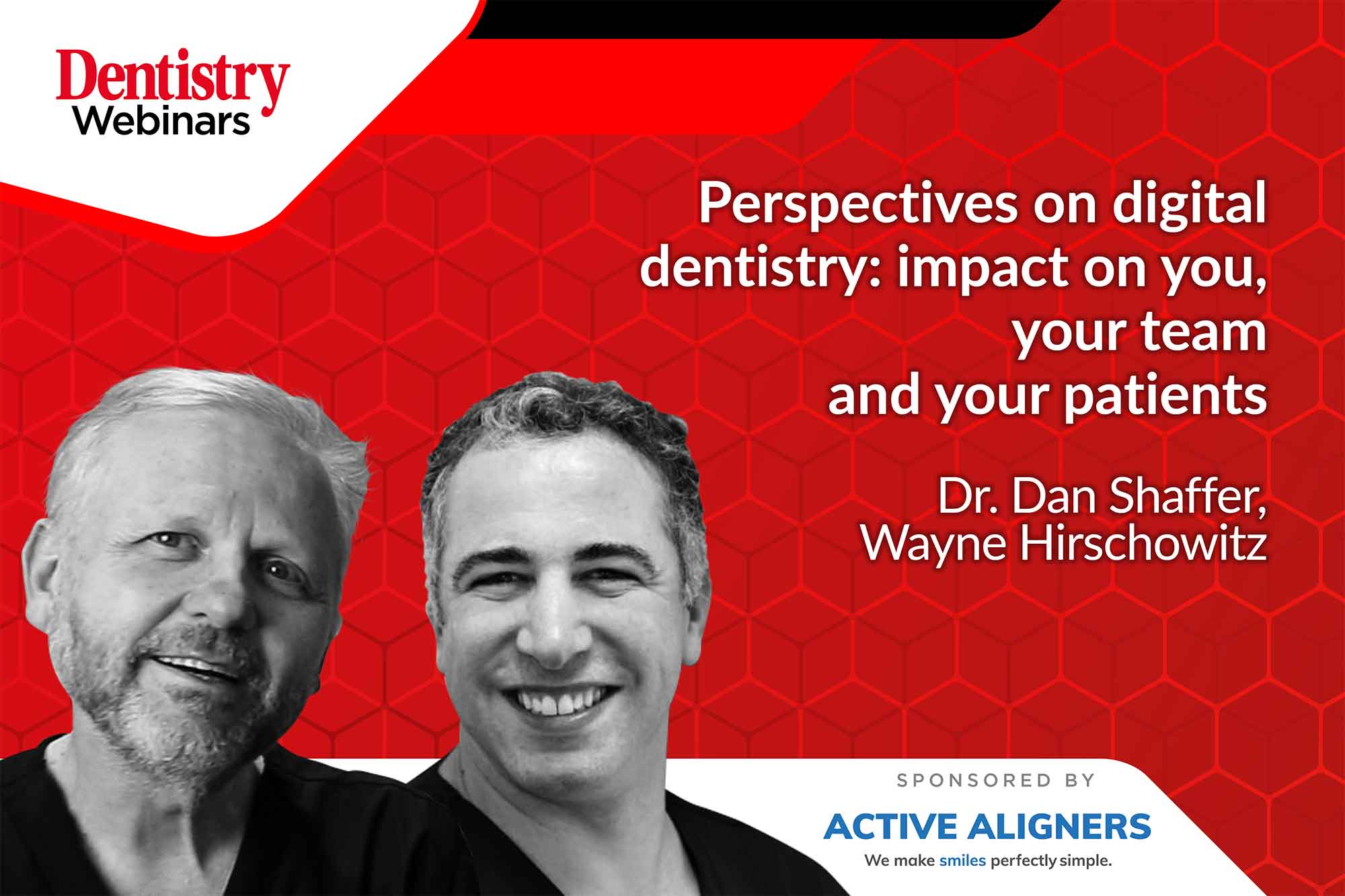 Dan Shaffer and Wayne Hirschowitz will discuss different perspectives on digital dentistry during a free webinar at 19:00 on 23 November.
Delegates will gain insight from two different perspectives on how digital technology can enhance patient workflows, increase revenue and improve practice efficiency.
Hear how the combined use of scanners and clear aligners has changed the practice revenue profile.
Learning outcomes
Join Dan and Wayne in conversation as they share experiences and opinions about their digital journeys. They will focus on three broad topics:
Diving into digital

Compare and contrast the perspectives of a non-digital dentist entering the digital space with one who has 10 years of scanning experience
Hear about what this has meant for their practices

Impacting practice revenue

Understand how revenue is impacted by firmly establishing effective workflows that reinforce your digital practice
Appreciate why the whole workflow is at the core of patient care
See how you can enhance treatment options by ethical upselling

Engaging and motivating your team

Pick up hints and tips about motivation and inclusion
Examine how upskilling builds confidence
Hear about the benefits of good communication
Learn how these skills combine to drive enhanced team care of the patient.
Dan Shaffer
Dan is an experienced dentist and dental technician. He has a passion and flair for all things digital.
His dental practice, a private digital restorative practice in Hertfordshire, is well respected in the area by patients and dental professionals alike.
Over the past two decades he has committed to training dental professionals on behalf of Dental Protection Ltd. He has taught at GKT and delivered many in practice training programmes. Dan is an experienced broadcaster and filmmaker delivering countless lectures and training courses on dentolegal and digital dental subjects in the UK and abroad.
Dr Dan Shaffer is co-founder and clinical lead of Active Aligners UK.
Wayne Hirschowitz
Wayne qualified in South Africa in 1988 and completed post graduate training in 1998. He is a dental practice owner in Edgware, Middlesex as well as in Cranbrook, Kent. He was ex clinical director of Vantage Health; an IT telemedicine company.
Wayne has a special interest in forensic odontology. He has been deployed abroad attending mass disaster incidents.
His love of teaching encompasses both at his alma mater as well as mentoring troubled young people.
As an experienced clinical dentist, Wayne's vision is to offer affordable, quality orthodontics through clear aligners. Aligner therapy is traditionally supplied through large corporates or controversially, direct to consumer. However, Active Aligners philosophy is 'for dentists by dentists'.
Dr Wayne Hirschowitz is co-founder of Active Aligners UK.
---
To register for this webinar, simply visit www.dentistry.co.uk/webinar.
Catch previous On Demand webinars: