The Marketing Expert – the ultimate dental SEO guide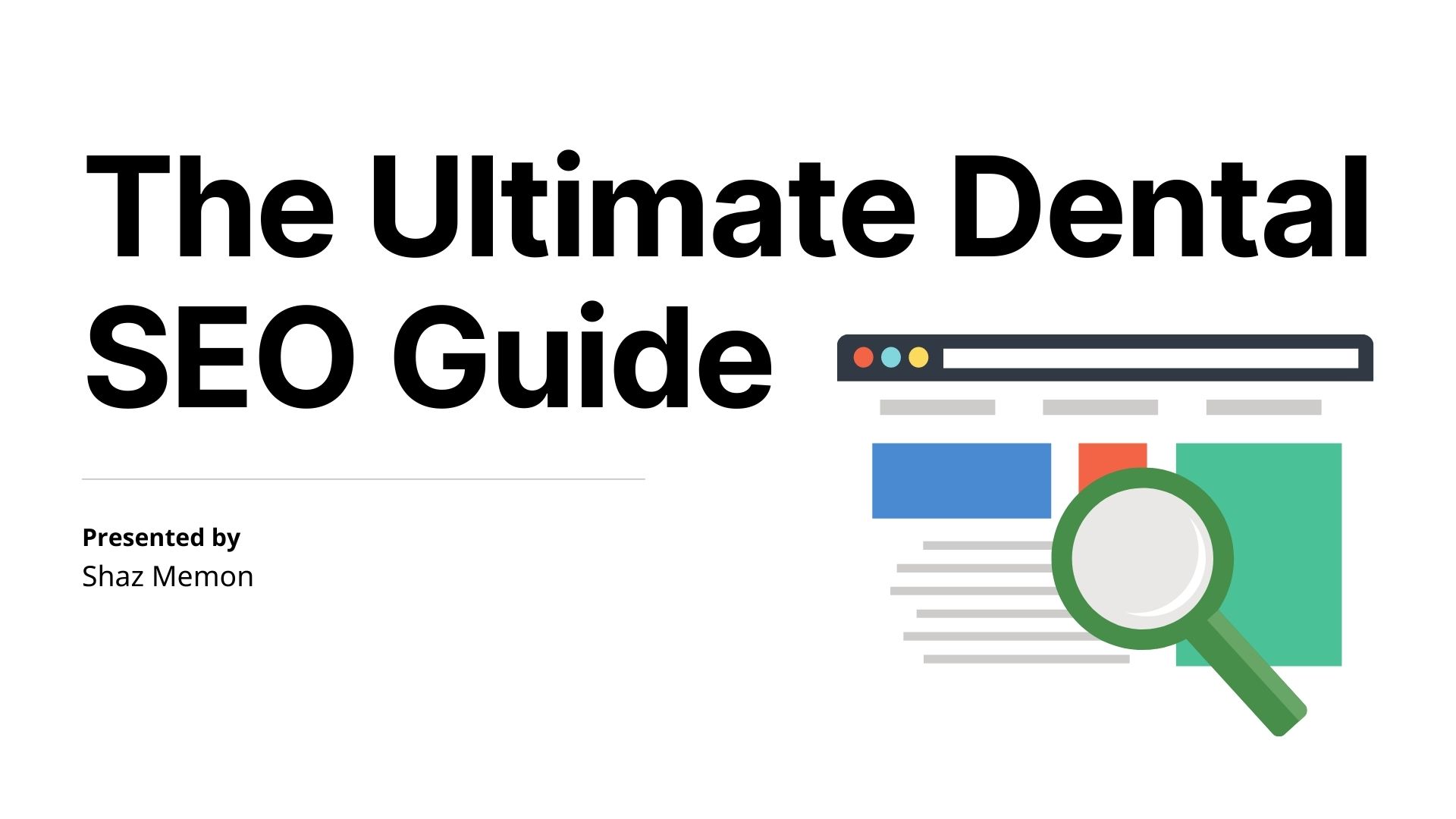 In his first Marketing Expert column, Shaz Memon provides the ultimate dental SEO guide, breaking down SEO for dental practices.
This guide is for you if:

You have heard of SEO (but don't know what it is)
You are interested in having your dental website appear high on Google
You're using an SEO provider
You invest in Google pay per click
You think SEO is a dark art.

Contents
Introduction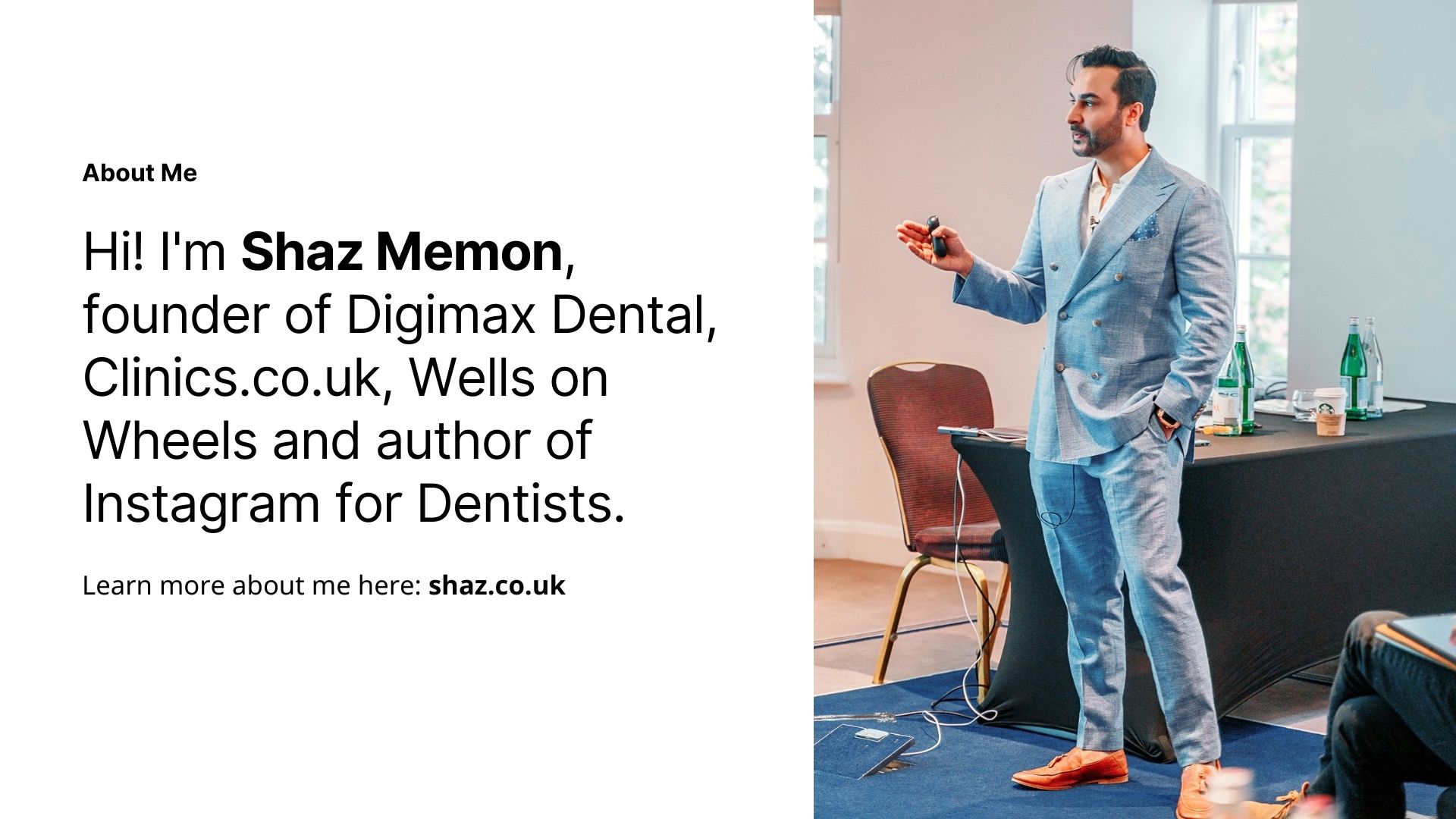 Do you use Google to find services, products and answers to your questions? Of course you do; and so do your patients.
I am conscious whilst writing this guide that I never wish to appear patronising – so apologies if some aspects of SEO are overstated. However, everything here is relevant to help you piece together the 'jigsaw'.
Why have I written this guide? I have been running Digimax for almost 20 years (in 2023, we will be 20 years old). In this time, my team and I have heard countless upsetting and concerning stories about marketing companies taking advantage of the trust placed in them.
With more education, we can all make better choices. My overarching aim is to offer insight to help dentists and their teams understand SEO without requiring 20 years' experience.
SEO stands for search engine optimisation. If you are a dentist in St Albans and a patient types into Google 'dentist St Albans', you will not automatically appear top of the Google ranks. Google needs convincing you deserve a spot on the first page.
Persuading humans is sometimes hard enough – now imagine trying to convince a robot (bot).
Google is a bot – and a smart one. It makes decisions on who should appear on its first page, taking into account more than 200 factors! In this guide, I will reveal how you can predictably grow your dental website Google rankings.
Before we get into details, here's a clue as to how Google works. When you Google 'windows', a double-glazing company isn't the first organic ranking result (organic means a listing that does not have the word 'sponsored' above it). You will see ranking results for Microsoft Windows.
One would think a dictionary word such as 'windows' should bring up details about actual windows as the first results. But no, Google doesn't work on 'should'. It works on an algorithm that it has created, which is influenced by chatter on the internet and user demand. In this guide, I will teach you about how to create that demand when there is none.
Let's dig in…
Welcome to the dental SEO guide
This guide is an introduction to SEO (search engine optimisation) for dental practices and personal dental brands.
Topics covered include:
The principles of SEO
How SEO works
What SEO can do for your practice
Where Google Adwords/PPC fit into SEO.
By the time you finish reading, I hope you will have some clarity on one of the most valuable digital marketing investments you may ever make.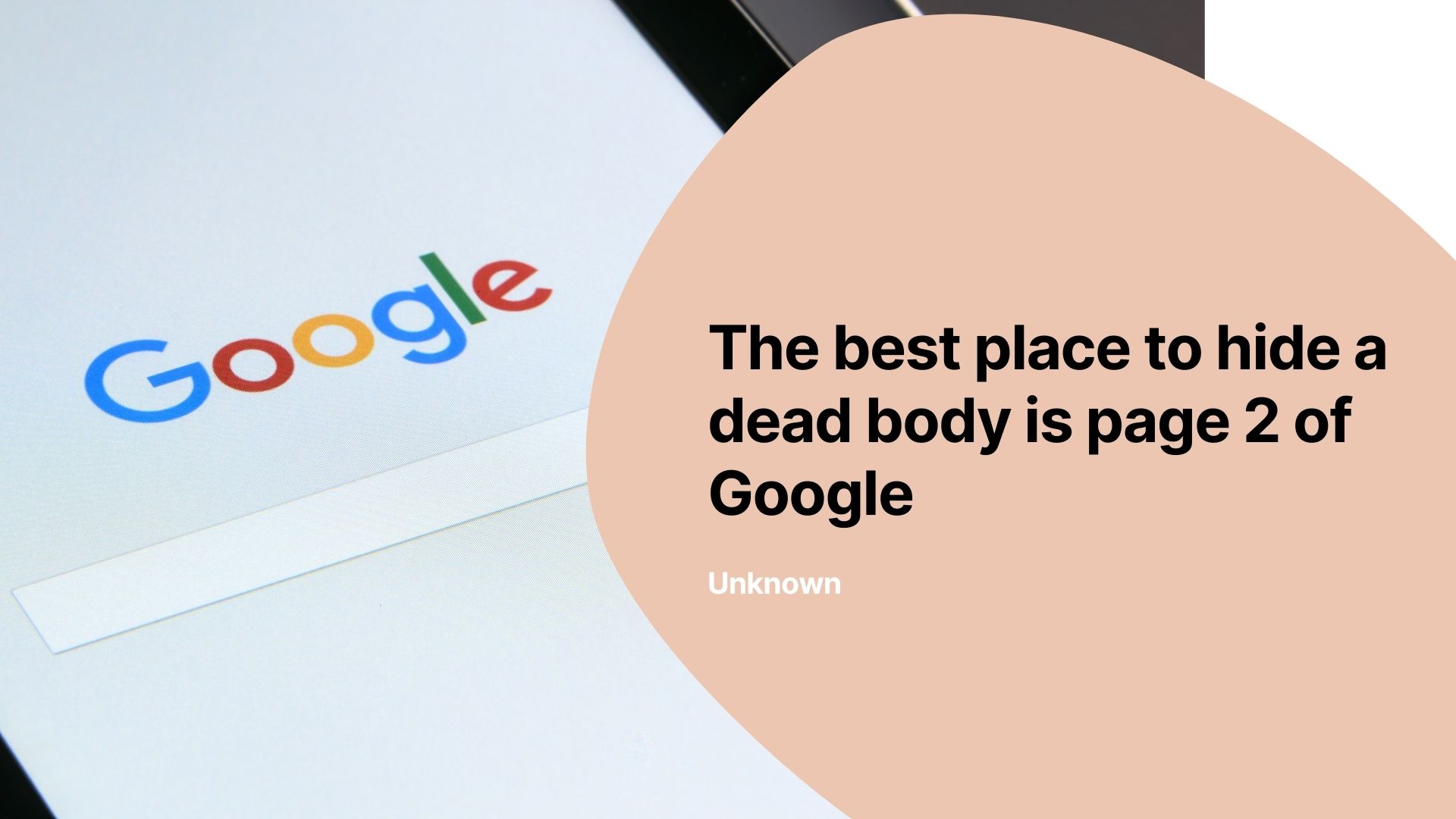 1. What is SEO?
Search engine optimisation
In its simplest form, search engine optimisation (SEO) is anything to improve the ranking of a website on search engine results pages.
The goal for most practices is to increase their website visibility (or traffic) to rank high enough for targeted search terms or phrases on Google, thereby attracting the right kind of patients.
In 95% of cases, SEO does not occur automatically. It is something that needs nurturing once you have a live website. Also please do not confuse SEO with SOE (Software of Excellence!).
Appearing on page one of the Google search results is a key digital marketing goal. Alongside an exceptional customer service experience (and you can read more about how to improve your patient experience at www.clinics.co.uk.
Google's popularity can be attributed to two user-centric features:
Accurate search results
Relevant search results.
Accuracy and relevancy have enabled this hugely popular search engine to wipe out the competition (Yahoo, Lycos, Excite, Ask Jeeves and more) and it keeps getting better. The secret ingredient is the perfected algorithms that dictate which sites appear on page one for any given keyphrase and which are relegated to page 20 and beyond.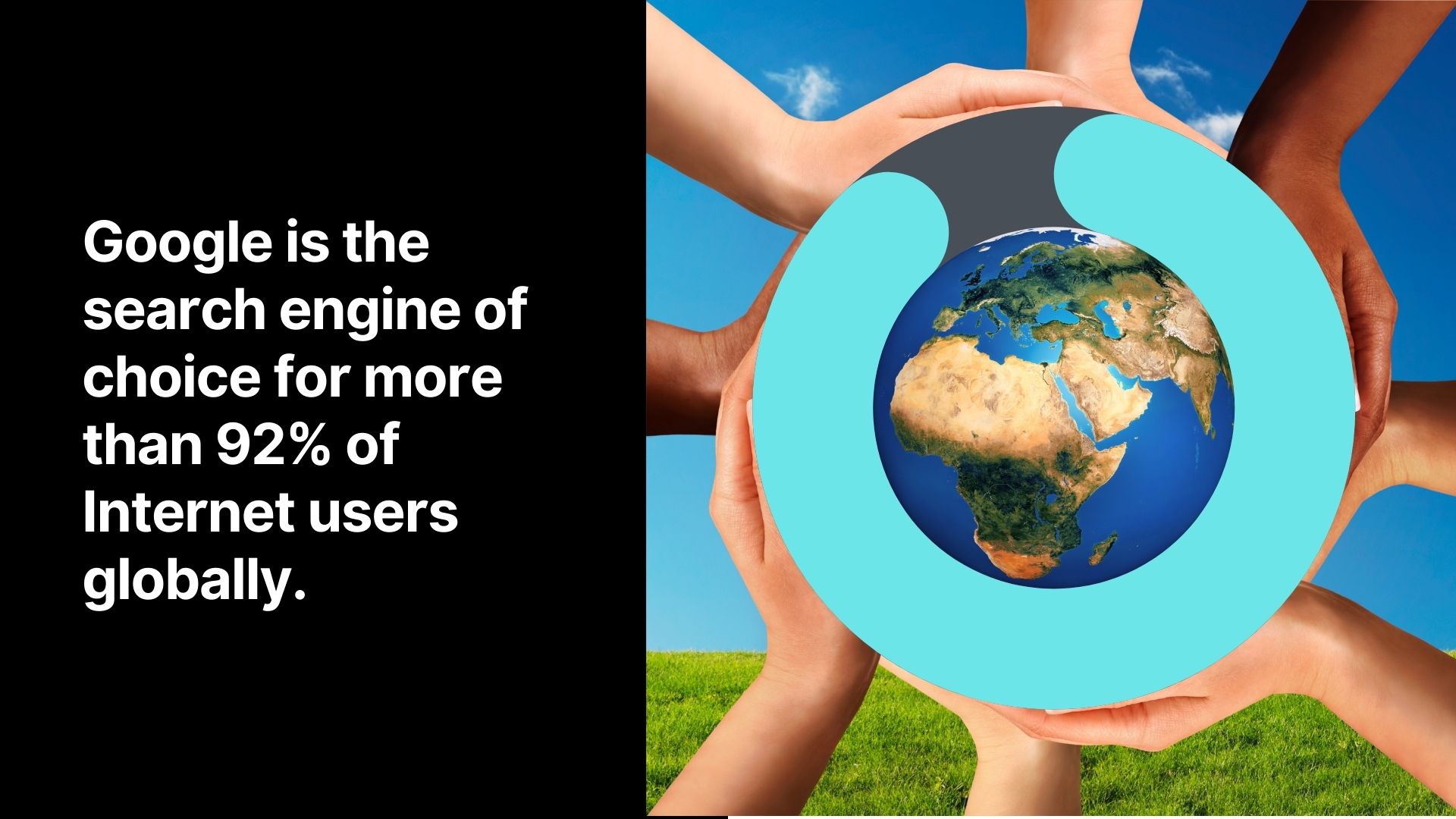 2. The algorithm advantage
Clever calculations and clearer consequences
Algorithms (calculations) tell Google precisely how to sift through the data found by its internet bots.
Google bots are crawling the internet 24 hours a day, listening and reading websites to ascertain details of the latest 'chatter'. If there is breaking news, and you type something into Google regarding a topic that is trending, that bit of information will often appear first. This is because Google bots take no rest. Google bots are constantly sifting through billions of pieces of data to return to its users the most relevant results for any given keyword or query. Google and its competitors probe websites on numerous levels and prioritise the relevancy in a cumulative ranking that could send you to the top – or hide you on page 10.
The 'algorithm advantage' is a roadblock for practice owners. Have you ever gone to Google, searched for a keyword important to your dental practice, and found what you see as an inferior competitor outperforming your website? You may think: 'They are not even located as well as I am!', 'Their patients come to see us!', 'We have a better practice than them!', or 'I am more experienced than they are!'.
Here's the good news: Google is a robot. When prompted in a language it understands, it can give your website the higher ranking it deserves. This is where search engine optimisation comes in.
3. The benefits of SEO
What can SEO do for your dental practice?
If your practice website appears on the first page of relevant Google search results, the payoff is lifelong. You will increase practice exposure if SEO is done correctly. This will translate into more suitable patients and enhanced credibility. As well as consistent practice growth.
Google is the first place people look online to find a service or product. Potential patients will pick up their smartphones and run a quick local search to find what they need. But they will not scan for long.
They click on the most intriguing website links and transact with the best-designed dental websites.
You may see phenomenal growth and success in practices due to excellent customer service, incredible patient experiences, and elevated dental marketing. But usually they also rank high in Google for many important search terms.
In fact, I have worked with practices with no high street presence (first and second-floor units). They have grown their practice solely because of SEO – and, of course, their excellent dentistry and phenomenal patient experience.
Google's algorithms are continuously changing and evolving. The search engine giant strives to retain its market share by creating the best search relevancy retrieval system possible for internet users.
The parameters that make up the algorithms are a closely guarded secret. Still, it is estimated that Google takes 200-plus factors into account when deciding how to rank a website.
Google's main USP is that it delivers accurate search results most of the time. It is fair to say that Google will do everything in its power to ensure it stays that way and that the process isn't polluted by external influence.
As SEO providers, our job is to conduct our own tests and stay up to date with community SEO knowledge. This way we can ensure we are always abreast of any new developments.
Our team has to complete Digimax CPD to stay ahead of the curve. We know what is changing, when it is changing and how we need to improve or evolve our approach.
On a basic level, if you are approaching SEO as a DIY project, I wouldn't get too worried about algorithm changes. Google's basic underlying principles never alter. These principles are underpinned by having a good quality website with great (unique) content and by people talking about your practice online.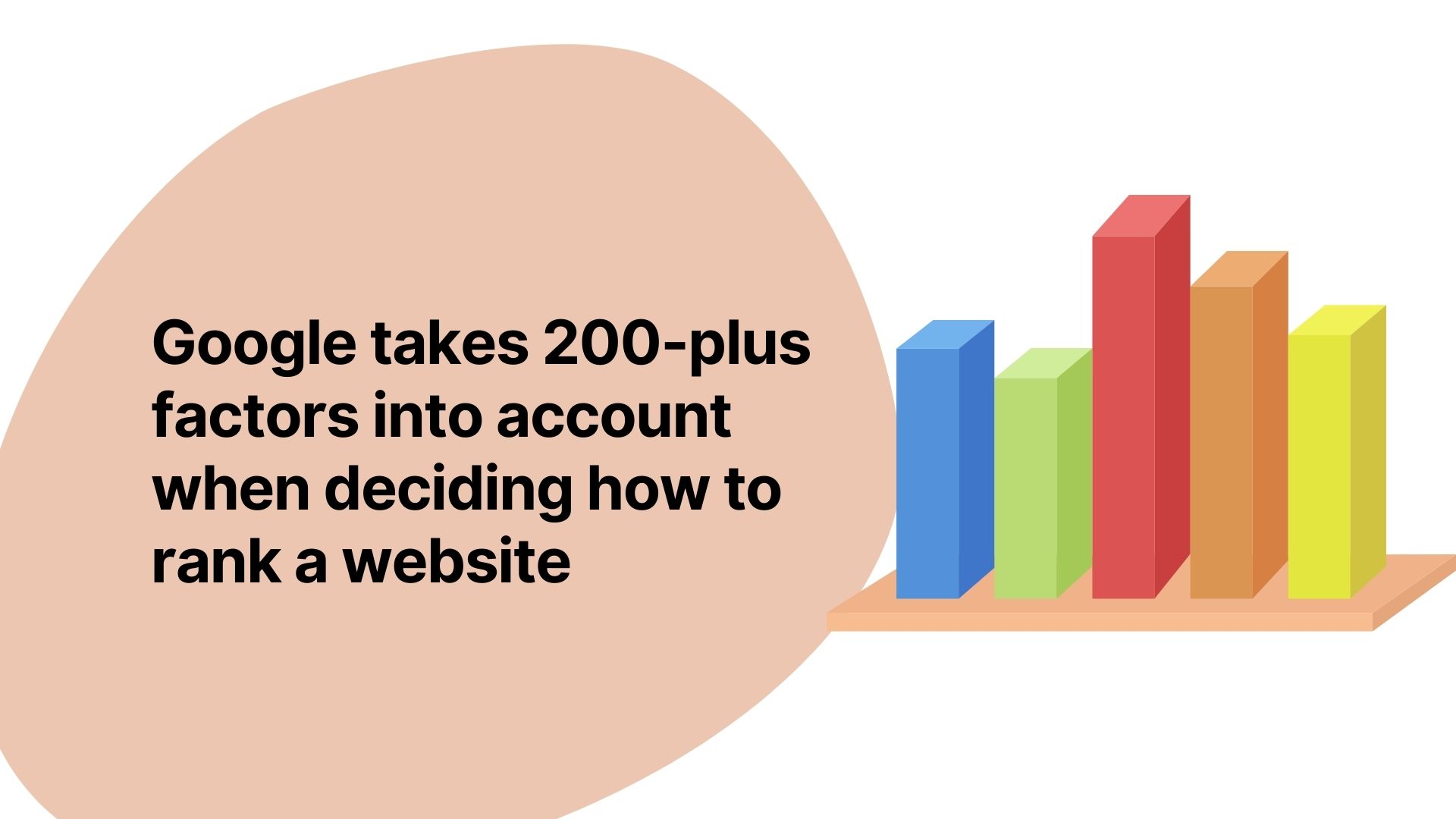 4. The history of SEO
We can only understand the present if we understand the past
The first search engines appeared in the mid-1990s. They scanned the internet, stored web pages, and catalogued them.
These early engines assigned relevancy based on how many times a specific term appeared on a page. If a website homepage mentioned 'dentist in St Albans' 15 times, it would appear higher in the search results than a site that mentioned it once or twice.
This ranking formula was quickly understood and exploited by website designers. Website owners 'stuffed' their chosen keyphrase into their website (meta tags).
Another popular trick was to add 'invisible text' (text the same colour as the background). Bots would read this keyphrase text, but humans couldn't see it. It was simply added to manipulate search results. Over time, the situation became chaotic.
Internet users were frustrated by the number of irrelevant websites that dominated search results thanks to keyword stuffing and meta tag manipulation.
Imagine searching for a plumber in Marylebone, only to find a plumber in Southend appearing because they chose to use this trick to target enquiries from London. Therefore, in the early days of the internet, you would have to go through many pages of irrelevant search results to find what you needed.
Something had to change and, in 1997, it did. That was when two Stanford University graduates developed a new ranking system they named Google.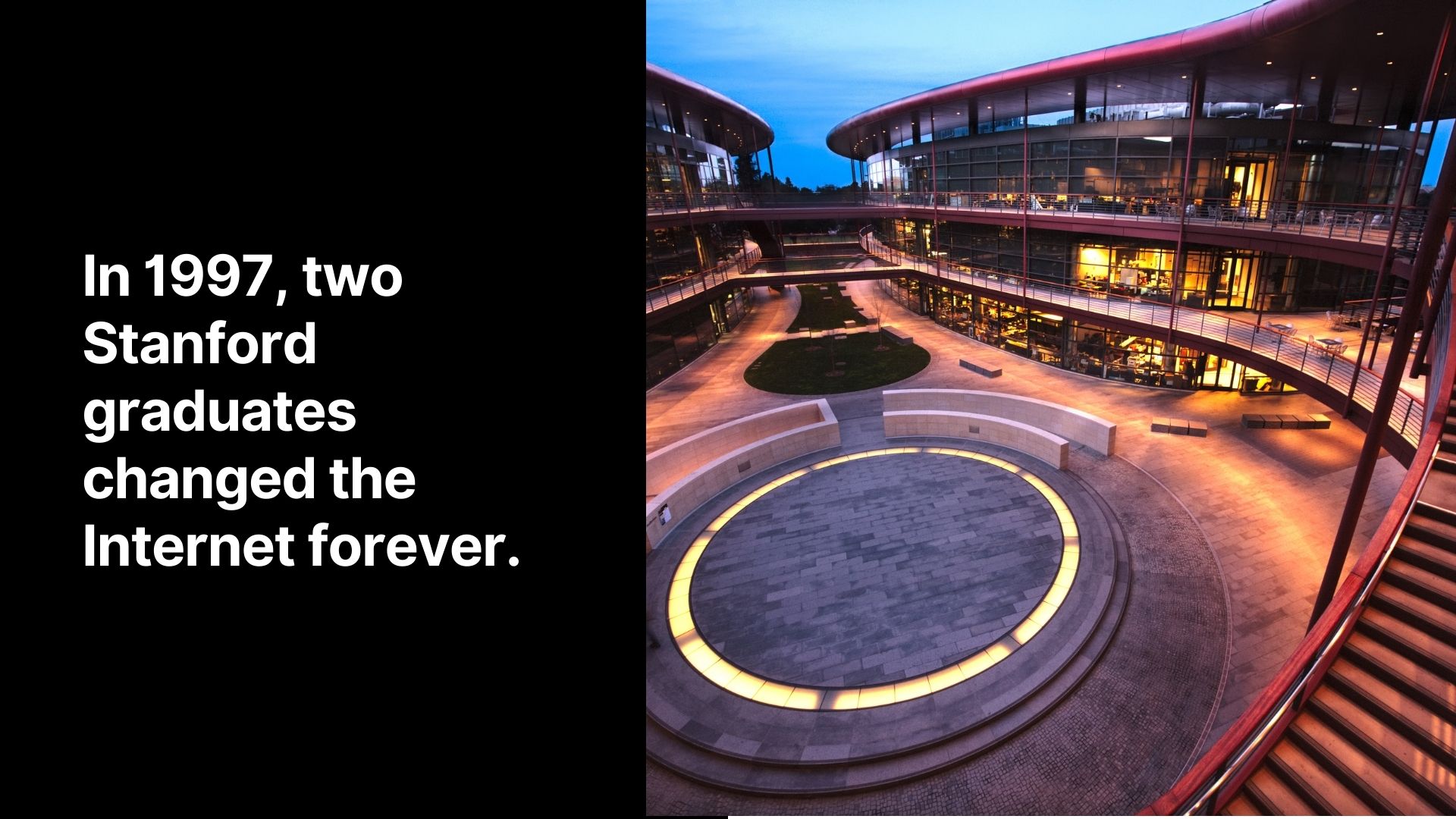 5. The age of Google
Intelligent innovations
The Google search algorithms took giant leaps, looking past meta tags and keyword stuffing. Instead, they incorporated complex, yet flexible, ranking elements that took 'off-site' and 'on-site' factors into account.
On-site is everything that is contained within your website, the content, and its pages. The content on your website is essential for SEO. But that alone will never really rank you high for critical key terms.
When Google started looking at off-site, it took into consideration how well other people rated your brand without solely relying on you to tell it how great you were. Looking at how popular you are from a third-party perspective became a more reliable and trusted way to rank websites.
Off-site also took into consideration how many other quality sites were talking about you. Users responded enthusiastically. Faced with search results that contained high-relevancy websites, instead of substandard pages elevated by keyword spam. They swiftly made Google the world's most popular search engine.
Google also had an impact on other search engine algorithms. By 2005, meta tag manipulation and keyword stuffing were no longer tickets to top rankings. On the contrary, search engine processes swiftly evolved to the point that such tricks could potentially harm a page's visibility.
In my time, I have seen many SEO companies shut down, as well as many websites penalised, because of outdated SEO practices.
Currently, Google tells us it utilises more than 200 'signals' to establish a web page's ranking.
So, how can we have control over off-site? This is where SEO starts to sound extremely complicated and I have simplified it further down in this guide.
Seven of the 200-plus ranking factors Google looks at when deciding where to rank your website high in Google are:
Quality and number of links pointing to your website. For example, an article on Forbes.com with a hyperlink to your website would be considered a mega 'vote' for your website. This linkback would help rank your website higher
Relevancy of the linked web page. If a health website links back to a dental website, that is a relevant link. If a website that discusses cars links to a dental website, that is not as relevant and will carry less weight or no weight at all
Age of the domain name. A domain registered 10 years ago is considered more trustworthy by Google than a new domain name
Speed of loading. A website that loads quickly is considered a quality site by Google
Mobile responsiveness. Google loves sites that work well on a mobile device – and penalises those that don't
How long your visitors stay on your website. The longer they stay on, the better your site will rank
A low bounce rate. If 80% of visitors are leaving your site within three to five seconds of arriving, then you have a high bounce rate. The lower the bounce rate, the higher Google will rank your site.
The principal aim of Google is to produce the most relevant search results possible for every internet user. The better the search results, the more users it has. The more users it has, the more revenue it will make from the products and services Google sells, such as Google Adwords.
This is explained further below.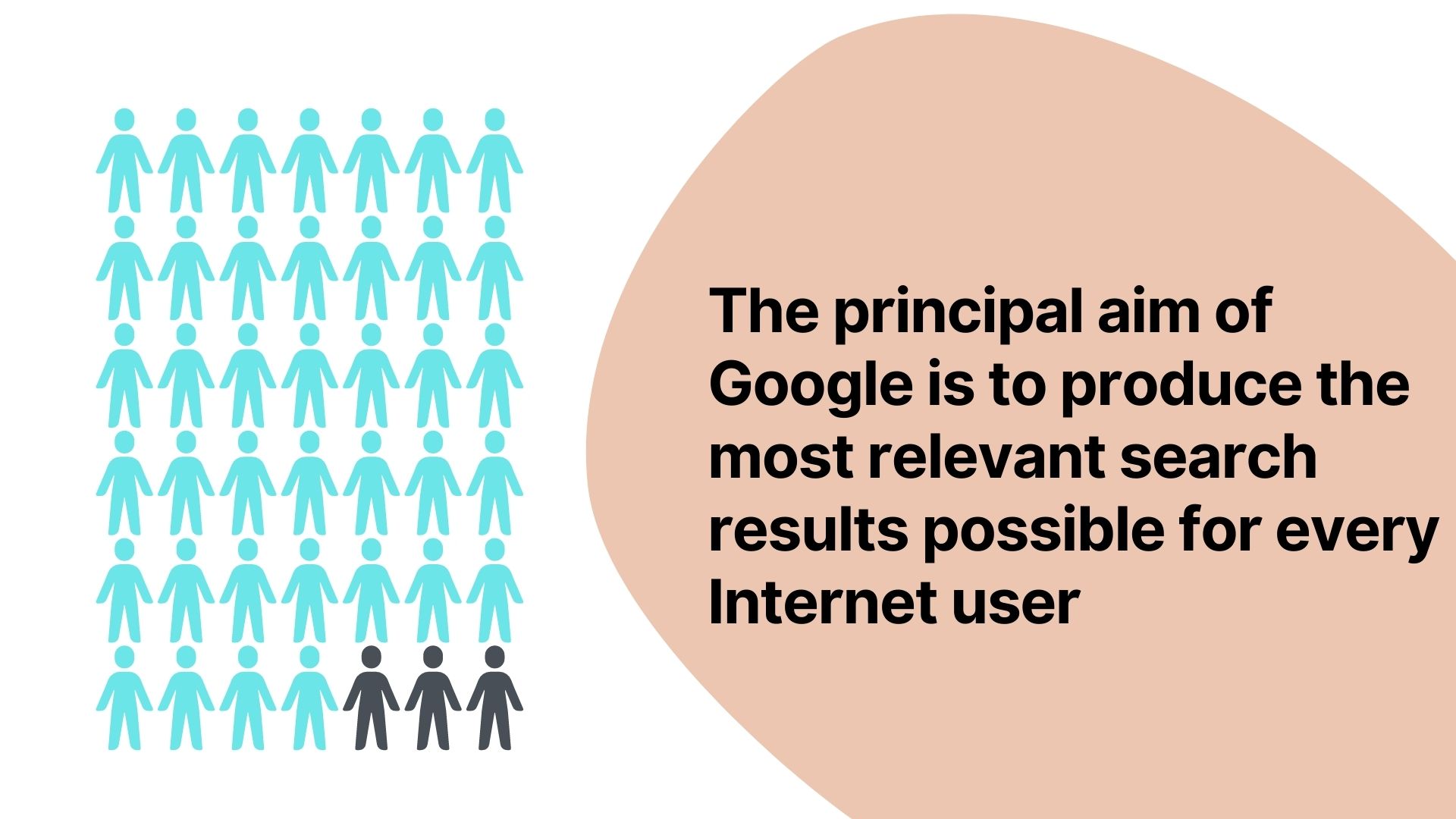 6. Link building
Ranking by referral
One of Google's primary ranking factors looks at how many people are talking about your practice. It does this by seeing how many good quality websites are linking to your practice.
For example, if The Telegraph published an article about you and wrote 'Click here to learn more about John Doe's practice', this would be seen by Google as a highly credible link. This, in turn, would be considered a 'vote' by Google, and it would rank your website higher.
This type of backlink on its own could be equivalent to 20 regular backlinks from regular good quality websites.
Google regards quality inbound links as referrals from one website to another. This referral, which is tantamount to a recommendation or endorsement, transfers the relevancy of the referring site to the linked one, increasing the latter's position in the Google search results.
Google operates on the same premise that has forged corporate giants in the bricks-and-mortar business world: transferral of trust and service/product integrity through association.
However, how do you get people to write about your business and accumulate quality links regularly enough to see a ranking difference? Not enough people make time to leave a practice review, let alone happen to be owners of good quality websites where they might write about you.
The solution is to reach out to blog owners and ask if you can write a guest post for their audience on complementary niche sites, such as those to do with health and fitness, for example. Once you have an agreement – and the blog post you have written is published with a link back to your site (ask for a 'dofollow' link) – you can be assured this will help your SEO.
This is one way to build links. The other way is to submit press releases to news outlets to see if they will publish the story.
With news outlets' inboxes often flooded by people competing for attention (they know how powerful their newspaper endorsements are), you will need to present a story that is worth their while publishing. How you transformed someone's smile who was involved in an accident could be picked up by the right newspaper on a 'quiet' news day.
Here is an excellent article with more ideas on link building yourself. Press Hunt is a service you can investigate to connect with journalists. Press Hunt works differently by connecting you with journalists looking for specific content, which could also achieve the desired result of a backlink as well as an elevated media profile.
SEO providers like my company, Digimax, are often tasked with the job of building high-quality, relevant links for our clients. The work is more time consuming than it is complex due to planning, qualification criteria of the link and communications with the website owners. We have built networks over the last 10 years with partners that support us to consistently, month on month, build the content that helps to improve clients' rankings.
Worth noting here is that Google does not want you buying links. Its algorithm can tell what has been purchased and it will penalise you, as we have seen repeatedly over the years.
The penalties sometimes cannot be reversed and can mean you are permanently removed from the first page of Google. Therefore, please stay away from any link-purchasing options.
Providers who promise you results in a short timeframe, or 'too good to be true' offers from people you do not know, can have lasting consequences.
Some providers will buy many links temporarily (three months) following which you will see a top-ranking result initially, but then drop back down to the bottom with the SEO provider taking no responsibility as, in essence, they delivered on their promise – albeit briefly. This can leave you in a difficult position and a company will need to be employed to attempt to remove all bad past links, which can be costly, time consuming and may not be successful.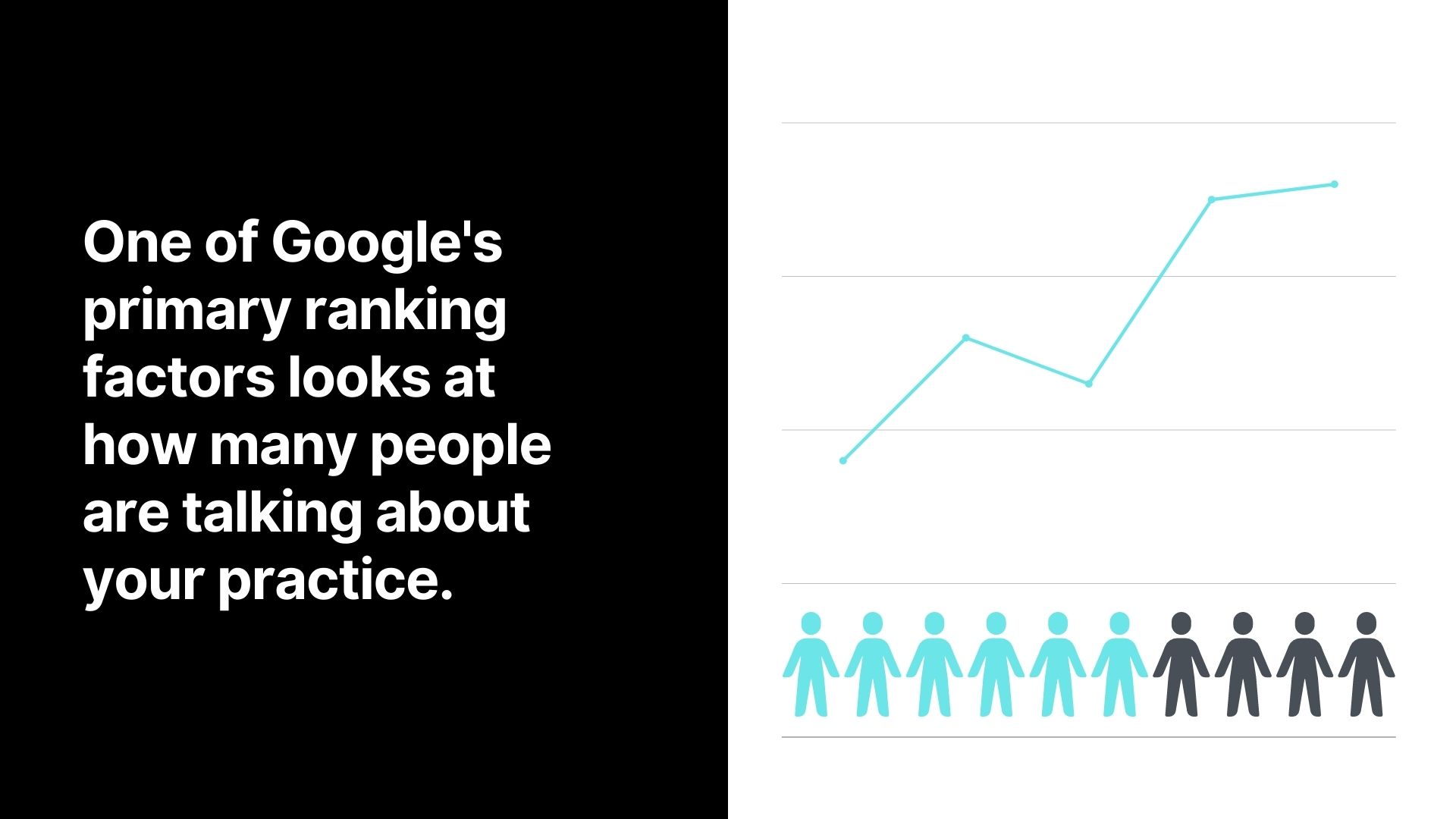 7. The importance of keyphrase research
Let's not try to guess what search terms your patients are using
While link building creates the foundation for a high ranking, key phrases attract your target patients. Your practice may want to attract everyone as a family practice. Or you may have a strong focus on Invisalign and/or implants. The key phrases you target will lead you to your ideal target patient destination.
Determining and utilising the most productive phrases for your business are critical marketing decisions. So astute keyphrase research is essential.
Once you know which key phrases your patients are using, you can tailor your website content and link building to cater.
The goal is to select key phrases that are:
Relevant to your practice
Used by your target patients
Supported by keyword database statistics.
To stand out, strategic keyword selection is 'key'. See below.
Keyword: dentist (very competitive due to the broad search field)
Key phrase: dentist St Albans (not as competitive due to narrower search field).
Using Google's keyword planner tool, you can see what people are searching ads.google.com/intl/en_uk/home/tools/keyword-planner.
At Digimax, we will do the research for you and allow you to choose the terms you feel best suited to your practice. We provide our analysis with recommendations based on what we have learned about your long-term goals.
Unfortunately, as we may have practices in your area as our clients, we will not always be able to represent you due to our non-compete policy.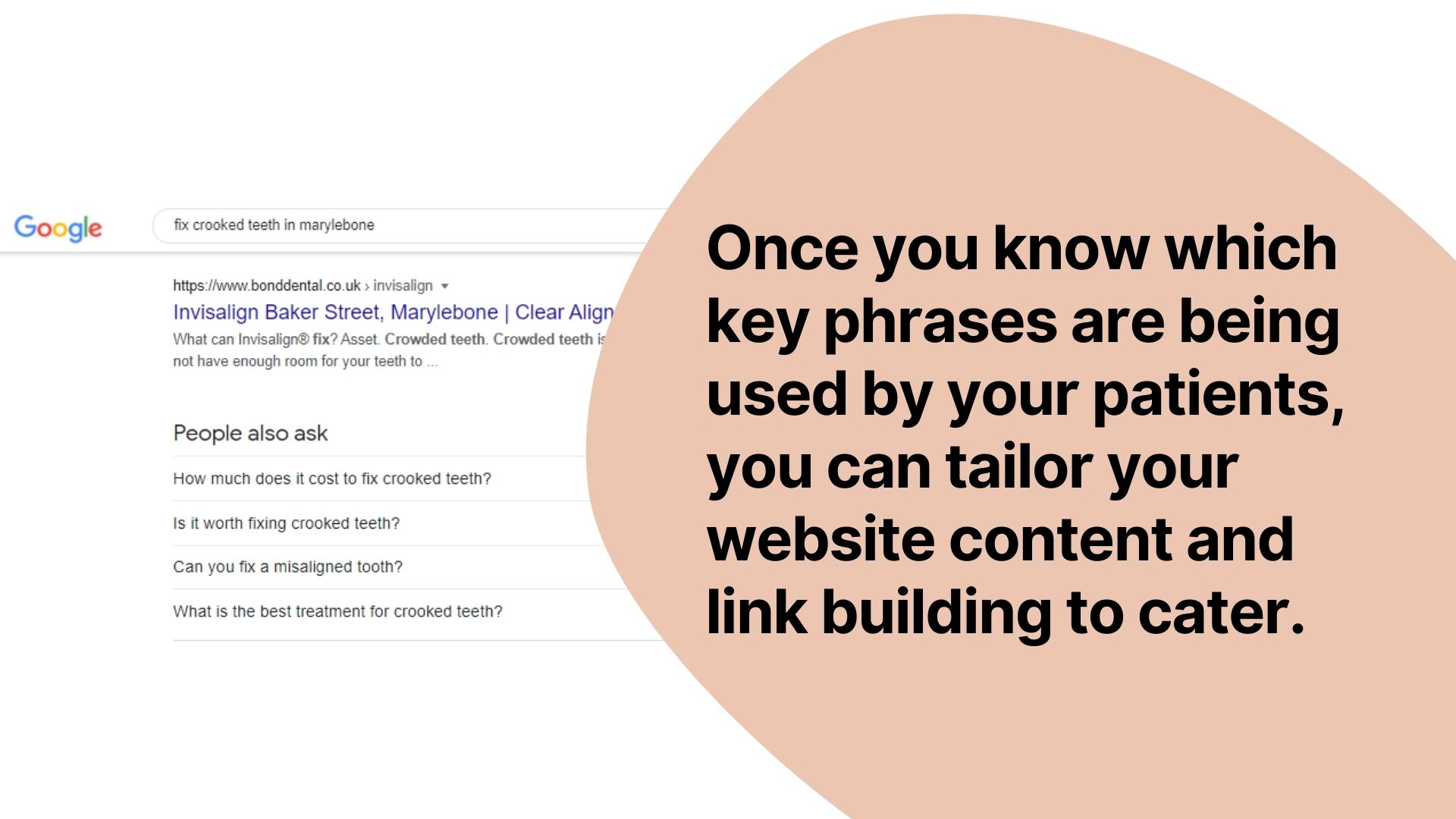 8. Ranking results
When should you expect to see results?
Like any marketing effort, establishing a high Google ranking depends on a successful combination of many elements:
Appealing to Google's primary ranking factors
Favourable market competition
Expert link building
Expert keyphrase research
Quality website content.
Some practice websites can attain an excellent search engine ranking in as little as 30 days. Those in more competitive locations may need 12 months to achieve a top ranking.
At Digimax, instead of reporting a list of things we have done – most SEO providers provide jargon-rich documents that ultimately lead to disengagement – we deliver evidence of ranking improvements.
Within three seconds of opening them, our reports show you how your rankings have improved and are performing over a period of three months.
Understanding your data is essential, so reports should be easy to assimilate. You should verify they are accurate without needing to pour over them.
Unfortunately, most off-the-shelf report generators used by SEO providers tend to do a great job appearing like a lot is going on. But, when you scratch beneath the surface, you see the results are lacklustre.
In my opinion, results for SEO should be measured primarily on how high you are ranking. The secondary factor is how well you are converting the enquiries into patients. The latter isn't something an SEO provider has much or any control over; all an SEO provider can do is work to rank you higher.
At Digimax, we have specific policies regarding the kind of websites we will optimise. If we believe patients will not stay on your website long enough or enquire once they reach your website, we will often refuse your SEO project or give you some recommendations on where to make improvements. There are more details here and here about patient and user behaviour on websites.
As a responsible SEO provider, we do not want to just rank you higher. We want these visitors to contact you so you can turn them into paying patients.
Over the years, I made the mistake of ranking poorly designed websites that we didn't design only to have a client bemoan the fact they have not acquired any new patients. We are now very cautious on the kind of site we can accept.
We never want a dissatisfied client as our reputation with 410-plus 5*Google Reviews and numerous customer service awards more important than any short-term gain.
9. What is Google Adwords?
Should I do that instead of SEO?
Google wants you to spend money with it. It is as simple as that. So, the complex and lengthy ranking factors and patience required for rankings are also there to support Google's paid service.
Google's product, Adwords, allows you to skip the SEO process and pay to appear at the top immediately. You could pay Google today to rank number one for 'dentist St Albans'. If approved by Google, you will appear under the sponsored results labelled 'Ad' at the top of Google results pages.
Google charges a fee for this service, which is known as pay per click (PPC). Every time someone clicks your link, you pay Google a fee determined by your chosen keyword's competitiveness.
This can be anything between 10p to £50 with the cost for an average phrase, such as 'dentist St Albans', at around several pounds. I have found you must invest £1,000-£3,000 a month to really see a good return on dental-related sponsored ads.
The advantage of PPC is that it allows a business to pay for immediate placement on the first page of the search engine results pages (SERPs). Sometimes this is great for a squat practice that is desperate to start seeing patients today.
The disadvantage is that the associated costs are high. Once the money for the campaign runs out, your ad disappears, as do the visibility benefits.
With SEO, your listing won't suddenly disappear if one day you stop (unless there is fierce competition, or you haven't been doing SEO for too long).
Although a useful short-term solution for search engine visibility, PPC does not raise your actual website ranking within Google's natural (organic) search results. Only expert applications of tried and proven SEO principles can do that.
SEO in the long term is far lower cost, and infinite in its ability to drive in patients. Also, it is dependent on browsing habits and most people tell me they completely skip past the sponsored ads because they trust the organic results more.
By now, you will have figured out I prefer SEO over PPC. There are many practices I work with that have SEO and PPC working together. Still, SEO is the most cost-effective long-term digital marketing strategy we have found in the digital marketing space.
10. Marketing promises
What to look out for?
Marketing promises that are too good to be true usually are. I remember in my 20s purchasing a programme that promised 'six pack abs'. The Youtuber selling these was so convincing.
Unfortunately, I still don't have the visible abs I was guaranteed. One of the most prevalent and persistent marketing myths is that there is a guaranteed way to make your business website rank first in the Google SERPS. I am not talking about sponsored ads here.
In reality, this is impossible for any individual or company to accomplish. Google utilises hundreds of ranking factors that are both strictly confidential and continually being re-evaluated and upgraded to enable even higher levels of relevancy.
The highly complex computations that assign search result rankings are not publicly known. So no SEO specialist can guarantee a number one placement.
Even my own company's rankings fluctuate between positions one and three. I have infinite resources to establish a position as number one globally for terms such as dental marketing, dental SEO, dental website design and best dental websites.
But there are so many people competing for that top spot. And there are only 10 spots on the first page for businesses to rank.
Avoid any SEO firms making a promise to put your website in position one. Even if the offer is 'don't pay until you see the results'.
As explained before, using 'black hat' SEO (in other words, a practice that is frowned upon but pushes a website up the ratings) will attract negative long-term effects of penalties that can be both tangling and devastating.
A similar SEO myth is that there are ways to permanently keep your site in the number one spot. Again, impossible to do. If it was simple, we would have done it for our own company!
A skilled and honourable SEO specialist, with a verifiable track record, is able to produce very competitive search results consistently by doing the following:
Using flexible strategies
Applying leading-edge knowledge of search engine ranking trends
Building high-quality links
Analyses your website to fine-tune effective strategies
Providing clear, easy-to-understand monthly reports that inform on the results that have been achieved.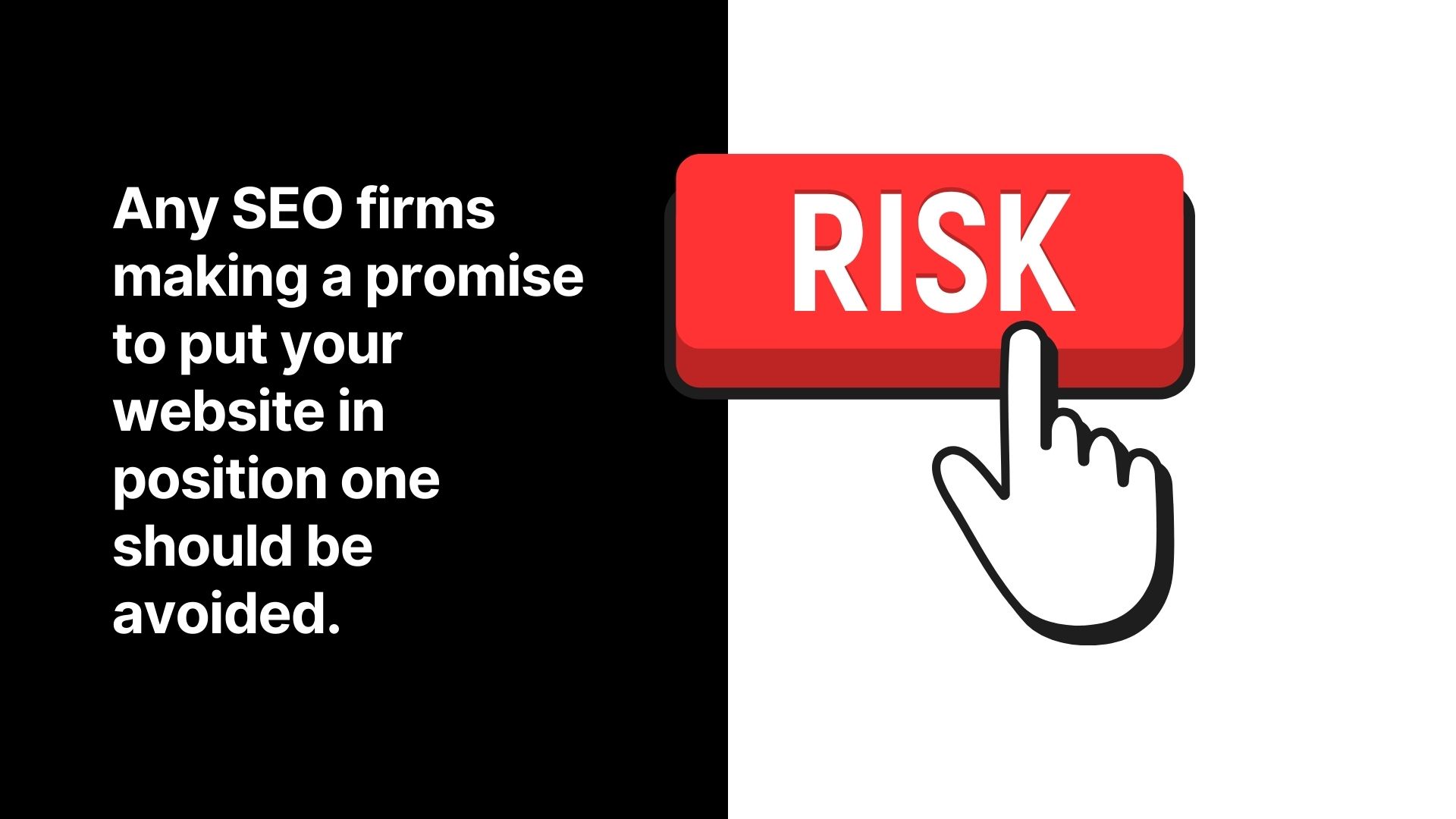 11. Using an SEO company
Key questions to ask
Do you have physical premises I can visit?
How many people do you employ?
How long have you been conducting SEO? Can I verify this result?
Can I speak to 10 of your SEO clients for whom you have been performing SEO over a period longer than 12 months?
Do you have a fixed contract period?
What is your cancellation policy?
Do you provide reports showing growth month on month without me having to study complex data?
Can you demonstrate experience in user interface upgrades to ensure we have a low bounce rate?
Can you show me evidence of your rankings for other dental practices?
Will you work for my competitors if they approach you?
If my website is penalised for breaking Google's rules, will you take responsibility?
12. Evidence of success
How to measure
We all have different measures of success. Practices usually use a combination of these measures:
Ranking improvements – domination of Google search results in your locality for a wide variety of search terms, such as Invisalign [area name], dental implants [area name], cosmetic dentist [area name]
Increase in website enquiries, trackable via your reception emails, CMS or/and website admin
Increase in phone calls. You can ask your patients how they heard about you, log it and view reports in your practice software
Website visits. Website analytics will show you that the number of visitors has gone up. You can measure this on Google Analytics
Time spent on your website by visitors is important. If the average time spent on your website is more than two-to-three minutes, then this is good and is measurable on Google Analytics
Low bounce rate. If your bounce rate is lower than 50%, this is good for a dental website. And 30-40% is a great bounce rate. But 70%-plus is not good. If you have a 70% bounce rate, this means seven out of 10 visitors are leaving your website within three seconds
Overall practice growth year on year. This is important and can be measured by the number of new patients, referrals, and profitability.
Other important areas that contribute to success:
You must have a great practice. Your Google Reviews must be glowing and patients should be raving about you
Your dental website is conversion led. Users should find the information they need without clicking or scrolling too much
Pro-active communication with patients
Your practice interior is reflective of the type of patients you wish to attract
Your local offline visibility is clear and high. This will help encourage people to look you up online
Your customer service is beyond outstanding. Work on creating raving fans
Remember those client details and preferences hotels thrive upon. Do you send birthday cards, or congratulatory cards to your patients for big moments in their life?
Create an experience, not just a business
Be good at your craft – and invest in being a better team
Team spirit and culture can be seen from afar. Develop and nurture your staff
Phone call recordings for team training are essential to rate the quality of interactions between team and patients.
I believe the above goes hand in hand with a successful digital experience. Ranking high alone is not enough to be successful.
13. Analytics
What is Google Analytics?
The problem with someone reporting to you how many people are visiting your site, how many people stay there and for how long, and where most of your traffic is coming from is that this information may be inaccurate or twisted to their benefit.
Google Analytics is a free software that cannot be manipulated. This software sits on your website and monitors traffic and user behaviour. We live on analytics as it allows us to build the best dental websites.
I advise everyone to have their own Google Analytics account. It is easy to create one and once you have done so all it requires are a few lines of code for your website for it all to work. Click here to set up a Google Analytics account.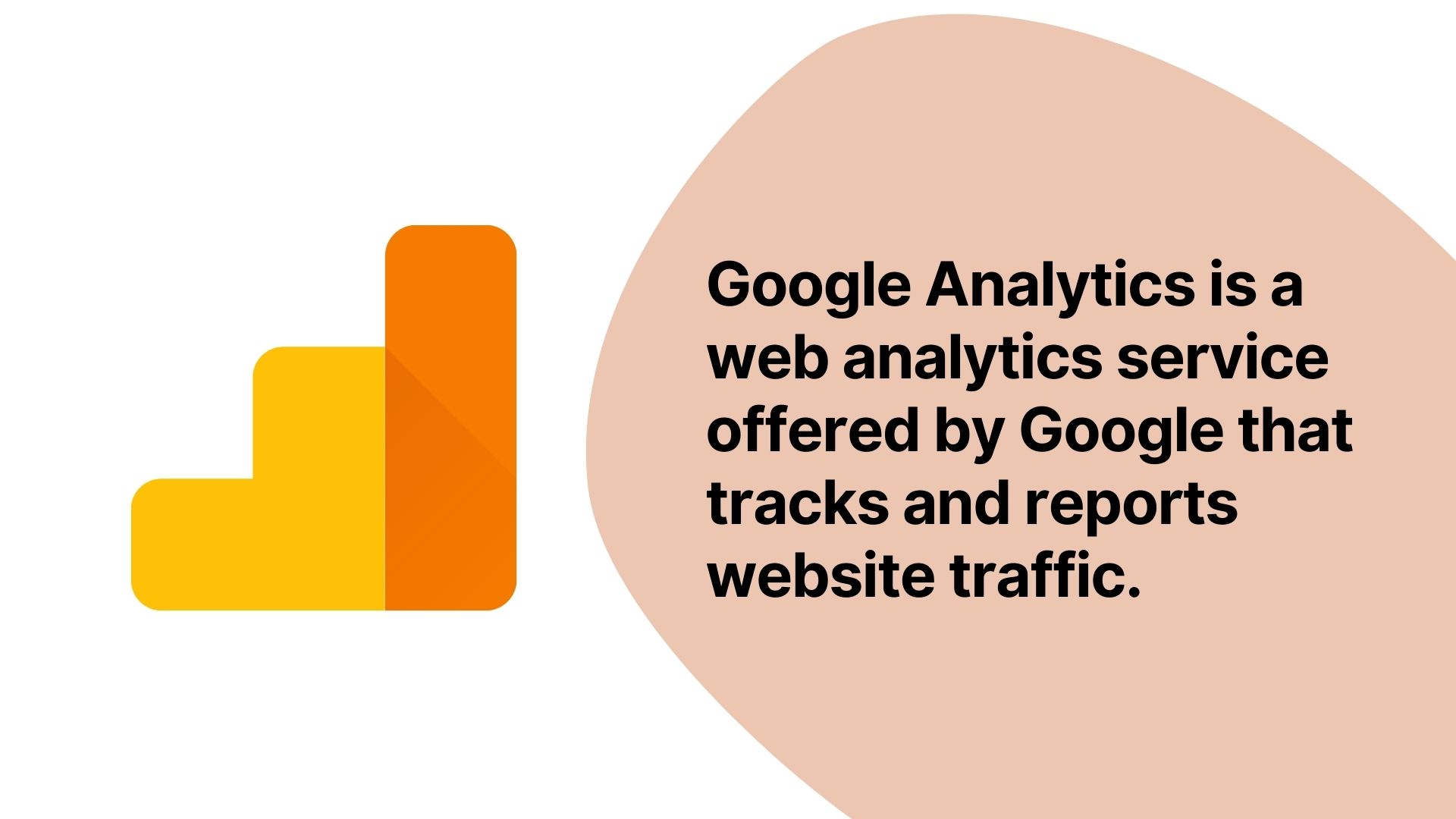 14. Website awards
Do you know the criteria to win a website award?
We studied the criteria for the Private Dentistry and Dentistry website awards in detail. The judges want to ascertain the success of your website. How well do your rankings perform? How many users are staying on your site and interacting? And how does your patient user experience contribute to the success of your website?
We are proud to say that every single website of ours that was entered in both award categories for nearly all regions won.
The reason I mention the awards is to confirm that a successful SEO campaign wins on a holistic level if all the connected parts are equally supportive in converting a visitor into an enquiry, which then turns into a consultation. A website plays a key role in this.
I am yet to meet a dentist who says they have a poor conversion rate once the patient is in the chair. SEO and high-power patient conversion websites are designed to generate patients for the lifetime of your website.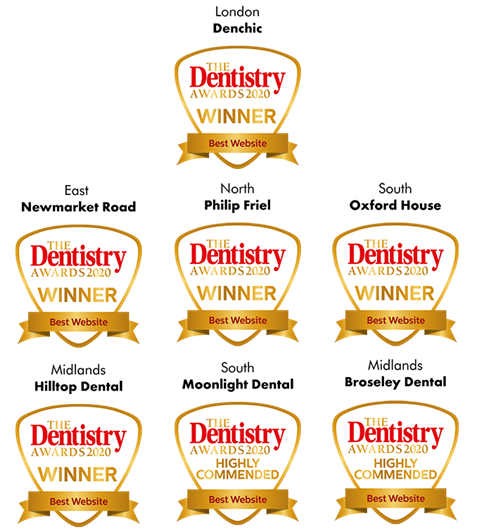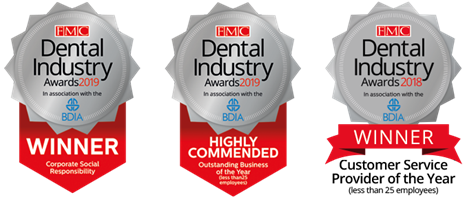 15. Dental website design
Do I need a great website to succeed with SEO?
SEO is an independent service. Someone with a website can use an SEO agency to improve their rankings. In my experience, particularly over the last 10 years, my biggest mistake with accepting SEO clients was that I also accepted their weak websites.
We now refuse more clients than we accept. There is no point in sending traffic to a website that is not converting patients. Unfortunately, over 70% of the dental websites I see – even the new ones – are poor at converting patients.
In my five step dental website design guide, I explain that a website shouldn't be designed to meet the practice owner's preferences. It should be designed using evidence of success. There are more than 120 principles in our Digimax success formula, which include years of learning.
If a user has to click or scroll to contact details – a phone number or address – on a mobile device, the chances of that user leaving the website is 75% higher. This one small (but crucial) point alone is losing website owners hundreds of thousands of pounds each year – and they don't even know it.
An SEO campaign is only as successful as the website to which you are sending the traffic.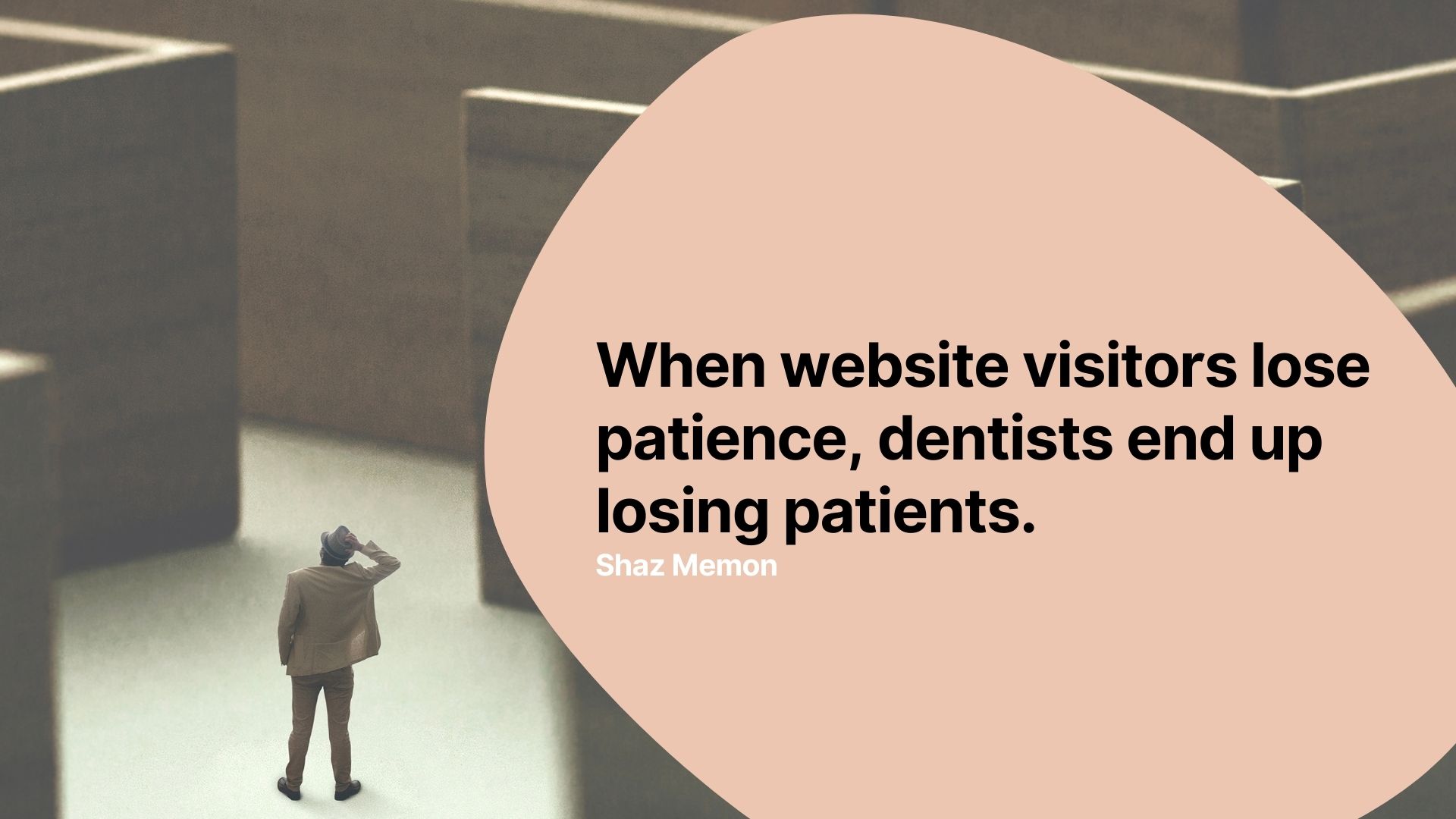 16. SEO race
Where do competitors fit into my SEO campaign?
If your practice is in a non-competitive location, such as a small town with just three practices, you can usually dominate the top spot over time. SEO does not have to be something you do forever.
Once you stop, you can still enjoy the benefits of SEO (unlike PPC). Or instead of stopping, you change your focus to other treatments or other affluent locations.
A competitor can outrank you (appear higher in search results than you) if you stop and if they continue with SEO. In a small town, the difference is nominal because website visitors will usually scan other results on the first page.
There are some exceptions. For example, if you stop after three months of doing SEO, this would appear unusual to Google. If for three months the chatter about your website and brand has been 'natural' and 'organic', why would this 'chatter' go from zero to full volume to zero again during that period of time? This is unnatural and could lead to a drastic drop. Each situation is different.
However, if you are in a competitive location, SEO can feel like a bit of a race. With multiple practices carrying out SEO and competing for the same first page positions, you will find that being overtaken is possible should you take your foot off the pedal.
The responsibility of any SEO provider is to act extremely competitively on your behalf. Therefore, at my agency Digimax, we don't accept competing practices as there is no way we can ethically represent both sides.
The reason why SEO is the most popular digital marketing service is because organic ranking results are trusted. They bring in patients and long-term SEO results tend to mature and improve automatically.
17. If I am buying a practice, what should I look out for?
Does a high-ranking website make a practice more valuable?
Over the years, it is not unusual for me to have several conversations with buyers of potential practices about the website they are inheriting. The most common questions relate to ranking performance.
If the practice they are buying has a domain name that has been established for more than 10 years and that the local SEO is amazing, this very often accelerates the purchase decision for the potential buyer.
This demonstrates that SEO investment will reap benefits in the long term – producing results during practice ownership and adding value when you come to sell. The best way to leverage your SEO work when selling is to clearly share your Google rankings as a USP to your practice sale company so they can help make your practice stand out to potential buyers.
18. The dark side of SEO and how to prevent getting stung
I have seen websites disappear from Google overnight
Google does not want you to pay for SEO. They want you to pay them for Google Adwords PPC, as explained earlier in this guide.
Google is working on the natural phenomenon of people speaking about your practice. A trustworthy SEO provider with a reputation to uphold, with a good track record and the intention to be in business for the next 10 years-plus will be very careful not to do any SEO work that pleases you now, but has a long-term negative impact.
Googles bots are scouring the internet for unnatural activity. They have a pretty ruthless approach to penalising websites.
One in 10 projects we receive has some kind of penalty that is extremely difficult to undo. It can take months, or even years or even a practice name change to find a successful resolution.
SEO providers must work to create natural results that don't involve buying links or creating fake chatter. They must leverage trusted strategies that will stand the test of time.
When using an SEO provider, if you do not know them, try asking them the following:
Are you able to sign an agreement that will compensate me if your SEO work gets me penalised in the future?
Can I speak to 10 of your SEO clients that have been working with you for more than 12 months?
Have you got a physical office where I can meet your team?
Can you work on a no fixed term contract basis?
What keywords do you rank for yourself? (please don't accept 'We don't SEO for our own business' as an answer)
At Digimax, we rank for dental marketing, dental SEO, dental websites, best dental websites globally number one (subject to fluctuations). These keywords are the hardest terms to rank for as they are so competitive.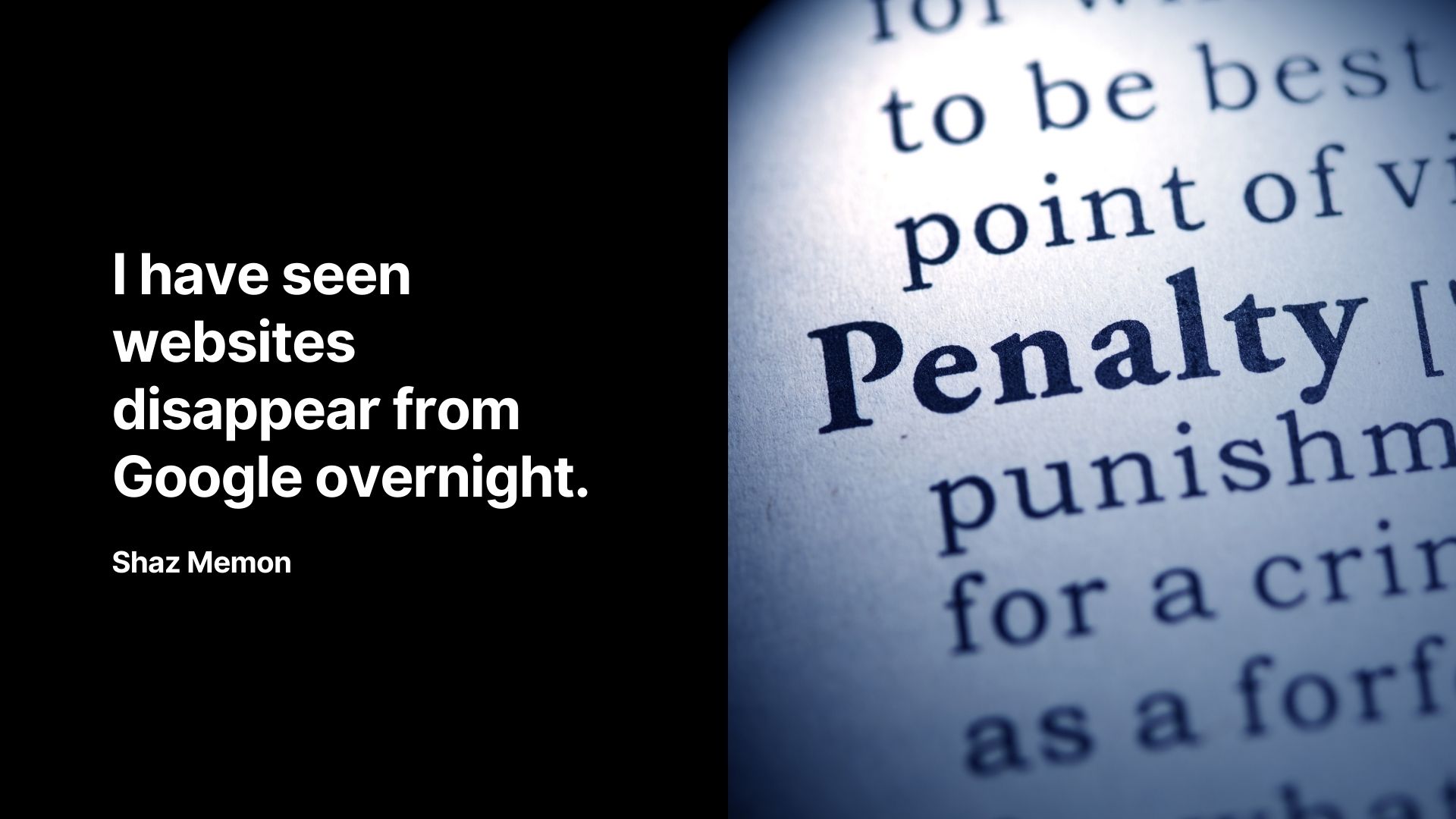 19. Should I write blogs to help improve my rankings?
Is blogging a free strategy to rank quickly?
If you have a blogging feature on your website – and you can write 250 words on a topic of interest – it can help your rankings. If you write a blog about 'Invisalign London' and you want that blog article to appear on the first page of Google, this will not magically happen no matter what any SEO 'guru' tells you.
The only way blog articles appear naturally on the first page of Google is if you are writing about a topic and location that is not competitive. Or if you invest time in SEO to rank those articles higher.
If you would like to blog, I would advise you to create blogs answering the most common questions that your team can use to forward to any potential or existing patients. Add your local area to the blog titles.
Below are some catchy blog titles I quickly generated using my blog title generator. For the time investment involved, and how well blogs perform for competitive locations, blogging is not an essential. As an SEO provider, we focus on all the main areas of optimisation that yield results.
However, if you have spare time and a passion to add to your marketing, then blogging can certainly help you rank for search terms that are not too competitive.
Invisalign blog content ideas
How to treat crooked teeth using Invisalign in Southbank and Waterloo
What is Invisalign? And why should you care?
Do you recognise the eight warning signs of crooked teeth?
Invisalign: 17 steps to make sure straighter teeth
Invisalign: five killer ways to straighter teeth in Southbank and Waterloo
The lazy Southbank and Waterloo's way to straighter teeth
What (really) goes into Invisalign that works in Southbank and Waterloo.
Veneers blog content ideas
The top ways to achieve the perfect smile with porcelain veneers
Eight porcelain veneers lessons that will pay off
Advantages to porcelain veneers and why veneers are so popular
How to change your confidence with veneers
14 porcelain veneers myths explained
Porcelain veneers versus composite bonding – which one is better?
Do I need to shave my teeth down for veneers?
Dental implants blog content ideas
Dental implants: a simple (but complete) guide
How to replace missing teeth with dental implants
Eight steps to successful dental implants
A few quick tips to help you find the right dental implant solution for missing teeth
12 questions you are afraid to ask about dental implants
The surprising secret to replacing missing teeth
Can you really bite again like you once used to with dental implants?
---
Contacts
20. Glossary
Dofollow
A 'dofollow' link is a link that helps your search engine rankings. Some newspapers and magazines will hyperlink to your practice, but deliberately add a code labelled 'nofollow'. This tells Google not to count this as a link. As a result, this has zero SEO benefit to you.
Black hat
Black hat SEO is any kind of search engine optimisation that goes against Google's rules. This is usually done by companies who want to demonstrate success to a client when there is lack of rapport. Black hat SEO almost always will lead to a penalty by Google in the future.

SERPS
SERPS stands for search engine result pages.