The COVID-19 files – 'COVID security measures'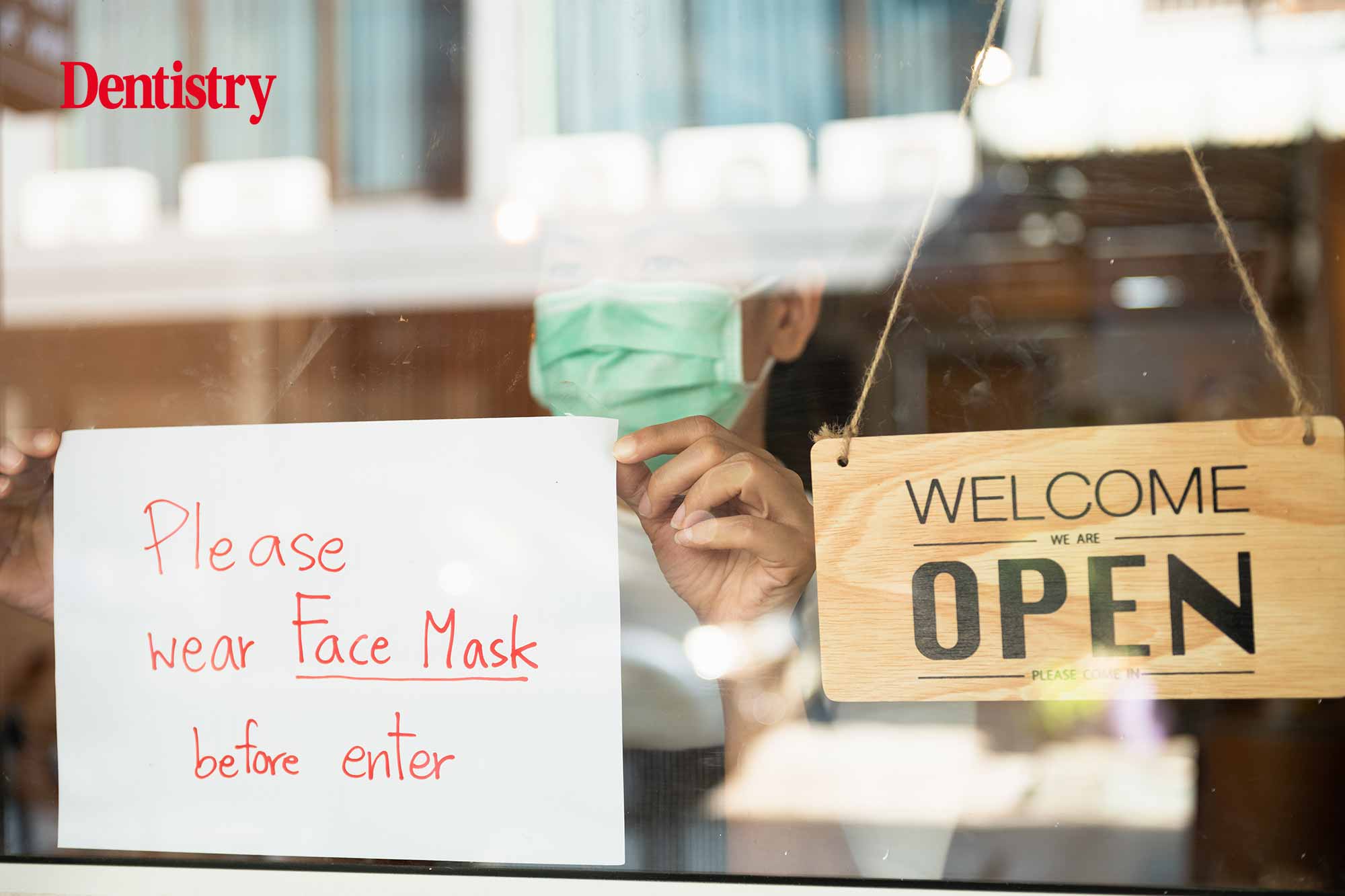 When practices were given the go-ahead to resume routine appointments, it was never going to be a return to normal. Concerns about the safe return to practice was the most common theme in the DDU's advice files during this transition period. But unfortunately, some practices encountered resistance from a small number of patients too. Leo Briggs, deputy head of the DDU explains more.
As pandemic restrictions are lifted, the UK population is divided between those who want a complete end to COVID security measures such as mask wearing and social distancing and those who would prefer to see them remain to protect the vulnerable. Particularly in settings such as healthcare (where they remain official advice).
Dental professionals first felt this tension when they were given permission to return to practice.
Analysis of over 500 case files opened by the DDU between 15 March and 1 December 2020 shows that the safe return to practice and the implementation of COVID security measures were the most common reasons for members to request advice (nearly three-quarters of the advice files).
But while practices did their best to reduce the risk of contagion, they also faced complaints from patients who thought they were doing too little or had gone too far.
While these represented a small proportion (14%) of complaints, we expect this trend to continue for as long as the pandemic.
Some of the recurring themes were:
Dentists and hygienists seeking advice about aerosol generating procedures
Concerns about fit-testing staff for PPE, including training
Practice owners seeking advice about the requirement for fallow time between appointments
Patient concerns about infection control measures
Complaints about the requirement for mask wearing.
Case example
The following fictitious scenario, based on DDU COVID case files, illustrates a typical complaint.
A dental practice received a call from a patient. He wanted an emergency appointment because he had fallen and knocked his front teeth. He was now concerned that he had cracked one of them.
The practice was able to fit him in the following day and sent its usual pre-appointment documents. This includes a health assessment and instructions to prevent the spread of coronavirus.
Shortly afterwards, the patient called back to say he was medically exempt from wearing a mask. When the receptionist asked him for details about his condition, the patient became angry and told her it was none of her business. He then emailed complaining the receptionist had been rude, confrontational and intrusive and accused the practice of discrimination.
The practice complaints manager contacted the patient.
She explained that the practice policies were there to protect everyone. But the practice recognised that there were good reasons why some people could not wear a mask. They could make arrangements to ensure these patients received care.
She apologised that the receptionist had asked for his medical details. But this was because she had wanted to inform the dentist. The practice updated its protocol for this situation to protect patient confidentiality and privacy.
The patient apologised for losing his temper, revealing that he had an anxiety disorder. He previously had panic attacks while wearing a mask.
The practice rearranged the patient's appointment so he could be seen at the end of a session when no other patients were due.
DDU advice
There isn't a single COVID-secure model for every situation. Every practice is likely to face a unique set of conditions and challenges when mitigating the risk posed by COVID-19. And every patient will perceive risk differently.
The following DDU tips, based on our advice to members, should help you ensure you are able to maintain appropriate safeguards and manage patient expectations.
Continue to check relevant websites regularly for the latest official guidance on COVID precautions; such as AGPs, PPE and fallow periods. Don't rely on printed information that may quickly become outdated
Explain practice COVID measures and the reasons behind them when patients book appointments, when they attend appointments and in places where patients can access information, such as your practice website
Ensure all patient-facing staff know the practice protocols and procedures. Then they can communicate these clearly to patients and answer questions
Consider providing all members of the team with regular training and updates on how to manage challenging behaviour. This should also help to reassure them they will be well supported
Avoid making blanket rules for every patient, regardless of individual need. Pre-empt problems by inviting patients who are unable to wear a mask to contact the practice. This way you can make arrangements for them
Have clear signs outside and inside to help the patient navigate one-way systems and social distancing. For example separate entry and exit doors
Ensure patients are not questioned in public areas about their reason for declining to wear a face covering. This will avoid appearing insensitive and allegations of a breach of confidentiality
It is reasonable for the treating dentist to ask for further information in private about someone's medical condition. However, this should be to ensure a complete medical history for their safe dental treatment. It is not to make a judgement on whether the patient's refusal to wear a face covering is rational or otherwise
Whatever your views on the patient's stance on mask-wearing, challenging them is unlikely to help. Instead, try to be assertive without being aggressive. For example respond by saying: 'I can try and help you sort this out. In order to help you, I need you to provide me with a few more details. Then we can discuss the best options for you…'
Call your dental defence organisation for specific advice.
---
For more information call 0800 374 626 or visit www.theddu.com.