A trip to Takoradi – my dental elective in Ghana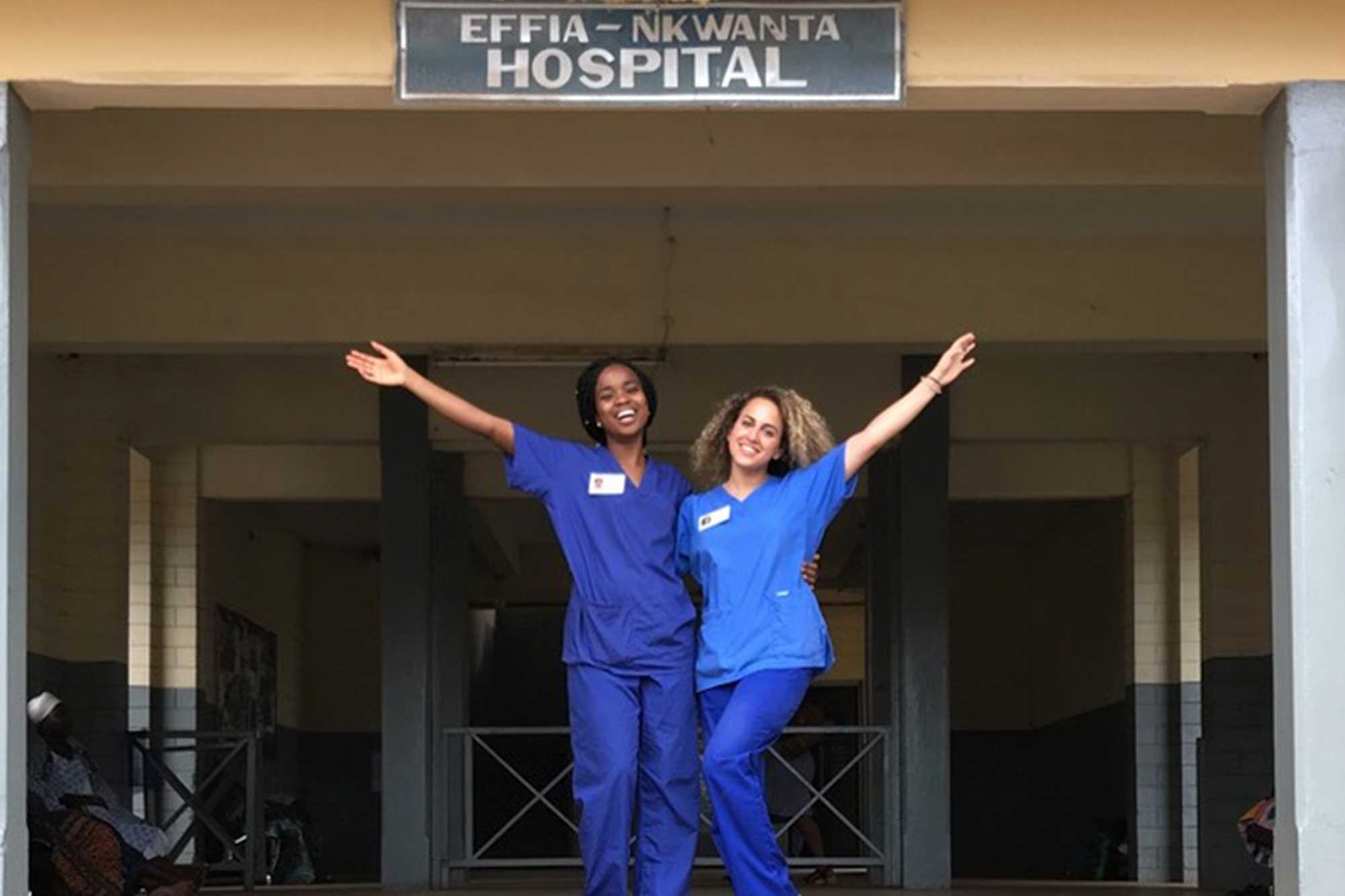 Farah Elnaqa writes about her experiences on her dental elective when she went to Ghana to help in the Effia Nkwanta Regional Hospital in the city of Takoradi.
In the summer after my third year at dental school, I had the incredible opportunity to carry out a dental elective in Ghana.
It was a truly remarkable experience. I believe that everyone should take part in a dental elective at least once during their time at university.
I was based at the Effia Nkwanta Regional Hospital in the city of Takoradi, which is in the western region of Ghana. Effia Nkwanta is a government-funded hospital and is the only hospital in the whole region.
It receives referrals from the 22 districts within the western region, putting it under enormous strain.
Most of the patients I saw attended the hospital distressed and in pain. Some patients travel for hours to see a dentist.
Out of the three dental chairs at the hospital, only one was functional. The other chairs had been out of use for over three months. And unfortunately the hospital was struggling to have these fixed or replaced.
The only chair that we could use did not have a working light, three in one or suction.
This made treatment considerably more difficult and limited the treatment that we could carry out.
Similarly, the radiograph machines were out of order during my time at the hospital. This meant that we could not take intraoral radiographs. We could only use OPTs within a limited capacity to aid diagnosis and treatment planning.
Challenging conditions in Ghana
During my time volunteering at Effia Nkwanta, I noticed that often teeth that may have been saved with endodontic treatment unfortunately were lost.
The only dental treatments covered by the National Health Insurance Scheme in Ghana are extractions, incision and drainage of swellings and restorations.
A lot of people are unable to afford health insurance. Endodontic treatment would cost around 900 cedis (approximately £137 at the time).
Many patients were not able not afford this and, as a result, would choose to have their teeth extracted due to financial constraints.
Under these challenging conditions, the team and I at Effia Nkwanta had to adapt in order to continue providing care for patients.
Gauze was often used instead of suction. We used phone torches as a light source.
Although this was not ideal, due to the lack of resources, we had to do what we could in order to get patients out of pain as soon as possible.
Overcoming extractions
At university I was always nervous before carrying out extractions. I didn't have much experience and I would never know what to expect.
A great thing about my time in Ghana is that it really helped build my confidence.
The majority of treatment consisted of extractions, which meant I had a lot of practise. I always had my supervising dentist there to give me a hand when I needed it.
In fact, on my first day, I was unable to take out any teeth at all. But by the end of my time there I'd really got the hang of things.
After I returned to university in September, I realised that I was no longer worried when I saw extractions planned on clinic. I found myself looking forward to them instead!
Interesting cases in Ghana
One of the particularly interesting cases that I witnessed in Ghana, was a man that was brought in to the hospital by the police.
He was on trial for a very serious crime, and they needed to determine his age. It was on the basis of his teeth as to whether the court would try him as a minor or as an adult.
He had been claiming to be a minor, and as there were no official documents to prove his age. It was definitely something I did not expect to see!
Another fascinating experience was seeing a keratocyst in real life. This was something I have only ever seen in textbooks.
A patient attended the hospital with an extremely large swelling that had been present for the past six months. We needed to aspirate it and and take an OPT to confirm the diagnosis. We then referred the patient to a specialist for further investigation and treatment.
As you can tell, I never knew what to expect, and each day in Ghana would be different!
Oral health education
On the weekends, I spent a lot of my time exploring. I wanted to experience Ghana's vibrant culture as much as I could.
I would visit the beaches, the markets, try the local food, and we actually took an amazing trip to Kakum National Park. This was a breathtaking experience.
But one of my favourite and most rewarding experiences was visiting the local junior school and orphanage.
My aim was to to teach both the adults and children about oral health, in the hope that they could implement healthy habits in the long term.
We had a teaching and Q&A session, following which I was able to provide supplies such as toothbrushes and toothpaste.
Many of the children had never had any sort of oral health education before. But, despite this, they were so engaged in learning. It was extremely encouraging to see, and I had so much fun.
I also carried out an oral health screening of over 100 children in order to identify those that urgently needed to see a dentist.
The school/orphanage was then able to prioritise and arrange dental appointments for those children before they were in any pain.
The whole day was absolutely exhausting. But I was extremely grateful to have had the opportunity to help others – and I would do it all over again.
'Most fulfilling experiences of my life'
My time in Ghana allowed me to meet some truly amazing people and build my confidence in ways I could have never imagined.
The team at Effia Nkwanta always strived to provide the highest level of care possible. Even in particularly difficult circumstances.
They provided me with all the support I could have asked for, and I learned so much. Particularly from my supervising dentist, Dr Henry Acheampong, who was an amazing teacher.
It was a truly rewarding experience and I only wish I could have stayed longer.
My dental elective was one of my most memorable experiences as a dental student, and also one of the most fulfilling experiences of my life.
Although I have now qualified, I often reminisce about my trip to Ghana, and I truly hope to return there one day.
---
Follow Dentistry.co.uk on Instagram to keep up with all the latest dental news and trends.