Suffering with an eating disorder – one dentist's experience
Following Andrew Flintoff's emotional documentary on bulimia, Robert Chaffe has bravely come forward and given us his experience suffering with an eating disorder, before recovering to become a dentist.
A couple of weeks ago, Andrew Flintoff, former England cricketer and one of my heroes growing up, spoke emotionally in a BBC documentary about his battles during his career with bulimia.
This inspired me to spread the word about mental health in men and eating disorders. I know this affects our profession as well as many others.
I posted about it online and was contacted to share my story. Hopefully this can inspire others to talk about their mental health problems, and seek help and support.
Eating disorders
Eating disorders are complex and affect people in many ways.
The eating disorder I suffered with was anorexia whilst in my mid-teens.
In the late 90s and early 2000s there was less support for eating disorders than there is now, especially amongst men. I still hear about people struggling to access mental health care.
I was really fortunate to have such supportive parents. They were able to get help for me privately, when NHS lists were so long.
Sadly, my eating disorder deteriorated in the early 2000s so rapidly that if I did not get help, I think I would have died during this wait.
I don't want to talk too much about the things I did to lose weight. I do not wish to give anyone ideas. This is something that I did when I was suffering with the eating disorder and read up on the subject.
So I am going to talk mainly about what happened to me, how it affected my loved ones and then how I got over it to lead a normal life. A life with my past not affecting me, but instead using it as an inspiration to never go back.
Aspiring Olympian
My obsession with food first began when I was about 16 years old.
I played a lot of football, did a lot of running for school and I had dreams to run the 1,500 metres in the Olympics. I had just clocked a time of four minutes, which was a record for the school at the time.
A few days later I was playing football at lunch, got a bad tackle and tore my ankle ligaments. I was out of action for some time.
In my head I thought, just eat a little less than you do now. You will not put on any weight, then you can get back to training again in no time.
This was the beginning of my problem.
Sports injuries are more complex than that. But it just became fixated in my head and eating incorrectly has a negative impact on recovery. This was just one of the many negative spirals I entered into.
Over time I became addicted to controlling my diet and this just snowballed.
Developing an eating disorder
At a similar time, I lost several close family members and I did not handle their deaths well. I was remarkably close to them and I used to talk about my problems with them. It just fuelled my addiction with food.
I was under a lot of pressure from school and family to get good GCSE grades so I could go to university. This all exacerbated the other issues I was struggling with. So I felt my life was out of control.
I had lost the people I talked with about my problems. I couldn't do the sports I loved. And the pressure from school became too much.
Rather than embracing the pressure, like I do now and use it to motivate me, I used food as the only thing in my life I felt I could control.
In hindsight it was not logical. I was in control, I worked hard and got good grades in my GCSEs. But when you are a teenager you don't always think logically. You live more in the moment and this became a problem for me.
The summer after my GCSEs, we went on holiday to Greece with my family.
I lost so much weight by this point, I was cold in near 40° heat. I had to wear a fleece by the pool to keep warm.
This was another situation when things start to spiral. When you suffer with an eating disorder you do not want people to notice you. Instead you just want to disappear.
I felt so unconfident and worthless at the time. I just wanted to be by myself reading, listening to music or with my family. Yet I was drawing more attention to myself.
A downward spiral
Following the summer, because I was reducing what I ate all the time, I still hadn't recovered well from my injury. But I could join in football at lunch and I could work out again.
So I signed up to as many sports as I could to help me get fit again. I would miss the bus and run to school. Do press ups in my room every morning and evening to burn as many calories as possible.  I would also drink litres of water to fill myself up.
At this point I was in sixth form giving me more freedom. We would go out for lunch and I would just have a fizzy drink to fill me up. The sugar is what kept me going, which is very ironic as a dentist now!
As winter came, we went out less due to the weather, so I brought lunches in. I would hide my food from people in my locker.
This was when some of the mean kids in sixth form started to pick on my appearance.
Again, this fuelled feeling out of control. With their comments I would keep on hiding food and not eating to give me some control.
This would therefore make me thinner and thinner and drew more funny looks and nasty words. So the spiral began. And this time there was no coming back.
Developing body dysmorphia
Months later I started to look emaciated, and feel faint. I was breathless all the time, which took me to the doctors.
The doctors advised I seek help with my eating. But I kept denying I had a problem. At this time I was starting to get extremely ill systemically and mentally.
I therefore became very isolated and stayed in my room studying for my A levels all the time. I was up most nights, sleeping only a few hours.
My thoughts became so negative and my mood so low. I started to develop body dysmorphia, feeling I looked normal.
My GP gave me anti-depressant medication to help my mood. They referred me to an eating disorder clinic, against my will, like a kicking screaming toddler.
At this time my memory becomes quite hazy.
We were told the waiting list was so long, but that I needed help urgently. Other than emergency services, the other option was private referral.
The GP referred me to a specialist who tried to help me, talk to me, and get me eating protein bars and hard-boiled eggs.
He encouraged me to write a diary of all my thoughts. So I could get things out of my system and feel more in control.
Someone in my family read this diary. I felt so violated. I rejected any help and was told if I wasn't hospitalised, I would die.
Last chance
My wonderful parents used their insurance to put me in a private clinic as a last ditch to get me better.
This was not an eating disorder centre, it was a centre for anyone with mental illness.
I saw some horrible things that I don't think helped.
I stopped eating altogether and confining myself to my room.
At this point I was now so thin I was getting bed sores. My skin was so thin my spine was cutting my back, waking up in the morning with blood on my bed sheets.
When I did sleep, I was having vivid dreams of things that frightened me.
Someone would sit with me all day, when I ate, when I showered, went to the toilet – it was humiliating.
But it became a game and an addiction. I would hide the food and drink the water, so I could maintain my control.
My family and friends from school would come and see me. But they just had tears in their eyes, and I could not understand it.
I wouldn't really take part in the therapy sessions in the clinic. And I was losing more weight.
The doctors decided it was time to discharge me, so I could go home to die.
Reflecting on this now, as a father and husband, son and brother, I can't believe I broke my family's hearts like this.
Part of this disease is you have no idea how you are affecting those arounds you.
Support circle
My family and my friends came and spoke to me when I got home.
It was at this time when I would drift in and out of consciousness all the time. Something clicked in my brain.
My friends were out having fun, travelling, meeting girls, being teenagers. I just thought I didn't want to miss out on this. And so I started to eat a bit more.
My poor mum would have to take me out in the car so I would eat a sandwich. So I could see all the beautiful countryside. It would take hours.
My friends said if I can get better by the summer, we can all go on holiday to Tenerife together.
Very slowly I started to eat more and more. The support of my friends and their motivation really kept me going for the summer holidays.
Back to school
My school found the locker full of mouldy food I used to hide. But they were remarkably nice about it and gave me a special award for wanting to get better.
I went back to school part time and did an AS level in physics getting an A.
I was then invited to a new school so I could get into university and study medicine or dentistry.
At this school I met some wonderful new friends. Life became so much more positive.
I was now eating better, putting on weight and starting to engage more in therapy to help me deal with the mental health side of my condition.
I was a normal teenager doing my A levels applying to university.
Despite this, I still had to take supplements to get enough nutrients in me. Ultimately I did this until my first year at dental school. It was in my first year that I was told I could stop taking the antidepressant medication.
When I applied to dental school, I couldn't hide the fact I had an eating disorder. I was still pretty skinny and two years behind where I should be.
With the help of my sixth form tutors, I decided to use this to my advantage, telling them a summary of what happened.
I had a problem, came through it, learned from it and have no intention to ever look back.
I got in and had a lot of fun at university making some lifetime friends.
Long-term effects
I think I am always going to carry some issues with me.
Now I no longer have an issue with food. But this did affect my confidence. I will always be quite self-conscious and carry some insecurities.
As I have grown up, had the therapy and lived my life, I know this is totally normal.
After hearing Andrew Flintoff talk, even sporting legends have these issues. We learn to live with them and motivate us in future.
The issue with eating disorders is they are mental and physical illnesses. You must get physically fit before you can tackle the mental health side.
It took me years of therapy and support from my family to get over the mental health aspects.
In males and females these physical issues can follow you later in life.
I was unable to have children naturally and required assisted conception. This is incredibly stressful on a relationship, and the success of IVF is only 40%.
Miraculously we have had two beautiful children now.
People suffering with these illnesses need awareness of the long-term damage they can do to themselves.
I am fortunate that so far, I have had no other long-term health effects from the eating disorder.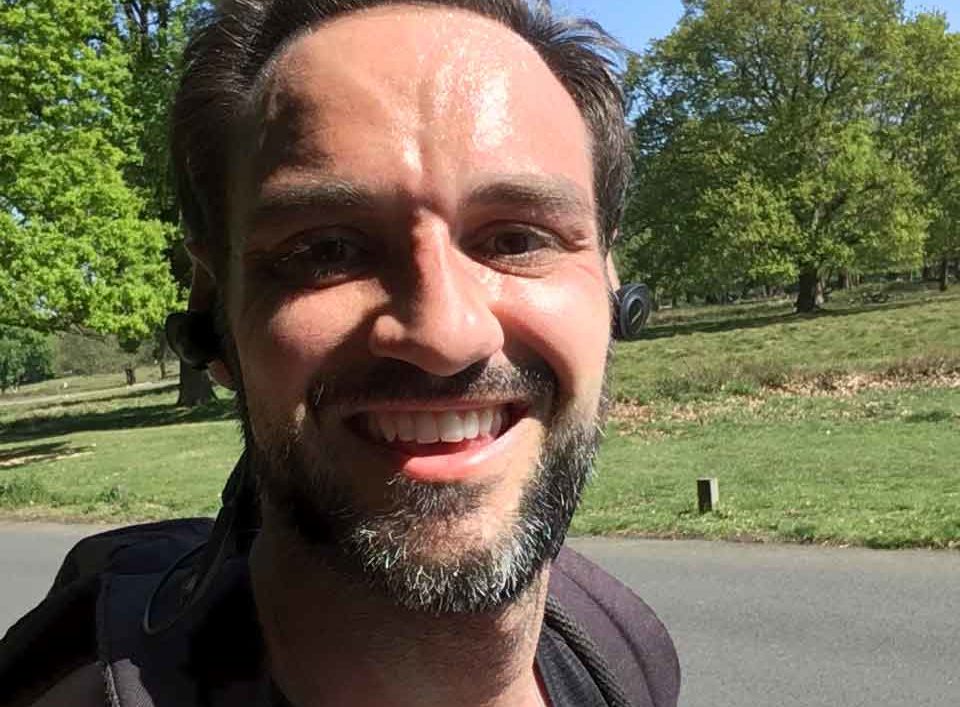 Looking forward
Now 20 years on, I have a beautiful wife, two wonderful children, a large family of in laws who treat me like part of the family.
I qualified as a dentist, work with an amazing team in south west London, do some teaching and have a really rewarding enjoyable life.
Today, I do not have an unhealthy relationship with food, but I still love exercising. I have run countless half marathons and a London marathon.
Next year I'm planning on running the London marathon again (COVID allowing). This is for the BDA Benevolent Fund charity, which is an amazing charity supporting dentists in crisis. It is there if the dental profession ever needs help or support.
I wish I could go back and do things differently. I wish I had not put my family through what I did.
But I can only learn from it and motivate me to be the best father, husband and dentist I can be.
My hope is that others can learn from the mistakes I made and talk about their problems before they cause too much damage.
After all of this I am the happiest I have ever been and pinch myself every day to have such a wonderful, supporting family.
---
Follow Dentistry.co.uk on Instagram to keep up with all the latest dental news and trends.