Secrets to Success with Christian Coachman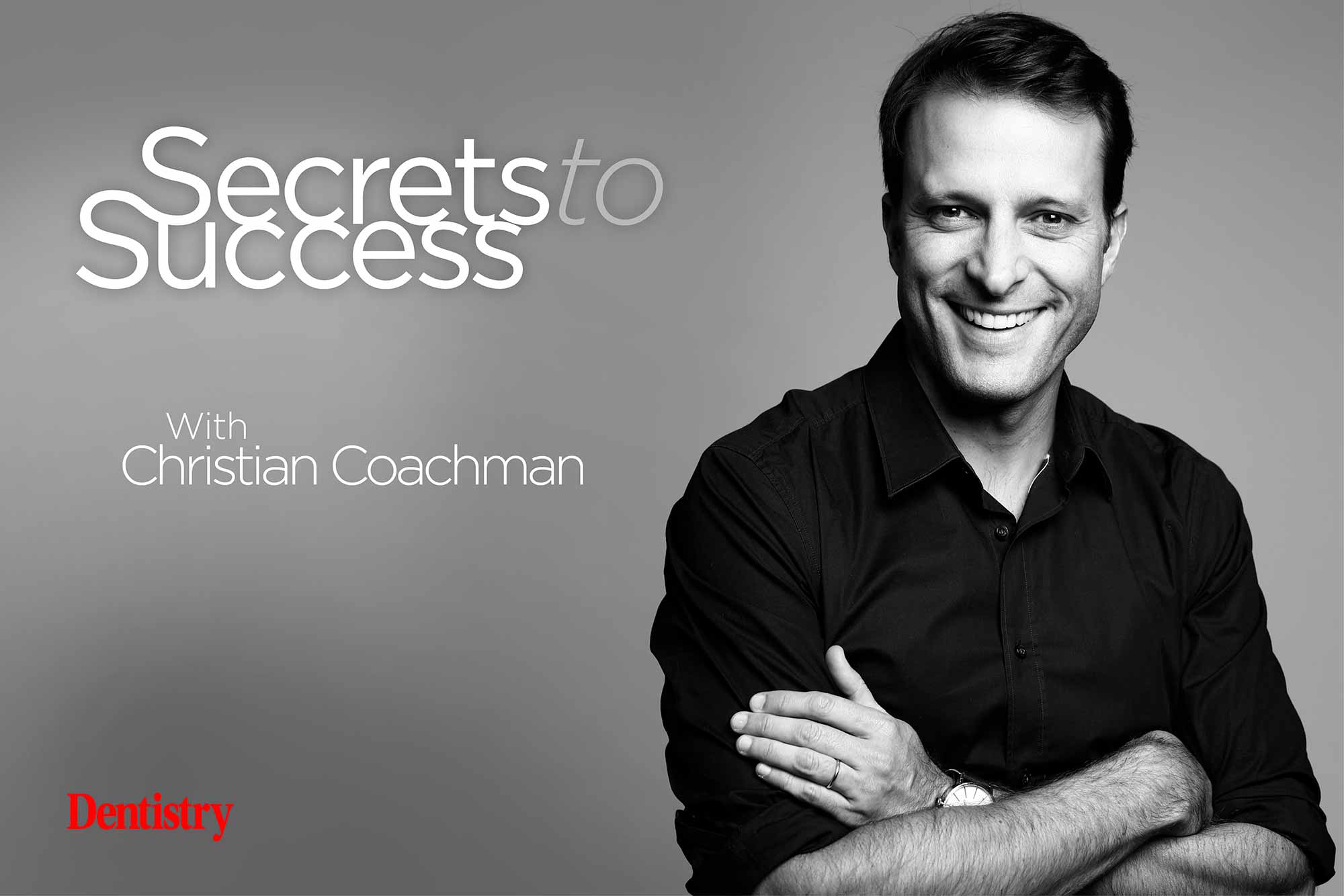 Jana Denzel speaks to Christian Coachman about his journey in dentistry, the concept behind Digital Smile Design (DSD) and what skills you need to be successful.
Dr Christian Coachman is a Brazilian sixth generation dentist. In 2019 his family line had worked in dentistry for over 170 years.
He is the developer of worldwide known Digital Smile Design, the Pink Hybrid Implant Restoration, the Digital Planning Centre, Emotional Dentistry and many more.
He has lectured and been published internationally in the fields of aesthetic and digital dentistry, dental photography, oral rehabilitation, dental ceramics, implants and communication strategies and marketing in dentistry.
Please give us your background and how you got into dentistry
I was never into dentistry as I was growing up. I actually never wanted to become a dentist as a teenager. It was a very last-minute decision that I did.
Somehow maybe my ancestors guided me on the right moment to take the path I did! I was very much into architecture and design and it was my dream to work in that field. However, I ended up in dental school and honestly it wasn't easy.
I thought about quitting many times because it was not who I thought I wanted to become.
My father right at the beginning of dental school advised me to work as a technician. I like to work with my hands and he thought maybe I would like that aspect to dentistry more. That could give me enough inspiration and energy to finish dental school.
So, I did that in parallel to my dental studies and become a dental technician. I started working for my father and a few other dentists.
In hindsight, this saved me in dentistry. I enjoyed lab work so much! In fact, when I finished dental school, I decided that I was going to continue to work as a technician even though I was a dentist.
This led me to travel the world and gave me the opportunity to work with some of the best dentists in the world as a technician.
Because of that experience I started to develop another passion of mine – communication and teaching. All of these great dentists I was working for were speakers. So as doors started to open, I started to love the process of putting their lectures together and cases we did together. From here my lecturing career took off.
Combining this with my communication and design skills I developed my entrepreneurial skills, how I could do better business and overcome the barrier of communication between the dentist and the dental technician.
I was always into analysing my own mistakes and flaws, why I wasn't more efficient, more predictable, increase patients' satisfaction, etc.
These factors led me to develop what you see today – the Digital Smile Design (DSD) concept.
Tell us more about DSD, for all the new dentists entering the new world of dentistry, how can they implement this into their practice?
About a dozen years ago, the face of DSD was the drawings over patients' pictures to guide us on diagnostic, treatment planning and team communication.
Until today, many people still have this perception that DSD is just drawing to motivate patients, to do a mock up, etc.
Inspired by our work, many dentists would then lecture on our concept how to use your Keynote and Powerpoint to improve your decision making and allow these guidelines to help you visualise where you want to be, guide communication to the lab, guide wax up, restorations, and to motivate your patient and increase case acceptance. That was the birth of DSD.
However, for the last seven years DSD has evolved into something more comprehensive and way beyond these drawings.
We have worked very hard to explain that DSD is now much more than that. DSD is technology to help diagnose and formulate a comprehensive treatment plan. As well as perform better smile designs, explain how to use 3D technology to manufacture devices and guide your clinical procedures and have digital quality control.
DSD has also become a management and marketing strategy.
We teach how to become a leader in your own office and how to empower your staff, making them happier and more effective.
Was there a time when you first started off that you had difficulty with dentists accepting the DSD concept?
We all love our comfort zone and try to resist change. We try to find solutions to succeed by using tools that are comfortable to us to do so.
Unfortunately, tools that are comfortable to us are often used by many others also, so we can never get ahead.
People love the idea of thinking outside the box – but rarely do people ever do it.
So yes, initially it was difficult. But now the dental world is so much more open, people are embracing these new digital advancements.
Now it's much easier for dentists to take on these new concepts.
What marketing and consultancy do you offer dentists?
We realised, and this was reinforced during Covid, that there are two parts to DSD.
One part is the educational aspect where me and my team are creating educational content which goes out to as many dentists we can reach. This can grow and there's no limit to the amount of people that can benefit from our ideas.
The other part of DSD is the planning centre services, the products and marketing services.
We realised these services and products are hard to scale with quality. A conclusion I came to last year was that high-end dentistry is very hard to scale. Every time you grow you drop quality.
That's why I believe that today and for the foreseeable future you have a golden standard in terms of size of clinic to deliver the highest standard of dentistry.
As you open chains of clinics, you see that, despite their huge effort, quality drops.
We realised that our DSD services and products, in order to retain the high quality – need to remain exclusive. We believe in the sophisticated, high-end dentistry. This is our philosophy and rooted in my DNA. It's very hard to scale that, as it's hard to find people with the same passion for high end dentistry.
Thus, we made a decision that, despite the fact that we teach thousands of dentists every year, we are going to hand pick a few of them to enter what we call the DSD-certified clinic project.
Only by becoming a certified clinic can you start working with our treatment planning, smile design, DSD lab, marketing and consultancy teams.
These are all projects that we have once the clinic comes on board and becomes certified by us. We go into their clinics and train their staff. We teach them how to implement the digital workflow and hire and train the right people.
What are the ideal attributes you look for in a clinic or dentist when wanting to work with them?
First, we look for dentists that are passionate about the DSD program and can resonate with our message and philosophies.
They have to go through some of our courses and can see themselves making the transformation happen.
It's really a program for those that enjoy comprehensive smile transformations.
What are the ideal attributes you look for when building your team to ensure you keep the high quality?
The reason why we decided to slow down our growth and mission and not go after everybody is because what we do is highly dependent on the quality of our team.
It is very hard to find those people or train people to get to that level. It doesn't matter what great technology we have, if we don't have the 'high-end' people that come with it.
I'm very proud of the team that we have here – and we are growing with people all on the same level. People with very artistic eyes are what I look for.
What do you want to be remembered for?
Although I'm proud of a lot of things in life, what I'd like to be remembered for is being a good friend.
I'm very proud of the friendships I've been able to develop all over the world. I hope that when I am not here anymore that's what people will say, that I was a great friend!
What are the most important skills for an entrepreneur to have?
I would say don't follow other entrepreneurs find your own lane. Don't try to find a solution from someone else's story. Own yours.
Also don't think success is fame and fortune and focus your meaning of success to health and happiness.
Unfortunately, our society defines success as fame and profit. I want everyone to know success equals health and happiness.
Finally, grow because of meaningful relationships. Always put relationships above number and profits. It's much healthier and sustainable long term to grow because of people instead of in spite of people.
Who would you have as a dinner guest in the world, dead or alive?
I would probably invite the Obamas. Michelle and Barack. I think they are really cool, in all the meanings of coolness and they have achieved so much despite the conditions they had to overcome.
Mostly, because the way they love being together, the chemistry between them is so beautiful. They helped change the world for better and we should all aspire to do that!
Finally for reflection, what is the biggest lesson you have taken from last year and the pandemic?
Accept and adapt.
We have almost nothing under control in this life, although we think we do. But the last couple of years taught us that very little is actually under control – so we need to be flexible, resilient and happy even when we are completely uncomfortable.
Also, being focused and routine are not things that come naturally to me. But growth (personally and spiritually) depends on these two factors.
I'm normally very impulsive and all over, always on the move but with the lack of focus and routine. I had to learn the hard way that without these two I can't grow.
This was something I learnt last year.
---
You can find more about Dr Christian Coachman and DSD on www.digitalsmiledesign.com and  watchdsd.vhx.tv.
Catch up with previous articles in the Secrets to Success column