Secrets to Success with Dr Anjali Rajpal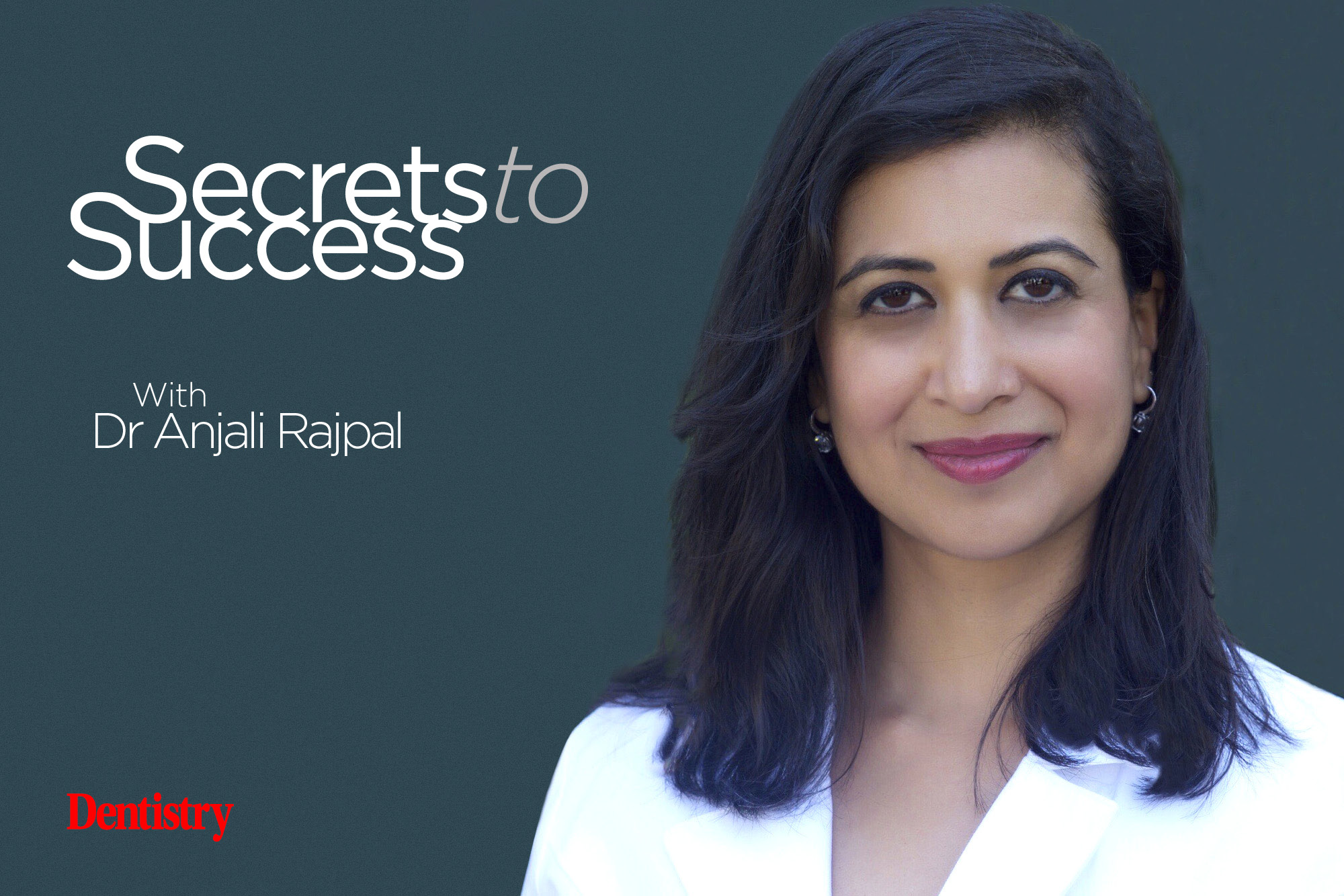 Jana Denzel speaks to Dr Anjali Rajpal about her journey into dentistry, how her work differs from grills and her biggest challenges to date.
Dr. Anjali Rajpal is a celebrity dentist from Beverly Hills, USA, and is otherwise known as 'The Diamond Dentist'. She is a cosmetic dentist who treats high profile clientele and is known for specialising in smile makeovers and incorporating diamonds into her dental work.
Please give us your background and how you got into dentistry
I grew up in Michigan and spent most of my formative years there. My father was a general surgeon who was brought up in India. He went to medical school there and then moved to the US for his General Surgery Residency. My mother joined my father here and became a financial planner.
While in Michigan, I studied at the University of Michigan for my undergraduate education and was part of the honours program. I then moved to Boston where I obtained a dental degree from Tufts University School of Dental Medicine.
I got accepted into the general practice residency at Cedars-Sinai Medical Center. This is what led me out to LA and I have been here ever since.
What was it about dentistry that attracted you to the field?
When you come from a family of doctors(my sister also became an oncologist) I naturally ended up on the premedical path. However, I had a strong interest in art as well, as my mother had paintings of hers up all over our house. I enjoyed being artistic and creative from a young age.
I was torn between choosing medicine or art as a profession. But my family influence led me along the premedical path while I continued doing art as a side hobby. While I was in college I met a girl who had started medical school and dropped out to study fashion-design. She advised me that dentistry may be a better fit for me, because of its artistic component. It ended up being the perfect fit for me.
We can clearly see that you are very much into your art! You're known as 'The Diamond Dentist' – where did this come from?
Because of my strong interest in art, I actually named my practice: 'Beverly Hills Dental Arts'. I wanted to incorporate the creative artistic element into my practice. So when I first saw people getting teeth jewellery, I thought this was such a creative fun aspect I could incorporate.
In fact, before I got into dentistry I wanted to become a jewellery designer because I was in love with the beauty of the intricate designs I would see in jewellery design. I would go and visit factories of jewellery designers in India and be so in love with it all. I would often wear my mom's fancy jewellery around the house in my pyjamas!
Now this has become a really fun creative outlet for me – being a 'jewellery designer' on teeth – designing unique art on patients and having them enjoy something exciting to wear for a while and have fun with.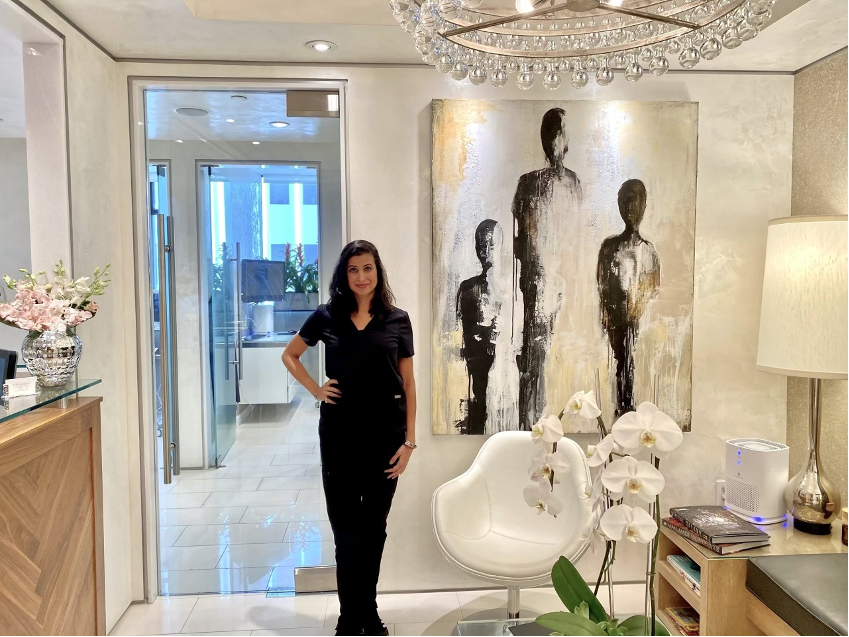 That's great! Let's talk about the science behind this – how does it work?
I use different jewels and stones along with diamonds and have gold and white gold pieces as well. I bond them to the tooth structure in a safe cleansable way, so there is no damage to the tooth structure. My patients can wear them for as long as they want. They can last for years yet you can also remove them when you like or switch them up. Being a dentist, I ensure that it is both conservative and safe for the tooth structure while still being fun.
There is really no damage to the tooth structure. However if the patient wants us to insert the diamond into the tooth structure we can minimally prepare the tooth to do so. I recently designed a gold fixed bridge for a patient that is diamond studded that turned out really nice.
When meeting with patients and discussing their design, I provide all the options I have to offer and collaborate with them to ensure they are really happy and excited about their custom piece.
I saw a few years ago in the USA grills were really popular. This trend also came to the UK. How does your work differ from them?
Grills are definitely fun also, but they are a bit of a burden since you have to take them in and out and clean them regularly. Hygiene can be an issue with them – so they are not great for the long term. Teeth jewels are a clean way to wear something that isn't so extreme or extravagant but still makes a fashion statement. You don't feel them in your mouth at all because they are smooth and so you won't even notice they are there.
You have your own clinic called Beverly Hills Dental Art. It opened up during the pandemic and doesn't have the usual clinical settings. Tell us more where this idea came from and how you executed it?
My vision for this practice was to have something very aesthetically designed and a place where my patients would feel like it was their home and not a sterile dental office.
I wanted it to be a place where no-one would feel fearful to enter. Instead, they would be excited to experience high quality care. I decorated the space with artwork and fully digitalised the office. And I made sure that the staff I hired was very caring and interested in providing the best service possible.

What has been your biggest challenge of your career?
It has taken me years to find the courage to open up on my own practice. I was so fearful over it that I kept putting it off for so long. However, I was always dissatisfied living someone else's vision in their offices and doing things the way they wanted to do. It just wasn't me.
I wanted to actually have my own vision, my style and the way I wanted to practice. I finally hit a wall and decided that I needed to do something. So I took that leap of faith and set out to open up my own practice.
The whole situation was the weirdest timing for me as I was in the middle of finalising ownership when COVID-19 hit. It made me even more terrified than I already was. Yet I focused on long term thinking and kept moving forward. I then used the time where we were not allowed to work to set up my office, design it the way I wanted to and really focus on bringing my vision to life. The timing ultimately worked out in my favour.
Who would you have as a dinner guest in the world, dead or alive?
My biggest inspiration is Stephen Hawking. I would love to have met him and to have gotten a glimpse into his genius mind. I feel like he had overcome so many challenges in life, so many physical limitations but nothing (delete has) stopped him from really contributing to society and doing everything he could to help us understand the workings of the universe.
His mind was such a magical place and he would always think the unthinkable and never give up despite any obstacle. He surpassed all physical limitations and utilised his mind to continue making discoveries for us. He is a true example of mind over matter.
Finally for reflection, what has been the biggest lesson you learnt from last year and the pandemic?
I learned to look at challenges as opportunities for growth. I think the biggest lesson is that while trying to find answers to every solution, by aligning with love you will always have a better result than fear and hatred.
We need to be supportive of each other with love and compassion and assist one another through life. We need to comfort one another through our different challenges. There is always a way – we just have to think the unthinkable and think of ways to pull ourselves out of any situation we are in.
It has given us the opportunity to be really introspective and reflect on how each of us are living our lives so that we can take a step back and see if we are doing so in alignment with our deeper purpose.
If needed , we can then take steps to redirect ourselves to live more fulfilling lives. That way we can ultimately be happier and spread that happiness and love throughout the world!
---
You can find more about Dr Anjali Rajpal on:
www.bhdentalarts.com/
www.instagram.com/beverlyhillsdentalarts/
Catch up with previous articles in the Secrets to Success column