Why walking and talking is so valuable for mental health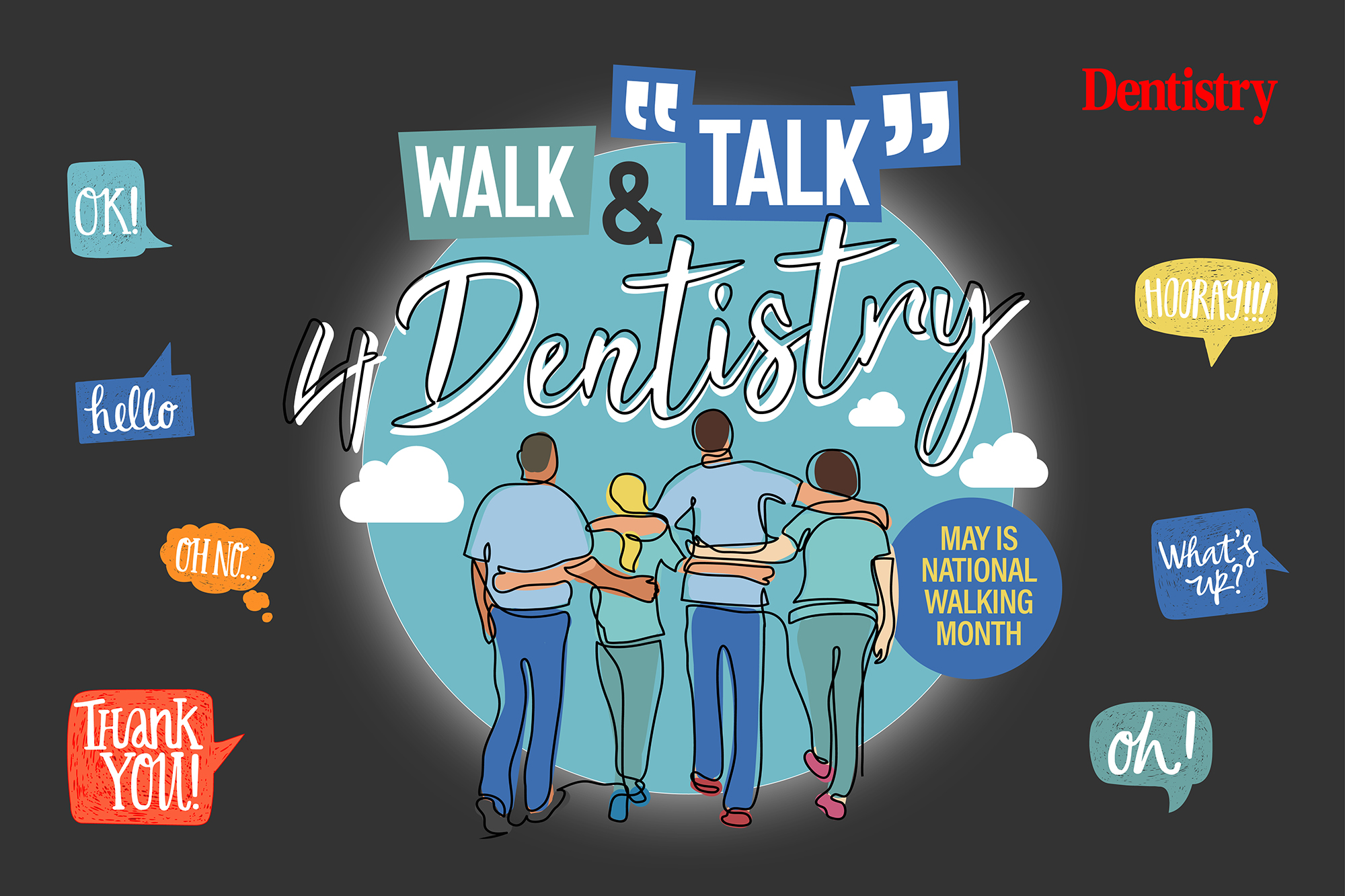 Justin Leigh talks us through why he started a walking group for men and what practices can do to get involved with National Walking Month this May.
What inspired you to start the Walk and Talk 4 Men group in Cambridgeshire?
A friend of mine, who also works in dentistry, was leading a group in Birmingham. I saw his activity and was inspired to help too. I've had my own challenges with mental health in the past and when I'd sought help, I found the resources available are very limited.
I'm a firm believer in prevention being better than cure. I recognised how valuable this could be as a preventative measure for mental health.
For me personally, it's become a really enjoyable group to be part of and we're creating a very special community.
Whilst I started it to help members of my local community, it's actually become something I look forward to and really enjoy.
What does it involve?
We run two walks a month at a local nature reserve. They're 90 minute walks and I'm a walk leader so I head up the group. I welcome new member each time we meet, make people feel at ease and make a short speech at the start.
I run a Whatsapp group for members and a Facebook page where promote the group to the local community.
We've attracted a couple of local sponsors who get involved and we're now up to 30+ group members attending our walk each fortnight.
I've been privileged to have a partner in the walking group now – an amazing guy called Steve Whitney. Having two people lead the group has really helped us reach more people.
Dentistry's top stories
Do you think there's a stigma surrounding men and mental health? How can this be broken down?
I think there has been in the past and to some degree it still exists. But it's equally difficult for women and men. The issue for men is perhaps more complex because of the added pressure on men to act 'masculine' as if they're always okay.
None of us are always okay – we have cycles of pressure in life and, at times, it makes navigating work, life, relationships, very difficult.
The way to improve it is to keep talking about it. The more we discuss it, the more we 'normalise' the situation.
Over time that openness improves the situation and helps make progress and removes the stigma. It's getting better over time, but there's still lots of work to be done.
How has it helped you and others over the last two years?
We've been really well received by the local community. The group continues to grow and gain support. We've had members of our group who have openly shared how positive the impact has been for them.
I received regular messages from men in the group, their partners, children, siblings and friends thanking Steve and me for leading the group.
It's become a passion project. It really does make me feel as if I'm making a difference in my local community. My sense of achievement and purpose has grown enormously.
It's an initiative that I didn't realise would make such a positive impact and also help me feel more 'alive' along the way.
Why should dental practices get involved?
We're taking the Walk and Talk principle, combining it with May's National Walking Month and encouraging practice teams to walk together at lunchtime during the month of May.
There are so many benefits to walking; Walking is good for your heart. It helps you 'destress' and it gives you energy for the rest of the day. Being outside also increases levels of Vitamin D and it makes us feel happier.
When we combine walking and talking, we get an additional psychological benefit that helps us to process our thoughts and feelings and gain clearer perspective.
We're able to reset ourselves and the other person through the exercise and conversation.
This is a great opportunity to engage our practice teams, improve health and wellbeing, and create stronger bonds between us all.
What do practice teams do to be part of walking month in May?
It's simple. Look at the practice diary for May and choose key days each week (it can be as simple as one day) and allocate a full hour for lunch on those days.
Talk to your teams about the idea of walking and talking together for 30 minutes during that lunch hour. This gives the team time to have lunch and then set out on the walk, and get back in time to be prepared for the afternoon appointments.
We'd love your team to book your walking slots during May and then every time you walk take a quick selfie and post it on your favourite social channel and use the hashtag #walkandtalk4dentistry.
We'll be monitoring the hashtag and we'll give you and your team a shout out when we see the posts.
What tips do you have for practice teams who do want to do it?
Talk to each other about the walks. Make sure you can manage your appointments to allow all of the team to participate fully.
We recommend that the first week you take the chance to relax, destress and enjoy the break at lunchtime. The second week we'd like to invite you to walk with someone in the practice you don't usually spend time with.
Then in the third week, we're inviting you to agree a topic you find challenging. Ask your team to discuss it to see if they can find a better way to deal with it.
Then in the fourth and final week we're inviting practice owners/partners/managers to invite recommendations from the team for suggestions to improve the practice. The aim is to find one thing you can do to elevate performance.
Keep an eye out on dentistry.co.uk for more information on how you and your practice can get involved. 
---
Follow Dentistry.co.uk on Instagram to keep up with all the latest dental news and trends.