Biomin F halts erosion caused by eating disorders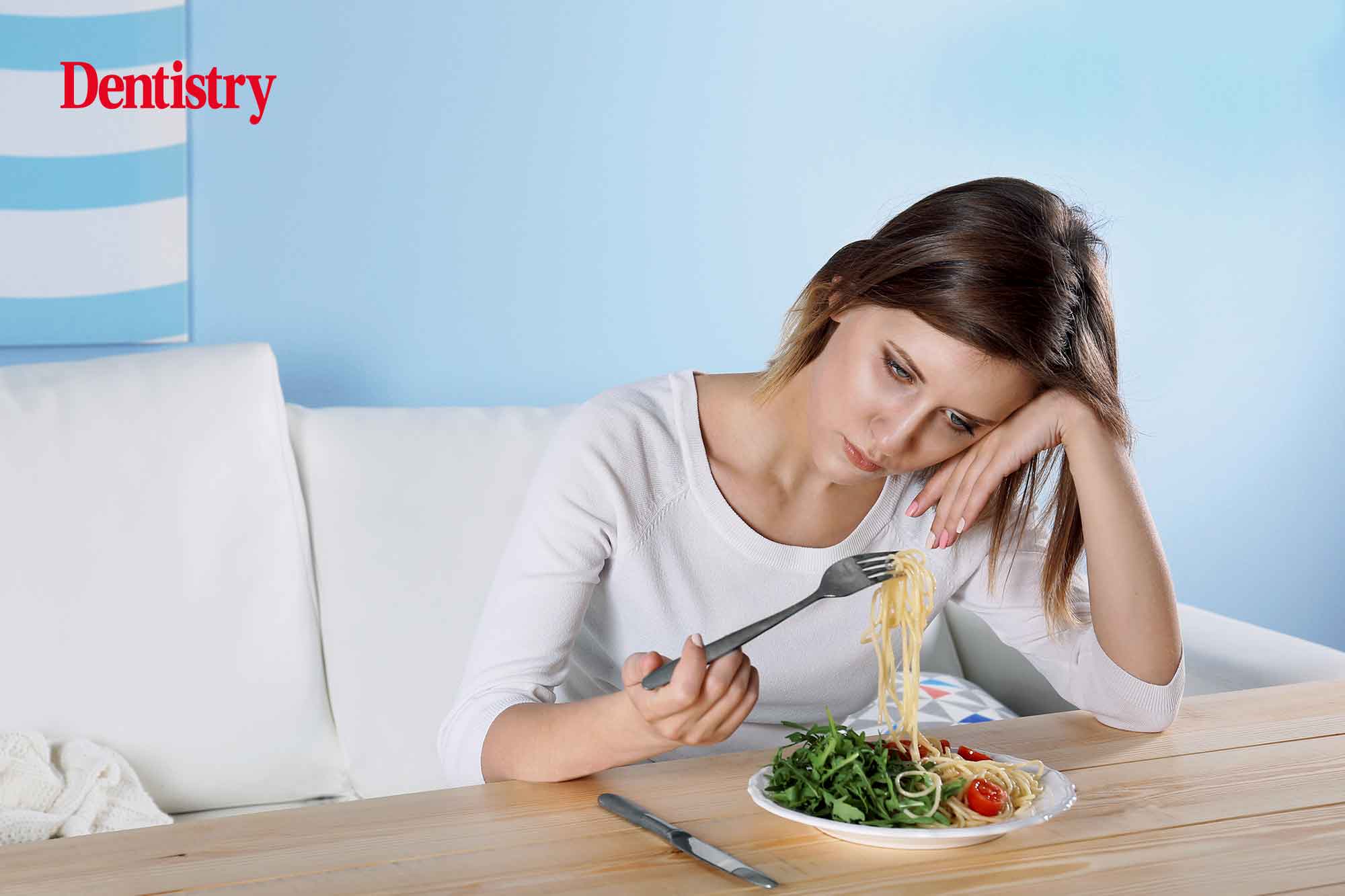 A long-term sufferer from anorexia describes finding Biomin F as 'like winning the lottery'.
Rebecca Taylor, who has suffered from anorexia nervosa since 2013, has been only been using Biomin F for a couple of months. But she found it life-changing within just a few weeks.
'My teeth feel so much stronger and smoother,' she said.
'I have always taken care of my oral health and have tried many toothpaste brands. But nothing has ever helped so much or so quickly as Biomin F.'
Due to her condition, Rebecca suffers from stomach acid and reflux problems. She has been through a phase of making herself sick.
The result has been tooth enamel erosion and increased sensitivity, especially on the front teeth. This showed visible enamel loss. And she has needed some fillings on the lower molars.
Amazing improvement
Rebecca recently started researching remineralising toothpastes online and came across Biomin F.
'I liked that it had scientific research behind it and thought it was worth giving it a go,' she said.
She ordered some: 'And oh, my goodness, the improvement is simply amazing.'
According to Beat, the eating disorders charity, eating disorders of various types affect around 1.25 million people in the UK. With about 8% suffering from anorexia, 19% suffering from bulimia and 22% from binge eating disorder.
Around 25% of sufferers are men and, although it's most common that the condition starts in adolescence, it can come on from as young as six and as old as 70 years of age.
The problem is hugely debilitating – and in extreme cases even fatal. Poor nutrition, acids and under/over-eating bring a range of health issues. Dental health is frequently affected.
The main problems are:
Enamel erosion, especially in those who suffer from acid reflux or self-induced vomiting. Dentine hypersensitivity commonly goes along with this
Reduced saliva flow (xerostomia) caused by vomiting and the cocktail of drugs taken by many sufferers, including laxatives, appetite suppressors, antidepressants etc
Decay (caries)
Gingivitis and periodontal problems.
This is where Biomin F comes in. Cleaning teeth twice daily with Biomin F has been proven to restore lost and damaged tooth enamel. It reduces or eliminate the symptoms of dentine hypersensitivity.
Patients and dental professionals report that teeth look stronger, whiter and less translucent.
Strengthening damaged enamel also helps make teeth more resistant to decay. And repairing tooth structure at the gum margins helps reduce the risk of periodontal disease.
Refeeding issues
Another, lesser known aspect of an eating disorder is the 'refeeding process' undergone during a recovery stage.
'I have to snack quite a lot throughout the day. That obviously isn't great for my teeth. It gives me reflux problems and I am eating foods like tomatoes and sugary things as part of a meal plan, which causes dental issues too,' said Rebecca.
Frequent snacking and grazing, especially on sugary foods, means that the pH in the mouth is constantly dipping below the critical point where teeth are at risk of demineralisation, without time to recover between acid attacks.
Biomin F continues to act throughout the day. It releases calcium, phosphate and fluoride ions to neutralise the acid and protect the teeth.
Additionally, its 'smart' response to acid in the mouth means the particles dissolve more rapidly to restore the pH balance.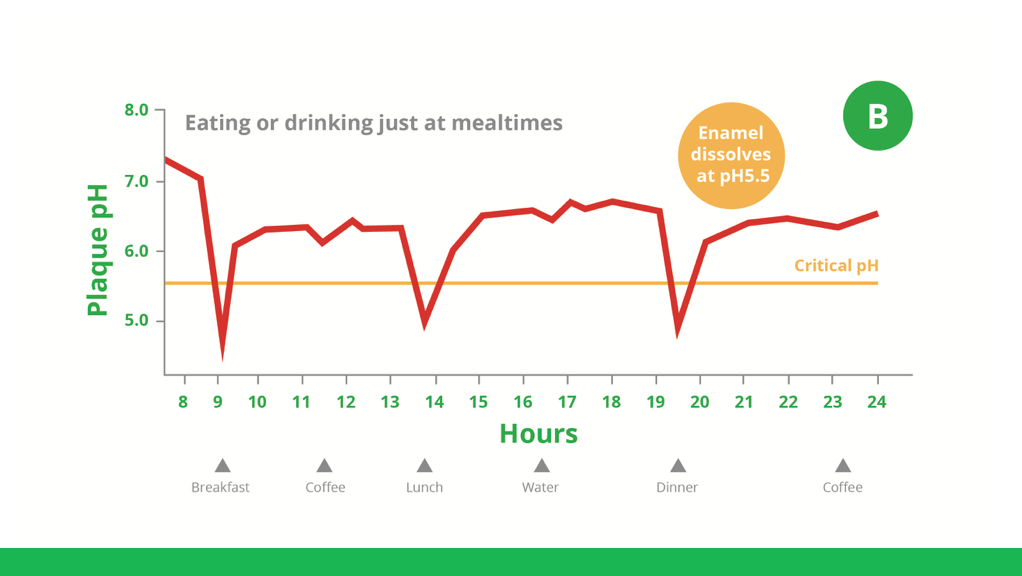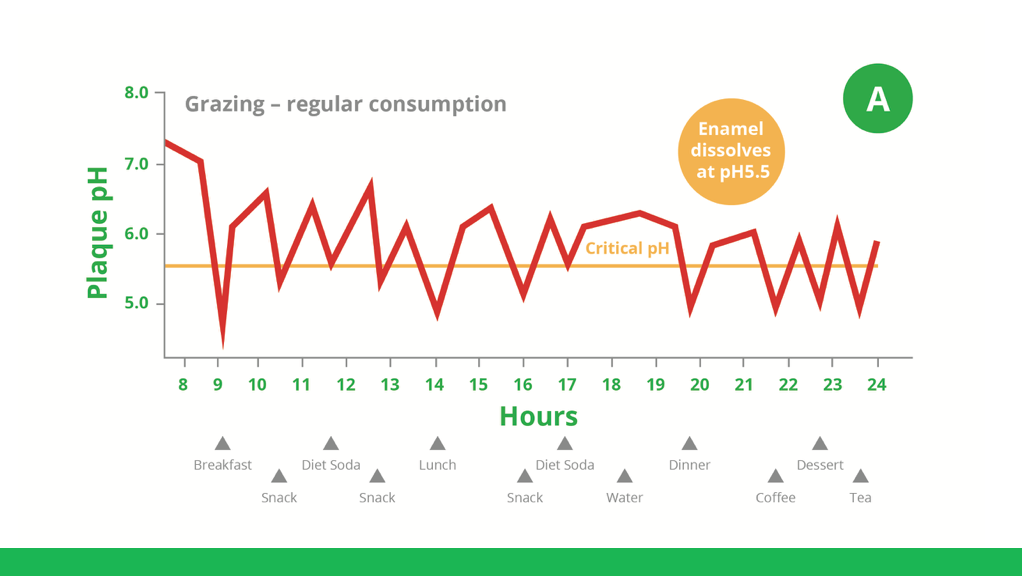 Harmful routines
'Any preoccupation with food that gets in the way of your normal life can be considered an eating disorder,' commented Nick Coller, a dental hygienist and facial aesthetics practitioner in the London area.
Nick sees patients from the BAME and LGBTQ+ communities. Some of these patients may not readily admit they have a problem.
'There are a lot of pressures on guys to "beef up" and strive for a certain body aesthetic, which may be as unattainable as trying to be thin,' he explained.
Many are on strict eating regimes or drink a lot of protein shakes. 'It's important to take a non-judgemental approach. And often dental professionals are the first to notice the symptoms of a possible eating disorder.
'We can have an "in" with patients by commenting that they have lost enamel, and asking if their teeth feel sensitive.'
Gentle nudges
Juliette Reeves, a hygienist working in Cambridgeshire, Hertfordshire and London, agreed.
'The biggest issue is loss of tooth surface,' she said. There's a specific pattern of erosion behind the front teeth and on the biting surfaces of the molars. This can alert the dental professional to a possible eating disorder.
'Many patients may simply say they have acid reflux. So we can give them general information on diet, advice not to brush just after an acid attack, and use mouthwash rather than brushing to freshen the mouth.'
It's important to look at oral hygiene, especially toothpaste choice, she added. 'I usually recommend something with a high remineralisation factor. Biomin F is perfect. It is non-prescription so can be recommended by a hygienist.'
'Some patients don't want to use fluoride. Especially not a high dose fluoride toothpaste. So it's great to have another effective option in Biomin C,' she said.
If the acid erosion is severe, the patient needs referring to the dentist for repair work if necessary. Or to ensure they are not grinding their teeth and wearing them down further.
She warned, however: 'We need to be mindful how we speak to these patients. Most hygienists are not trained to counsel for eating disorders. We can just gently point them in the right direction.'
'It's a small price to pay'
Meanwhile Biomin F has really made a difference to Rebecca's teeth.
'My dentist recently said he'd never seen my teeth look so good. And thanks to Biomin F they look whiter and feel more resilient,' she said.
Rebecca, now aged 28, accepts that her eating disorder is probably a lifelong condition, with her 'anorexia voice' battling the voice of reason in her head. But she aims to keep as healthy as she can.
Caring for her oral health is very important to her. 'We don't think twice about spending money on cosmetics. Our teeth are so important that I feel it's a small price to pay for a product that really works,' she said.
---
For more information about Biomin simply visit www.trycare.co.uk/biomin-toothpaste.