Clinical aspects of clear aligner treatment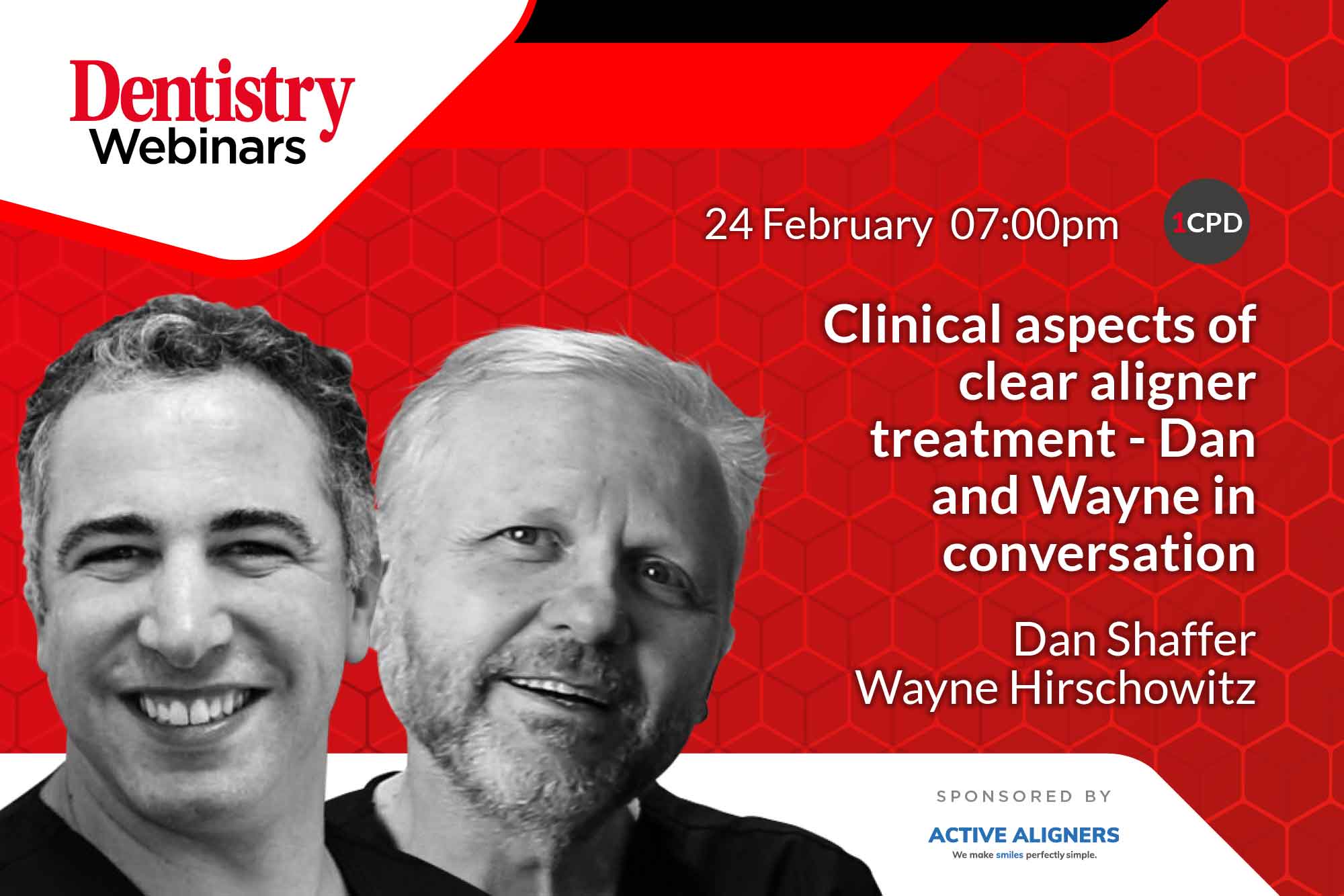 Dan Shaffer and Wayne Hirschowitz will discuss the clinical side of aligner treatments during a webinar on 24 February at 19:00.
They will present two cases that challenged their perceptions of what is 'suitable' for aligner therapy. And they'll discuss what makes IPR and attachments important clinical aspects of effective treatment.
Hear how identifying suitable clear aligner cases has changed the revenue profile of their practices.
Learning outcomes
Hear from Dan about a complex case that responded to a combination of traditional orthodontic treatment and Active Aligners
Hear from Wayne about a case that demonstrated the positive clinical outcomes that clinicians can achieve with clear aligner therapy
Spend time demystifying IPR and also gain an appreciation of what is required to confidently manage this key aspect of clear aligner therapy
Look at the role of composite attachments in moving teeth. As well as how to prepare the teeth for their application and how to make best use of the templates
Finally, deliver guidelines for successful IPR and composite attachments.
Dan Shaffer
Dan is an experienced dentist and dental technician. He has a passion and flair for all things digital.
His dental practice, a private digital restorative practice in Hertfordshire, is well respected in the area by patients and dental professionals alike.
Over the past two decades he has committed to training dental professionals on behalf of Dental Protection Ltd. He has also taught at GKT and delivered many in-practice training programmes.
He is also an experienced broadcaster and filmmaker delivering countless lectures and training courses on dentolegal and digital dental subjects in the UK and abroad.
Dan Shaffer is co-founder and clinical lead of Active Aligners UK.
Wayne Hirschowitz
Wayne qualified in South Africa in 1988 and completed post graduate training in 1998. He is a dental practice owner in Edgware, Middlesex as well as in Cranbrook, Kent. And he was previous clinical director of Vantage Health; an IT telemedicine company.
Wayne has a special interest in forensic odontology. He has therefore been deployed abroad attending mass disaster incidents. His love of teaching encompasses both at his alma mater as well as mentoring troubled young people.
As an experienced clinical dentist, Wayne's vision is to offer affordable, quality orthodontics through clear aligners. Large corporates or controversially, direct to consumer traditionally supply aligner therapy. However, Active Aligners philosophy is 'for dentists by dentists'.
Dr Wayne Hirschowitz is co-founder of Active Aligners UK.
---
To register for this webinar, simply visit www.dentistry.co.uk/webinar.
Catch up with previous On Demand webinars