Beyond the Dental Lab – Steve Campbell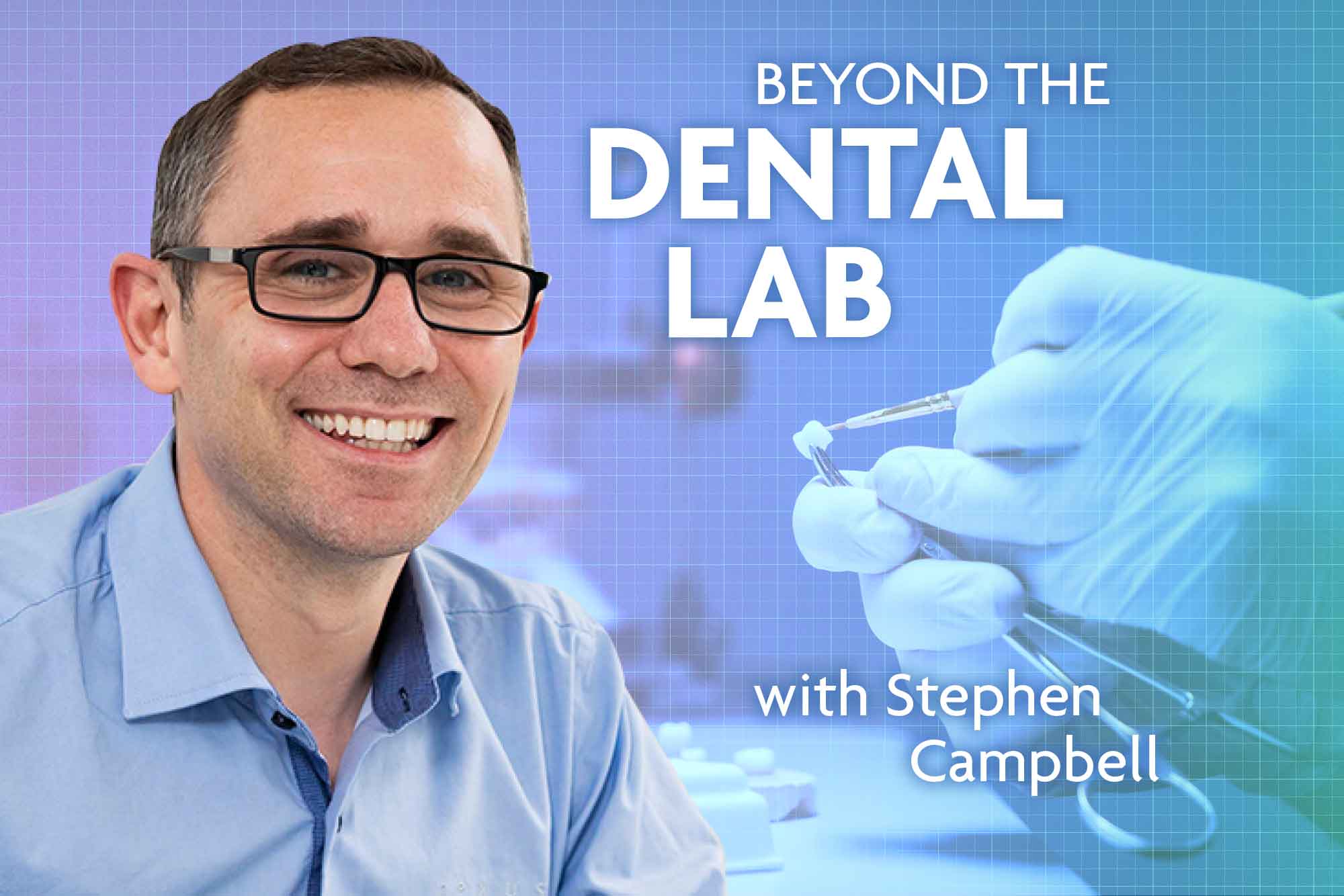 In the first of a new series, we hear from key figures in dental labs to find out about their motivation to become a dental technician. Steve Campbell kicks off.
Tell me about where you grew up and what your family life was like?
Steve Campbell: I was fortunate to grow up in a forces family, so we had the opportunity to move often.
It was, in hindsight, both quite a chaotic and very disciplined way to grow up. There were set expectations on our standards and behaviour living on a forces estate. But with the adventure that always came when we moved and started somewhere new every three years.
Dentistry's top stories
What led you to a career in dentistry?
Steve Campbell: I was always interested in engineering and computers.
Towards the end of my school years, a careers teacher knew a dental technician and suggested I go and see if I liked it.
I had never heard of dental technicians, so I had to see what it was all about!
What do you like most about it?
Steve Campbell: At first, I loved the multi-disciplined skills I could see throughout the lab. From delicate layering of ceramics back to the frameworks they were making them on, which at that time were hand waxed to be cast using the bun out technique.
Melting and casting alloy was both fascinating and a little frightening! To stand next to that open-top centrifuge when the gas torch had finished heating the metal to create the molten pool, which was set from stationary to what looked like s spinning wheel of fire to force it into the red hot investment moulds always had me on edge. I always feared a molten blob jumping out of that cradle and hitting me.
What are you most proud of accomplishing?
Steve Campbell: I think what I am most proud of is that I worked in an industry that was very analogue and hand craft-based through to the point six years ago where I could create my own laboratory that was an entirely digital workflow.
I have, in my working life, been able to combine the love I have for dental technology back to the engineering and computers I was always fascinated by.
Who has been the strongest influence in your life?
Steve Campbell: I know this sounds a bit corny, but I have to say that the strongest influences in my professional life have genuinely been the incredible dental professionals. They have shaped and developed my skills.
Outside of work, my grandmother, Rose Campbell, is the most enduring memory of the kind of person I wanted to grow up to be. She was incredibly kind and very determined. She showed me to have care and respect, which I am very grateful for.
How would friends and acquaintances describe you?
Steve Campbell: Mercurial.
Share with us something about yourself that you want to improve.
Steve Campbell: As I grow older, I am very aware that I have to fight the temptation to slip into a comfort zone.
I try to expose myself to books or themes that do not instantly appeal to me. I want to broaden my interests and experiences.
How do you unwind outside of dentistry?
Steve Campbell: Running and tinkering with technology or software.
Where's your favourite holiday destination?
Steve Campbell: Scotland – I always loved the times we spent there with the boys. There is so much to do, and you never know what weather you will get. Even on the same day!
What's your favourite film?
Steve Campbell: The Goonies! Friendship, adventure and fun. It's simple, but I enjoy it every time I watch it and now enjoy sharing that with my boys.
How do you keep fit?
Steve Campbell: Trail running is my all-time favourite way to keep fit.
I am very fortunate that my wife Lyndsay is also a keen runner, and we live in north Yorkshire. Yorkshire has some breathtakingly beautiful areas for us to get out and tackle the challenges of the trail.
Are you vegan or vegetarian?
Steve Campbell: I have tried to be both, but I am afraid I could not stick to either.
I have now come to a point where we still have white meat as a family. But we try to keep reducing the meat intake and increasing the vegetable and grain in our diet.
What was the last picture you took with your phone?
Steve Campbell: My son Reuben held a Lego pirate ship battle scene built while visiting family in Scotland. He was so proud of his accomplishment he wanted me to take a picture and send it to him.
Sum yourself up in three words?
Steve Campbell:
Passionate
Driven
Imperfect.
Is there anything else you'd like to add?
Steve Campbell: I'd like to just like to thank you for allowing me to share the things that make me the work-in-progress person I am today.
I think it's essential that we look after each other as much as possible in the industry. We work in a very stressful environment, and it is therefore easy to become isolated as we tend to work in small groups in surgeries and labs across the country.
We must remember that we all need care and support. Highlighting the people behind the titles and roles is a great way to connect and build a support network.
---
Follow Dentistry.co.uk on Instagram to keep up with all the latest dental news and trends.