Humanising the AI-powered patient journey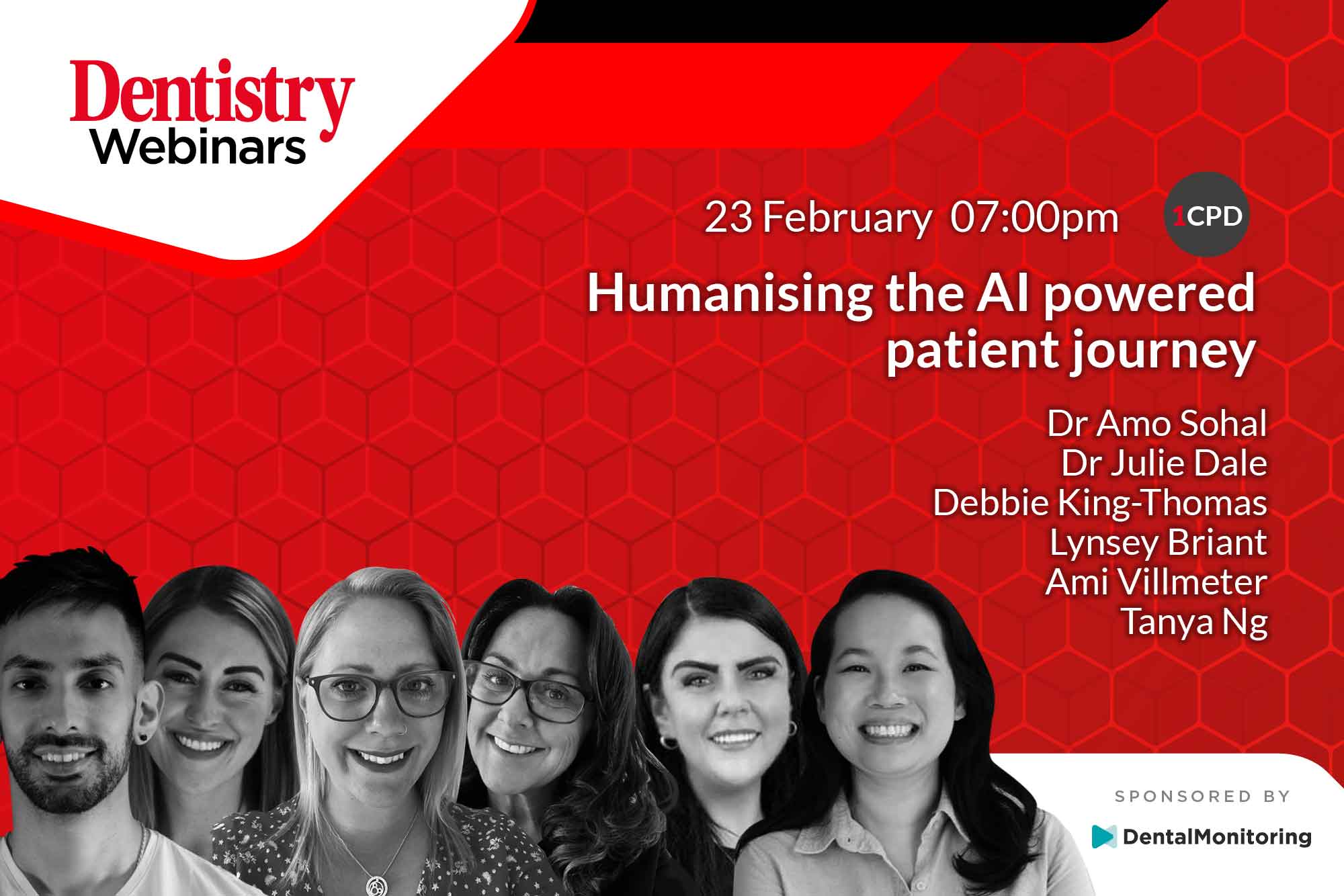 Join a panel of speakers who will discuss an AI-powered journey during a webinar at 19:30 on Wednesday 23 February.
The webinar aims to enable clinicians not already using AI-powered virtual solutions to see the benefits of going so. Both to the patient and the dental team.
The panel will show dental professionals already using AI-powered solutions how to leverage Dental Monitoring to create a bespoke experience for patients, humanising touch points that create a very personal experience despite not seeing the patient face to face.
Take a deep dive into the virtual patient journey. The webinar will showcase methods that existing users implement to ensure patient relationships remain strong.
Learning outcomes
Gain an understanding of how AI can enhance the dental patient journey
Gain tips from the Dental Monitoring team that will enable dental professionals to connect meaningfully, effectively and efficiently with patients using virtual solutions
Learn how Dr Amo maintains excellent patient relationships using the virtual patient journey
Appreciate the benefits of regular communication with patient as part of a systematic workflow
Understand how delivering weekly virtual touch points can enhance the patient experience. Whilst still feeling very personal for the patient, and saving chair time.
Amo Sohal
Prior to becoming a dentist, Amo Sohal completed his degree in biomedical science at King's College London. It was at this time that he was first exposed to dentistry. Having always wanted to pursue a career in science and helping people, dentistry seemed the perfect path.
Amo completed his dental degree in 2014 in Prague following on from his BSc. Following this is where the hard work truly began after countless job rejections as a newly qualified dentist.
He went door to door handing out his CV and eventually found a practice in Crawley. Here he began as a receptionist, working for free, before making his way up through the practice.
During this time, he worked as a dental nurse, a hygienist and finally a dentist.
In 2016 an opportunity arose to buy the practice, which he grabbed with both hands. Dr Amo's experience working his way up through the practice was invaluable.
When he bought the practice, he began to add his own input and learnt from the mistakes he had previously made and witnessed.
Amo is now the co-founder of an award-winning dental practice.
He has been nominated as a finalist at the prestigious Private Dentistry Awards 2017-2019 and The Dentistry Awards 2017-2019 for Best Young Dentist.
Outside of the clinic he lectures alongside industry leaders to dental teams and has appeared in numerous articles. Dr Amo strongly feels the best investment is self-investment. He continues to embrace his thirst for learning by undertaking ongoing further studies in dental-related areas.
---
To register for this webinar, simply visit www.dentistry.co.uk/webinar.
Catch up with previous On Demand webinars