The show must go on – how instruments affect oral health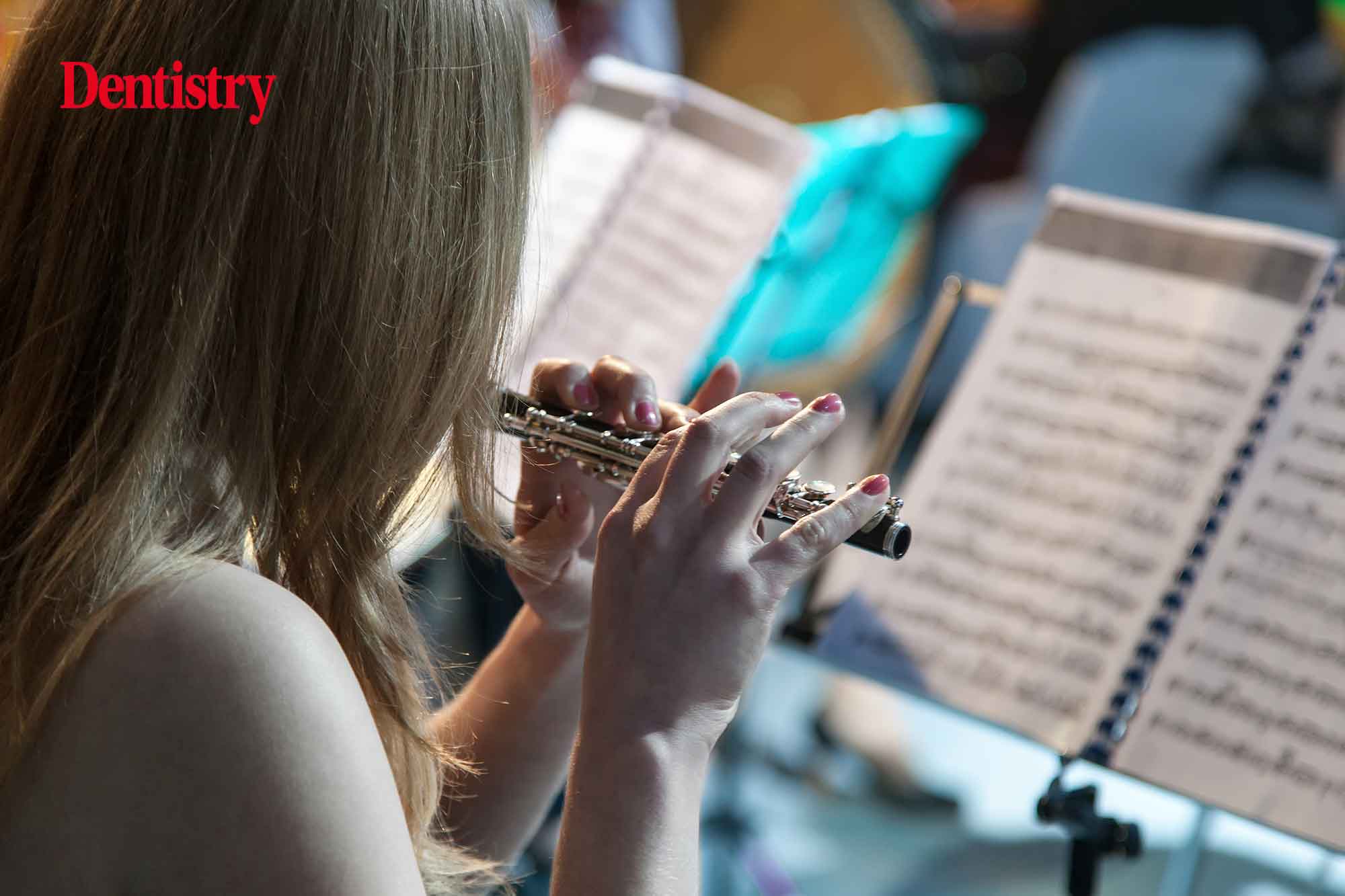 Dental hygienist and therapist Jo Downs reports on the impact of performing on the oral status of performing artists 
Years ago one of my patients who played the lead role in Mamma Mia had a wisdom tooth problem. It impacted on her ability to sing and perform.
Vocalists produce sounds from the air rushing past their vocal cords and resonating within the nasal and oral cavity. That means any change in the mouth can alter the sounds they make. No wonder it upset my patient.
That was a real eye opener for me. It made me wonder about other artists and whether we should scrutinise oral health for performers more closely or advise more specifically.
Oral health impact
I recently read a piece of research on pianists, and interestingly researchers looked at whether the masticatory muscles were used by pianists during their performances, to see whether the complex neuromuscular activity involved in the act of playing the piano also led to hyperactivity of the masticatory and postural muscles. The findings suggested that pianists do have parafunctional habits. These induce hyperactivity of some of the orofacial muscles. That was fascinating to learn.
Then we have musicians who use mouthpieces that directly impact on the teeth. With single-reed instruments including the clarinet, aulochrome and saxophone, the mouthpiece rests between the upper teeth and the lower lip putting an incredible amount of force on the upper incisors.
With double reed instruments, the teeth end up being pushed inwards. Players have often reported dental wear and tooth fracture as a result of forces trapping the lip against the teeth.
Meanwhile playing the violin is associated with a predisposition to develop temporo-mandibular disorder. The activity requires the musician to rest their chin on the instrument. This leads to asymmetric face, neck and shoulder muscle activity.
I read that some players will wear a mouthguard to relax the jaw hoping it can relieve jaw pain. This will ultimately put less force on the teeth, reducing the risk of dental fractures.
Under the spotlight
Dry mouth is also frequent amongst musicians and artists. So they should definitely avoid acidic and fizzy drinks.
We can easily educate patients about dry mouth and explain that it can lead to tooth decay and acid-erosion, making teeth more sensitive and potentially risk their ability to play their instrument or sing effectively.
Another angle that we cannot ignore is tooth whitening. A lot of artists are under the spotlight both physically and metaphorically. They feel the need to whiten their teeth to increase their confidence and improve their job prospects.
However, as we know, any inappropriate use can lead to dental sensitivity. This can make singing or playing an instrument uncomfortable or even painful.
There is no doubt that as soon as you explore the performing arts sector a little further, you find so many avenues where we as dental professionals can help. That is really an exciting prospect.
With this in mind I researched performing arts and music courses currently offered at universities and specialist schools to see whether their curriculum has any oral health components as part of their wellbeing courses. I found that whilst most offered yoga, touch on hearing problems, diet and mental health, none mention oral health.
This leads me to believe that we should do something to address performers at an early stage of their careers.
Smile Revolution
This exploration of the sector was all part of the work I do for a business course run by Smile Revolution, led by Victoria Wilson, supported by Philips.
I wanted to see how I could develop a project specifically designed to address the oral health needs of performing artists. I really feel that this sector could benefit from our skills and expertise.
As part of the research for this I got in touch with The British Association for Performing Arts Medicine (BAPAM) whose role is to deliver expert health and wellbeing services for those working in the performing arts.
It was shocking to see only one dentist and no hygienists registered on their books of healthcare providers. I am pleased to say that as a direct result of this, I am now registered and scheduled to take part in a webinar for orchestra players to give them tips on their oral health.
It's a great first step. But I can see the sky is the limit.
Thankfully Philips Oral Healthcare is sponsoring my mentorship by Victoria Wilson. So I hope that this is the start of something really big!
The fact that the company also has the Sonicare and Zoom whitening system, which are such reputable and trusted brands, I am sure I will convey exemplary oral health and whitening information to the new audiences I am addressing.
---
Follow Dentistry.co.uk on Instagram to keep up with all the latest dental news and trends.