Sonicare – a brush with the future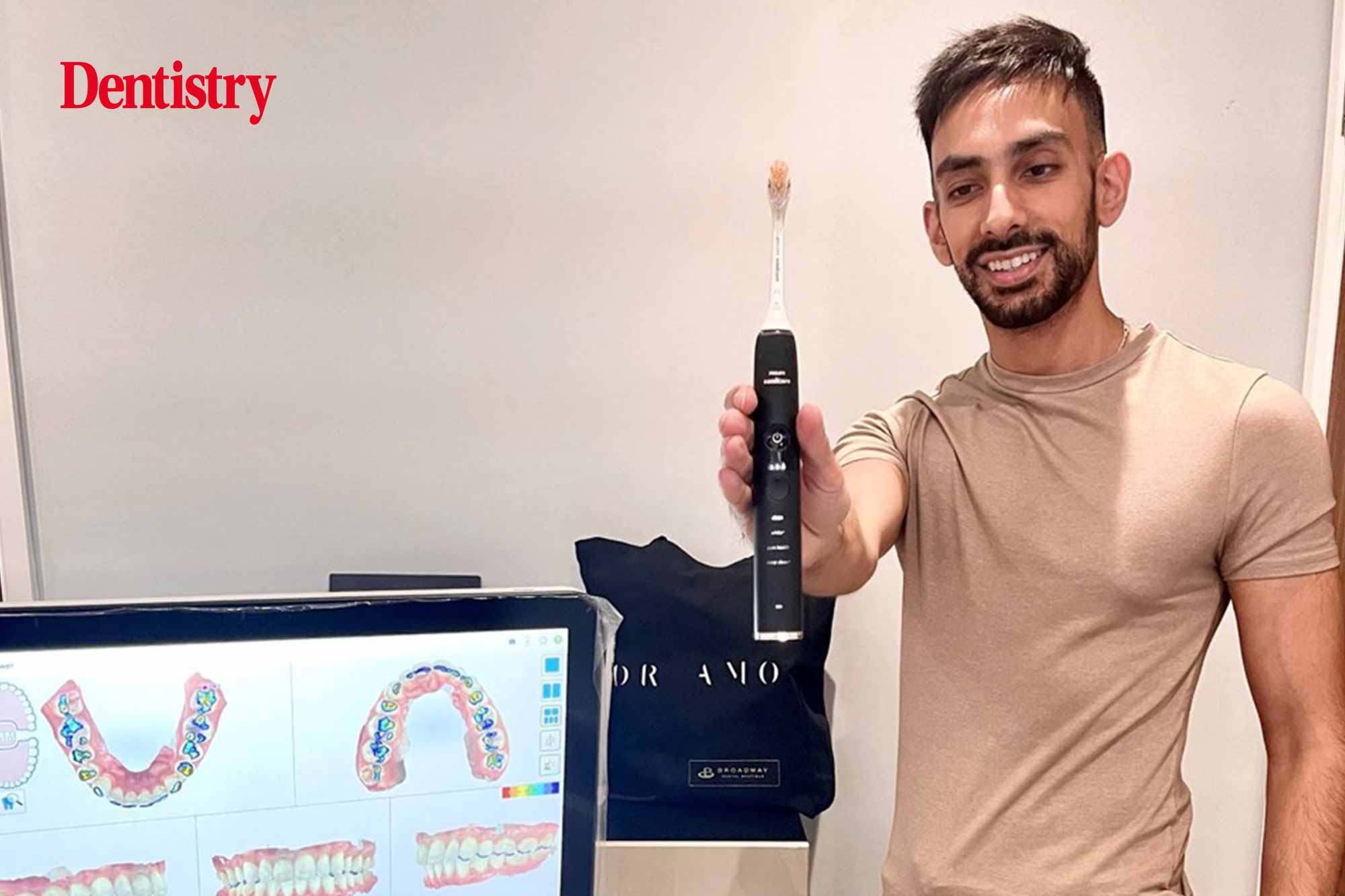 Amo Sohal explains why he advocates the Sonicare electric toothbrush to not only improve oral health, but also treatment outcomes.
I was recently sent a Sonicare Diamondclean Smart toothbrush 9100 and I could not wait to try it.
People who know me would say how much of a 'techy' I am. So having sonic technology in my own bathroom totally fitted my style.
The brush is linked to an app to guide the user on how to brush properly and I was keen to give it a go. Interestingly enough, despite thinking I was the perfect brusher (I am a dentist after all!) the app was telling me otherwise. Too much pressure here and not the right angle there. It made me smile, but there was a lesson there to take.
That made me reflect on my patients. Who likes to be lectured? Nobody.
There has to be a high number of patients who delay visits to dentists/hygienists because they know they are not looking after their teeth. They fear that they might be told off or made to feel embarrassed. It does not have to be like this.
Utilising digital technology
I love digital technology because it can enhance both our professional and personal lives. There are amazing products out there that can truly make a difference.
In my practice, I am a strong advocate of the Invisalign system. I have to say that my practice growth has rocketed ever since I started offering the treatment.
Digital technology means that my patients see me less. However, they actually get an increased level of value, care and attention. Our weekly virtual checks ensure their treatment is progressing as planned.
Embracing digital is as much about accuracy as efficiency. With analogue, whatever type of dentistry you are doing will carry the risk of human error.
So, for my patients, I am also moving away from manual toothbrushes. Instead I strongly recommend the use of Sonicare toothbrushes to my patients. I know the brush will deliver improved oral healthcare with the greatest of ease.
This fulfils my responsibility to advocate the best treatments to achieve the best outcomes for their health and wellbeing.
Sonicare app
In terms of convenience, everyone nowadays is used to having their phone with them pretty much everywhere – including the bathroom. So getting patients to use the Philips app and link it to their toothbrush is really a walk in the park.
The simplicity of the device means that it is easy for any patients to understand. Whether they are children, teenagers or grandparents.
The app reiterates what we dentists are saying in the dental chair. With the difference that it can talk to the patient every single day (and can be my voice in their ear when I am not around). To me, that is really powerful.
In consultation, patients do not always absorb what we tell them. But at home in their bathroom, there is no pressure. They also get instant feedback about what they are doing. Then they can gradually improve their brushing techniques.
Patients don't need to wait for their next appointment to have that reinforcement.
Improving treatment outcomes
Another advantage of using a Sonicare from my perspective is with patients undergoing orthodontic treatment.
Whether patients are having Invisalign treatment or fixed braces, it is crucial that the teeth and gums are immaculate. Any friction can slow down the treatment because teeth will not move as fast if there is plaque or calculus.
Sonicare, which generates far greater vibrations per second than any other toothbrush, makes any plaque build up less likely. Coupled with its brushheads, I know we are able to make promises about improved gum health.
As I predominantly offer Invisalign treatment many of my patients have weekly virtual consultations. Here I reiterate the importance of clean teeth.
However, even in a more traditional setting for orthodontic treatment, patients come into the clinic every six weeks or so. That's where you do not want to have oral hygiene issues that would impact and delay the treatment plan. It gives you regular opportunities to underline the need for impeccable tooth brushing.
Sonicare standards
You can only reinforce good oral hygiene when you see patients. So that's where the Sonicare toothbrush and its app can make a massive difference. It helps maintain good standards as well as improve the predictability of treatments.
I see it as a win win situation.
I find that using a Sonicare makes my patients more engaged with their oral health. They end up being more receptive to further dental treatments we undertake in the practice.
Now, like my patients, I am improving my brushing techniques in the comfort of my own home. I can therefore be a passionate advocate for it in practice.
---
For more information please contact [email protected].