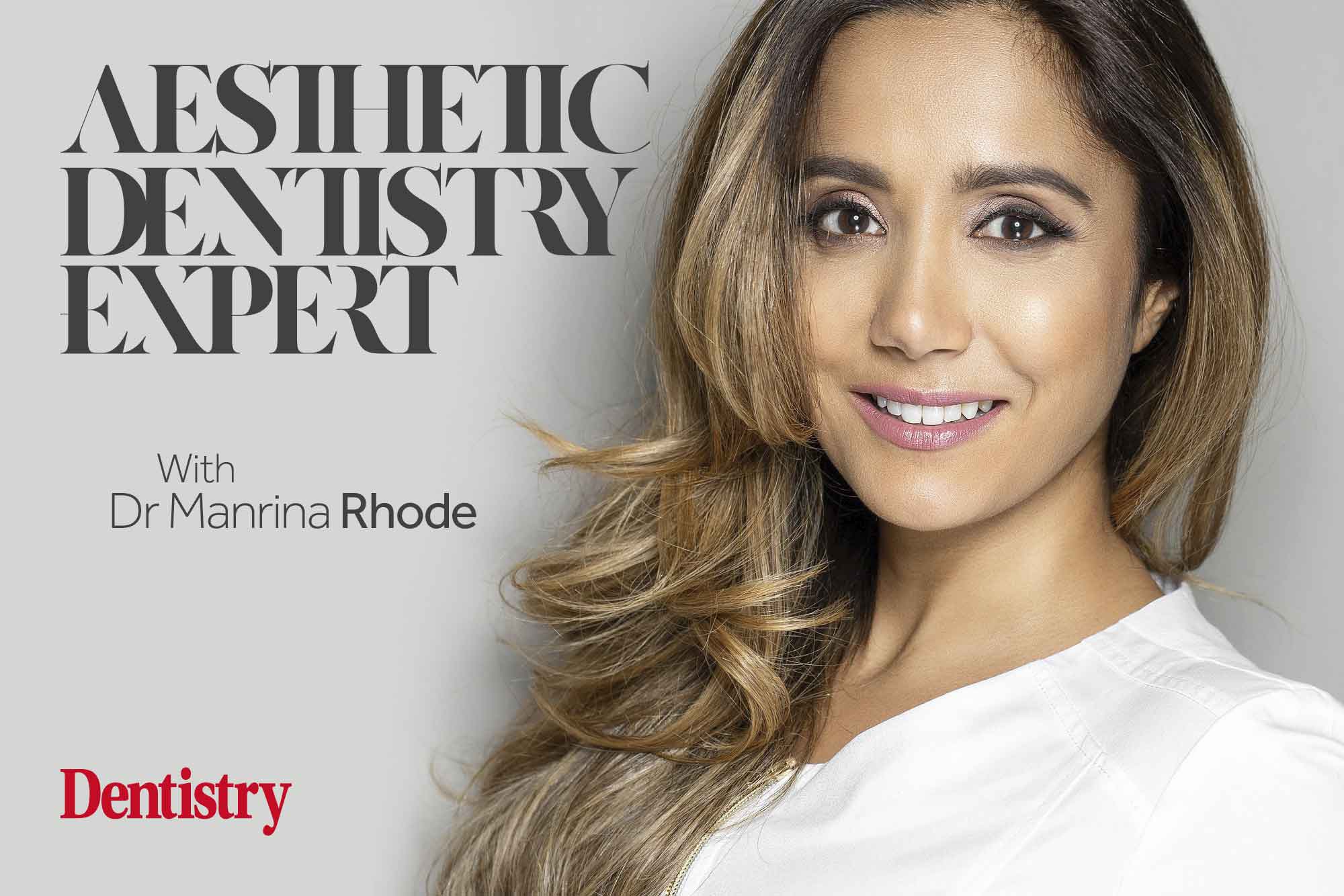 Patients often go through life wondering what they can do to close their midline diastema. There are several options for them and several considerations. Manrina Rhode explores a few of these.
Braces to close the diastema
Braces can close the gap. This is a long process depending on the angulation of the upper central teeth. Are the upper anterior teeth protruding and can you move them palatally to close the diastema? Do all the teeth need pulling mesially to close this gap?
At this stage I would often refer to an orthodontist for their opinion on treating this case and the complexity of treatment.
Are braces even the best option? Are the central incisors too narrow and would benefit from bonding or veneers, which would give them an aesthetic benefit, correct their width deficit and close the gap?
Composite bonding or porcelain veneers
The next most obvious solution is probably composite bonding.
Usually we add bonding to the mesial surface of both centrals to make sure both front teeth are equal in width, irrelevant of the ideal midline position.
This will differ from patient to patient. We accept that symmetry is important for beauty. It is your judgement whether you should obtain that symmetry through midline position or width of centrals. But as width is more obvious, this is usually the one to give preference to.
The average width for a central incisor is between 8-9 mm. The ideal width will also depend on the ideal length. According to smile design principles, it's important to try and maintain a 1:0.8 length to width ideal ratio for a central incisor.
The ideal length of the central incisor is determined by lip position. You wouldn't want to lengthen a central incisor to an ideal 11mm to have it then impinging on the patients lip on smiling for example.
If using bonding would make the front teeth look too wide, then perhaps porcelain veneers are a better option (if orthodontics has been ruled out).
Using porcelain veneers means you can redistribute the space over more teeth. For example if you decide to veneer the upper central and lateral incisors. You would remove some of the distal enamel of the upper centrals to allow the veneer to mesialise the tooth. This width will then be added to the veneers on the lateral incisors.
You would need to explain to the patient that the distal portion of the tooth will need removal for this method.
This is a tricky concept. Any questions about please contact me on my Instagram @DrManrinaRhode and I can explain further.
How do you decide between bonding and veneers?
The easiest way to decide with your patient and explain your train of thought, is to show them.
Close the gap with a mock up in the mouth. Use composite material without etch or bond. Create a mock up of the bonding shape and light cure it in the mouth.
You need to ask the patient to be very careful about biting together as the bonding is not secure. You can then have an idea of how wide the front teeth will look.
Take pictures so you can place a 'before' and 'mock up' picture on the screen and discuss with patient. The patient may also want to take pictures of themselves on their phone that they can refer to.
The mock up doesn't need to be a work of art but it does need to be neat enough to allow you to be objective. With a clear demarcation between each tooth and embrasure form.
The second way to do this is with imaging. I personally use Photoshop or Ivosmile from Ivoclar.
You can use Photoshop to stretch the teeth you were planning to bond over the gap on the image.
You can use Ivosmile to place however many veneers in the mouth in the space you are planning on working on. For example four veneers on four teeth, closing the gap and decide if that looks ok or you would need more veneers to distribute the space, for a better aesthetic result. If only four veneers filling the space makes the front four teeth look too wide, you may need to look at six or eight.
The benefit of using imaging on the screen is you can show patients many options in their own mouth and decide together what the best course of action is for them.
Sometimes a combined approach is needed of braces, bonding and veneers to get the best aesthetic and also minimally invasive result.
There are many factors to consider when closing a midline diastema to get your best result. But hopefully this gives you an idea about some of them.
Catch up with previous Aesthetic dentistry expert columns:
Follow Dentistry.co.uk on Instagram to keep up with all the latest dental news and trends.