The AI-powered software that builds dentist-patient trust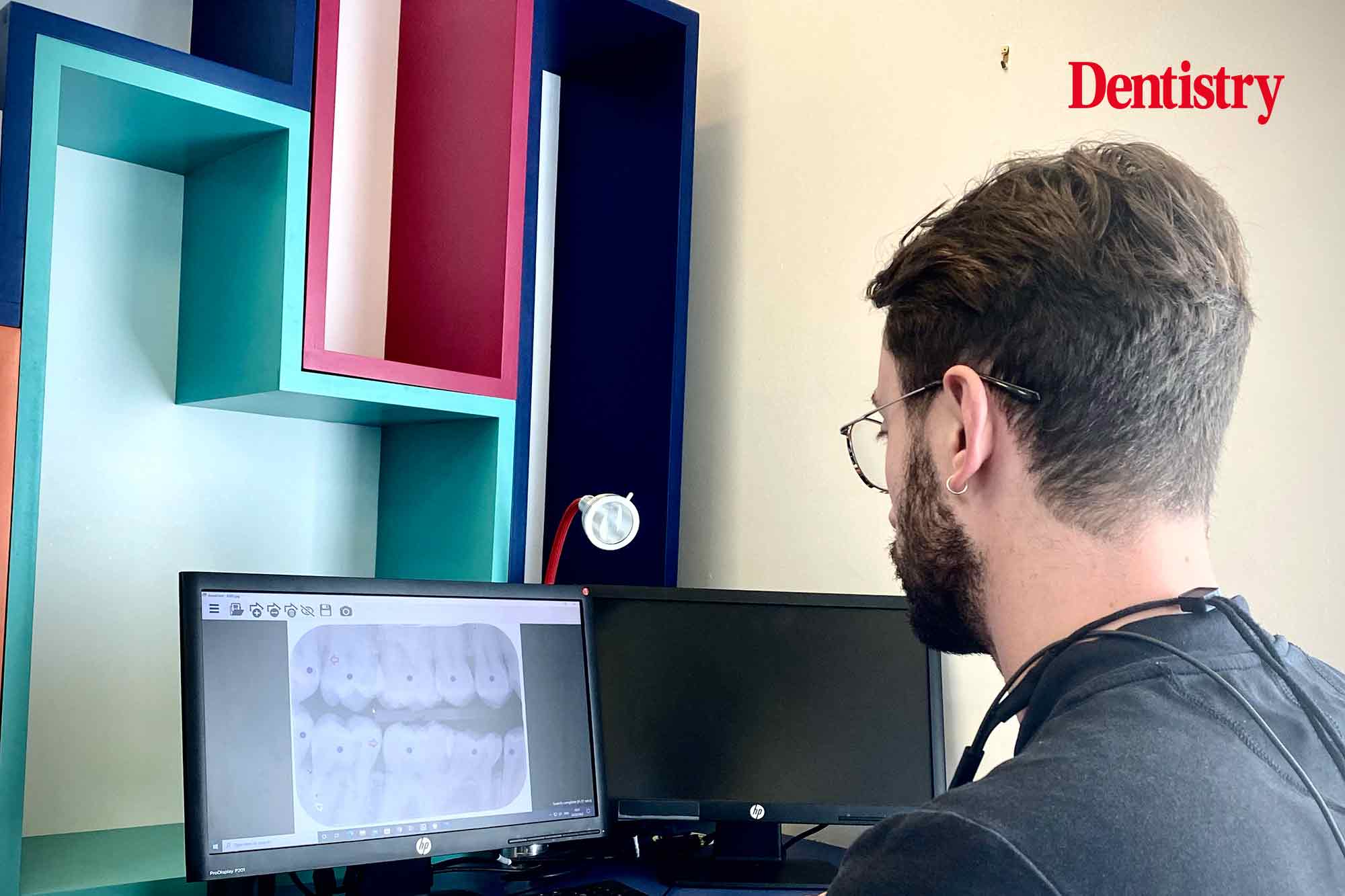 Dr Jack Slaymaker explains how Assistdent has helped changed the way he practices – both privately and within the NHS. 
'I think it is motivating patients to improve their brushing, to floss every day and reduce their sugars, because they are seeing something the program has picked up: It's not just the dentist trying to get money off them.' – Dr Jack Slaymaker
Assistdent is an Artificial Intelligence(AI)-driven diagnostic tool designed to improve dental diagnoses and help dental professionals build a more profitable and ethical practice by demonstrating the need for preventive oral hygiene regimes to patients.
Early adopter Dr Jack Slaymaker is based at Cambridge Dental, a private dental clinic. He also works in an NHS practice. He incorporated Assistdent, developed by Manchester Imaging, after learning about it from its clinical director, Jana Denzel, through social media.
'I always thought having a technology like this would be a great idea when I was at university. Then Jana posted something about the software on his social media. I downloaded a free seven-day trial from the Assistdent website. I am now paying for a monthly licence and have been using on patients. It's been really good so far,' he says.
Future of dentistry
He adds: 'I pitted myself against the software and was surprised at how many areas of early enamel decay I had missed…a lot of the time you do pick up on those areas, but it's good to have that expert view. To me, harnessing AI software is the future of dentistry.'
Dr Slaymaker also uses Assistdent when he's not '100% sure what's there' – such as for small shadows – when he needs that expert guidance.
'I probably use it on three or four patients per day. One of its main benefits is for patients who haven't had a good experience with dentists in the past, so are a bit mistrusting,' he says.
He underlines that Assistdent helps to 'build rapport with patients as it's not me telling them, it's the software'.
'I explain about the software and algorithm and how it has indicated that there are some areas we need to keep an eye on. It's not just abstract. It's very quantitative in that there's a little bit of a shadow on the X-ray that the program has picked up.'
Dr Slaymaker understood that Assistdent would be beneficial in helping to spot very early signs of interproximal caries. But he hadn't realised it would be so effective in proving those early signs to patients. Assistdent is a great visual aid: 'I think it is motivating patients to improve their brushing, to floss every day and reduce their sugars, because they are seeing something the software has picked up. It's not just some dentist trying to get money off them.'
'Very reassuring'
He also points out that Assistdent offers patients extra incentive to book a course of treatments with the hygienist or prescribe the purchase of an electric toothbrush or high strength fluoride toothpaste.
He is also finding Assistdent useful when consulting with patients who would like cosmetic treatments. 'I tell them I need to ensure they are dentally fit before we do any aesthetic treatment.
'Thankfully a lot of the time they're all fine. But there have been a few occasions where a program picks up on something. We need to do some treatment before we progress to do anything cosmetic. This de-risking of high-end cosmetic treatments is very reassuring for me and my patients.'
He points out that running Assistdent takes very little extra time.
'It feels like 10 seconds for me to upload the X-rays. There's an auto function that finds the X-rays I've just taken. The patient already knows I'm looking at them. So they don't notice that it adds an extra 10 or 20 seconds.'
Aids the NHS
He adds: 'Patients are often interested in how Assistdent works and it allows them to be more involved in their own dental healthcare. Sometimes, patients have been told "you need a filling" but not given the reason why. Having a program like this helps because they're involved and engaged in the process.'
Dr Slaymaker also believes that Assistdent could help NHS practices (alongside his private clients, he also dedicates a portion of his time to the NHS).
'In the NHS, you have less time for appointments. So if you're concerned about missing something, having a program like this flags anything you should be looking at. Assistdent also helps me to identify high needs patients much faster.'
Finally, he points out that Assistdent allows dentists to have a solid back-up to a diagnosis to call on.
'If a patient has X-rays that go through Assistdent and we have a conversation about improved dental health and then 12 months later they have another X-ray that shows decay and they say, "you didn't tell me about this", I can just come back to that earlier scan and what Assistdent shows, alongside my own notes.'
Seven-day free trial and reduced licence for early adopters
Assistdent costs £199 + VAT per month per practice. However, until the end of August 2022, Manchester Imaging is making it available for just £30 + VAT per practice* per month for early adopters. This will include software updates when they are introduced.
This is a lifetime commitment price from Manchester Imaging to Early Adopters meaning that the price will not increase.**
---
For more information and to benefit from a seven-day free trial (which Dr Jack Slaymaker describes) and the discounted £30+VAT a month rate for early adopters please visit www.manchester-imaging.com.
*Per practice denotes up to four surgeries.
** Subject to annual CPI based price increases only.