Digital workflow: a game changer for implant restoration – part two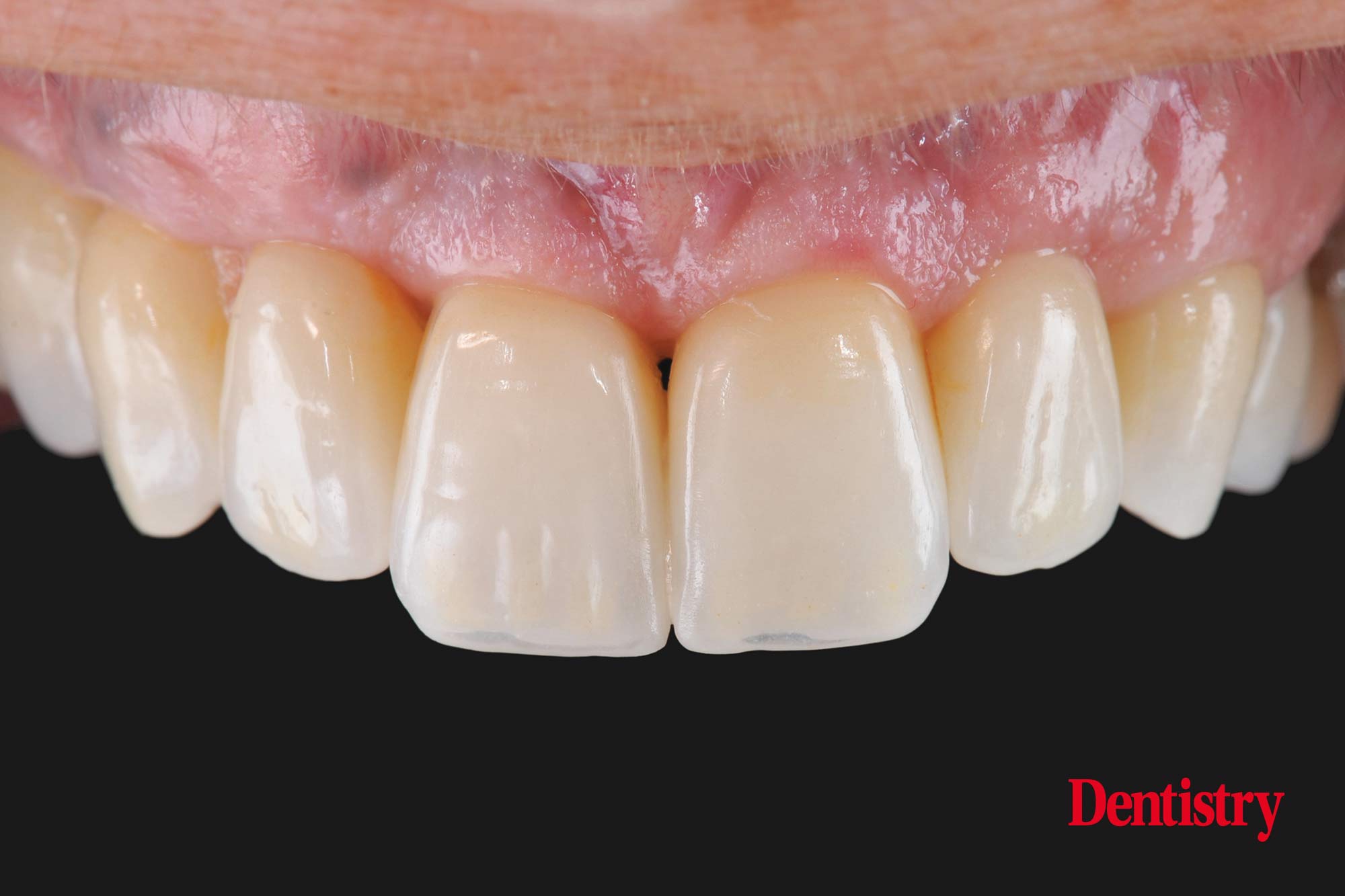 Luc and Patrick Rutten explore the use of digital workflow and interdisciplinary planning to improve the quality of implant treatment.
Introductory thoughts of zirconium dioxide
Zirconium dioxide is one of the highest-performance ceramics in dental technology.
This material has excellent mechanical properties combined with coloured options and semi-translucency.
The coefficient of thermal expansion (CTE) is around 10.5. This is ideal when the veneering ceramic (VM9, VITA Zahnfabrik, Bad Saeckingen, Germany) has a somewhat lower CTE (approximately 9.0).
Uncoloured zirconia copings have a white colour and the light transmittance property is 48%. This is enough to become a natural appearance of the restoration.
Coloured zirconia is favourable for the shade of the end result, especially when there is a lack of veneering space.
Before veneering, a thermal treatment is recommended to reverse potential phase transformation.
It is sufficient to fire the copings at 1050°C for a holding time of 15 minutes. Effect Liner (VM9, VITA Zahnfabrik, Bad Saeckingen, Germany) was used as a wash bake layer, both for its bonding capacity and its fluorescence properties.
This melting layer was fired at an extremely high temperature (970°C to 980°C) to ensure a strong mechanical bond between the zirconia and the layering ceramic.
Individual stratification
We start the main first firing with an effect chroma colour interdentally and build up the shape with some basic dentine.
A cut back at the incisal third and a mixture of enamel and some translucency will be applied.
The individualisation of the incisal edge is created with a warmer and more opaque fluorescent ceramic material, a mixture of Window and Interno 2 and Interno 4 (VITA Zahnfabrik, Bad Saeckingen, Germany).
The correction firing can be done with translucent and enamel powders irregularly and finally controlled to check the contact areas and line angles (Figure 59).
The clinician will check function, shape, colour, fit and gingiva support. The bisque situation can be tried in now.
The full zirconia is just stained a little bit and not covered yet with glaze powder.
This will be done at the final stadium after the minor bisque bake control such as horizontal plane, mid line, lip support and occlusion.
The digital workflow allows a controlled step by step approach where there is almost no room for mistakes.
The partial monolithic crown of tooth 24 which has been pressed in Ambria is already glazed (Figure 60).
Vita Ambria – workflow
Tooth 24 has to be restored with a monolithic overlay.
In this case we have chosen for a new product which came recently on the marked namely Vita Ambria.
This is a zirconia-reinforced lithium disilicate press ceramic system for highly aesthetic and durable results with efficient processing ideally for overlays and partial crowns.
The partial crown will be waxed up full anatomic according the occlusion and morphology.
After spruing, the partial crown will be put in investment – Vita Ambria Invest (Figure 61).
The press ceramic system includes press ceramic pellets in two levels of translucency (T/HT) (Figure 62).
The advantage is that Vita Ambria can be veneered with Vita Lumex AC.
After pressing the partial crown will be divested and removal of reaction layer at a pressure of two bar (Figure 63).
After fit correction and check contact points on the master cast, process surface individually and clean grinding dust from surface the crown can be individually stained and glazed with Vita Akzent Glaze LT (Figure 64).
Transition gingiva-implant crown and finalising
In case of an insufficient support of the gingiva, photos of the situation orally are made. The DSD design system will then clarify what should be done (Figure 65).
The crown margin was designed to mirror the emergence profile of a tooth 21.
The cervical margin of tooth 12 had to be flattened to a symmetrical gingiva level of tooth 22.
Tooth 23 shows less gingiva support and should be built up to push the tissue higher.
This can be done with a mixture of shoulder porcelain and correction powder.
Once the shape is completed we observe the surface texture and go over to the glaze firing (Figures 66-67-68). Minor effects of colouring can be done with Akzent Plus Stains (VITA Zahnfabrik, Bad Saeckingen, Germany).
After final porcelain glazing, the titanium interfaces have been bonded into the zirconia framework.
The basal surfaces which are in close contact to the soft tissue are highly polished pure zirconia. This is so that they are able to be cleaned in a very easy matter by means of super floss (Figure 69).
The incisal edge which is the most visible part of the tooth shows a natural appearance due to the fluorescent beige-orange mamelons and the slightly translucent part at the end.
The aesthetic effect is created by the vitality of the incisal area and the harmony of the shape (Figure 70).
The full contour zirconia parts are just simply stained and adapted to the basic shade of the veneered crowns (Figures 71-72-73).
Surface texture is created by means of thin diamond burs. An important aspect of anterior teeth restorations is the exact approximation of biologic micro-macrostructures which can be found in adjacent teeth (Figure 74).
Figure 75 shows the pressed monolithic stained and glazed Ambria partial crown in detail.
Natural appearance
Notice the emergence profile, gingiva support and the buccal texture.
After the glaze firing the crowns will be polished manually with rubber wheels and polishing paste to adapt the luster as it is in the patient's mouth (Figure 38).
Final intraoral view after 3 months.
Note the preservation of the aesthetic guidelines in shape and colour (Figures 76-77-78.)
Conclusion
The digital integrated workflow in dentistry and dental technology is more than just a hype. It is definitely a changing of the guard.
Once understood and properly implemented it connects the two dental worlds in a way that clinicians can provide better care for their patients and improve clinical practice.
The area of the digital tools must include efficiency, improved predictable precision and less time consuming in comparison to conventional techniques, and a high level of aesthetic results.
To achieve that high level of dental aesthetics the artistic part of the dental process remains and will be analogue or partial analogue so far.
It is a matter of digital handcraft skills to achieve onscreen designing a dental restoration.
Dentistry and dental technology are undergoing a paradigm shift in an era of new digital equipment, CAD/CAM software, 3D printers and milling machine. A new set of dental skills is needed among dental professionals.
At the same time there is still a set of constant factors. The tools are different but the basic knowledge and guide lines of dentistry and dental technology will remain the core message in implant dentistry, prosthodontics and dental technology.
Due to DTX Studio software dental technology is no longer primarily a technical handcraft. But, it has become an integral part of dentistry, a member of the healing professions.
---
Read part one of Digital workflow: a game changer for implant restoration
Follow Dentistry.co.uk on Instagram to keep up with all the latest dental news and trends.