Dentistry Census – mental health worsened by pandemic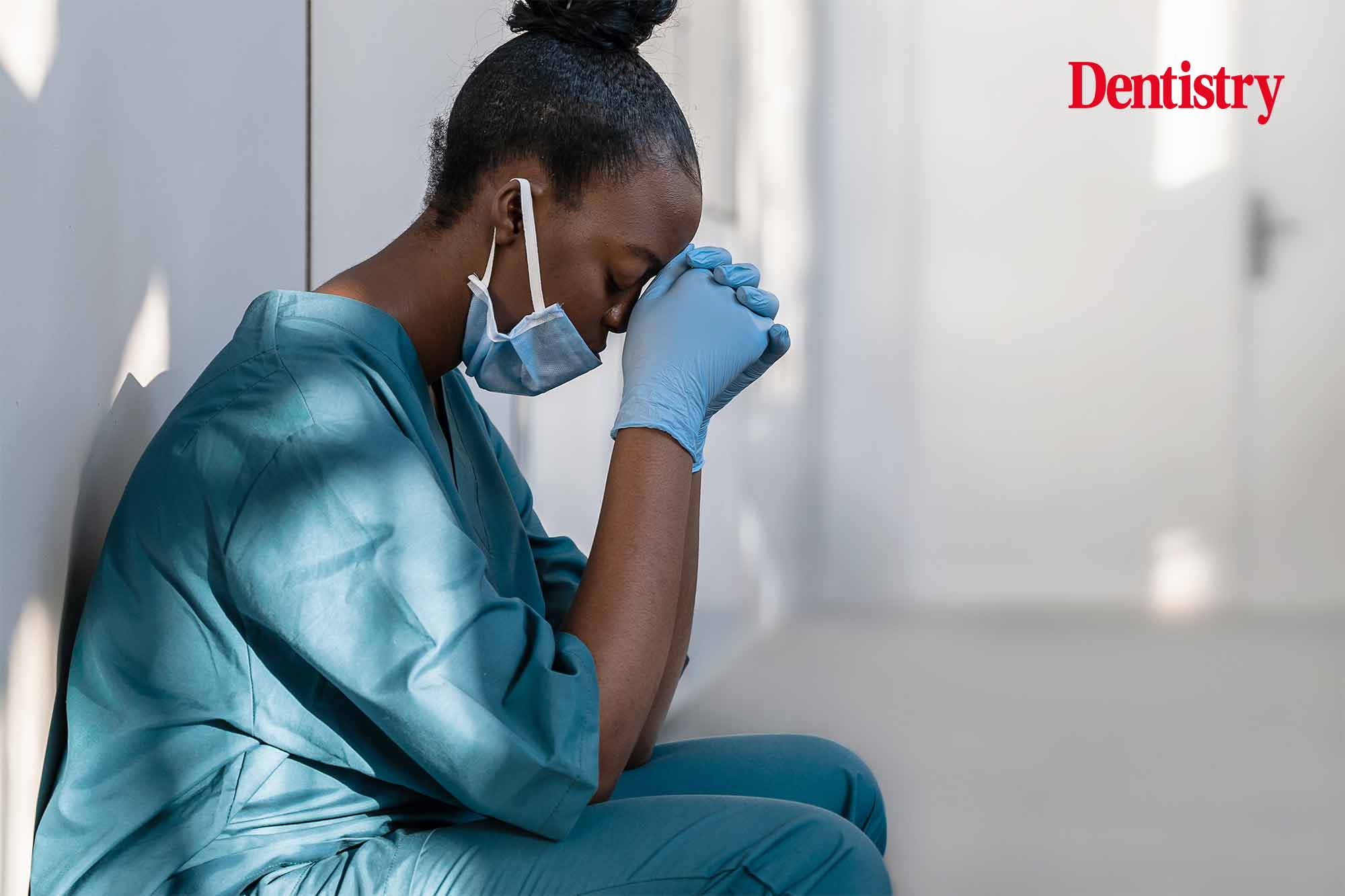 Two-thirds of dental professionals say their mental health worsened during the pandemic.
Many revealed that they felt 'nervous', 'depressed' and 'insecure' as a result of working within dentistry.  
Almost one in four (23%) revealed they have sought help for their mental health. Additionally, a shocking 14% had contemplated suicide.
This is according to FMC's Dentistry Census – leaving no questions unanswered in dentistry – the biggest ever survey carried out among UK dental professionals.
Lonely profession
This latest analysis coincides with Mental Health Awareness Week 2022, taking place this month (9-15 May).
This year it focuses on the theme of loneliness.
Dentistry has long been considered a lonely profession.
In particular, the pandemic brought much uncertainty surrounding the provision of care. It added to growing concerns for the health and wellbeing of those working within the dental environment.
According to some commentators, many dental teams were overcome with stress. Even before Covid-19 swept the UK, they were fatigued by regulatory demands and overwhelmed by patient targets.
In early 2020, the pandemic created a melting pot of chaos. It caused widespread disruption whilst impacting the four nations in different ways. 
Fundamentally, it forced teams to reassess how they deliver dentistry.
New regulations were driving dentistry into new territory, with constantly changing Standard Operating Procedures and policies creating uncertainty. 
In the Dentistry Census, 44% said their mental health had worsened 'slightly' due to the pandemic. Shockingly, 22% revealed it had worsened 'significantly'.
Additionally, 62% felt their relationships – inside and outside of work – had suffered as a result of work-related stress.
Stressful environment
The changes brought about by Covid-19 aimed to mitigate the risk of transmission. However, they inevitably impacted appointment availability and procedures. The result of this was a stressful environment for the patients who made it to the surgery.
Unfortunately, from the outset, there was a global shortage of PPE, which impacted heavily on supplies to the dental market. 
The slow roll-out of FFP3 masks fit testing and the sheer amount of PPE required also affected the profession. This took its toll on their mental and physical health.
The lifted restrictions led to a more cautious approach to dentistry for many.
Litigation and regulation on dentists' mental health and wellbeing were noted as key stressors. This is according to 'Mental Health and Wellbeing in Dentistry: A Rapid Evidence Assessment', commissioned by the GDC.
Alarmingly, 66% of the Dentistry Census respondents said they are now practising defensive dentistry. Clinicians are trying to deliver the best dental care with the pressures of regulatory expectations, patient complaint, or worse, litigation uppermost in their minds.
Dr Simrit Ryatt is a dentolegal consultant at Dental Protection. He observes, 'It is accepted that dentistry is a physically and emotionally demanding job where you need exemplary interpersonal skills and business sense. 
'It can be quite isolating and mentally draining at times. It comes as no surprise that sometimes people feel compelled to take the easy route, such as avoiding certain stressful treatment choices.'
Trust, of course, is at the heart of dental caregiving. What the Dentistry Census does reveal is that 65% of its respondents said their patients continue to value what they do.
Mental health support
Access to mental health support was evenly divided. Some 50% of Dentistry Census respondents said they were able to find help, and 50% were less able to secure support when needed.
More broadly, support from the government was lacking. More than half (28%) said they felt 'extremely poorly' supported by the government throughout the pandemic. Additionally, 23% reportedly felt 'quite poorly' supported.
Respondents were divided on professionals establishing a healthy work-life balance; 52% said they achieve this, 48% said they did not, and 58% admitted to having difficulties unwinding after work.
Ultimately, the pandemic left a disrupted system in its wake. It exacerbated a professional environment that is beset by poor mental health.
In response to growing concerns, the Dental Professional Alliance worked to create the Mental Health Wellness in Dentistry Framework. It sought to encourage all dental workplaces to make mental health wellness a priority.
The framework encourages and enables all dental professionals to act in a timely, appropriate, and safe manner when identifying mental health wellness issues in the workplace. 
Coinciding with last year's Mental Health Awareness Week, the profession widely welcomed its launch.
Personal insights
Lauren Harrhy owns a dental practice in Pontypool, Wales, and is a founder of Confidental, the 24/7 helpline for dentists.
'Mental health first aid training for dental staff is a really useful tool for increasing the wellbeing of the whole team'. 
She is seriously considering dropping or drastically decreasing her NHS contract because she is, 'getting really tired of the pressure the NHS constraints puts on me and my team'.
She says, 'I am finding it increasingly difficult to balance giving patients good clinical care, paying my staff what they deserve, and keeping the practice running sustainably. 
'I am fed up of being at the whims of the NHS and governments playing around the edges of contract reform – always squeezing more out of dentists and their teams regardless of the effect on their livelihoods and mental/physical health.' 
Looking to the future, Lauren believes support in practices, as well as from professional bodies, is 'fundamental'.
'Your team will know you better than anyone and will be able to tell if something is a bit off. They can offer you immediate support. 
'Additionally, mental health first aid training for dental staff is a really useful tool for increasing the wellbeing of the whole team.
'My long-term goal is to make clinician wellbeing training, rooted in the evidence-base, widely accessible to all dental professionals'.
Patient frustration
Dr Mahrukh Khwaja is a dentist and positive psychologist based in Kent, and the founder and CEO of Mind Ninja.
 She suggests the patient backlog created by the pandemic has increased the stressors within an already stressed profession. 
'Patients are really frustrated with delays.
'The sedation referral lists have increased by double in my area and this invariably impacts patient care. This is especially worrisome for our paediatric patients on extended GA lists.
'Some are opting for private dental care to mitigate this but, of course, that's not financially viable for everyone.'
She believes a number of additional factors are also at play.
'The government-imposed targets in the NHS every three months (prior to this we had a yearly target) have been extremely stressful as this meant having to achieve our targets in a shorter timeframe. 
'Bear in mind patients were unable to come in due to Covid-19 amid staff absences due to those testing positive on top of annual leave. 
'I particularly found this element stressful, despite my 12-year clinical career.
'For me, it was the impingement on autonomy and our ability to make choices, which is a basic psychological need, that directly impacts our wellbeing.'
The pandemic, she says, also brought about a search for meaning; specifically about the meaning in clinical work – and suggests this has prompted some to quit dentistry or at least change the way they deliver care.
She explains: 'Having a sense of meaning at work is massively crucial to our wellbeing.
'It has prompted some of us to reflect and revaluate our values and our vision for what life can look like, with some leaving the profession entirely, varying the week or starting a new venture.
'That quest can be very distressing and isolating for some.'
Reduce burnout

 
In 2021, Mahrukh launched the 'Mind Flossing' toolkit, a deck of wellbeing cards. They aim to help dental professionals practise mindfulness, self-compassion, gratitude, growth mindset and use their strengths – with patients and at home. 
This toolkit draws on evidence-based tools from positive psychology (self-compassion, gratitude, growth mindset, strengths) and mindfulness. 
Mahrukh says: 'Since its launch six months ago, 452 dental professionals have benefited from practising the wellbeing tools.
'Feedback from the toolkit has illustrated its efficacy, with all survey respondents stating improvement in mental wellbeing since use of the toolkit.'
'My long-term goal is to make clinician wellbeing training, rooted in the evidence-base, widely accessible to all dental professionals – to not only reduce burnout and poor mental health outcomes, but also to increase positive wellbeing markers, such as engagement at work, happiness, and resilience. 
'These facets are incredibly important when we think about preventing mental illness and empowering clinicians with tools early on to flourish.'
Moving forward, she would like the BDA amongst others to continue to focus on improving working conditions for dental professionals. 
Dental practices should concentrate on adopting the approaches highlighted in the Mental Health Wellness in Dentistry framework. It is important that wellbeing programmes, in addition to wellbeing conferences, are as common and widespread as the profession's focus on clinical dentistry.
She would also welcome research on interventions to help support the dental profession and help them thrive.
Optimistic future
Fiona Ellwood is patron and also executive director of the Society of British Dental Nurses (SBDN).
As a mental health first aider, she led and chaired the strategic steering group on behalf of the Dental Professional Alliance. It worked to create the 'Mental Health Wellness in Dentistry Framework' alongside Roz McMullan, chair of Probing Stress in Dentistry in Northern Ireland.
Fiona is optimistic about how the profession can work together towards future proofing the wellbeing of the dental team.
Her 2021 paper is titled, 'Dental Emergencies: Perceived impact of the COVID-19 pandemic on the mental health and wellbeing of dental teams in the UK'. It states, 'the mental health and wellbeing of the whole dental team is paramount if a reliable, sustainable and future-proof workforce is maintained and their needs met as part of the overall recovery plan from the pandemic. 
'Given the current and unique situation the industry finds itself in, because of the pandemic, this would seem like an opportunistic time to consider embedding mental health and wellbeing into every corner of dentistry, to embrace it in the recovery and transitional phases of returning to a new way of working and within education and training, so that it becomes a norm.'
There is clearly a need to consider the concept of stress in the workplace and its implications for mental health and wellbeing.
'Furthermore, it is clear that mental health and wellbeing is everyone's business, and it should be identified as "a real emergency."' 
---
Acknowledgements
We would like to thank all the dental professionals who took part in this research at such a challenging time. We would also like to thank DD for their support. 
The Dentistry Census is based on a survey of 816 dental professionals from across the four nations. It was undertaken from August – September 2021, in collaboration with DD using Surveymonkey to collect the data.

 
Catch up with previous Dentistry Census results
Click here to download the full census.
Follow Dentistry.co.uk on Instagram to keep up with all the latest dental news and trends.