Switching plan provider got a whole lot simpler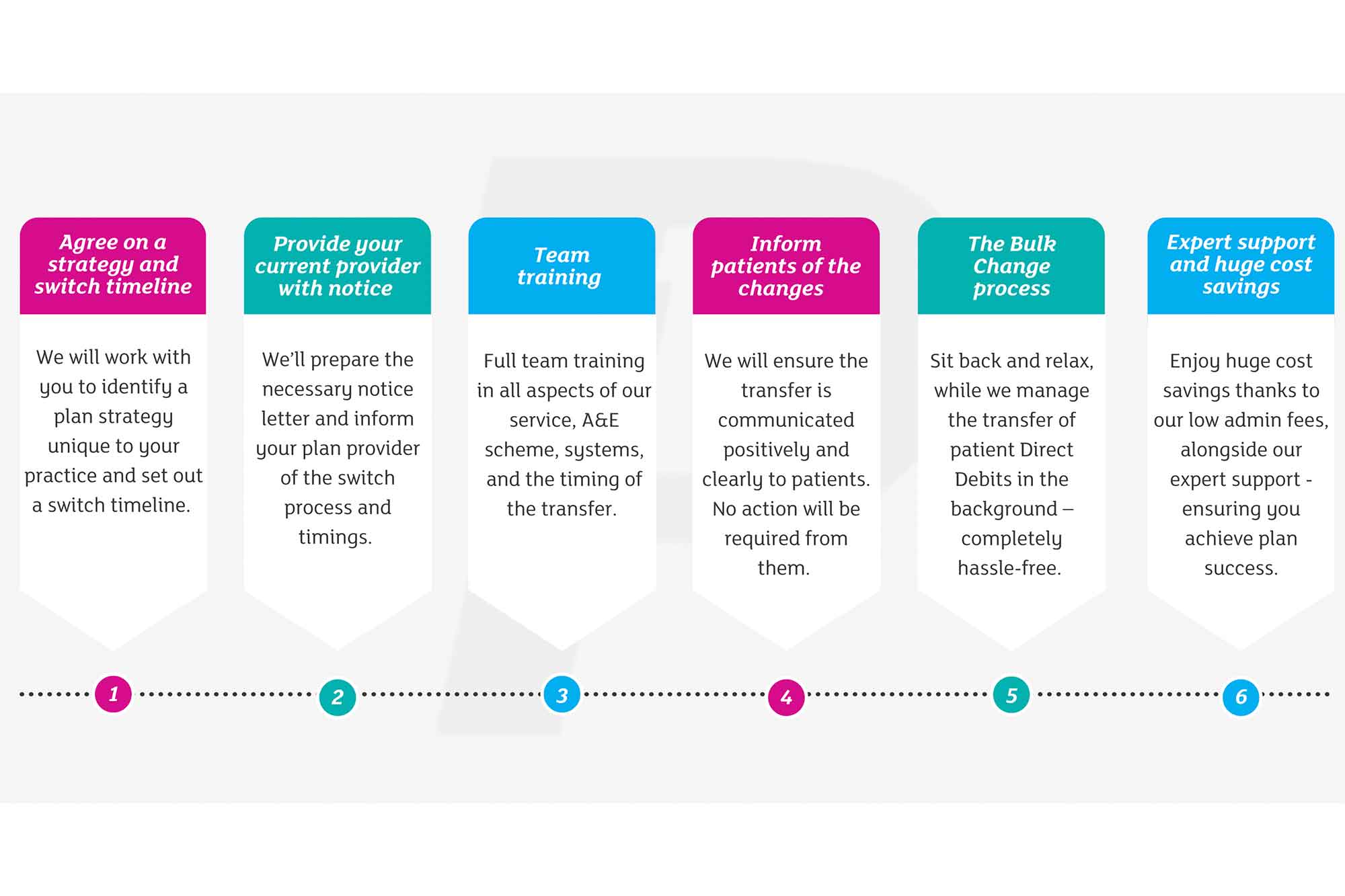 We asked Dan Nulty why it's easier than ever before to switch plan provider thanks to the all-new 'Simple Switch' process and why more practices are opting to switch to Patient Plan Direct.
What is 'Simple Switch'?
Where historically a transfer of plan provider was managed by writing to patients and asking them to complete a new direct debit mandate, 'Simple Switch' utilises the bulk change process.
The bulk change process is an established and proven banking facility. BACS, the direct debit scheme provider, offers it.
This means that with 'Simple Switch' the transfer of direct debits between providers is managed in the background. A simple letter to patients to inform them of the changes is all that we require.
This approach takes away the hassle for patients and any admin or uncertainty for a practice.
It's a real game changer. It means practices don't have to feel tied to a provider due to fear of change now that such a simple process is available.
Before now, utilising bulk change in the dental plan provider marketplace was difficult. Some providers refused to cooperate.
However, a recent rule change enforced by Payuk and the payment systems regulator (PSR) forced providers to register with BACS and agree to utilise the bulk change process, ensuring a fair and level playing field.
How straight forward is the Simple Switch process?
Very simple.
Most plan providers require three months' notice if a practice intends to move their plan management to another provider.
Once notice is given, a communication is sent to patients to inform them of the changes. Thereafter everything else is managed in the background in line with the notice period.
At the appropriate time, collections stop with the old provider and begin with the new provider the following month. There's no break in any cover for patients.
Dr Wickenden shares his experience of switching to Patient Plan Direct using the simple switch process below.
Why would a practice consider switching plan provider?
There are a whole host of reasons, not limited to the following examples.
Some practices are seeking to cut costs following the strain and challenges of the pandemic
Other practices we've spoken to indicate they're not getting the love and attention they once did from their plan provider
In some instances, we've heard of practices that aren't even sure who their 'go to' contact is. They haven't heard from a dedicated contact for years, not months
Other practices feel the attention of their provider is firmly on helping other practices with NHS conversions and not in supporting their existing clients
And finally, some providers are pushing practices to commit to long-term contracts. This isn't something everyone is comfortable in agreeing to.
Why are more practices switching to Patient Plan Direct?
Many practices recognise Patient Plan Direct as a 'low-cost plan provider'. An alternative cost saving brand to other dental plan providers.
This is true, but we offer so much more than a cost saving proposition.
As we enter our 14th year of trading, we are well and truly an established plan provider.
We understand the support dental practices need when it comes to dental plans.
Our clients benefit from the support of our client services team, account managers and business development managers who deliver expert support, training, marketing resources and so much more.
Our online portal offers real-time plan insights, reporting, paperless plan sign up and financial forecasting.
We will roll out further enhancements to our support throughout the year. And we welcome new people to our team with a wealth of experience.
Dentists and their teams have come to realise that our low admin fees is only the cherry on the cake.
If you can get the support your practice needs when it comes to running a dental plan, why pay higher admin fees elsewhere? Particularly as it's now so easy to switch to us.
How can practices find out more about Simple Switch?
For more information about Simple Switch and the benefits of switching to work with Patient Plan Direct, visit patientplandirect.com/simple-switch.
---
To book an exploratory meeting with the Patient Plan Direct team, visit patientplandirect.com/simple-switch or call 0344 848 6888.