New Philips Power Flosser delivers the X factor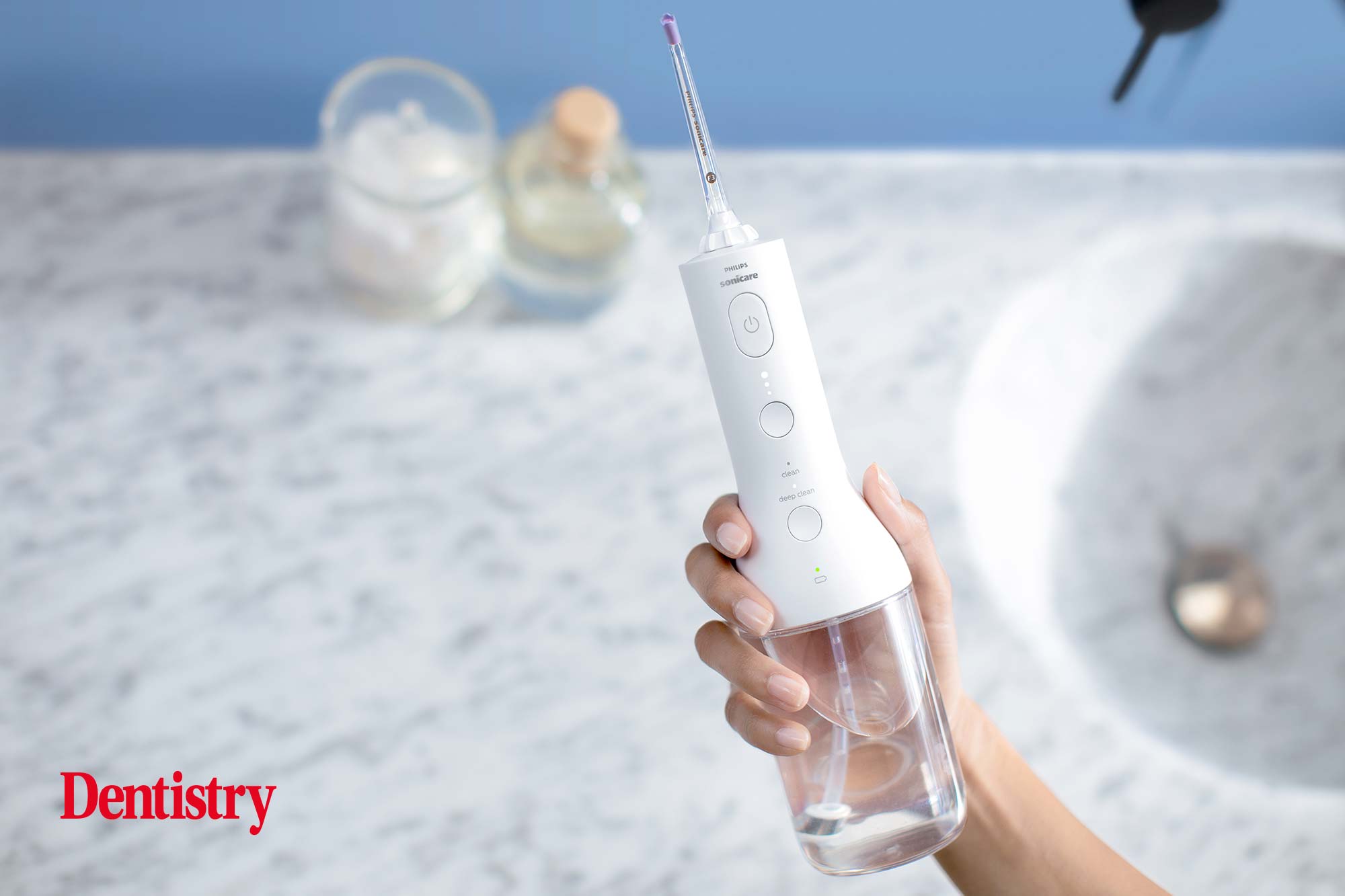 Philips launched its Power Flosser to the press last week, which it says removes 99.9% of plaque due to its 'X burst' function.
The cordless Power Flosser includes an X-shaped nozzle to create four streams of water. This, it claims, can clean eight times the area competitor products cover.
And with a continuous stream, Philips believes users can water floss their whole mouth in under 90 seconds.
'I love the new Philips Power Flosser,' Dr Safa Al Naher, says. 'It is much easier to use than other irrigation devices.
'The start up is super simple, it comes ready charged and ready to go. It comes with two nozzle tips and I started trialling it with the rubber one, which was very comfortable to use. You don't feel as though you are doing any damage to your gums in any way or that you have to press at all.
'I found the Power Flosser very easy to use. It is definitely not as messy as other irrigation devices I have used. Afterwards I definitely felt a nice clean feeling.
'All of the front and back surfaces of my teeth felt very clean and were plaque free.
'I am really happy with the Power Flosser and think it is excellent. It is very gentle but effective, which is what we want.'
Easy to use
The Power Flosser was designed to help users save time whilst still maintaining an effective oral health regime.
Pulse waves indicate to the user when to move from tooth to tooth. And a 360o nozzle rotation ability means they can reach all areas of the mouth.
It also includes three different intensities that are easy to switch between, making it an option even for sensitive areas.
'I am extremely impressed with the new Philips Power Flosser,' Anna Middleton, The London Hygienist, said.
'It is sleek, easy to use and you can really notice the difference in how clean your mouth feels after using it.
'This is the perfect oral hygiene adjunct to help support patients' oral health. Especially for those with crown, bridges, implants, orthodontics and those with sight and manual dexterity difficulties.'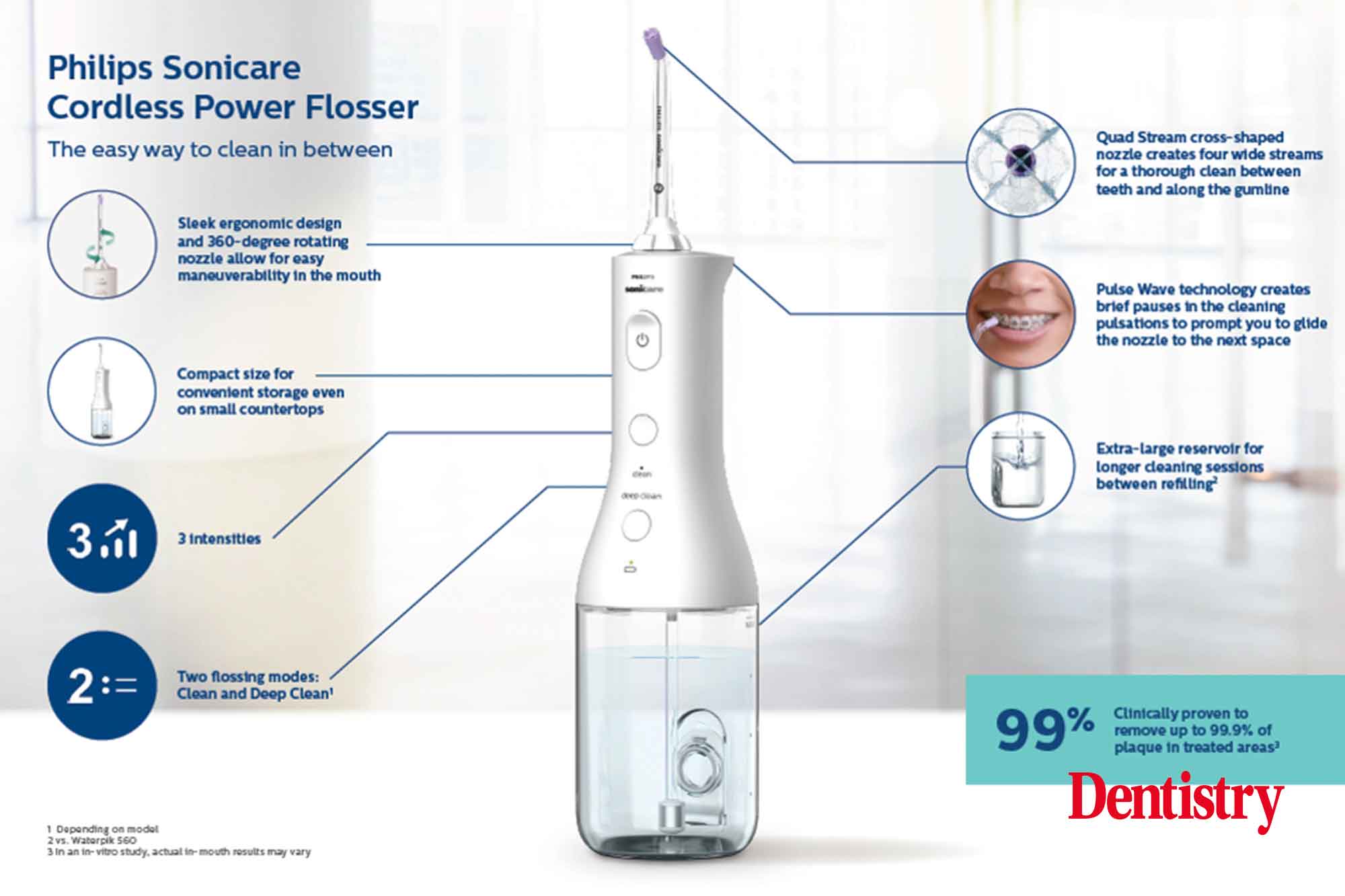 Power Flosser X factor
The Power Flosser launches in March and is available to dentists and dental professionals for a heavily discounted price.
It comes with a 24-month warranty, as well as a quad stream nozzle, a standard nozzle and a travel bag.
'I really think the Power Flosser is going to revolutionise the oral hygiene routine of anyone who has previously struggled with manual flossing,' Melanie Pomphrett, professional relations manager at Philips, said.
'As much as we know that patients should use interdental aids daily, there is still a huge percentage of patients who aren't.
'The quad stream technology ensures that a larger surface area is covered. And the pulse wave technology makes it comfortable to use by allowing small breaks to move to the next tooth.
'Most importantly the Power Flosser is backed up by strong clinical evidence. It provides the reassurance we all need that our patients' oral health is going to improve.'
---
Follow Dentistry.co.uk on Instagram to keep up with all the latest dental news and trends.