North of England Dentistry Show – Faye Donald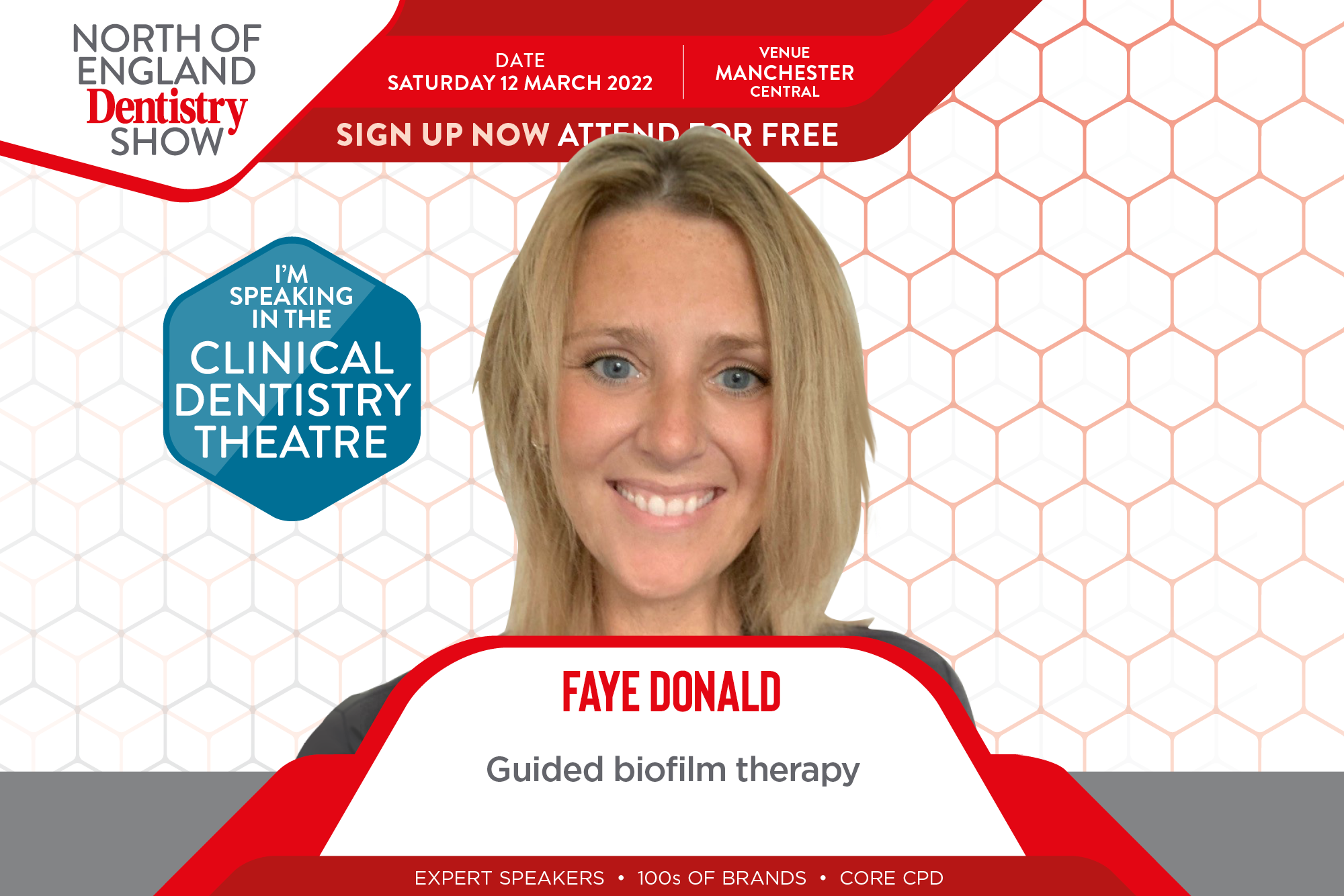 Faye Donald is just one of the expert speakers taking to the stage at the North of England Dentistry Show in Manchester. 
FMC will kick start its 2022 events with the North of England Dentistry Show in Manchester on Saturday 12 March.
This free-to-attend event will include an exhibition hall with the latest dental innovations and technology, a leading line up of speakers and CPD for all attendees.
Held in Manchester Central Convention Complex, you can sign up by visiting www.dentistry.co.uk/north-show.
Faye Donald
Faye will deliver a lecture on guided biofilm therapy. GBT is revolutionising the way we deliver minimally invasive hygiene care in modern contemporary practice.
In this session you will be given an introduction to the guided biofilm therapy concept and its role in disease prevention and the management of a broad spectrum of patients including children, implants, orthodontics and periodontics. Faye will discuss the whole team approach to GBT and how to incorporate it into your business model and utilise it to increase profits and build patient trust.
The session will be delivered by a certified Swiss Dental Academy trainer and experienced GBT clinician. They will describe their experience of introducing GBT into their practice.
Why should you attend the North of England Dentistry Show?
Pick between 60+ CPD lectures on the day. Combined with a trial pass to Dentistry CPD, you'll obtain all the hours you need for 2022
Inspirational lectures from leading clinicians – many of the profession's leading clinicians bringing their expertise to a series of 'power lectures'
Meet 100s of brands in one day – make sure you bring your credit card! You'll get to speak to all of the leading manufacturers and find out about all the latest innovations in just a few hours
Goody bags – don't leave empty handed! Every delegate will get a goody bag with samples, special offers and trials
Inspired by dental professionals, for dental professionals – the team is the beating heart of any practice. That's why the Dentistry Show North caters to dentists and the dental team.
With a collection of top speakers confirmed, they will appear across a range of different lecture theatres including:
Dental Implants

Digital Dentistry
Dental Laboratories
Business

Clinical Dentistry

Dental Nursing Hub
Dental CPD
Avant Garde suite.
---
To register for the show for free and find out more information, simply visit www.dentistry.co.uk/north-show.
Follow Dentistry.co.uk on Instagram to keep up with all the latest dental news and trends.