The refugee crisis – providing oral health care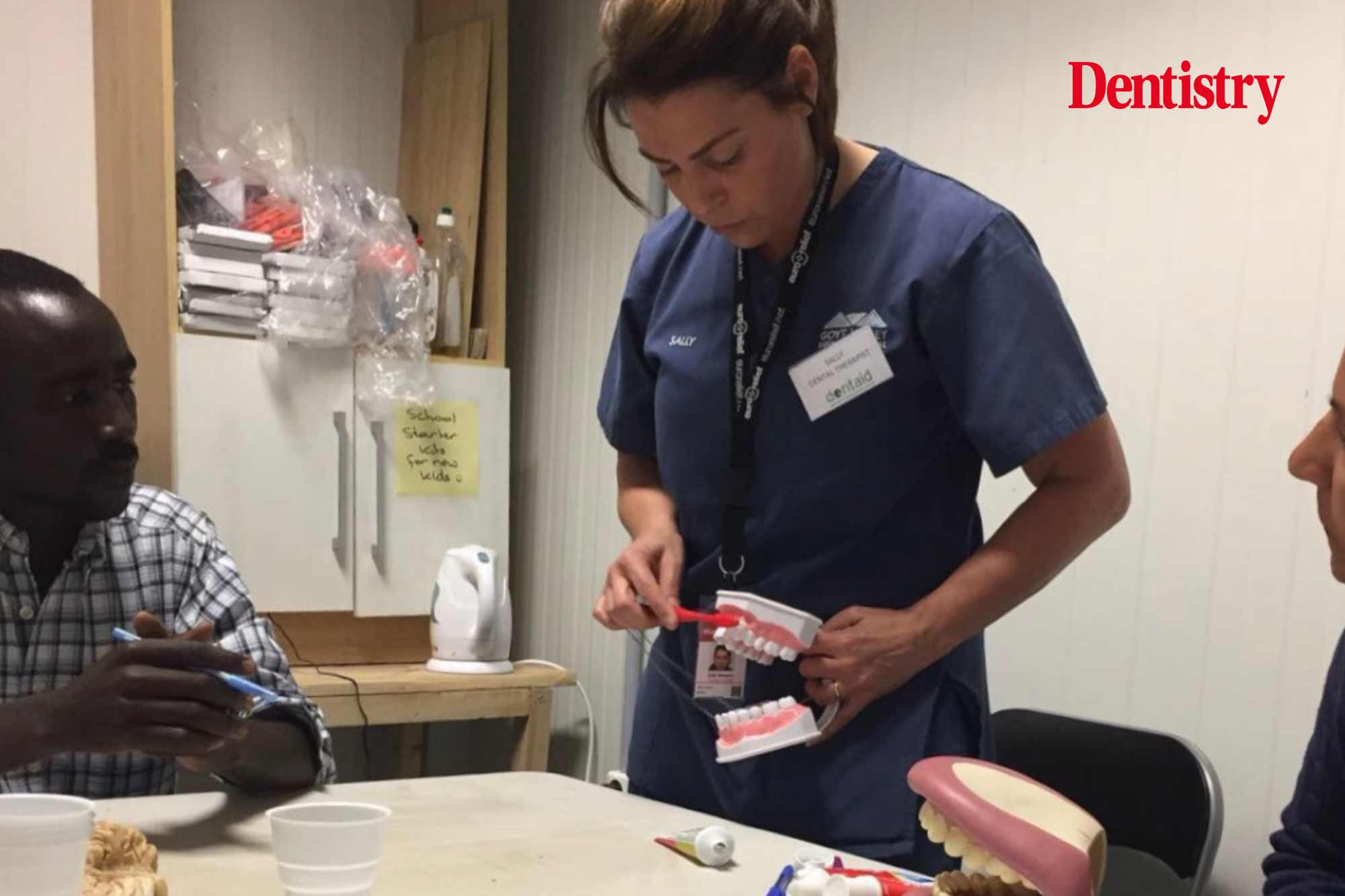 Oral-B highlights the story of Sally Simpson as she describes her experiences of volunteering and fundraising to provide emergency dental relief treatment to refugees.
Europe's migrant crisis ever deepens. The plight of thousands of people escaping atrocities at home is never long out of the news. Increased tensions within and between countries lead to war-torn communities. These conflicts rip apart the families caught up in the violence and countless lives are destabilised. There is huge migration and displacement.
Invariably, people flee to Europe in their search for safe havens. They are forced out of their home region or country. But in doing so, they risk health and lives on arduous and perilous journeys. 
Dental hygienist and therapist Sally Simpson has seen first-hand exactly what refugees face in their bid to protect themselves and their children from violence, persecution and war.
An active member of the British Society of Dental Hygiene & Therapy, she has dedicated much time to volunteering at various projects to deliver oral health care to those vulnerable and in need.
Frontline experience
Sally is a regular volunteer with Dentaid's dental emergency relief team. She has been involved with significant fundraising projects. She has travelled to Malawi in Africa, and latterly to Europe's largest migrant camp – the Moira Refugee Camp in Lesvos, Greece – to provide emergency dental relief treatment.
Sally has also been instrumental in raising funds to provide essential equipment, materials and medicines. These will 'help the people and professionals help themselves after we have gone'. 
In Malawi, she provided a teaching course for local dental therapists. She visited schools and orphanages delivering oral health promotion and education. Also, she provided toothbrushes and toothpaste and donating toys, and educational materials.
More recently during the first wave of the pandemic, when travelling abroad to Dentaid's relief projects was curtailed, Sally volunteered on the NHS frontline, helping to run a pop-up medical centre set up to assess Covid-19 patients with regards hospital admission.
But it is her time treating people in the refugee camp we focus on here with her frontline experience an eye opener that reveals not just the atrocities people face but also an insight into their unexpected warmth, generosity and patience in the face of adversity.
The inspiration behind Sally's volunteering is simple – 'I want to help those who need it most with a skill I can offer'.
With just the clothes they stand in and only a few belongings, the decision to flee from violence is often an instantaneous one for families when living with the horrors of conflict and persecution become untenable.
Their lives, physical security and liberty at risk, they  grab what they have and go, which means much of the time their hygiene is the one of the last things they are thinking about.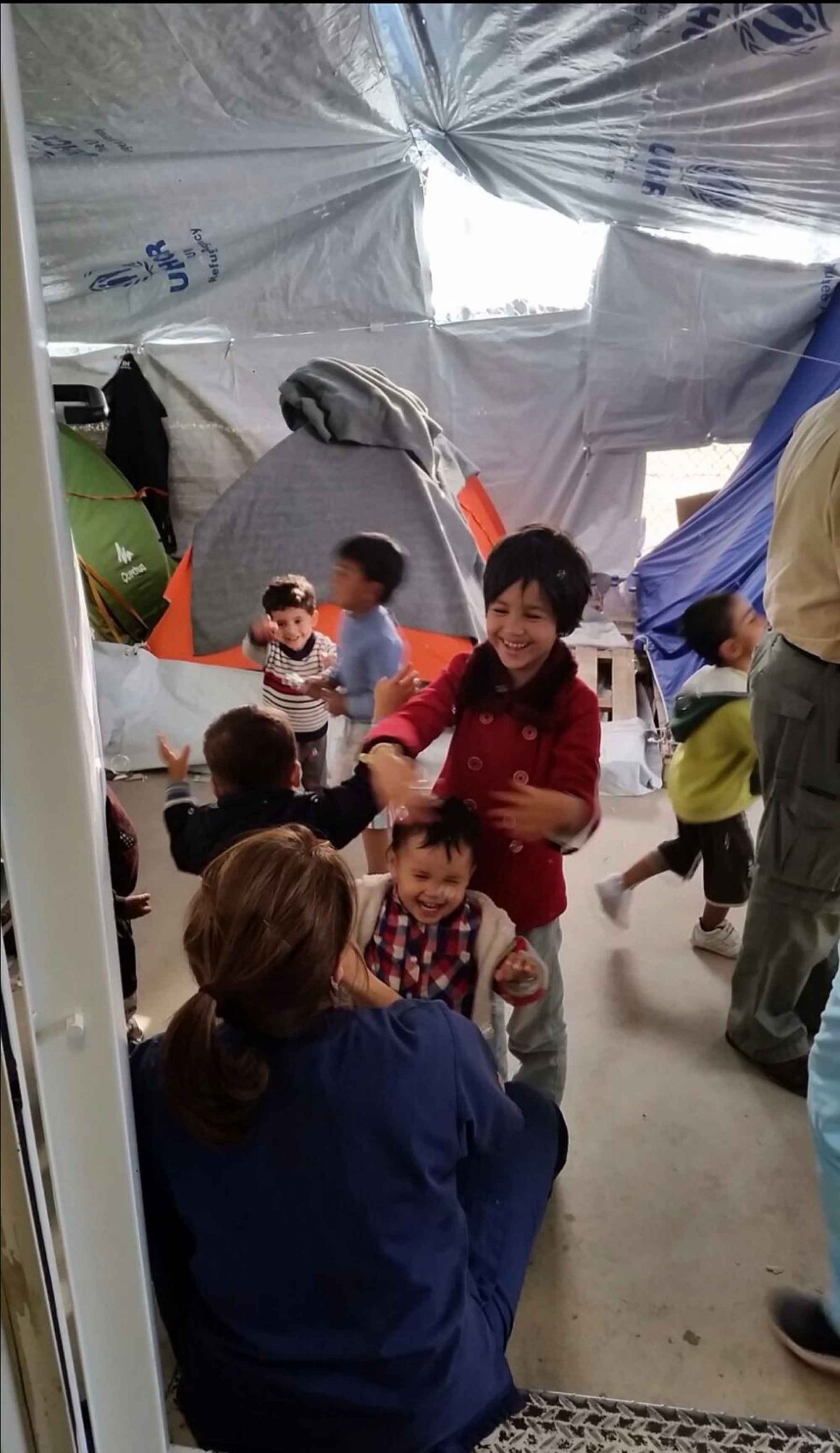 Volunteering at the refugee camp
In a blog for Dentaid about volunteering at the refugee camp in Lesvos, Sally writes: 'The Moria refugee camp is everything I expected, noisy, smelly, cramped and hot but the charity workers and its refugee residents are friendly, helpful and patient. I'm stunned by how many women (some heavily pregnant), babies and small children are here, having made such perilous journeys from their war-torn countries.'
The time spent there meant that she ran through the whole gamut of emotions. Albeit, she stayed focused on the task at hand.
'I thought I might feel frightened or threatened in our working situation. However, this could not have been further from the truth. When my time in the refugee camp was over, I didn't want to leave, the work was so rewarding.'
Treatment was varied but mainly split between three distinct types. These were: emergency extractions due to acute or chronic pain from caries or periodontal disease; periodontal disease treatment, and temporary restorations to provide relief until further care could be sought.
'We'd lots of medications with us, so were able to offer pain relief and antibiotics where needed,' she adds.
Disease prevention
The Dentaid team also ran a project at the camp to help volunteers and teachers educate both children and adults about dental health and disease prevention. 
'This was a great project and meant that a dental health education and prevention programme would run after we had left for the refugee population. I held a training day for volunteers and the camp school. I left them with materials and resources they would need and lots of free toothbrushes and toothpaste to supply new camp residents. 
Some of the work at the camp also involved helping people with their accommodation – moving tents and essential equipment around the camp.
'It was incredibly sad to see the terrible difficulties the people we were helping had experienced. My initial reactions were shock and sadness. So much so, that I lost nights of sleep and lots of tears initially.
'But there was also awe – at the amazing resilience in people in these dreadful situations. This was a source of inspiration for me to do as much as I possibly could to help anyone I could.'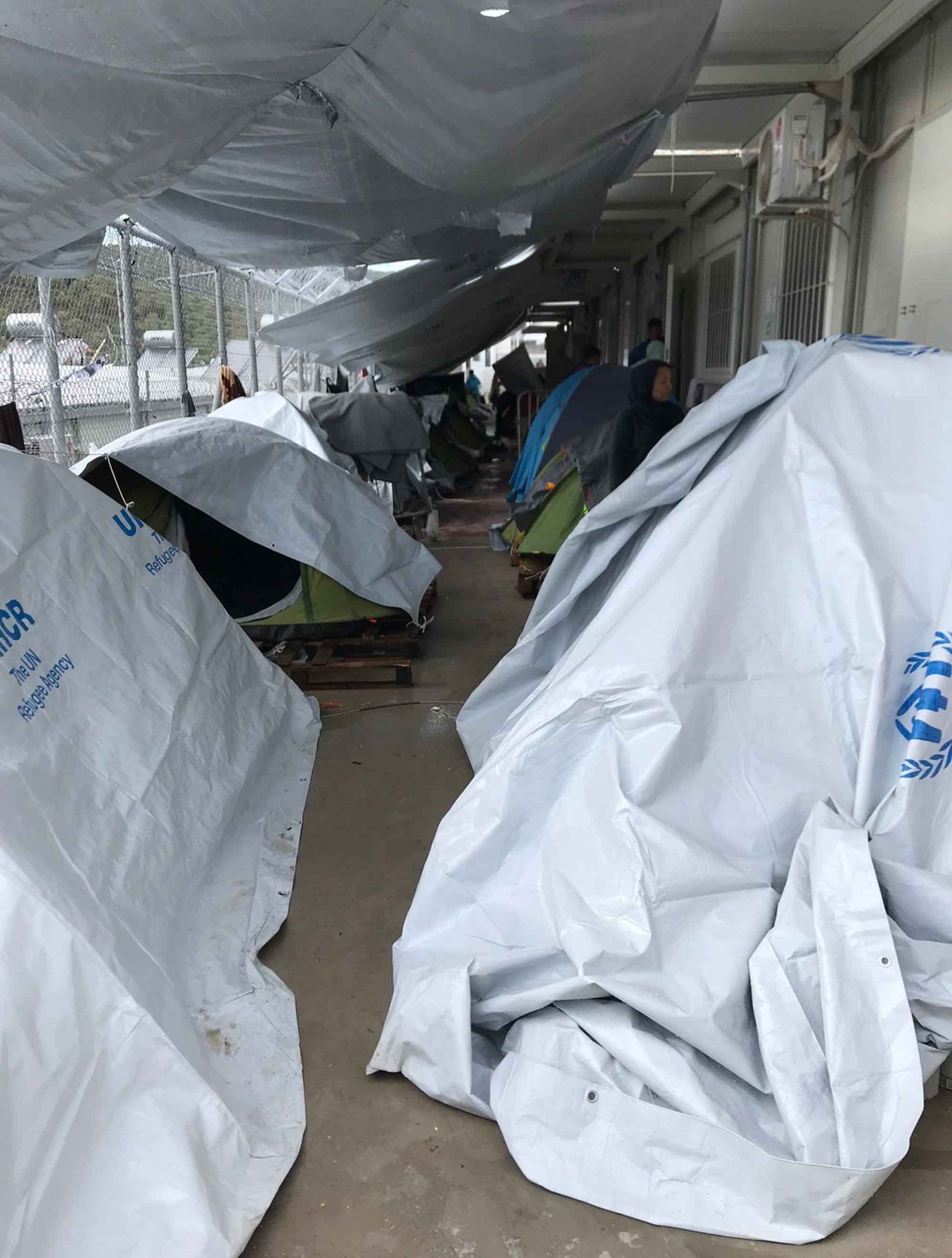 Looking after each other
The biggest surprise in all her volunteering experience has been the resilience of human nature 'even in the most challenging of situations'. As she says: 'This was a great leveller for me. I saw people making the best of a dire situation. They are finding ways to have fun, providing entertainment for one another and, most importantly, looking after one another.'
Sally recalls: 'Every day those with so little offered so generously to help us. We had volunteer refugees translating for us at our clinic all day every day. This was simply so they could help those that speak their own language express themselves fully to us. It was an overwhelming lesson in kindness.' 
'The generosity of the families close to our pop-up dental surgery in the refugee camp was humbling. Each morning when we arrived to work we were offered a coffee from the stove they had in their tent, even though they had so little to share. Their humanity was so moving.'
Thanking the industry
Sally felt overwhelmed by the generosity within the dental industry.
'Much of the equipment I needed for the trip was down to the kindness of the lovely dental trade companies I've met over the years,' she explains. 'Such as people like Simon at Henry Schein and Lars at EMS and my friends at Optident. I was so humbled by their generosity in donating equipment.'
Documenting her experiences has been both cathartic and, she hopes, an inspiration to others as well.
'The blogs and the video diaries in both the refugee camp and Africa helped me process what we had seen and done there. I thought it might also help those interested in doing similar humanitarian work understand what it would involve and what to expect.
'These blogs are public. I also hope they raise awareness of the hardships the news coverage often fails to capture. For other professionals, I hope I inspire others and show them how incredibly rewarding an experience it is. Even the small things we do make an impact on each person we help.'