Are you susceptible to dental erosion and what can you do about it?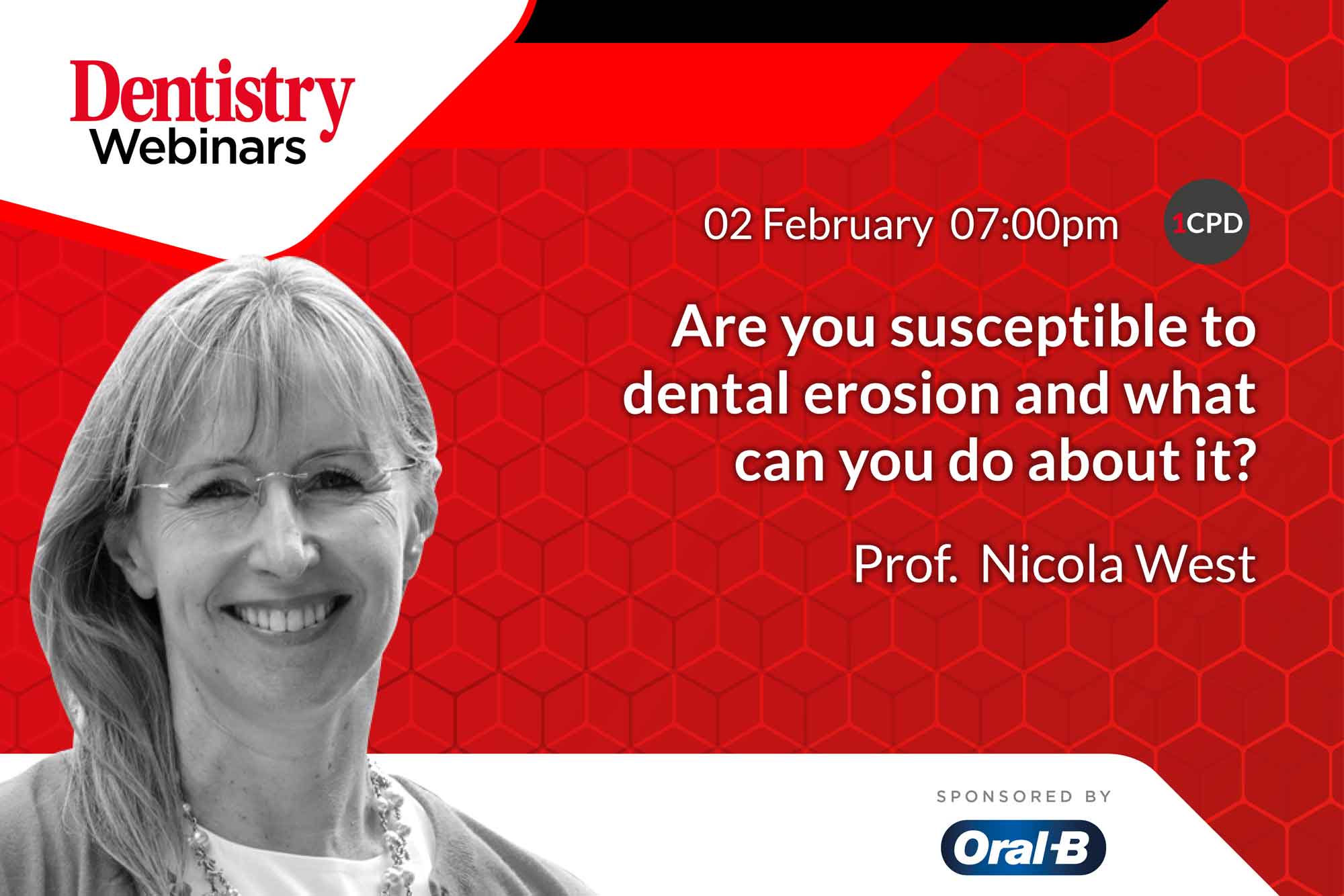 Nicola West will cover dental erosion and how to deal with it during a free webinar on Wednesday 2 February at 19:00.
The aim of this webinar is to give members of the dental team a greater understanding of dental erosion and dentine hypersensitivity.
Attendees will be able to:
Understand the aetiology of dental erosion and dentine hypersensitivity
Be able to identify early tooth wear
Gain knowledge on early management of tooth wear and dentine hypersensitivity.
Learning outcomes
Attendees will understand:
The importance of early diagnosis of erosive tooth wear
How to implement early management strategies for patients
Give advice to patients on how to reduce erosive tooth wear
Know which toothpastes have efficacy in the treatment of dentine hypersensitivity.
Nicola West
Nicola West is professor of restorative dentistry leading the Dental Clinical Trials Unit at the Bristol Dental School, UK.
She is the secretary general of the European Federation of Periodontology, member of the Royal College of England Specialist Advisory Committee and General Dental Council specialist listing assessor for restorative dentistry.
Nicola conducts research in the international forum. She attracts substantial industrial funding alongside charity and NIHR grants.
Current research interests include: developing periodontal research methodologies, the scientific evaluation of oral health care products, tooth wear, dentine hypersensitivity, tooth staining and whitening, bone augmentation and peri-implant lesions and periodontal disease associated with Alzheimer's disease, Parkinson's disease and cardiovascular diseases.
Since 1990, Nicola has maintained in parallel, a thriving private referral practice in the centre of Bristol. Here she undertakes specialist periodontal and implant treatment.
A particular sphere of interest includes the management of peri-implantitis lesions.
---
To register for this webinar, simply visit www.dentistry.co.uk/webinar.
Catch up with previous On Demand webinars