Dentaid – looking after the oral health of the UK's homeless community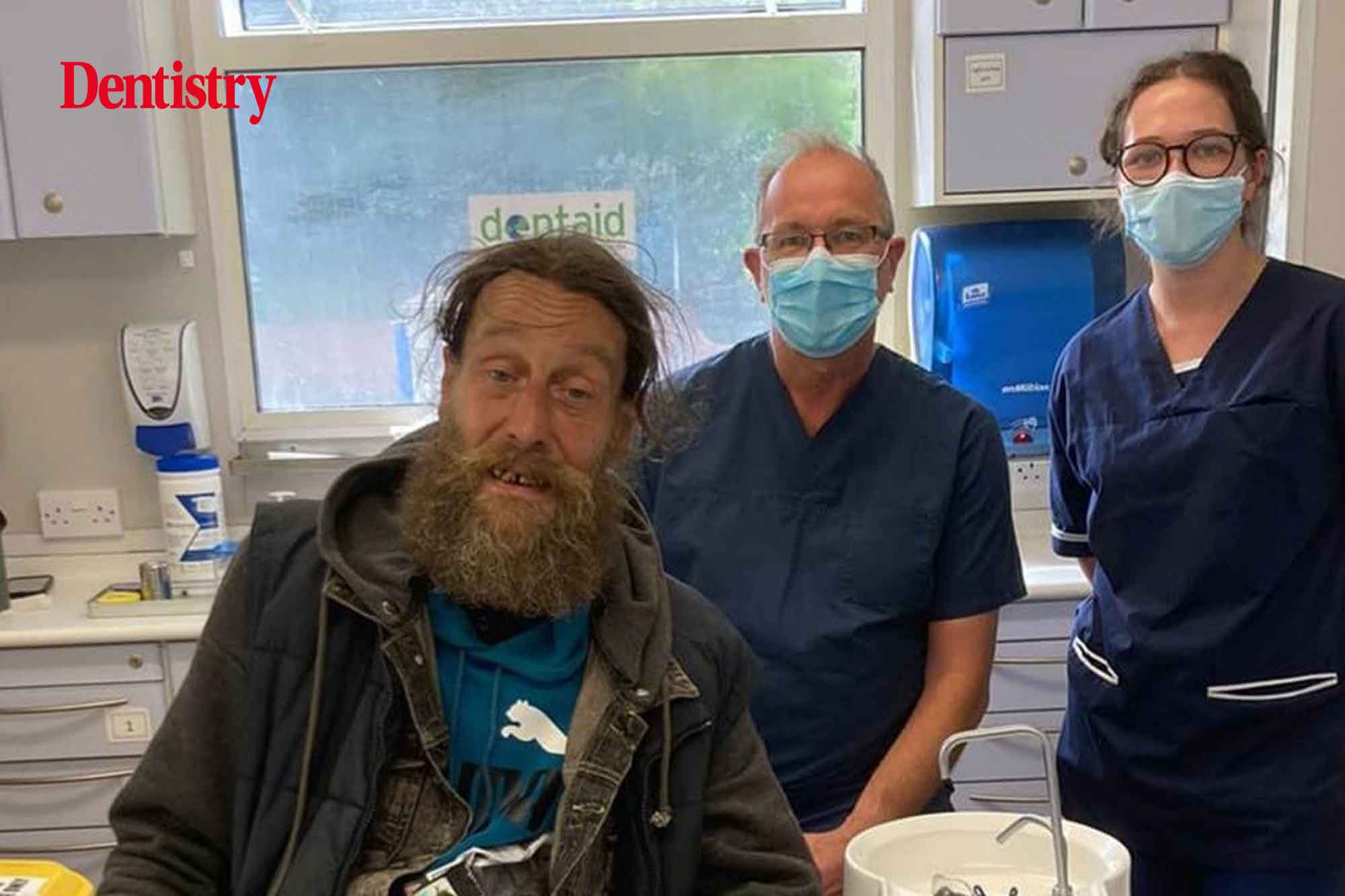 We hear from Jill Harding about the work Dentaid is carrying out in the UK and how the support the dental industry and profession provides helps.
Crises comes in various guises with consequences varied and numerable. But what must be the biggest impact on the way we live our lives since World War Two has brought about far-reaching ramifications. The effects of which will continue long into the future.
The mobilisation of public healthcare in response to COVID-19 was a phenomenal feat. Nations attempted to protect the health and wellbeing of their populations.
But in this effort to overcome what seemed the insurmountable, the oral health of thousands of people took a hit with the upheaval of dental services a blow to the profession.
As a result, coronavirus has left dentistry with a legacy of problems and issues, which now need addressing.
'Hugely disappointing'
The disruption to oral healthcare throughout the pandemic has been a major concern within the profession. Some of the most vulnerable people in society are hugely affected.
Its hiatus created a bigger divide between the 'haves' and 'have nots'. Access to NHS care – already problematic – only worsened.
For dental charity, Dentaid, the pandemic has forever changed its operations.
Previously focused on offering dental care to people in the poorest countries in the world, the charity already expanded in 2015 to include helping out of pain some of the UK's hard-to-reach, providing free dental care for homeless and vulnerable people.
Their mobile dental units visit hostels, day centres and night shelters. They provide emergency treatment for people who find it difficult to access dental care.
The Dentaid team was also running oral health education programmes in schools. But, like many charities, all their work came to a shuddering halt in March 2020.
Eventually, in October 2020, the two Dentaid mobile units were back on the road. The team began to pick up projects once again and their operations restarted.
Jill Harding is the charity's communications director. She recalls: 'It was hugely disappointing going into lockdown. We just started setting up clinics and our UK work was beginning to grow organically.
'We were working hard to build up our work. But, from March until September 2020, we were unable to get out. We had to furlough staff and suspend all UK operations. We went into survival mode.
'Dentistry was not allowed to be delivered in the homeless shelters. These organisations had to shut and reduce activity. Soup kitchens and services for people experiencing homelessness weren't running meaning our patients were even harder to reach.'
Pandemic influence
From the start of 2021, however, calls started to come in. The backlog of cases and worsening dental health statistics meant the ramping up of activity on the mobile units.
Jill says: 'We were keen to get up and running. We went back to Trinity Winchester and Albaré in Salisbury [that run a range of homes, drop-in centres and support services dedicated to helping the homeless and vulnerable] and back to Southampton, where homeless and vulnerable people from the city also receive free dental care at our mobile dental unit.
'Plus, new clinics were set up as other groups reached out.'
In fact, Dentaid has a presence in various towns in England, mostly focusing on the south to south west coastline and to the north in West Yorkshire, taking in Eastbourne, Hastings, Littlehampton and Worthing and Portsmouth Weymouth and Leeds, York and Dewsbury.
There are also plans to restart their clinics in the UK's fishing communities in towns such as Lowestoft and Felixstowe and North Shields. These are a cohort of people whose seaborne working lives can mean missed opportunities to access dental care during normal hours.
Jill says: 'Before the pandemic, we would have two or three clinics a month. Now we have four a week.
'In addition to our core work, we are also getting requests from different clinics to treat other hard-to-reach patients. This includes visiting Napier Barracks to care for asylum seekers and refugees.'
Extracting their own teeth
Often, the people they see, have survived the treacherous waters in boats across the Channel from Calais to Dover. They are suffering dental pain and infection among other health problems.
For those who are homeless, dental problems can lead to them self-medicating with drugs and alcohol to mask dental pain if they are unable to access professional care. This in turn is problematic for anyone on rehab programmes.
Statistics suggest around 15% of homeless people have tried to extract their own teeth. Jill recalls some extremes people have gone to in the effort to relieve themselves of pain. This includes one man who attempted to lever out a tooth using a spoon. Many have the misbelief that their teeth 'aren't worth saving'.
So, Dentaid provides a vital lifeline to better health and self-confidence for hundreds of people.
Overcoming problems
During sessions, volunteer clinicians are also on hand to offer oral health advice, screen for mouth cancers as well as hand out toothbrushes and toothpaste.
Sadly, many vulnerable and homeless people can feel disengaged with traditional services and face logistical challenges, too.
Often, they haven't a mobile phone, no email address and do not feel comfortable in the setting. Or they might not have anywhere to put their belongings.
Dentaid's support staff work hard to ensure they feel safe and comfortable.
'Life is quite challenging for many of those we see,' Jill continues. 'So we ensure we return to the sites we visit frequently for them to get used to us and to continue care.
'With confidence, people's perspective can change and often just the presence of our mobile clinic encourages people to come to see us.
'Logistics created by the pandemic make accessing care even more problematic for the most vulnerable and homeless people. Phoning from a car is impossible, plus many people we see carry their whole world around with them or might have a pet but no one to leave it with.'
Dental Sky support
The charity has two mobile units each with one chair. Run by two Dentaid staff, the clinics require a dentist and nursing assistance.
The charity recently notched up the significant milestone of 100 clinical sessions.
And the work has its positives for the clinicians who volunteer as well as the patients they treat.
Jill explains: 'Satisfaction for volunteers comes in many guises. From seeing people recommitting to a rehabilitation programme to patients getting a job or securing a house of their own.
They are well supported by the profession but are always seeking new volunteers, who are required to undergo an onboarding process before volunteering.
Dental companies are also on side. Dental Sky, for example, gift them a £100 allowance each month to spend on consumables. They will also distribute the charity's annual report along with their orders, thereby relieving the charity of hefty postage costs.
Jill says: ' We are fortunate that Dental Sky has supported us historically and recently gave us a £100 monthly budget to spend on consumables. They are also sending out our annual report with orders.
'It's financial support but also great marketing. And it's a key way of raising awareness of our work and letting dentists and their teams know we exist.
'We are growing all the time and get several calls a week from centres who need our help. We now have a long wish-list of places that have requested our mobile units. So much so that we need another vehicle, so any fundraising is hugely welcome. Demand is skyrocketing.'
One part of the jigsaw
In November, they start working at Calderdale in West Yorkshire at a secondary school and plan to get the whole school dentally fit.
The team is also supporting head and neck cancer patients at Southampton General Hospital in a venture jointly funded by Macmillan Cancer Support and the hospital trust.
Dentaid provides free dental care for head and neck cancer patients and volunteers attend once every two weeks.
The team at Dentaid firmly believe each patient they see deserves a chance at regaining their confidence and to feel better about themselves and their prospects.
'We are only part of the jigsaw,' Jill says. 'But without good oral health, these vulnerable patients are not going to move onto new chapters of their lives if they are in pain.'
---
Any dental professional or practice team can get involved with Dentaid by sponsoring a clinic, fundraising (Dentaid offers social media support to those staging charity events) or volunteering. For more information, visit www.dentaid.org, email [email protected] or call 01794 324249.