Understanding clinic to lab digital workflows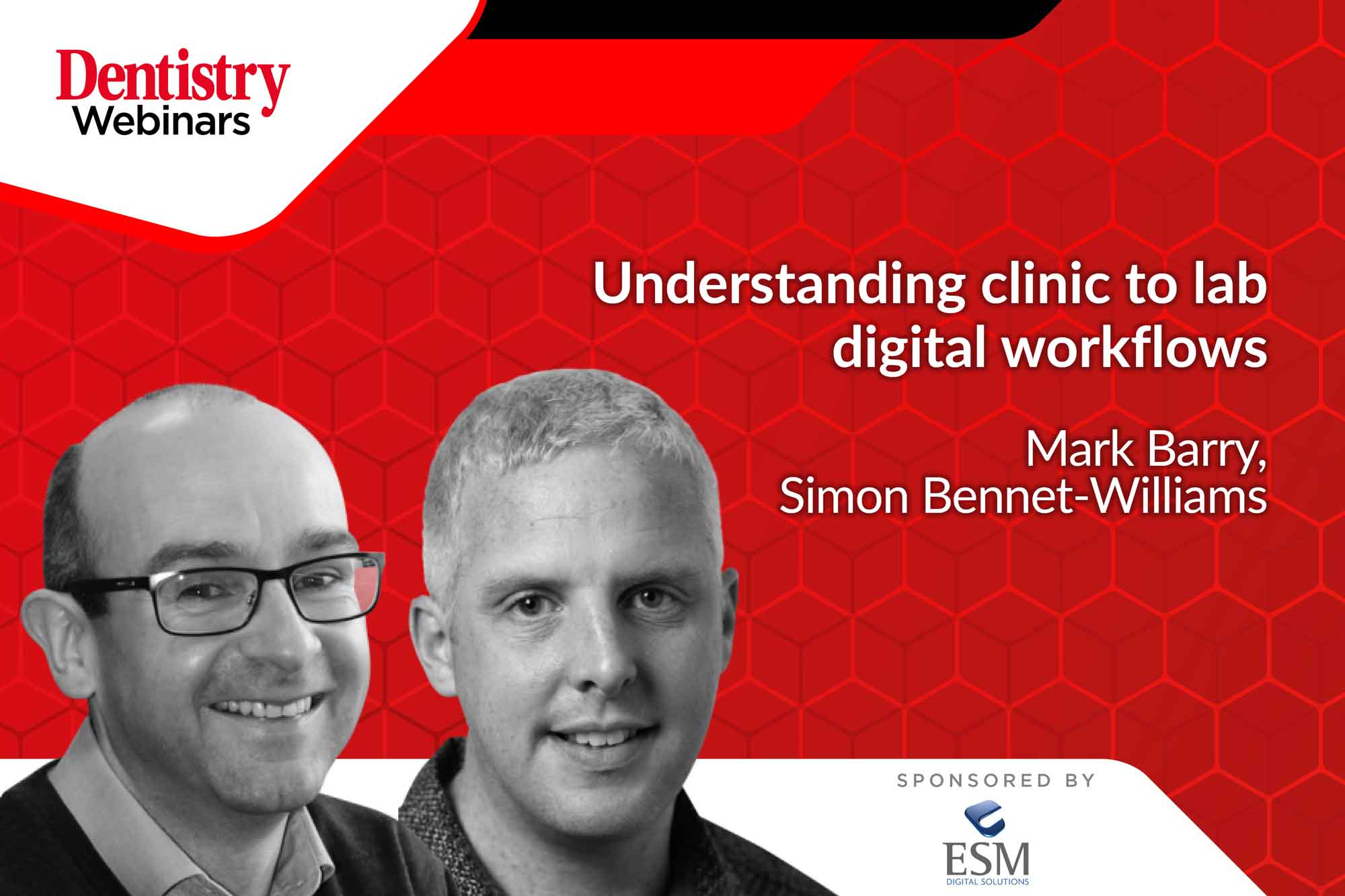 Join Mark Barry and Simon Bennet-Williams as they discuss the practice-lab workflow during a free webinar on 18 November at 19:00.
This webinar will give clinicians who are using IOS in daily practice an insight into how laboratories use these scans and some of the challenges that can exist.
In this webinar, Mark and Simon will present typical workflows from a clinic and laboratory perspective.
This webinar has been developed to demystify lab workflows. It aims to give the clinician a greater understanding of how the laboratory uses their IOS scans. As well as addressing common pitfalls and errors along with the impact these can have.
Learning outcomes
Getting a good IOS scan
IOS implant workflow
Implant scan bodies
IOS tools to help the lab
Lab communication
Lab workflows – implant scans and restorative options
Virtual articulation
Fully digital workflow – the missing gaps?
Mark Barry
Mark is co-founder and managing director of ESM Digital Solutions. An early pioneer of digital dentistry, Mark began providing a digital study model service for dentists as early as 2007. He was one of the first to realise the industry-changing potential of scanning technology.
With a first-class honours degree in mechanical engineering and a masters degree researching 'The strength of taper-lock dental implants', Mark is well versed in this area.
He is a frequent presenter at dental conferences and been published in both UK and international journals.
Prior to co-founding ESM Digital Solutions, Mark worked for several years as a lecturer at DIT focusing on 3D scanning, CAD/CAM, production and quality strategies. He describes his love of teaching and mentoring as 'food for the soul'.
Mark is a keen road cyclist and volunteers with his local Sea Scout group. This gives him plenty of opportunity to spend time in the open air on land and on sea.
Simon Bennet-Williams
With a degree in dental technology from De Montford University, Simon is ESM Digital Solutions' training and support specialist working across Ireland and the United Kingdom.
ESM customers will benefit from the depth of his professional knowledge in digital dentistry. He has 20 years experience. From hands-on work in laboratories to acting as a technical product manager for some of the industry's most prominent organisations.
Simon is an expert at many of the newest technologies available. He has travelled globally introducing them to those in the industry through training and support. He also regularly demonstrated newest and emerging technologies at trade shows. And creates training documentation and interactive resource material.
An outdoor enthusiast, Simon spends as much of his free time as possible in the Welsh countryside kayaking, hiking, camping, and walking with his family.
---
To register for this webinar, simply visit www.dentistry.co.uk/webinar.
Catch previous On Demand webinars: