DD training services – medical emergencies in the dental practice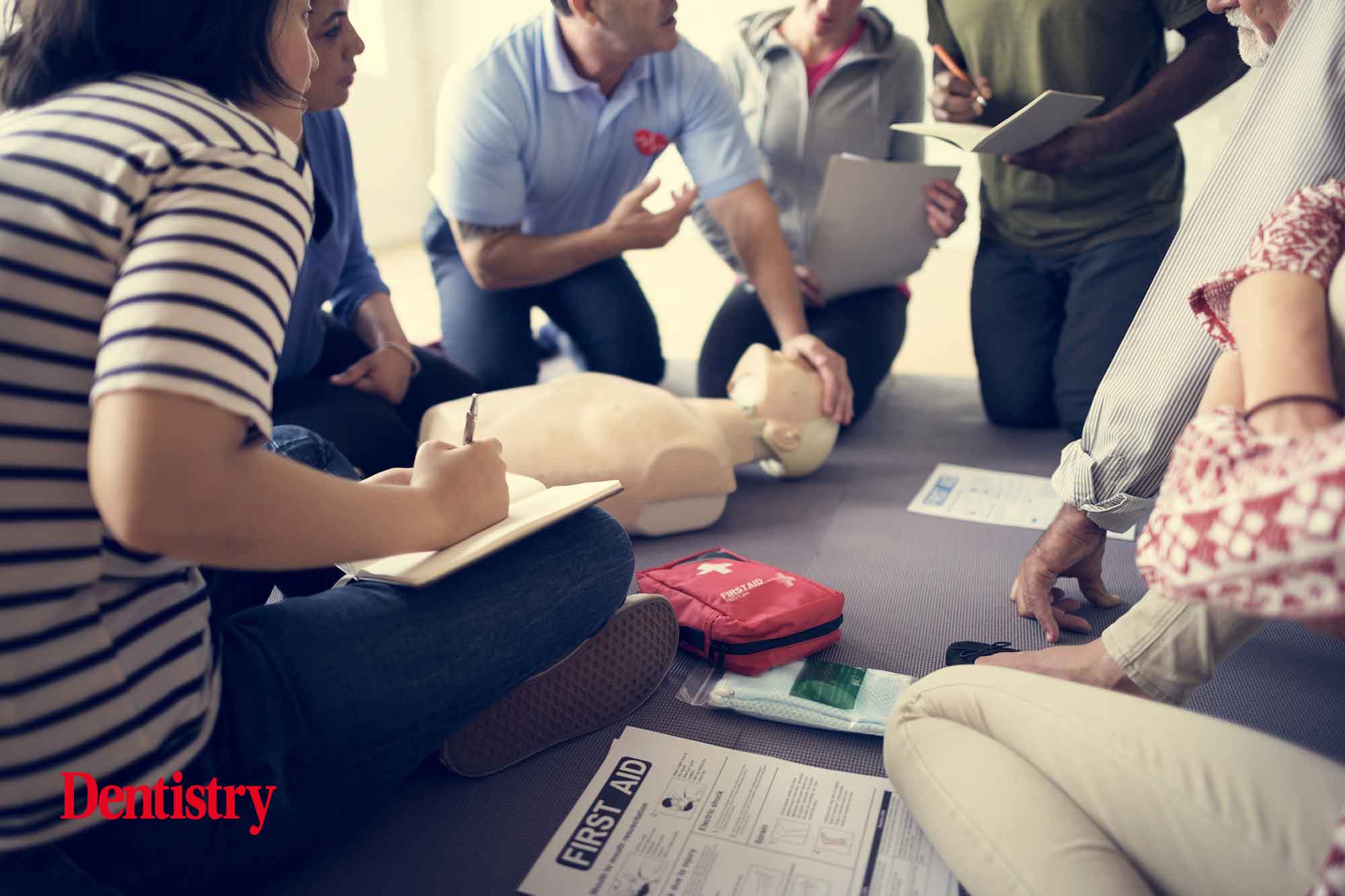 We take a closer look at some of the training courses DD provides. Here DD explains how important it is for practice staff to have up to date training on dealing with medical emergencies.
'A patient could collapse on any premises at any time. Whether they have received treatment or not.
'It is therefore essential that all registrants receive training in dealing with medical emergencies, including resuscitation. And they possess up to date evidence of capability' (General Dental Council Scope of Practice, 2013).
Primary Dental Care Quality standards for CPR: These standards are written with resuscitation in mind, the Resuscitation Council prepared the following statement within the document.
'Those requiring information on medical emergencies encountered in dental practice (other than cardiorespiratory arrest) are referred to the relevant section in the British National Formulary (BNF). Further enquiries should go to the Dental Advisory Group of the BNF. Or the British Dental Association who contributed to the advice within the BNF.'
For more information, visit www.resus.org.uk/library/quality-standards-cpr/primary-dental-care.
Medical versus dental patient
Patients arriving at a dental practice for dental treatment are within a healthcare environment that is suitable and able to offer a care pathway or solution for their clinical presentation.
We equip modern dental practices to effectively deal with dental problems. The issue arises when a dental patient arriving at the dental practice transitions into a medical patient with a dental problem.
We don't fully equip dental practices to diagnose, treat, and discharge medical patients. Once a patient transitions from a dental patient to a medical patient, priorities shift.
Patients are no longer dental patients, but medical patients. In some circumstances, this can become life threatening.
Once identification of a medical problem is confirmed, it is important to put into action the care pathways, clinical assessment and treatment standards that are available/required.
To deny a patient accurate clinical evaluation including a simple physiological examination is negligent. A basic vital sign assessment and evaluation is difficult to accomplish in a dental environment. This is due to a lack of diagnostic equipment. Not to mention more advanced assessments such as electrocardiography.
When reviewing the standards from the GDC and Resuscitation Council, the word 'manage' medical emergencies can have many definitions. From 'to be in charge of', 'maintain control over' to 'have the position of supervising'.
Given the complex nature of medical models, standards of treatment and diagnostic processes, along with available care pathways that must be recalled, it is always advisable to seek further assistance from emergency medical clinicians.
Emergency medications
Emergency medications are a standard requirement in a dental practice. The British National Formulary (BNF) and its associated drug protocols is a mainstream clinical reference manual. It is noted as the dental professional standard reference for managing medical emergencies.
In most circumstances, the administration of emergency medication within the dental practice is a simple consequence of the patient neglecting to utilise or to have on them, prescriptive medications for their specific medical conditions that manifest with acute symptoms eg salbutamol to treat their asthma.
Every clinician that prescribes drugs should understand that each drug has:
Indications
Contra-indications
Interactions
Side effects
Cautionary notes
Basic pharmacological knowledge of the actions of the substance.
Utilising a reference manual at this point is imperative for patient safety and considered standard practice in medicine. The aim is to deliver focused treatment that serves to preserve life, prevent deterioration, and promote recovery.
It is quite a mental task to recall every bit of information about every drug that is available to utilise during a medical emergency. Especially when under stress!
Not only does the BNF contain all of this information, but it also has a section that specifically focuses on common medical emergencies in the dental practice.
The BNF is a professional reference tool. The Resuscitation Council UK lists it within the primary dental care training and quality standards. It is the primary resource for drug protocols to ensure that clinically correct management and treatment is delivered to a patient that is categorised as a 'medical emergency'.
As medical emergencies are complex in nature and cause stress to healthcare professionals not working within that area of expertise, it is important that high quality training, acquisition of correct equipment and the use of the British National Formulary are part of practices' protocols to manage medical emergencies.
Training
Training is an important part of being able to manage a medical emergency in the dental practice.
Principle 6.6 (Standards for the Dental Team, 2013)
Medical emergencies can happen at any time in a dental practice. You must make sure that:
There are arrangements for at least two people to be available within the working environment. They can deal with medical emergencies when treatment is taking place
All members of staff, including those not registered with the GDC, know their role if there is a medical emergency
All members of staff who might have involvement in dealing with a medical emergency receive training to do so at any time. They practise together regularly in a simulated emergency so they know exactly what to do.
The GDC also states that registrants must follow the guidance on medical emergencies and training updates issued by the Resuscitation Council (UK).
Conclusion
Through the acquisition of thorough and correct training, working within the guidance and protocols of the BNF and careful selection of equipment/drugs, dental professionals can deliver a patient-focused management plan from, knowledge, skills, and references. This promotes preservation of life, prevents deterioration, and promotes recovery whilst awaiting the arrival of the Emergency Medical Services.
---
DD's experienced practice support consultants deliver personalised training within your practice. They ensure all material is relevant to your working environment.
With subjects ranging from basic life support and medical emergencies to the control and prevention of infections and COSHH/legionella awareness, DD is here to assist you and your team.
We also offer remote training options.
All training sessions offer verifiable CPD.
Visit Training courses – dental business support – DD (ddgroup.com) to find out more, or you call/email our team on 0800 028 1697 (option one) or email [email protected].