The transformation of implant bed preparation: a clinical guide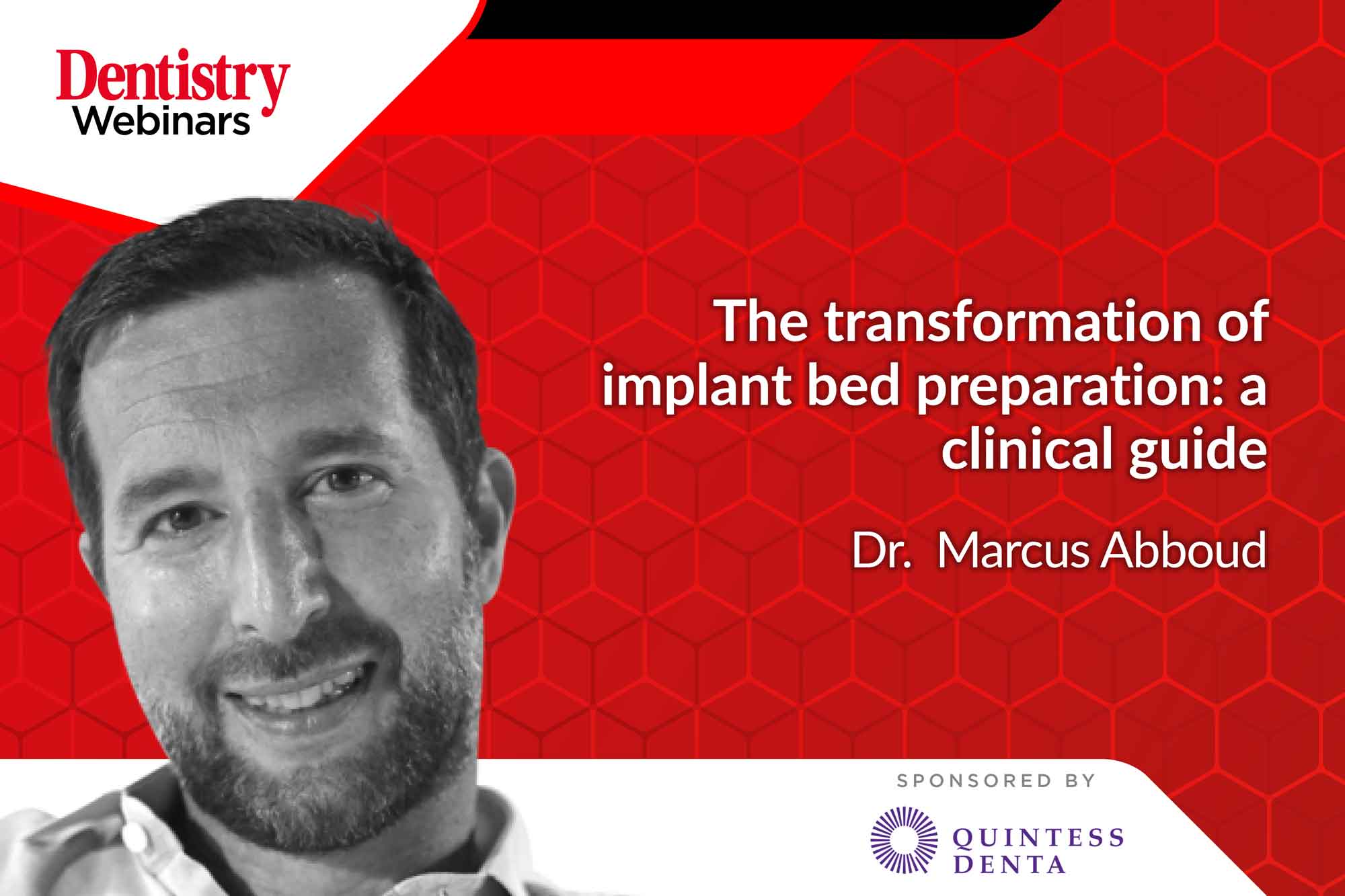 Join Marcus Abboud discuss the importance of implant bed preparation during a free webinar on the 3 November at 19:00.
From conventional, lengthy workflows with compromised functionality, implant bed preparation today has transformed into contemporary, highly efficient procedures benefitting every implant placement and providing vital bone around the fixture.
Recent studies evaluating the consequences of bone preparation led us to rethink the design of bone-cutting drills. Especially those intended for implant bed preparation (IBP).
The aim is to utilise highly efficient clinical protocols in combination with the preservation of bone viability at the osteotomy site. Safe and efficient clinical protocols allow for fast restorative loading protocols with predictable results.
The common drilling and tapping procedures for the conformation of the implant bed can impact the surrounding bone viability. The main purposes of drilling are to provide fixation for the implant in the apical portion and/or fixation to the lateral walls of the surrounding bone. This mechanical fixation delivers short-term primary stability.
Primary stability
We can measure primary stability after implant placement with a variety of devices today. This helps the clinician take an educated decision which treatment is possible or best in this specific scenario.
What we cannot evaluate today is the transient and long-term effect of the implant bed preparation. Depending on the drilling technique, drilling materials, drill bit geometry or bone characteristics, a greater or lesser degree of thermal and mechanical injury can occur.
Temperature rises during the bone drilling procedure can easily reach threshold temperature. Above this necrosis of human bone will take place.
Any critical thermal damage will result in increased bone remodelling and an extended healing period that is delaying the osseointegration process. Creating a safe IBP with healthy bone cells surrounding the implant can certainly be a key ingredient for implant success and the subsequent restorative approach.
Various clinical approaches to implant site preparation and the related thermal damage including the clinical consequences will be illuminated in this lecture:
Conventional drilling, which is the gradual expansion of the osteotomy site by sequential increments of the drill diameter
Simplified drilling, which consists of the reduction in the number of drills through the use of a specially designed starter drill followed by a final drill
Biological drilling, which consists of low speed drilling without irrigation for incremental site preparation
One drill bit protocols, performed with specially designed drills and external irrigation.
Learning outcomes
History of implant bed preparation and the conventional sequential drilling protocols used today
The importance of the starter drill bit
Introduction to new bone drill bit designs replacing conventionally pilot drill bits
Simplified modern workflows using just one or two implant drill bits for any osteotomy.
Marcus Abboud
Dr Marcus Abboud graduated from the University of Bonn (Germany) in 1996. He started his prosthodontic training at the same university in 1997. In 2000 he received his PhD in dentistry/prosthodontics.
From 2001 to 2003 he worked in the Department of Dental Research (Material Science) at the University of Bonn before joining the oral surgery certificate program at the same university in 2003.
He successfully completed the program in 2007 and worked there as an assistant professor and PI for interdisciplinary clinical studies until September 2010.
Dr Abboud received his expert certification in CBCT technology and diagnostics in 2010 from the Dental Medical Association Nordrhein.
Since September 2019, he has been working as the CEO of Loocid LLC, a medical and dental innovation company.
Dr Abboud has authored over 50 publications, research articles and book chapters. He has performed over 250 national and international lectures on CAD/CAM technology, digital dentistry, implantology, bone grafting, guided surgery and CBCT/CT diagnostic imaging and has been involved in research for over 18 years.
He holds multiple patents, being used in various countries, which provide new solutions for dentistry.
---
To register for this webinar, simply visit www.dentistry.co.uk/webinar.
Catch previous On Demand webinars: