Dentistry CPD: new this week – implants and periodontitis – should we go there?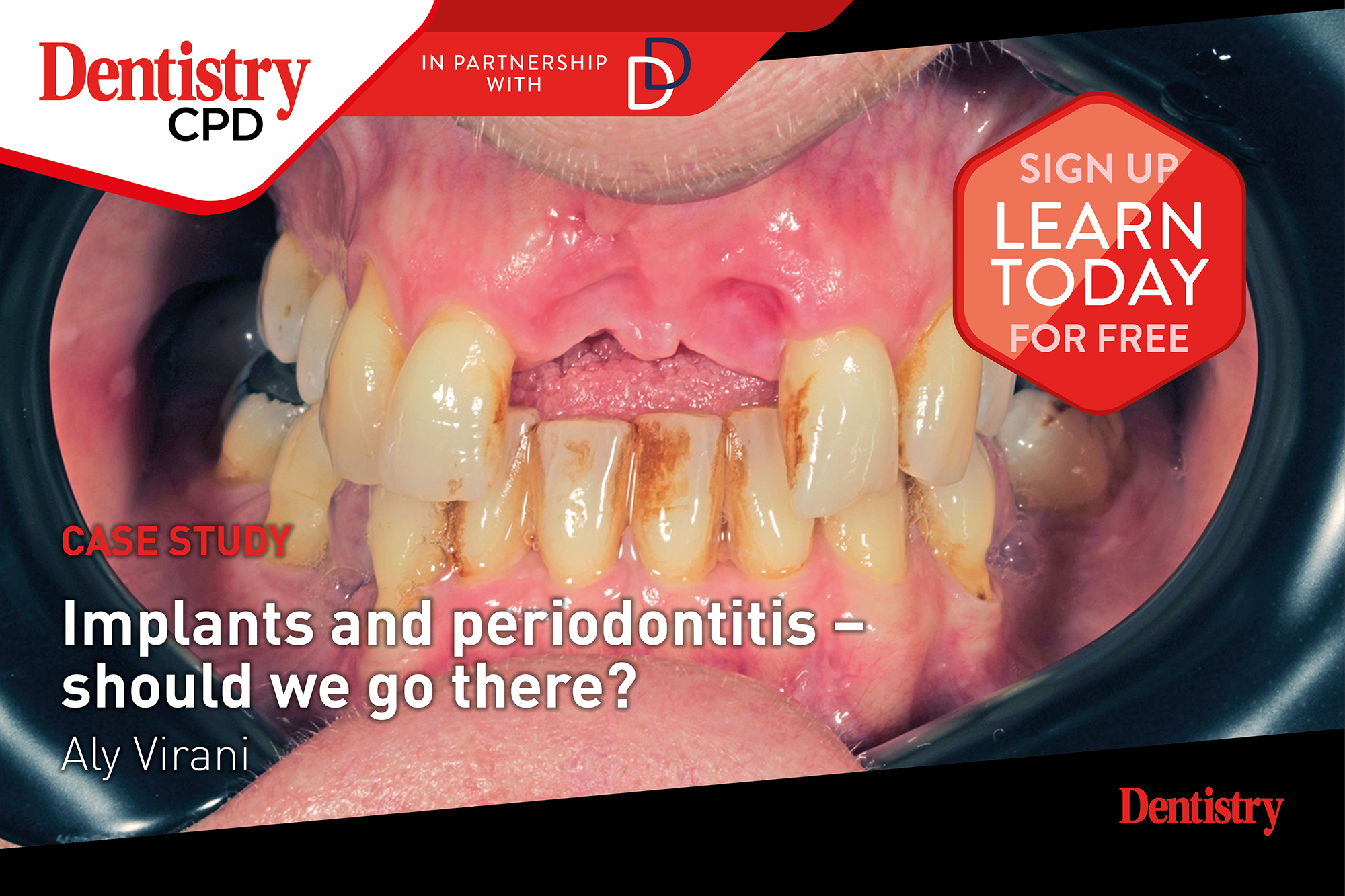 Dentistry CPD is a hub of activity delivering CPD for thousands of delegates. Best of all, it is all completely free of charge.
Launching earlier this year, there are already more than 200 courses available to view. With something available for all members of the dental team covering all dental interests.
Features include:
Quick and easy-to-read slides
Regular video lectures
Create your own Personal Development Plan
CPD tracker helps you easily log and view your CPD across your five-year cycle
Live and On Demand webinars
Get enhanced CPD for recommended topics and personal interests
Finally, store your certificates from Dentistry CPD and externally all in one place.
To register for free, simply visit www.dentistry.co.uk/cpd.
New this week
Aly Virani looks at the considerations and possible complications which must be taken into account when planning implant treatment for periodontal patients
The soft tissues around dental implants contain fewer cells (fibroblasts) and more collagen than found in the periodontal ligament. The peri-implant tissues are also less vascular.
The lack of PDL means that the tissues around an implant are less responsive and resilient. The tissues around a healthy implant are as delicate as the tissues around a successfully stabilised periodontally involved tooth that has experienced previous loss of attachment.
Trending this week on Dentistry CPD
Retaining and disposing of patient records
Sometimes a complaint or clinical negligence claim can arise years after treatment. Consequently, Eric Easson, dentolegal adviser at the DDU, explains the importance of retaining and the secure storing of patient records.
Clinical records should be retained for at least the minimum periods recommended in national guidance or required by statute. For patients who regularly attend the practice, there is justification for retaining these records indefinitely to assist in the ongoing care of the patient.
The DDU often receives requests for assistance many years after an event has taken place. An absence of records can it make it significantly harder to mount an effective defence against any allegations.
To read this article in full, and also gain one hour of CPD, visit www.cpd.dentistry.co.uk/courses/retaining-and-disposing-of-patient-records
---
To register for Dentistry CPD and gain access to hundreds of hours of CPD for free, simply visit www.dentistry.co.uk/cpd.