Streamline your air supply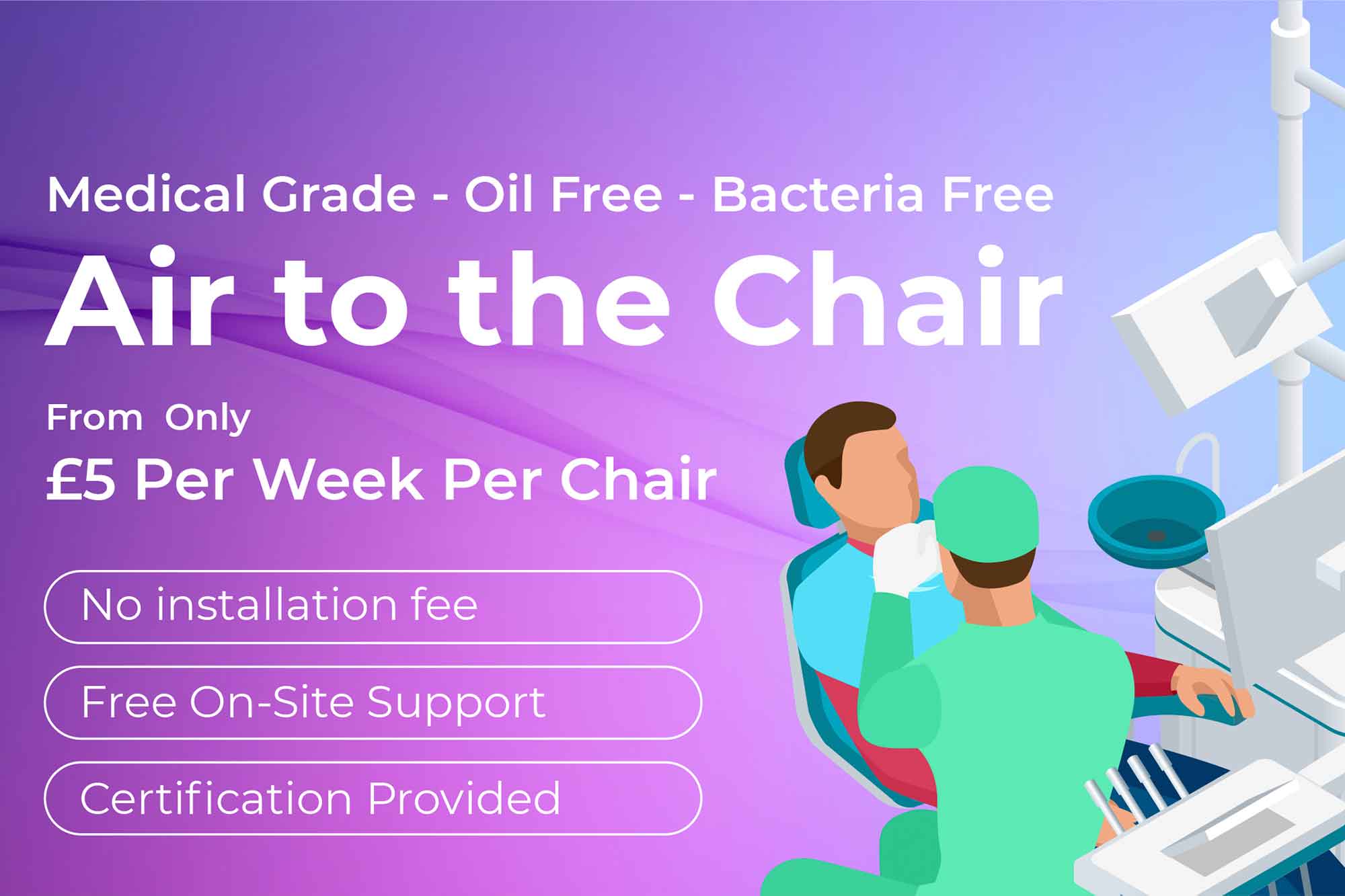 Dentalair Utilities explains how it can streamline and simplify your air supply, helping you stay compliant and demonstrate your commitment to standards of good practice.
In dentistry today, time is everything. After all, it's now not just about working closely with your team to provide an exceptional level of care. It's also about effectively managing your practice so that it continues to be a modern, welcoming space that innovates with the times.
But is your air supply still stuck in the past?
Maintaining and keeping a close eye on your air supply can cause a significant amount of wasted time and stress. All of which you can avoid with the help of Dentalair Utilities.
Everything you need in a couple of clicks
Dentalair Utilities has made taking care of your air supply easier than ever before with its new Air to the Chair option.
By simply logging onto the Dentalair Utilities website and selecting how many chairs you need an air supply for, you will receive a bespoke price that completely reflects your individual needs. All from £5 per chair per week.
Under this policy, a state-of-the-art, oil-free air supply will provide safe, sterile medical-grade air. Installation is always scheduled around when works best for you. This minimises downtime for your practice and ensuring that the transition is as seamless as possible.
Plus, you can also ask our team of expert technicians to remove and dispose of your previous air supply for maximum convenience.
When you choose Air to the Chair, one of the biggest perks is that your air qualities will be tested upon installation. Following this, we will issue air quality certification. As well as an ongoing PSSR written scheme, which is part of the BDA Good Practice scheme.
This communicates to patients your ongoing commitment to working to standards of good practice on professional and legal responsibilities.
These documents are vital for CQC inspections. They provide you with an added safety net that makes it clear you are doing all in your power to remain safe, compliant and in-keeping with guidelines in regards to your air supply.
What about maintenance and breakdown cover?
With Air to the Chair, these are all taken care of.
Dentalair Utilities' nationwide team of experts are always on hand to assist in the unlikely event of a breakdown. They will regularly service your air supply to ensure that it remains in perfect working order.
If you need an emergency call out, you can even guarantee that the team will be with you on the same day if you make the call to our customer helpline before 12pm!
No credit checks are necessary. Your fixed monthly subscription covers all service costs. This means that Air to the Chair is a stress-free option from start to finish!
Customer care that goes beyond
Dentalair Utilities will not only transform your air supply into another utility, but also provides a level of service that goes far beyond your expectations.
For example, if you were to experience a malfunction and the team couldn't repair the problem on site, you will be loaned a replacement system there and then. This will help to ensure that your practice remains up and running. And that your patients can continue to receive the care they need.
Don't just take our word for it. Here's what one of our customers, Dr Alex Manuelsson from Affinity Dental Clinic had to say about switching to our care.
'We've been with Dentalair Utilities for about two weeks now. The experience has been absolutely perfect so far. Our new air supply is very convenient, less noisy than previous equipment and doesn't require daily operation by staff. It means that we can just go about our business as usual without worrying.
'Plus, the customer care from Dentalair Utilities has been very superior to any of our previous experiences. The engineers were polite and professional. And the whole concept of Dentalair Utilities is so easy, reliable and such a good price!
'I would therefore absolutely recommend Dentalair Utilities to other professionals. Switching to its services is one of the best things I've done!'
Find out more today
With a flexible, bespoke approach to service, Air to the Chair from Dentalair Utilities is an option for everyone.
If you need advice or want to explore how the policy can transform your air supply for you, please head to the Dentalair Utilities website or give our friendly team a call today.
---
For more information, please visit www.dentalair.com. Alternatively contact Dentalair Utilities at [email protected] or call 0800 975 7530.