Ben Atkins' guide to the business of tooth whitening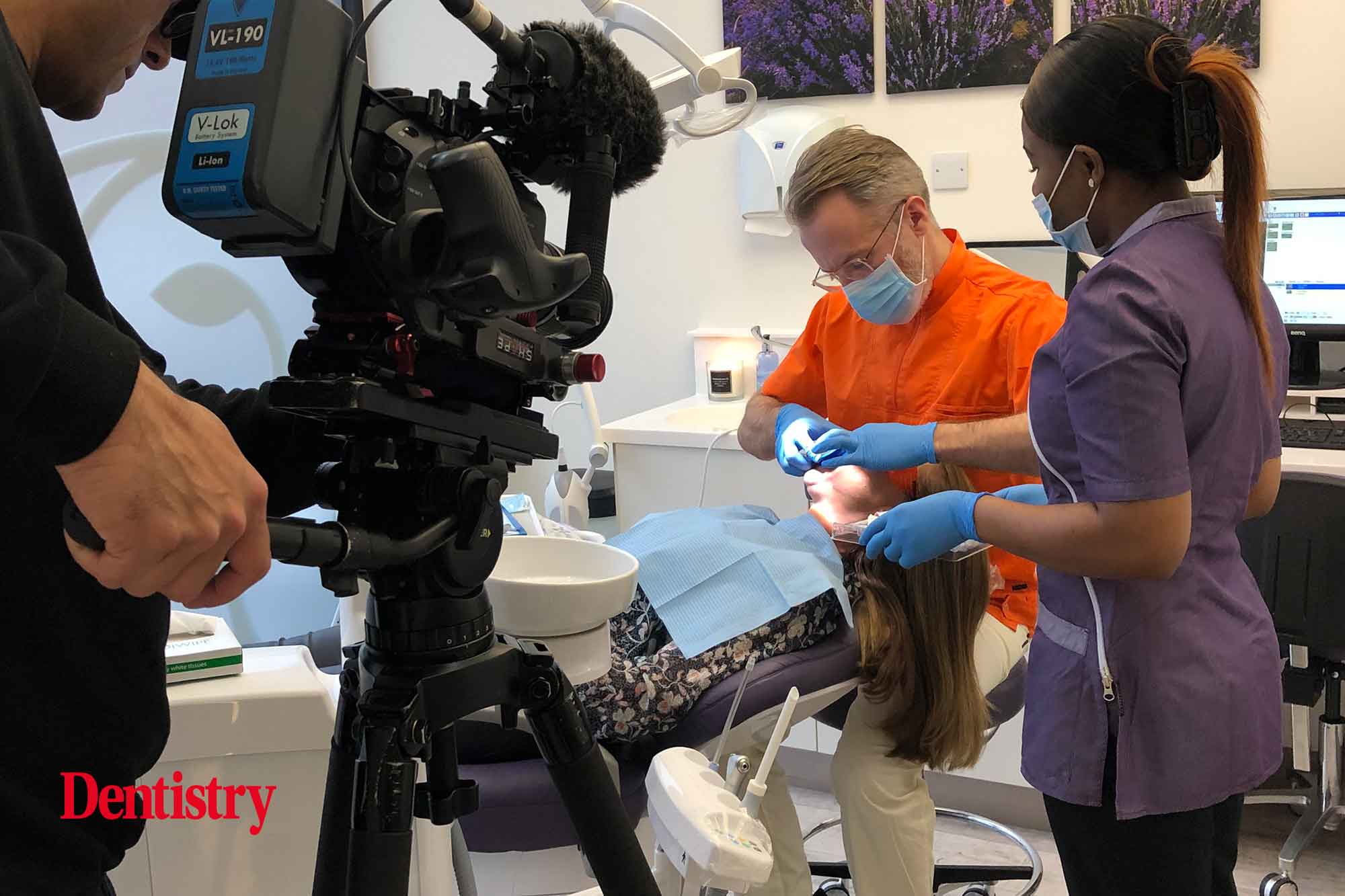 Ben Atkins discusses how to build tooth whitening within a practice and to ensure patients return on a regular basis.
As a business owner of eleven dental practices, it was important to maintain high standards and deliver the best care possible for my patients. So I decided to create a system that demarcates the tooth whitening processes and treatment journey for my teams.
Step one is look beyond the everyday
It is about coming to the realisation that most of us tend to focus on the nitty-gritty of what's happening in the dental practice, whilst we totally forget about the communications journey for the team and for our patients.
Just take tooth whitening, for instance. With the COVID environment and people spending more time analysing their appearance during Zoom meetings, the business of whitening is growing exponentially.
How can we run the business of whitening and make it profitable for the practice? How many dentists know how many whitening treatments they have performed in a year. Or in the past five years?
I suggest that dentists should perform an audit of all the whitening cases conducted in the practice using their practice management software.
They should draw together all the codes linked to whitening treatments and transfer all the data into an Excel spreadsheet. This should give them the total of treatments performed by every associate, therapist and hygienist over the years.
After consolidating the data, block out time for a practice meeting to talk about the findings. Map out new business strategies for whitening.
At the same time circulate a questionnaire amongst staff to understand in minute detail what they are each doing. What could they stretch to achieve?
Use the same form in step three to measure any improvements achieved. Make sure the whole team is on board with the same consistent messaging and belief in the treatments they offer.
What if?
Once dentists have a clear understanding of their figures, they should look at the: 'What if'?
What if I double the treatment price? What effect would this have on my profits? Then, what if I involve my hygienist to undertake the whitening? What if I empower my team to suggest initiatives to use tooth whitening treatment as an incentive (in combination with tooth straightening)? What if members of staff could use their own treatment figures to educate their boss about how powerful whitening can be to grow the practice?
I would also encourage everyone to set up a desensitisation treatment phase as part of the patient's whitening journey. This expands the service you can offer and provides added value to patients.
Philips' ACP products are ideal to initiate this. This could be step one in the treatment journey and you can charge extra for this.
Create new targets
I also worked with my Philips business manager to collaborate and work on a business model with new targets for the year. The company can also handle the treatment training, the tray making processes, production of branded promotional materials. This makes the whole process easier.
The Excel spreadsheet is a simple tool that can help you track where you are and where you want to be. If you set a target to perform 100 whitening cases this year, why not discuss with Philips to see if you can negotiate a rebate based on numbers and set up a scheme to that effect?
Philips also offers free lunch and learn sessions for the whole dental team. Here they go through the business of tooth whitening. They can also help with tray production if dentists prefer not to have that extra pressure of fabricating their own.
Interestingly, when we looked at our patient data, we saw that over 80% of our patients wanted to whiten their teeth. This was something we overlooked in the past as a business opportunity.
Why spend time and money to attract new patients, when you can market to your existing patient cohort?
So, we adapted our current medical history form and added three questions at the bottom asking what patients didn't like about their smile.
That simple process meant that a large proportion of our patients opted for a private scale and polish. Tooth whitening demand went up exponentially – and this was in a group of NHS practices.
Step two is about starting with the end in mind
A massive driver is to set goals for the team. Ensure every member is rewarded whenever a new milestone is reached.
Associates can employ their own therapists, undertake training in a treatment area you have not yet covered in the practice, and even buy some of their own kit (such as an intraoral scanners) to help them build up their business and demonstrate their acumen.
Set targets for your therapists. Ask them to sell whitening treatments. If they exceed their target, they get a bonus.
Invest in your nurses; they can perform oral hygiene treatments, which will help increase your practice's value for money. You can fit in more sessions per day.
By elevating everyone in your team, you will build teamwork and job satisfaction. As well as increase the profitability of your treatments.
Whiten the teeth of all your staff members too. Everyone from your associate to your reception team can talk to patients about their teeth whitening treatment. They can reassure people that it doesn't hurt, and talk about their desensitising journey. They are your greatest walking advertisements for a wide range of treatments.
At this stage patients can be advised that seeing a dental professional for whitening is so important; the practice uses the best whitening trays on the market; why the system you use is so well researched; why paying attention to sensitivity is important.
Discount or not to discount
Instead of discounting, what about offering tooth whitening top ups for patients who have regular appointments. And what about giving patients a Sonicare toothbrush bundled within the price of the treatment package – making it look like an added value?
Showcase the huge value for money this package is. Show your patients the money they are saving by opting for a package.
Build in added value, rather than discounting. This will help patients understand the value of the treatment they are receiving.
Create treatment packages for patients having tooth alignment, implants and restorative treatments. Each of these could include tooth whitening as part of a comprehensive treatment compendium – not as a discounted end of treatment incentive – but as an integral part of the treatment at the most appropriate time in the treatment journey.
So, for alignment, it is around six weeks before the end, before their attachments are removed; for implant and restorative patients it is before they have their new crowns, bridges or veneers created so that we can shade match accurately.
After treatment, you can share the before and after photos with the patient. Encourage them to share them on their social media channels; add a social media component to your consent forms so you can post or repost their before and after images too.
You could give patients who refer a friend a discount code for their next treatment to encourage word of mouth referrals.
Reminders
All patients should also automatically get a whitening top up reminder every 18 months after their initial treatment.
Remind patients to keep their trays safe for a cheaper top up treatment (as they won't need to have new trays); this will have the benefit of reminding patients to book another treatment.
I believe dentists should create a variety of treatment packages and journeys for the patients. Patients will feel valued and cared for when receiving information about what they can do to maintain their newly whitened smile.
The rewards are significant. Patients will focus on their smiles more too, which often leads to requests for other, more extensive treatments.
Many dentists who have not yet embarked on the journey of whitening might think that marketing is one of the first steps to take.
In reality, treatments are predominantly triggered because of word of mouth recommendations. Along with dentists/staff simply discussing what patients like or dislike about their teeth.
It is less expensive to harness your existing patient base to grow your whitening business. The rest will flow from there.
This step allows the practice to really focus on creating a flawless whitening service.
The practice owner can build a treatment journey protocol drawing on feedback from every team member so they all adhere to the same clear and simple processes.
Step three is to review and audit everything that has been implemented
Obtain staff input on whether the processes work and look at possible improvements every step of the way.
Once again the Excel spreadsheet becomes useful. It allows you to compare where you started from, and what results you have achieved, and what improvements you can still make.
---
For more information about Philips Zoom whitening visit www.philips.co.uk/c-m-pe/dental-professionals.