Your air supply, simplified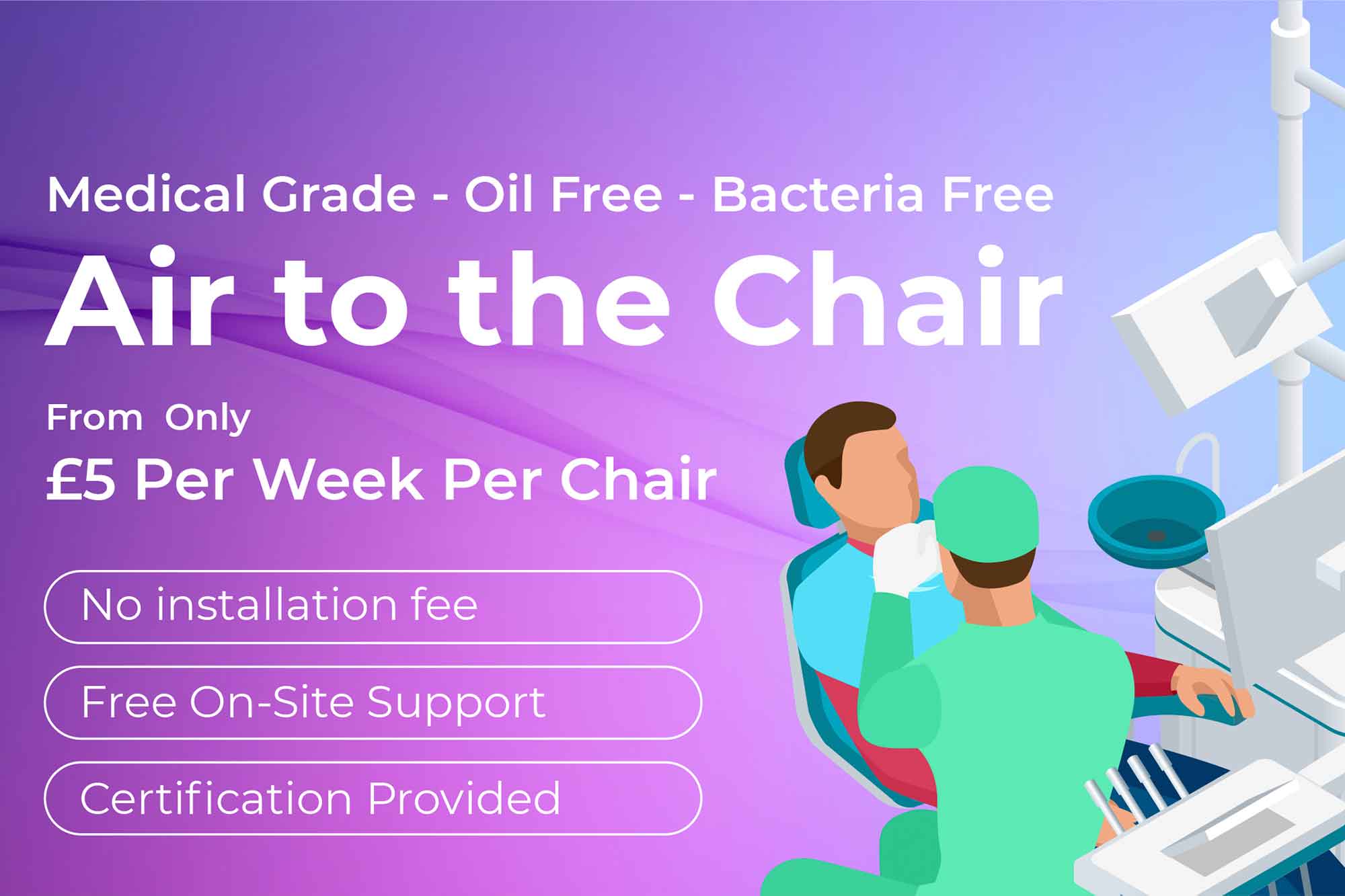 Dentalair explains how to simplify uninterrupted, reliable, oil-free and sterile medical grade air supply for as little as £5 a week per chair.
In dentistry, it pays to keep things simple. The bane of a dentist's working week is ensuring a reliable supply of consumables, materials and utilities.
For energy such as electricity and water this is relatively stress-free – but what about your air supply (air compressor)?
When considering your air supply, it's easy to get caught up in details such as reliability, maintenance and written PSSR schemes. All of which take considerable time and energy to think through. But what if there was a way to keep this incredibly simple and stress-free?
Dentalair has recently launched a new website that completely removes the time-consuming elements of sourcing and maintaining your air supply.
Introduction
Dentalair is revolutionising air supply for surgeries. Its new 'Air to the Chair' option is really as simple as selecting how many chairs you want an air supply for in your practice and proceeding from there.
You can then rest assured that Dentalair will install a new air supply. This will give you uninterrupted, reliable, oil-free and sterile medical grade air all at a total cost of just £5 a week per chair.
This fixed cost includes the delivery and installation of your new air supply, as well as maintenance and 24hr support, air quality testing with certification and an on-going PSSR written scheme of examination documentation.
This means that all you need to do is pay the monthly subscription fee. Then you'll have absolutely everything covered. Instead of having to worry about the ongoing responsibility concerns.
This novel 'Air to the Chair' system effectively transforms your air supply into a utility comparable to how you think about water or electricity. Plus, much like these energy supplies, the 'Air to the Chair' system is adaptable. It is available as either a 36-month or 60-month term that practices can adjust to accommodate any changes to the number of chairs needing air.
How to use the website
Once you're on the Dentalair.com website, you can find the 'Air to the Chair' platform, complete with easy-to-use dashboard.
From here, fill in the number of chairs that you want an air supply for. The website will automatically calculate the appropriate equipment needs and the fixed monthly cost.
Then, once you're happy with what you've selected, you can proceed with your chosen day and time to have your new air supply fitted whenever is most convenient for you. Even next day if required!
There are no credit checks necessary with subscription payments, no capital outlay. As soon as you have signed up, you will have total peace of mind. Another time-consuming aspect associated with running a dental practice is completely taken care of.
If you have any concerns, the helpful team at Dentalair is always on hand to assist you through the process.
A new chat function on the website means that you can speak to a representative at any time. So if you are unsure at any stage you can seek the bespoke information you require.
Trust the experts
Dentalair has taken care of air supplies in dental practices for over 20 years. It has always dedicated itself to providing an exceptional level of customer service.
Now, by revolutionising how dental practices can receive their air supply, Dentalair has ushered in a new era of stress-free solutions. Dental professionals no longer need to worry about balancing their air supply alongside all of the other responsibilities of running a successful practice.
So, why not try the new experience of 'Air to the Chair' today? The team at Dentalair is happy to help.
---
For more information, please contact Dentalair at [email protected] or call 0800 975 7530.