Implant Dentistry Today March issue now ready to read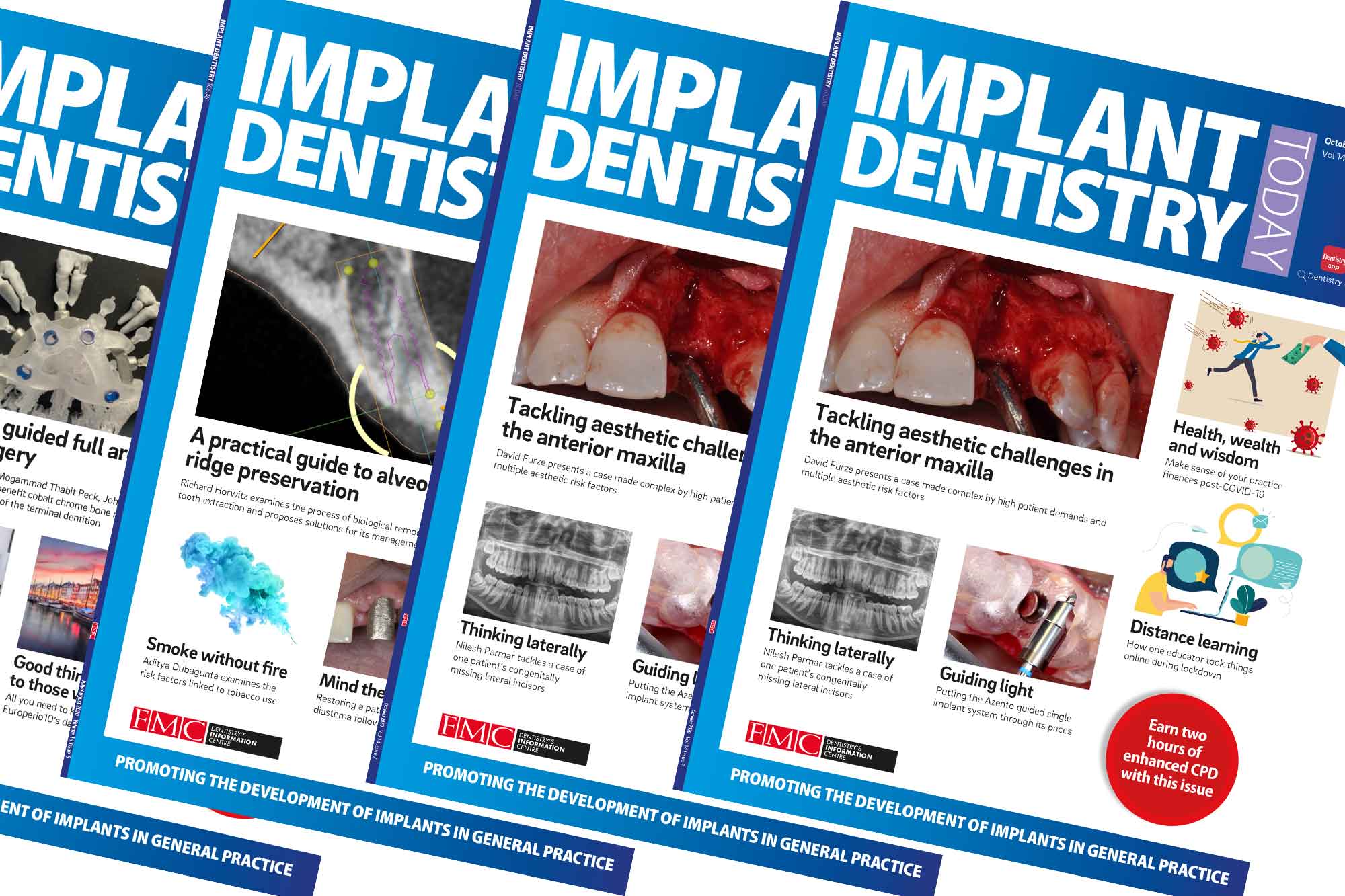 The March issue of Implant Dentistry Today is primed and ready for reading – in a fully accessible online format.
It comes jam packed with practical, accessible articles on implant dentistry designed to boost readers' understanding and also clinical workflows.
Highlights in this issue include:
Short implants, sinus augmentation and immediate loading
Vertical ridge augmentation with block bone grafting
Understanding patient selection in full arch rehabilitation
Intraoral scanning in practice
Combatting bone loss with partial extraction therapy.
Implant Dentistry Today March issue
Eduardo Anitua, the Spanish clinician behind the BTI Biotechnology Institute, shares his thoughts on short implants. His paper examines whether immediate loading is a suitable protocol for short implants following sinus augmentation. He draws on the evidence base to illustrate when and how short implants can make the difference.
Elsewhere, clinician and mentor, Chang IC Teoh, continues his series on vertical ridge augmentation. In this issue he looks at how block bone grafting, though challenging, can provide predictable, aesthetic solutions.
We hear from some of the UK's most esteemed clinicians on their experiences with intraoral scanning, too. Mark Barry sat down with Tif Qureshi, Andy Wallace and also Daz Singh to hear about their early days with Trios technology.
That's not all: the crucial issue of patient selection also takes a turn in the spotlight. Jessica Maguire discusses how Evodental identifies suitable – and unsuitable – patients for their full mouth rehabilitation approach.
The March issue doesn't stop there. From partial extraction therapy to talking finance, it also contains everything you need to make a success of implant practice. There is even a healthy section focusing on the latest technology, products and services in the market.
The digital format of Implant Dentistry Today is designed to make it easier for everyone to access the journal. The title itself is a well-established blend of practical clinical content and forays into the issues surrounding implant dentistry.
Simply head to idtmagazine.dentistry.co.uk to uncover the March issue (as well as a comprehensive back catalogue).