Angie Heilmann MBE – a life in dentistry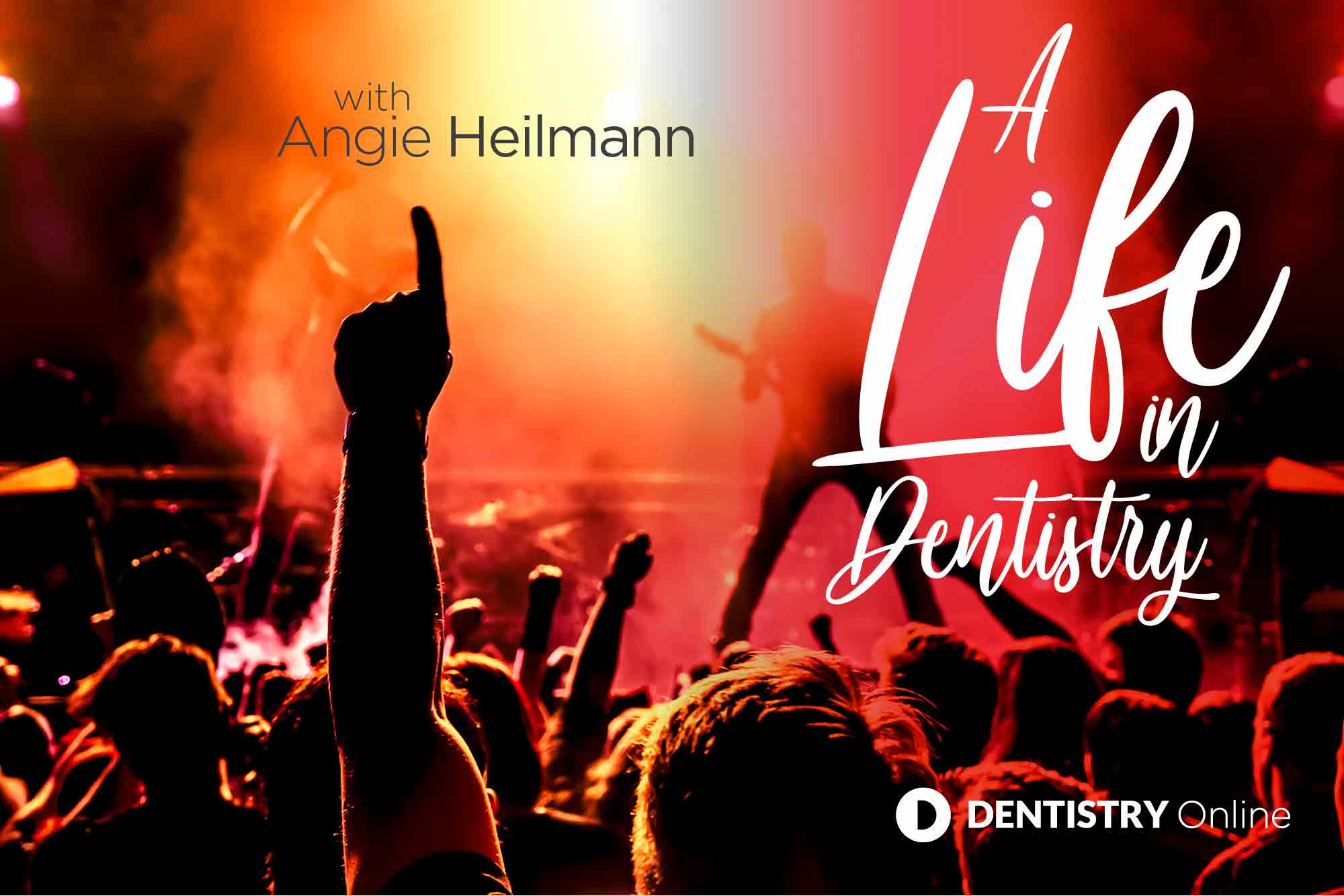 Angie Heilmann talks about her journey into dental nursing, touring with bands and falling down the stairs before receiving her MBE.
How did you get into dental nursing?
I was 13 when my journey into dental nursing began.
Basically I did a week's work experience at a local dental practice as part of my school work experience programme. Although I was extremely dental phobic, I really enjoyed it.
My mother was hugely surprised because I was such a phobic patient, she had trouble getting me to the dentist. I'd always cry at the thought of treatment.
I was going to go back to school and do highers and then I decided I wanted the independence of leaving and going to work.
I got a job in that same practice on a youth training scheme. But I didn't stay there that long because the practice in the next town were much better with the training.
At that point, courses weren't really available and the nearest one was in Glasgow and at that time the transport network just wasn't there to accommodate it.
I really enjoyed it for a couple of years but I remember thinking that I wanted to do a bit more. That's when I decided to study fashion.
What was it like working in fashion?
I went to Glasgow and studied fashion and garment technology. It was all about pattern cutting etc, rather than just the art side of it.
I loved it. I had always made clothes. But once a month I would still work in the practice on a Saturday.
I ended up being the go-to person at college if anybody had toothache or any issues with their teeth.
I worked in Scottish opera and then got offered a job at Morris Angels in Shaftsbury Avenue. As a result, I moved to London and worked in theatrical costume.
It sounds glamorous but it's not. I realised I didn't really like it as a job so I started looking in the newspapers.
As a result, I joined an agency and got a dental nursing job at a family practice in Tottenham. I learnt a lot, I did my qualification and did my exam at Guy's. I worked there for five years – I also got to run my own oral health session half a day each week.
While I was doing this, however, I still did some fashion work.
What was it like balancing the two?
I was working for a girl called Petra who had a company called Red Balls on Fire in Kensington Market – she made leather clothes for a lot of musicians.
My husband at the time was a jeweller for The Great Frog in London. Petra offered me the opportunity to run the London business when she moved to LA.
But I was at the stage where I had just got married and I really wanted to have kids. I wanted to settle and I did love dental nursing. I went on to have two children, but I'd still help at the practice where I could. I'd always be doing something.
We then embarked on a family move to Bedford and a job came up in oral surgery at the hospital. I studied sedation and that's where my career really started.
I decided that if I did well in sedation and got a good grade, I would go into teaching. At that point I didn't really think I was clever enough to teach. It was a case of building my confidence.
I got a distinction and got the highest grade in the country so I thought: 'Yeah, I can teach.'
Within two years, I was running the dental nursing programme at Barnfield College. We had a cadets scheme, a DN training room – I was extremely lucky.
We were developing a dental academy but the consultant in public health left to become the deputy CDO. Unfortunately, the funding and support went with them. It didn't work out and had to be abandoned, which was hugely disappointing.
Although my main job was being a mum spending time with my kids and taking them to dance classes, swimming, Kung Fu, running them around – 'Mums' taxi'.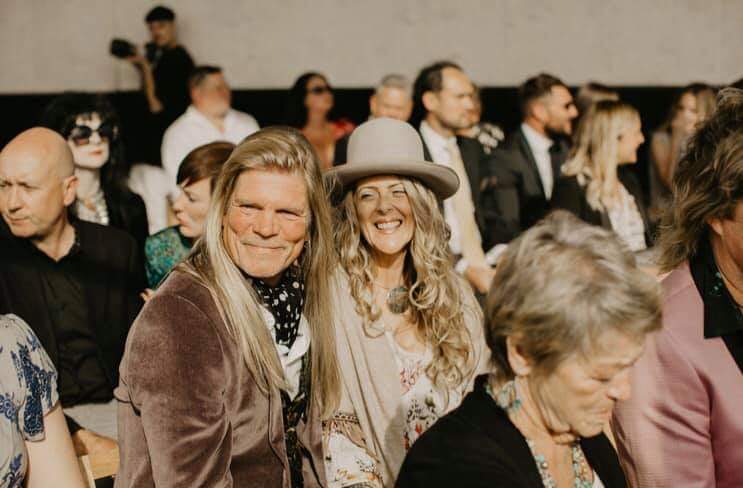 You're also into your music and have gone on tour with bands. What was this like?
I married my husband, Chris, in 2012 – he's a musician. He would go on tour and my escape from dentistry was to go on tour with him.
I would fly all over Europe and he would come and meet me in the tour bus. It was great fun. I met a lot of fascinating people and visited a lot of interesting places. Places that I wouldn't really choose as a holiday destination such as Gothenburg, Copenhagen and Brataslava.
Being a responsible focused individual at work, getting to go away was great. I love music – I danced until I was 16/17, mostly ballet – the career I never had!
On the road with a band is not entirely how people imagine – it's not debauched as the media often make us believe, although I'm sure there are things like that that go on some tours. But people grow up in the music business.
My husband is now back with a band he was with in Los Angeles called Shark Island.
Before the lockdown, they were just about to do a tour and there was interest in revisiting with some warm up shows in California. But obviously the pandemic changed all of that.
Artistic background
When they did their last tour, they did five dates in the UK. I ended up being the 'tour manager' so to speak – sorting the money, dealing with the merchandise, which was fun.
I would send reports to the band's manager back in LA regarding the business side of things eg gig fees in, expenses etc. Also, I enjoy photography and will often be seen at gigs with my camera.
I was lucky enough to get some of my photographs published in Prog Rock magazine. This was part of a music project that Chris did with a band called Vly – labelled as a Prog super group, as it was made up of fantastic Prog Rock musicians from different parts of the world.
My dad was a huge music fan. His party trick is mimicking Mick Jagger and he's great at it. We used to get embarrassed but now we encourage him and say: 'Go on dad, do it.' For 82, I've got to say he's brilliant.
He knew a lot of musicians when he was younger, and he'll often have conversations with my musician friends about bands he knew. The music scene was small in Scotland so everyone kind of knew each other.
My brother and sister are also hugely into music. There's always been that artistic background with me. And I need that to keep my life balanced.
It's kind of funny because people will say: 'You've got such a sensible job.' But music and touring with my husband is my escape.
I also like to sing. I have written a couple fo songs with Chris and I recently did some backing vocals for a project he was working on.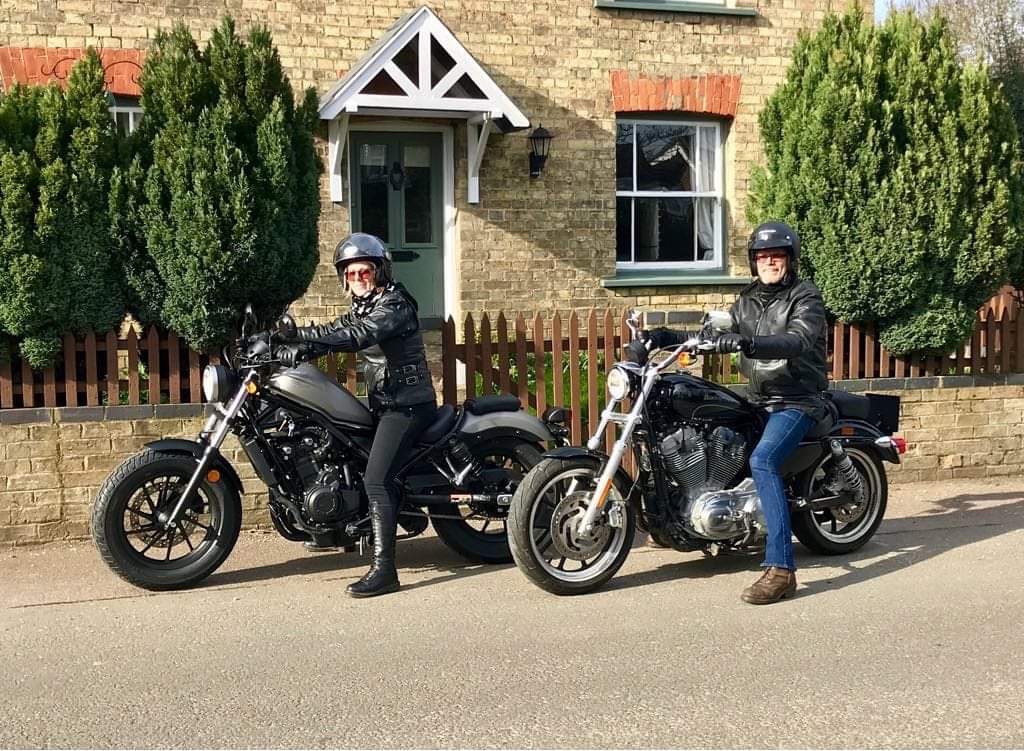 Is there anything else you're interested in alongside music?
I've always loved motorbikes and I always wanted to learn how to ride a bike. Chris already knew how. In fact he'd had two bad accidents over in the states and he thought he'd never ride again.
When I was coming up to 50, he asked me what I wanted to do for my 50th birthday. I looked at him and said: 'Learn to ride a motorbike.' And I could see him think: 'Oh goodness me.'
I was serious and I'd saved up some money to treat myself for my 50th. At first I was thinking of a designer handbag but instead I bought a little 150cc motorbike.
It took me a while to learn – it's really not like a car, it's very different. You have to know how the bike works. In the summer, I go out every day. At the end of work, Chris and I will get on the bikes, even if it's just a half an hour ride or to get coffee.
Chris has a Harley and I've got an Indian Scout. It is a real escape because when you're on a motorbike, you can really only concentrate on your riding. Your focus has to be that.
Tattoos
I also love tattoos but I don't think that ever goes down well. I did challenge this – I remember when I was examining and having to tell dental nurses to cover their hands with a dressing because of tattoos. For me, I felt this was ludicrous. The dressing is more of a cross infection risk. Unless there's rude words or symbols, I don't see why there's a problem. There's been discussion about it on social media.
I was 19 when I got my first tattoo on my back and my mum was hugely upset. My dad worked offshore at that point and I remember her telling me that I couldn't let him see it.
I told Mum I was going to get one but she couldn't get her head around it. I got my nose pierced when I was 15 and that didn't go down well either.
Music allowed you to travel and see places. Has dentistry also provided unique opportunities for you?
Yes, I've also got to travel with dentistry. For example, I visited Oman twice; I went in 2004 as the BADN president-elect and I did a presentation at the main dental conference. It was about statutory registration being introduced for the whole dental team.
I went back in 2016. It was great to go back and say we have dental nurses applying fluoride, taking impressions, running clinics etc.
The dental nurses were amazed. Unfortunately, at that time the Omani dental nurses were still facing challenges. A lot of the dental nurses feel that the focus on the quality and value of a dental nurse has been somewhat diminished.
It's rather sad because there are some amazing dental nurses who may not choose to move on, they may not have the academic ability, they may enjoy and wish to focus on a dental nursing career.
I think it's a shame for them to feel devalued because they haven't decided to move on from dental nursing. I think the fact that you can do other clinical duties as a dental nurse is hugely beneficial to our profession.
What's been the highlight of your dental career?
It has to be getting my MBE for services to dental nursing in the 2012 New Year's honours list.
It was the most bizarre thing. I am hugely proud of it. Funnily enough, Chris was taking me on our first date the same day the letter came. I was quite excited about meeting him again after 28 years – we knew each other when we were younger.
I got the letter and didn't know what to do, especially as it's embargoed, you're not allowed to tell anyone until New Year's Eve. I'm glad I got to share the event with him and my two kids as they came to the palace with me in May 2012.
The ceremony was a wonderful experience. It was Princess Anne who was presenting the honours that day, she is an amazing woman, so down to earth. She talks to you in such a way that she just wants to have a normal conversation.
It was absolutely lovely. She told me that she didn't really like visiting the dentist and realised I was Scottish, saying: 'That's not a Bedfordshire accent.'
The funny thing that day – well, not-so-funny actually – is that I fell down the stairs that morning really hurting myself. I couldn't curtsey properly as I'd hurt my leg quite badly. I had actually gone over twice – Chris tried to catch me but I head-butted him!
A week later I was covered in bruises. But the MBE definitely is one of my biggest achievements – apart from my two wonderful children, Leah and Jake who I adore. I am immensely proud of them both!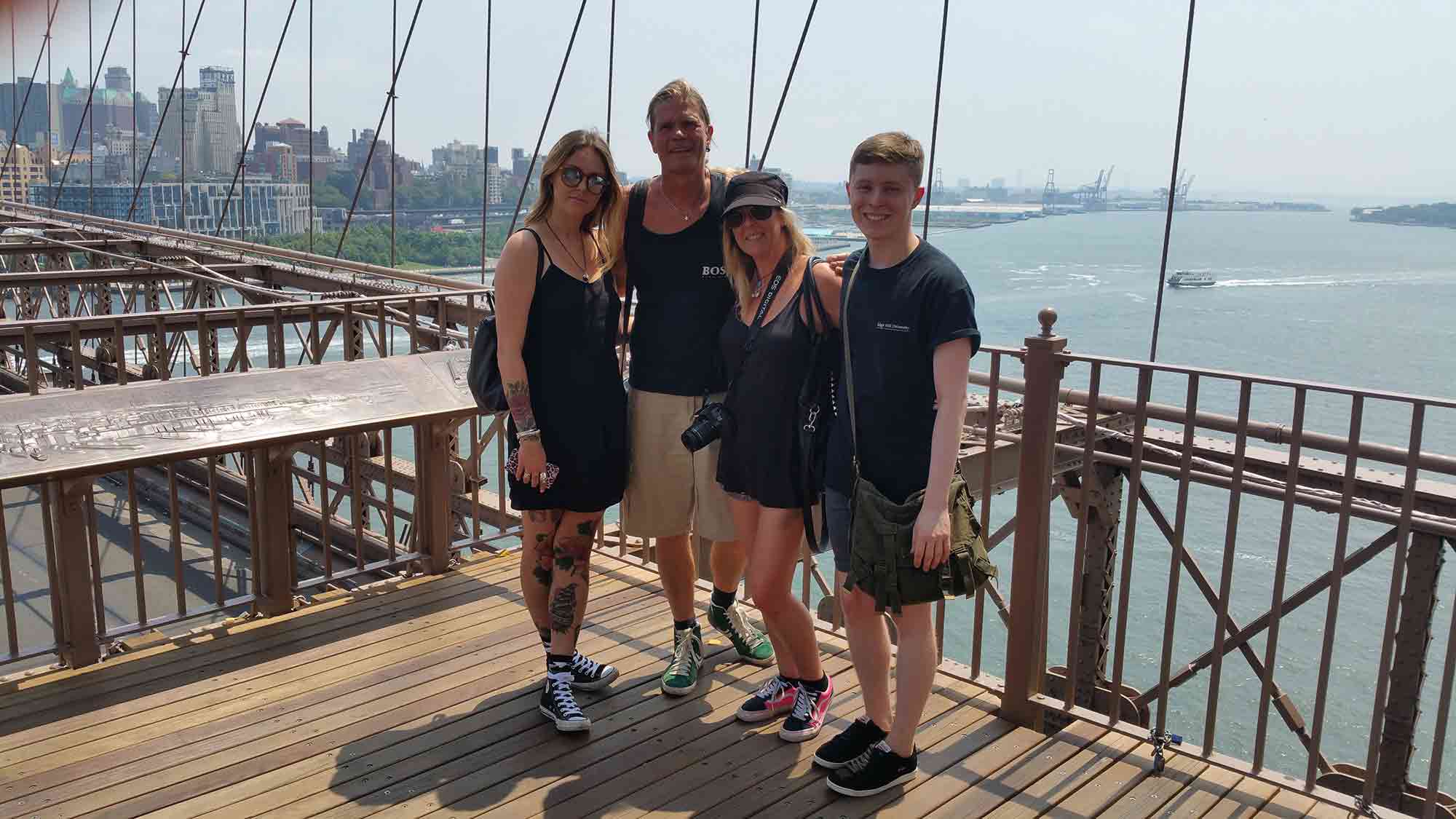 ---
Follow Dentistry.co.uk on Instagram to keep up with all the latest dental news and trends.